Periscope is the newest social media network, and let me tell you, it's addictive.
Periscope is a live broadcasting app for iPhone and Android. Live broadcasting is not new, but Periscope has made it dummy proof. Using Periscope is so simple, and the results are a powerful way to connect with people all across the globe.
I first learned about Periscope a few months back when I went to the Star Wars Celebration. My friend Chris is a bit of a celebrity on social media and has his pulse on all things trending. He used Periscope to connect with fans while we (Chris, myself, and about 5 other friends) were chilling back at the hotel. What stood out the most for me was the cool Q&A – his followers would type in questions or comments and we (mostly Chris) would vocally answer. But I thought, this is an app for celebrities. Not for someone like me. Who would tune in to watch me?
Less than a month later, I was at the Disney Social Media Moms Celebration at Walt Disney World. I went to Magic Kingdom to watch the fireworks with my friend Patty, where she broadcast the entire thing on Periscope. And – wow – people loooooove to watch Disney fireworks. That was when it clicked for me, and I downloaded the app right away.
I did my first few broadcasts at Disneyland. POV on attractions, walking down Main Street, etc. The number of people tuning in was small (it still is), but I loved getting questions from them – what's the weather like, how crowded is it, what's your favorite ride, can you broadcast on Pirates next? (Hot, not so bad, Matterhorn, and nope.)
In the past month or so, I've started seeing a rash of people joining Periscope, including a lot of my favorite bloggers, social media experts, and business coaches. Seeing how they utilize Periscope was a major eye opener for me! I didn't think I really had anything I could offer, but now I realize each of us have our own unique voice and something to offer the world. For me, I love Disneyland weddings and I love talking with people about Disneyland weddings. This led me to start a weekly Disneyland weddings chat. I do my best to jump on Periscope every Wednesday night at 6pm Pacific to chat about a topic related to Disneyland weddings. If there are questions, I'm happy to answer them the best I can. I have found I greatly enjoy the rush of a real-time chat, where you never quite know what's going to happen. I'm the type of person who obsesses over routine and planning and perfection, and Periscope has become a great exercise in releasing some of that control and embracing the unknown.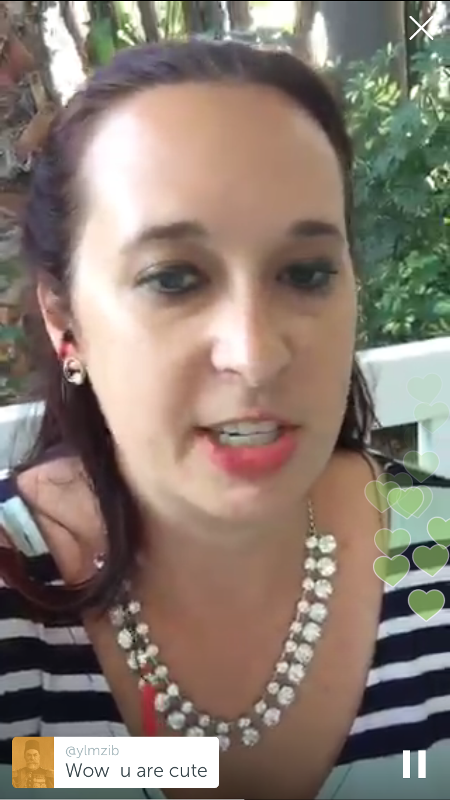 Sometimes the Internet tells you you're cute, even when your eyeliner is smudged.
So now that you know what Periscope is, how do you use it?
I think the reason Periscope has taken off like it has is due to its ease of use. It's basically a sound stage right in your pocket or handbag, and with the press of a button you can be live on the air. Periscope is a free app for iPhone or Android, downloadable from the App Store. Periscope is owned by Twitter, and right now your Twitter handle is automatically your Periscope user name.* Once you've got your account created, find some people to follow! Periscope will help you out by showing you a list of Periscope users you are already following on Twitter. (Looking for some great people to follow? I will list some accounts at the end of this article.) Finally, don't forget to update your profile. You can change your listed name (but not your @username), bio, and website link. Make sure your bio looks good and you have a nice, clear picture of your face for the profile picture. Now that your account is created, you're following some people, and your bio is done, you're ready to start using Periscope! You can enjoy Periscope in two ways – either watching broadcasts or doing your own broadcast.
*Don't have Twitter? That's okay, you can create an account with a phone number. And, when your creating your account you can pick your username, but you can't change it again after you sign up so choose wisely!
Watching Broadcasts
You can either watch live broadcasts, or replays for broadcasts. The replays of broadcasts will stay in your feed for 24 hours, and after that – poof … they disappear! So you gotta watch them quick!
Comments
As you're watching a broadcast, you can use your phone's keyboard to type in comments, which will be seen by the broadcaster and anyone else watching the broadcast.
Sharing
When watching a live broadcast, you can share that broadcast with your followers, meaning the replay will show up in your followers' feeds. Think of it as a "RT" on Twitter. Speaking of Twitter, there is also an option to share broadcasts on Twitter. To access these options, click on the person icon in the lower right corner, next to the broadcast watchers count. A window will pop up at the bottom of the screen with a few options, including the share buttons.
Hearts
When I first started watching Periscopes, I saw the little stream of colorful hearts but couldn't figure out how to do it myself. It's so easy … to give hearts, just tap the screen. One heart for each tap. Everyone loves getting hearts, so I try to tap as much as possible when I'm watching broadcasts.
Broadcasting
Ready to send out a broadcast yourself? Go for it! My only advice is to have a strategy. Either you're going to show something happening (like the parade at Disneyland), or you're going to be speaking into the camera about a topic. When I'm speaking on a topic, I write out bullet points beforehand to keep me on track.
Carefully Craft Your Broadcast Title
Before you press the "Start Broadcast" button, you will be asked to enter a title, aka "What Are You Seeing Now?" This is what pops up in your followers' feeds and notifications, so be sure to give it a great and accurate title. Keep it as short as possible, and don't forget to use a couple eye-catching emojis.
Respond to Your Audience
Greet people by name as they join your broadcast. Ask where everyone is located. Respond to comments and questions.
Ask them to Share
Politely request your audience to share your broadcast, if they think their followers would enjoy it. Teach them how to give hearts too, in case anyone is using Periscope for the first time!
Look into the Camera
It's tempting to look down at the comments constantly, but remember to look into the camera when speaking so your audience feels like you're looking at and speaking directly to them.
Banish the Trolls
Just like in chat rooms, there will always be people who just want to cause trouble. If someone is being rude and/or inappropriate, tap their comment to block them.
***
Looking for some cool peeps to follow? Here are my favorites right now: (Note – there are no website profile links, so you just need to search for these names in the app.)
Well, follow me, obviously – @mindyjoym
My friend Renee is a Los Angeles wedding planner who does a weekly chat and behind-the-scenes of her events – @ReneeDalo
My friend Liz is also another Los Angeles wedding planner who shares wedding planning tips – @LizCharm
I don't know her personally, but @AmandaOleander is considered "Periscope's first celebrity." Watch a few broadcasts for a great example of "real life broadcasting" and how to interact with your followers.
For Periscopes about Periscope, follow these great experts: @ChrisDucker – @PatFlynn – @ChaleneJohnson – @KimGarst
Even if you don't plan on using Periscope on a regular basis right now, I strongly suggest you grab your preferred username now. I think Periscope is going to be huge, so don't wait and miss out!
Do you have any questions about using Periscope? Let me know in the comments and I'll address them in a future post!