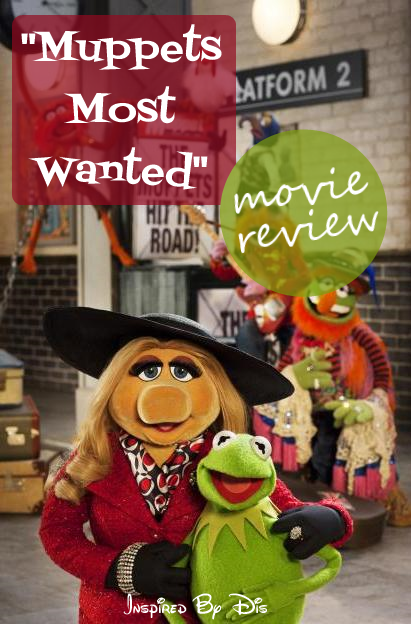 This week I had the great fortune of being invited to an advanced screening of "Muppets Most Wanted."
You guys, I've been a Muppets fan all my life. Obviously it started with Sesame Street. When I was a little older I watched a VHS of "The Great Muppet Caper" until the tape wore thin. (Some of you don't know what VHS is. I'm going to try to avoid waving my cane at you and muttering about "kids these days.") "Muppets Christmas Carol" is the one holiday movie I HAVE TO WATCH every December. Or else it's not officially Christmas. I even liked "Muppets in Space" (remember the Joey and Pacey cameo?). I was sad when they were gone for a while, and super duper excited when "The Muppets" came to theaters a couple years ago. We even played "Life's a Happy Song" during our wedding reception, when we cut the cake.
So, I hope we've established that I really, really like The Muppets. On to the Muppets Most Wanted review.
The plot of "Muppets Most Wanted" picks up where the last Muppets movie left off, quite literally. The gang is now traveling the world, performing their "Muppet Show Tonight" to sold out audiences all over Europe, unbeknownst to them entangling themselves in an international crime caper led by Constantine, a devious frog who has a striking resemblance to another frog we all know and love. Mayhem (not the Electric kind) ensues.
The human cast includes two of my favorites, Tina Fey and Ricky Gervais, neither of whom can do no wrong in my opinion. Along with Fey and Gervais, the film also stars the hilarious Ty Burrell as an Interpol agent. And in true Muppet movie fashion, there's a gazillion celebrity cameos (which I am NOT going to spoil for you because they are too good).
"Muppets Most Wanted" once again unites The Muppets with songwriter Bret McKenzie, who won an Oscar for "Man or Muppet." The songs in "Muppets Most Wanted" are similar to what we saw in "The Muppets" – funny, catchy, and quirky. I felt a lot more of The Flight of the Conchords influence in these numbers, so if you were a fan of the duo I think you'll really enjoy them (I nearly expected Gonzo to start singing about his sugar lumps, but it never happened, thank goodness). A couple numbers especially – "I'll Get You What You Want" sung by Constantine, and "The Big House" sung by Tina Fey – are real stand outs. And if you're a classic Broadway musical fan, you're in for a huge belly laugh about halfway through the movie. Consider yourself forewarned. You may want to do some ab work to prepare.
It's difficult to say too much without giving away some of the many, many surprises. I'll just write that if you were a fan of "The Muppets" and Muppet movies in general, you will not be disappointed by "Muppets Most Wanted." The story has heart, lots of LOL moments, and the classic Muppet gags and one liners you have come to expect from Kermit and crew. If you see it this weekend, I'd love to know what you think!
"Muppets Most Wanted" is in theaters everywhere today, March 21. Check your local theaters for showtimes.
Images copyright The Walt Disney Company.

Related to "Muppets Most Wanted":
MUPPETS MOST WANTED TV Spot
Miss Piggy Wears Vivienne Westwood in Muppets Most Wanted
Free MUPPETS MOST WANTED Printable Activity Sheets
DIY Muppets Nail Art from OPI and MUPPETS MOST WANTED