I received a travel media discount in exchange for an honest review. All opinions are my own.
Up until a couple years ago, Madonna Inn was one of those landmarks I had always heard about but had never seen in real life. The only thing I knew about it was that they had themed rooms, and I assumed it was really expensive.
A couple years ago my brother moved up to the Bay Area for school and Tim and I decided to meet up with my family there, and we might as well make a road trip out of it! When I saw Madonna Inn was along the route, I talked Tim into staying there for a couple nights. He wasn't so sure when he saw all the pink and glitz on the website (truth be told, I convinced him with the promise of pool time and wine tasting), but after our stay we both fell in love with the place, pink flocked wallpaper and all!
Madonna Inn is located in San Luis Obispo and is just about 3 hours northwest of Los Angeles. It's a great weekend getaway spot. I feel as if this hotel was made just for me, and I feel completely relaxed and at home there.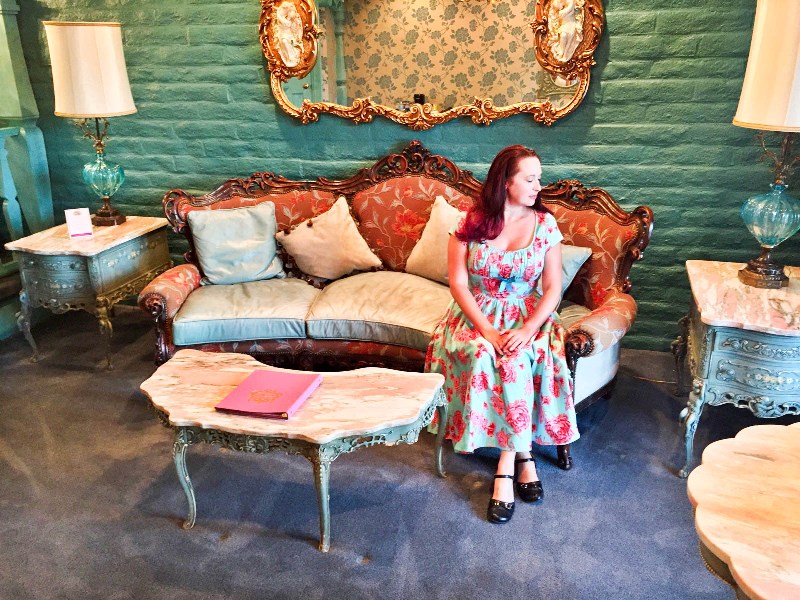 If you're curious about what the Madonna Inn has to offer, read on … I'm listing my favorite aspects of this historic California hotel.
10 Reasons to Love California's Madonna Inn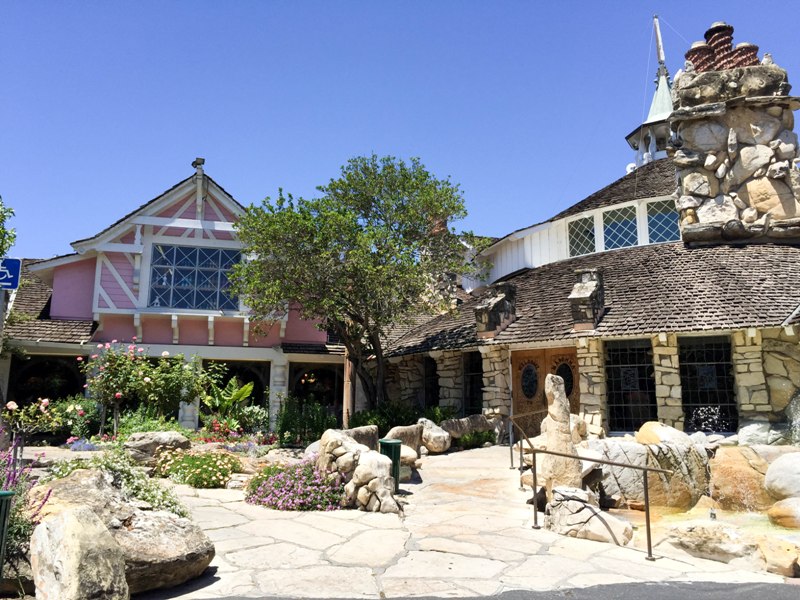 1. They Give You Fresh Baked Cookies When You Check In. Oh yes, this is not a joke. Unless they have run out for the day, you'll get a cookie baked fresh in their bakery when you check in at the lobby (which is a small room under the breezeway, not part of the main complex you first see when you drive in).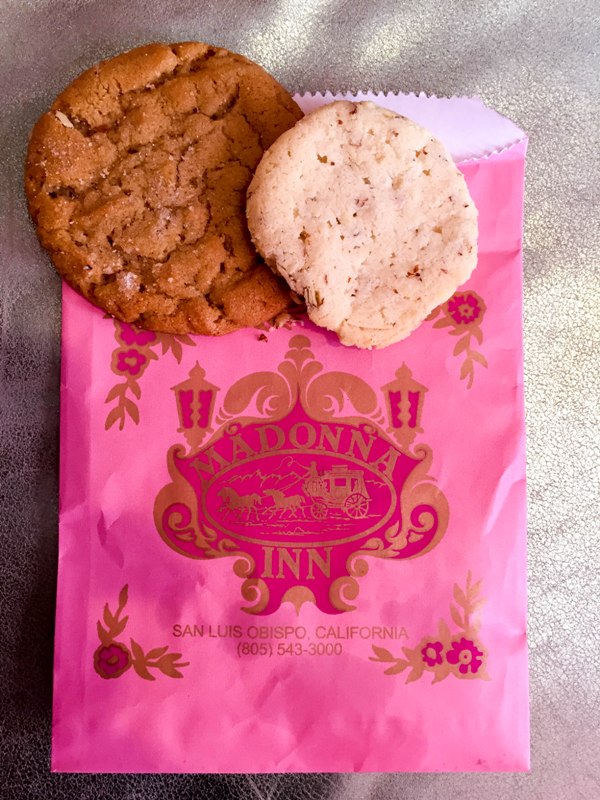 2. The Rooms – Probably the one thing everyone knows about the Madonna Inn is their rooms are all uniquely and heavily themed. Rooms range from standard King or Double rooms for two, up to two or three bedroom, two story suites. All of the rooms are numbered but also have nicknames. With names like Just Heaven, Caveman, or Rocky Mountain, you have some kind of idea what you are going to get. Some rooms have their famous rock showers or rock walls, and some rooms are more "normal" with heavily colored theming.
I've visited Madonna Inn twice and stayed in two different rooms. The first time we visited we stayed in the Mini Maxi room, which is not a very descriptive name. But when I saw the pictures online I knew this was the PERFECT room for me. It had a King bed, with pink carpet and pink flocked wallpaper, a rock gas fireplace, and in the bathroom a rock shower and sinks and pretty floral mirrors.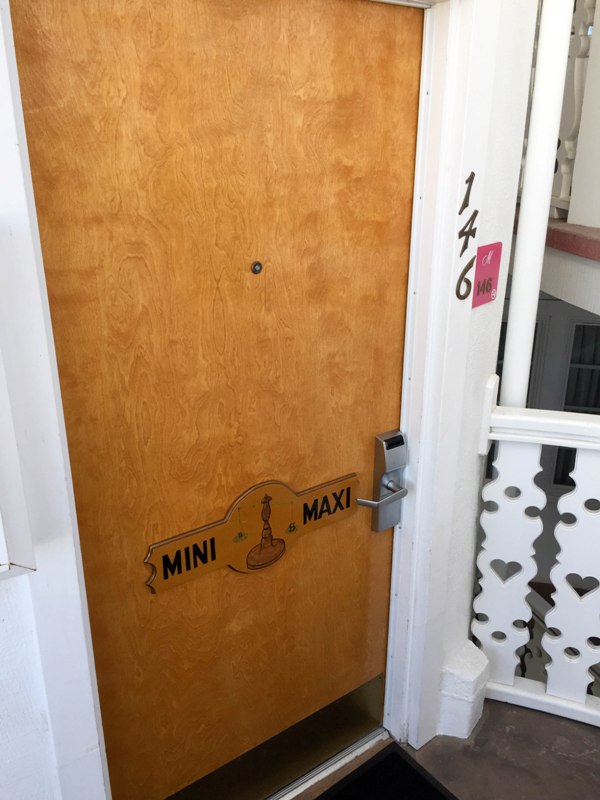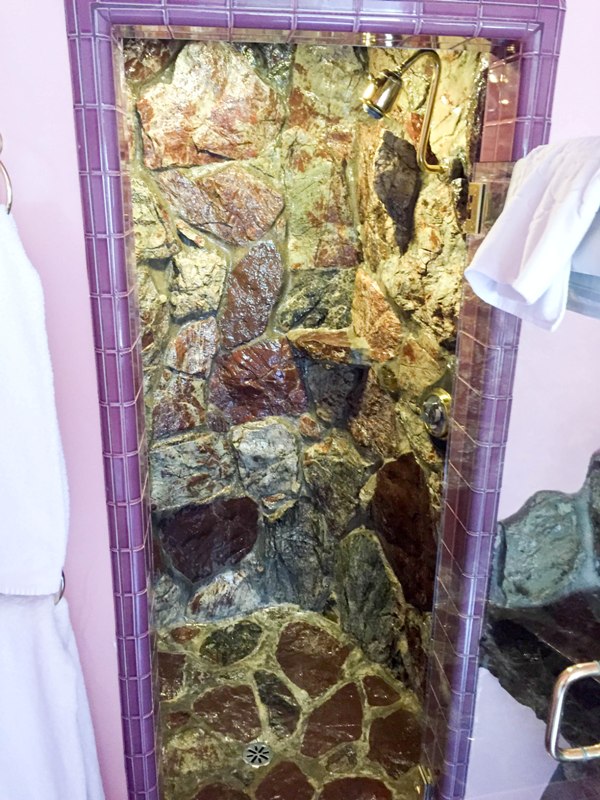 Room Tour:
For our next visit we had a fun surprise – the day before we checked in I got a call from Madonna Inn asking if they could place us in the Romance Room. This was on my list of requests but it wasn't available at the time I booked. I happily said, YES!!! Oh my goodness, this room is TOTALLY AMAZING! The room is themed in light blue with Victorian accents. It is a split level room, with an incredibly spacious living/sitting area on one level and a King bed on the upper level. The bathroom is right off the bed area, and while it was smaller than the bathroom in the previous room, it was still very functional with two sinks and a rock shower. This room was just perfect!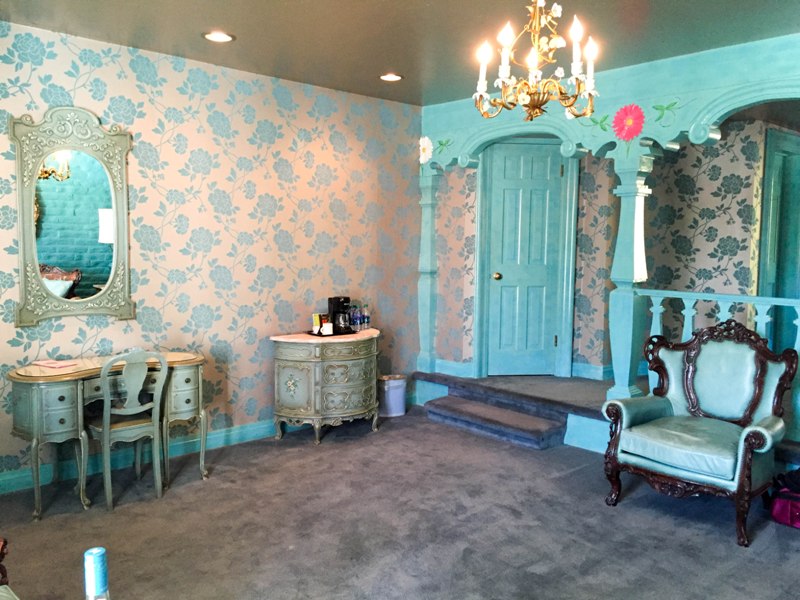 Room Tour:
One fun perk of the Madonna Inn rooms are their Japanese style toilets. I'm not going to, um, go into details here, but you just have to experience it to find out why they are so amazing.
3. The Cake – Let's talk about the restaurants and the food and the drinks but mostly the cake. Madonna Inn famously makes these MONSTER cakes for celebrations, in their signature Pink Champagne flavor. Aren't they gorgeous?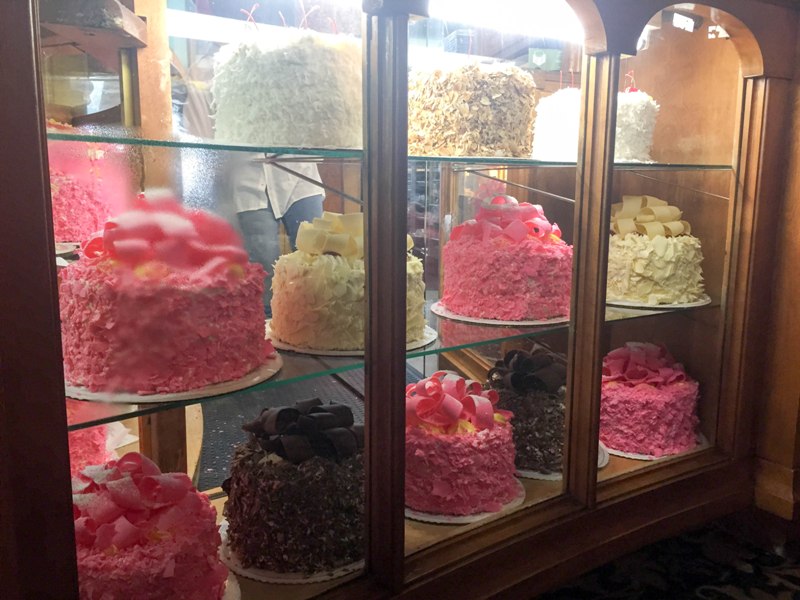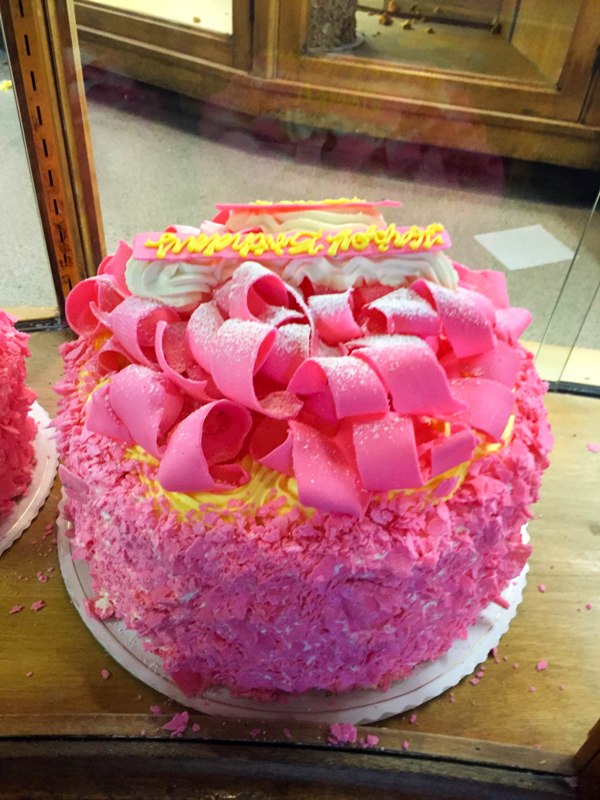 4. And the Food – Madonna Inn has a couple restaurants. The Alex Madonna's Gold Rush Steak House is their dinner spot, offering tasty delicious steaks, chicken, or seafood. Salad and soups are also available. It's a hearty and delicious meal, and the entire restaurant is pink. Pink pink pink.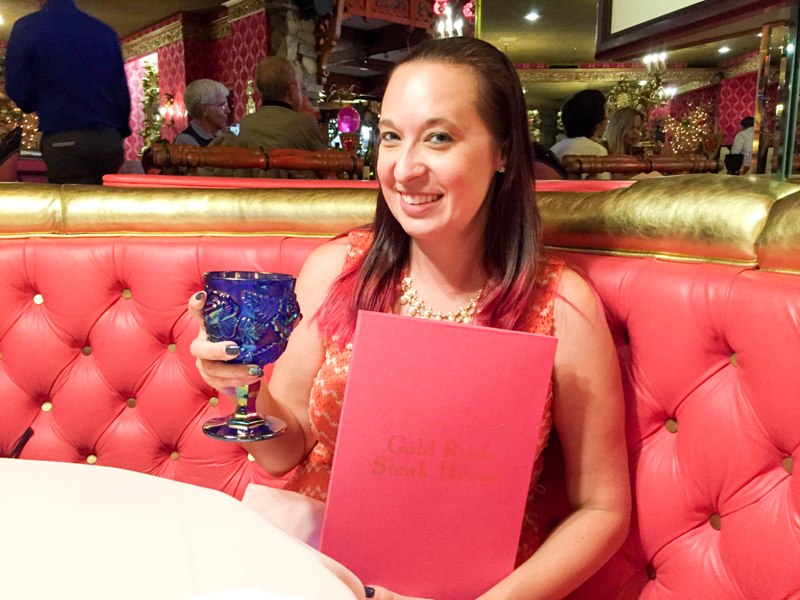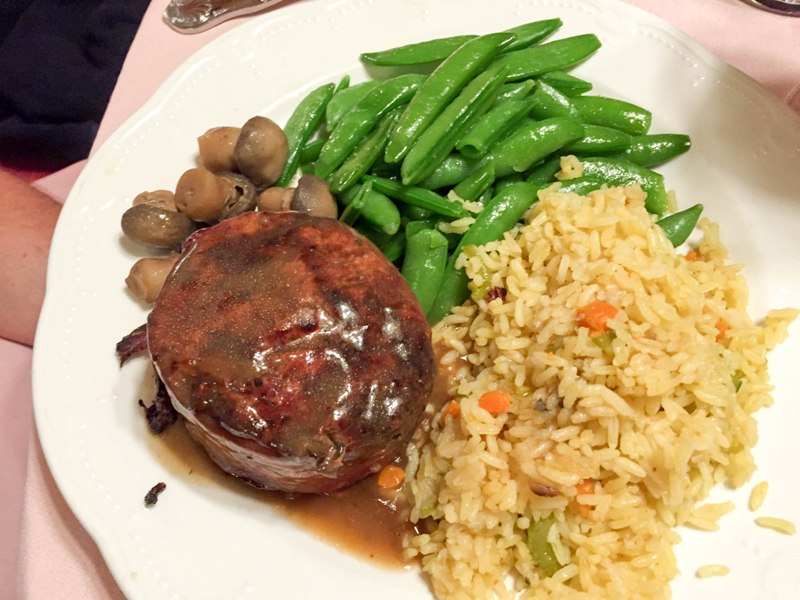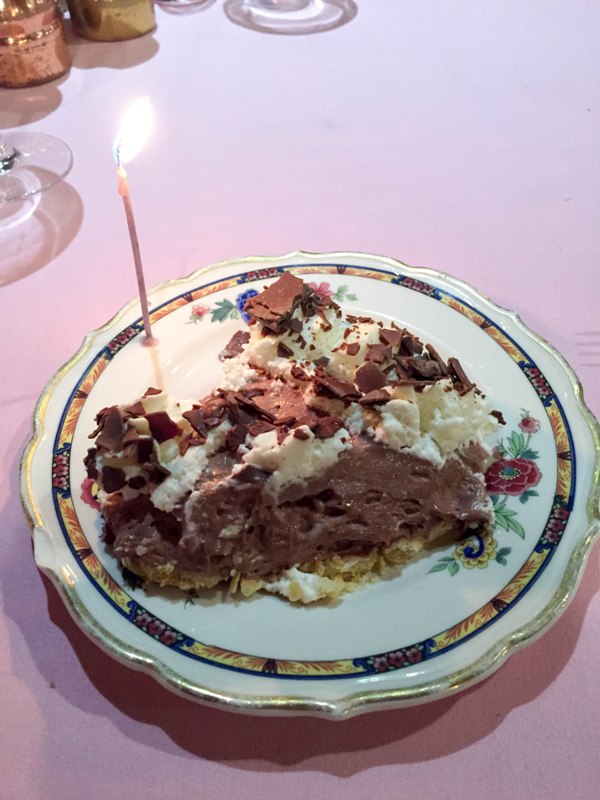 The Copper Cafe is more casual dining. This is generally where we have breakfast and they have a HUGE menu. You can browse through some of the pastries in their display or order a pancake brunch.
For happy hour and post-dinner, I loved the Silver Bar Cocktail Lounge. Madonna Inn has their own signature wines and creative cocktails. On weekends they have live bands and dancing. And they have amazing huge pink chairs.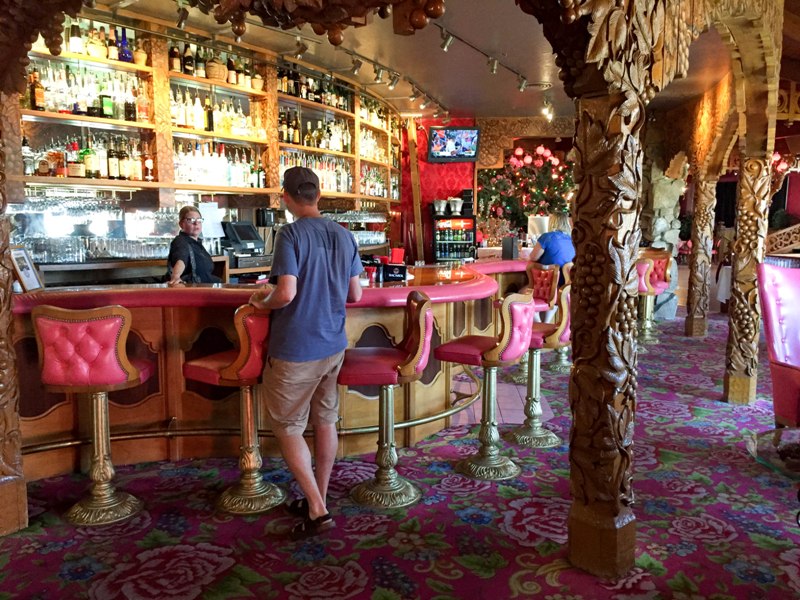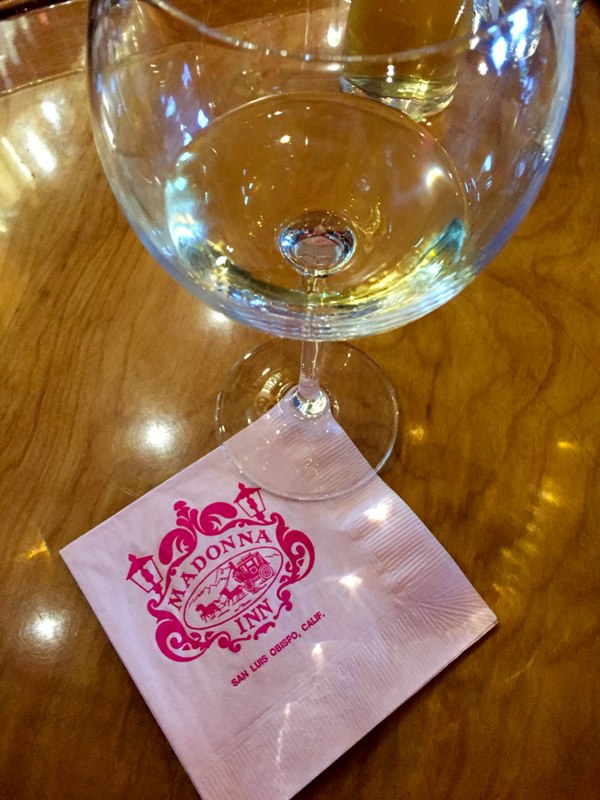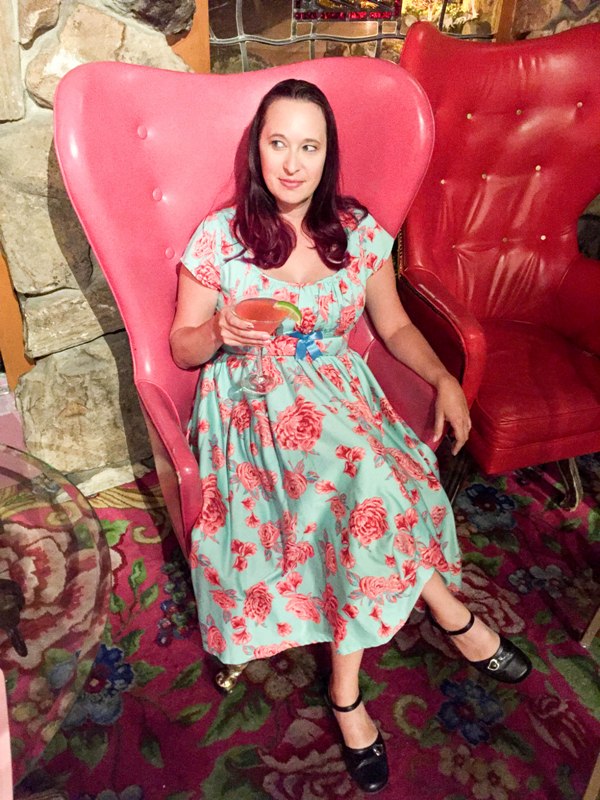 5. The Pool Area – The pool for the Madonna Inn is tucked up into the hill with an amazing view of the San Luis Obispo valley. The pool is big, with lots of lounge chairs and umbrellas. Cocktails and light meals are available to order at the little shop near the entrance. They also have items like sunscreen and lip balm available to purchase if you forget them! One night we found ourselves in the hot tub all by ourselves, so we played low music on our phone and enjoyed the wine we brought in plastic cups while gazing up at the stars. Private hot tub date!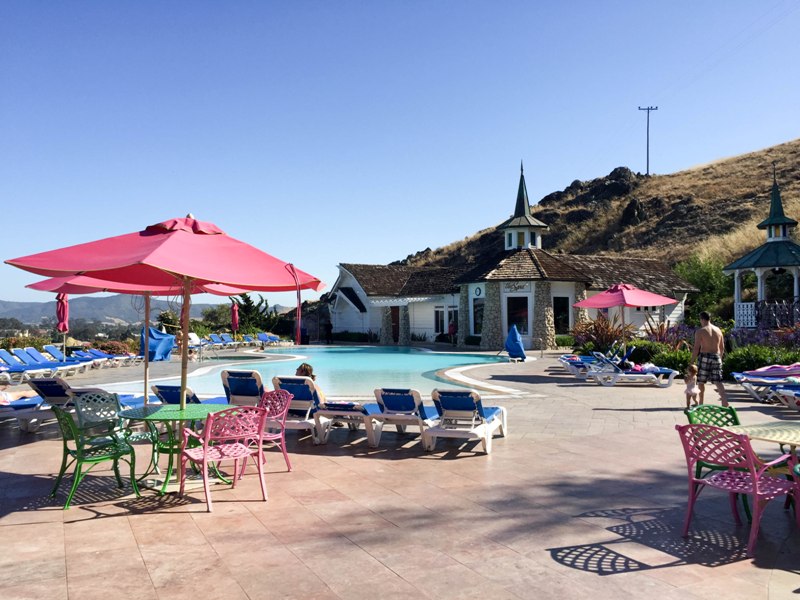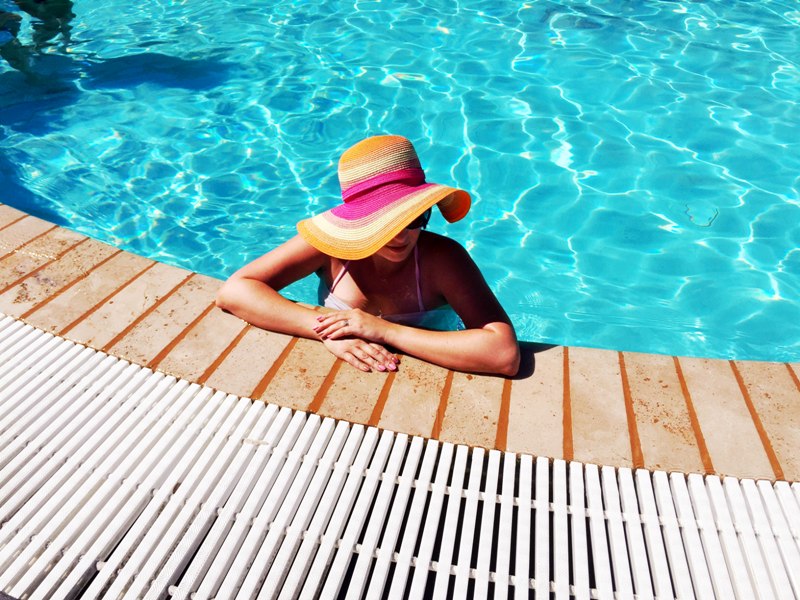 6. The Spa – On my last visit, my husband treated us to couples massage to celebrate my birthday. We are not big spa people (we LOVE the pampering but don't like to spend the money on it), so this was a real treat for us. The spa is nondescript on the outside (it is located in the pool area) but is actually very spacious inside. We opted for their monthly special, which included a neck and back massage with pumpkin spice scented scrub. It was heavenly! After our massage we were let to a room where we could sip tea and re-acclimate to real life. The spa treatment was a splurge but so worth it. I would love to try a facial on my next visit!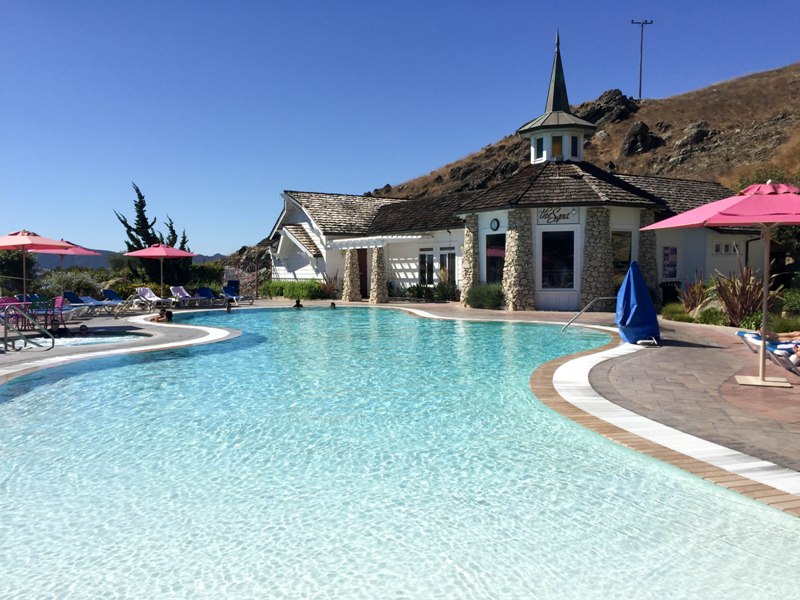 7. They Have Cows – Depending on the time of year, you may catch a glimpse of some cows happily grazing in the pasture below the hotel. Sometimes they might even pop their face through the slats of the fence to say "hi" (or grab a bite of grass, more likely).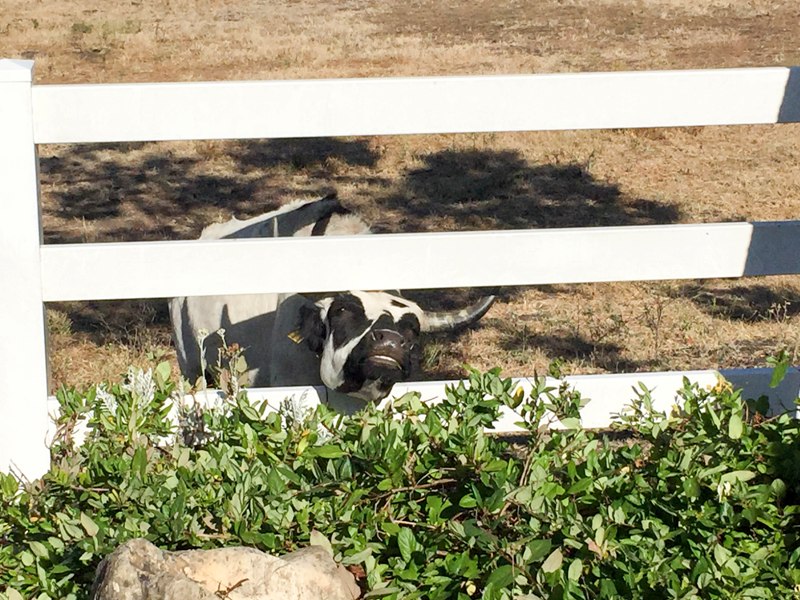 8. And a Garden – Again, depending on the time of year you can tip toe through the tulips in the Madonna Inn's secret garden. It's very quiet, and you'll probably see a butterfly or two.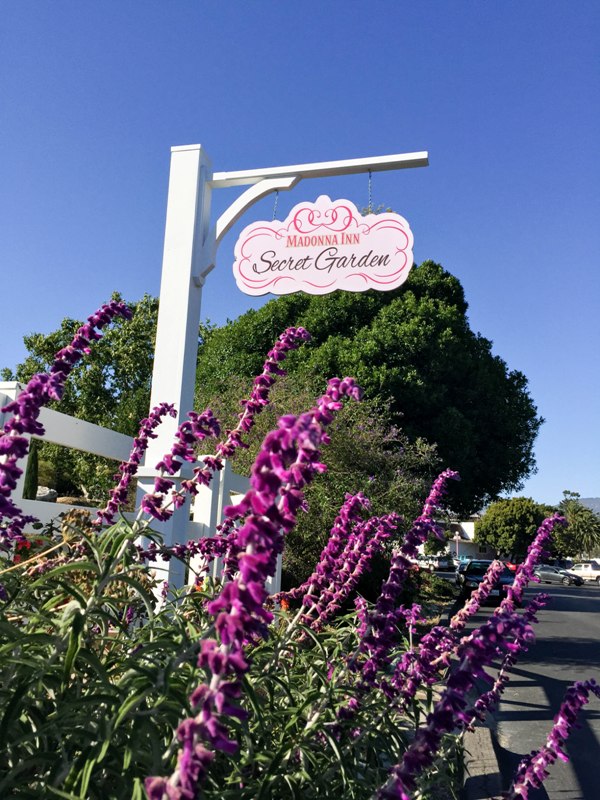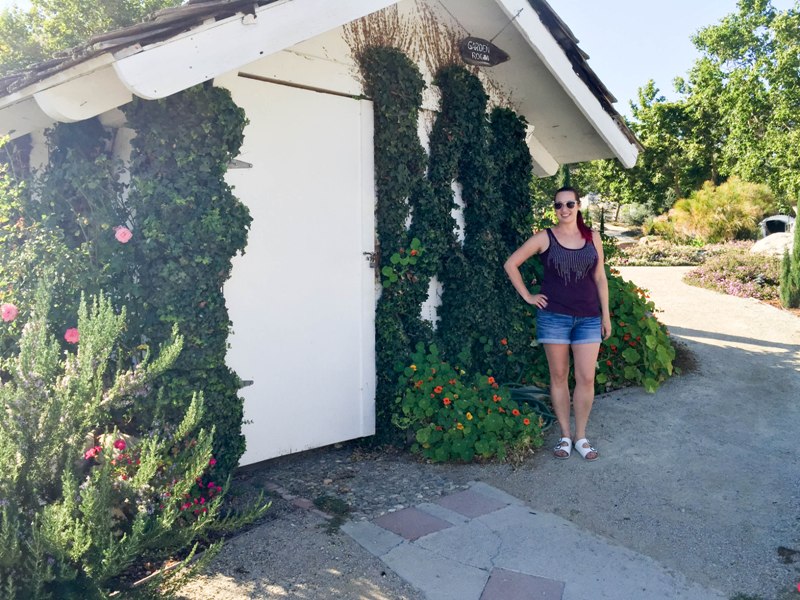 9. The Location – Sitting on rolling hills off a main road in San Luis Obispo, the hotel feels completely secluded. And honestly, with the two restaurants (three if you count the pool) and bar area, you really never have to leave the hotel grounds. But if you decide to explore, the hotel offers bike rentals so you can take a ride through the gorgeous setting. And wineries are just a short car ride away. We loved grabbing a to-go lunch from the hotel and taking it with us during a day of wine tasting.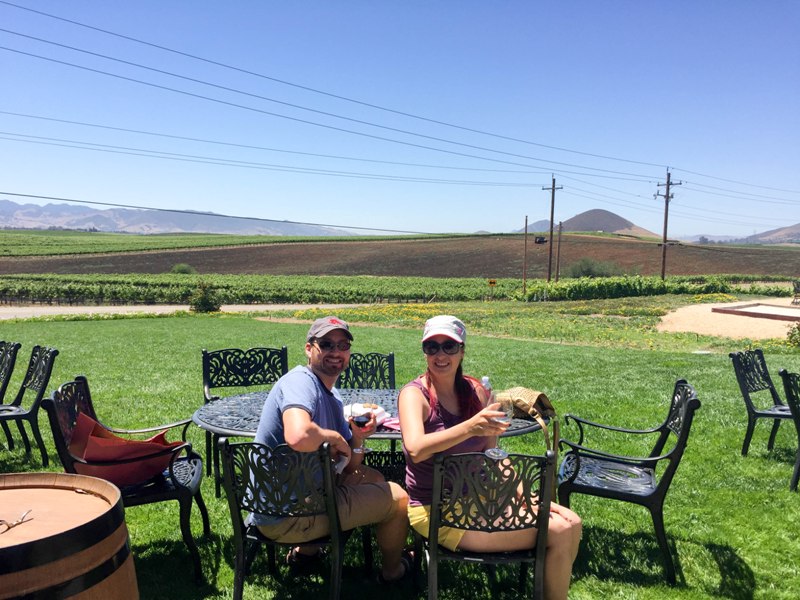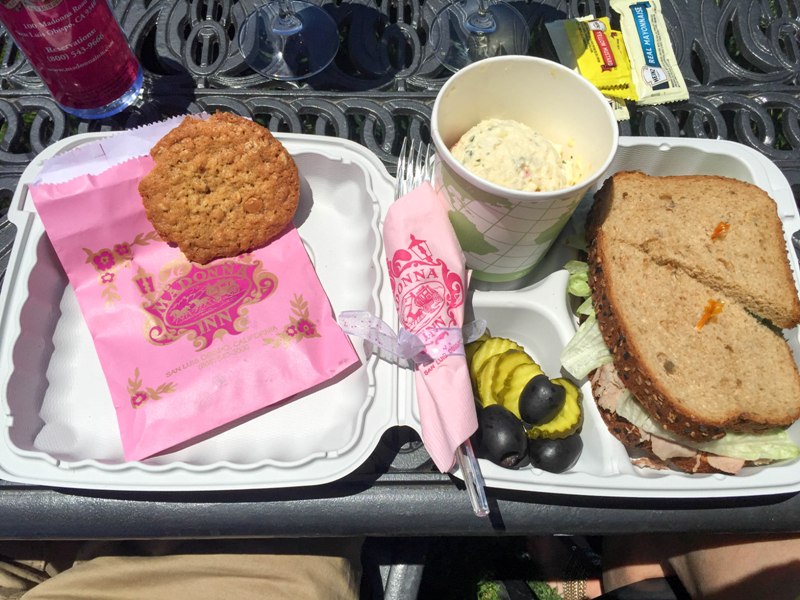 10. The Entire Aesthetic – The kitschy fun of the hotel is totally up my alley, and it's now a bucket list item not just to stay here, but to stay in every room. Oh, and have I mentioned that everything is PINK?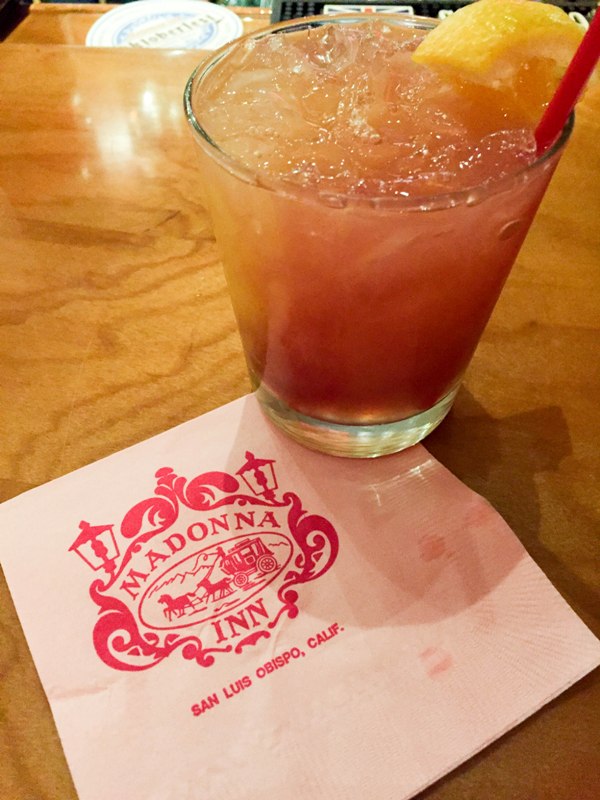 I can't wait for my next visit to Madonna Inn! If you want to book a stay at this historic hotel, please visit MadonnaInn.com.