This is a partnered post with PaperMart. This post contains affiliate links.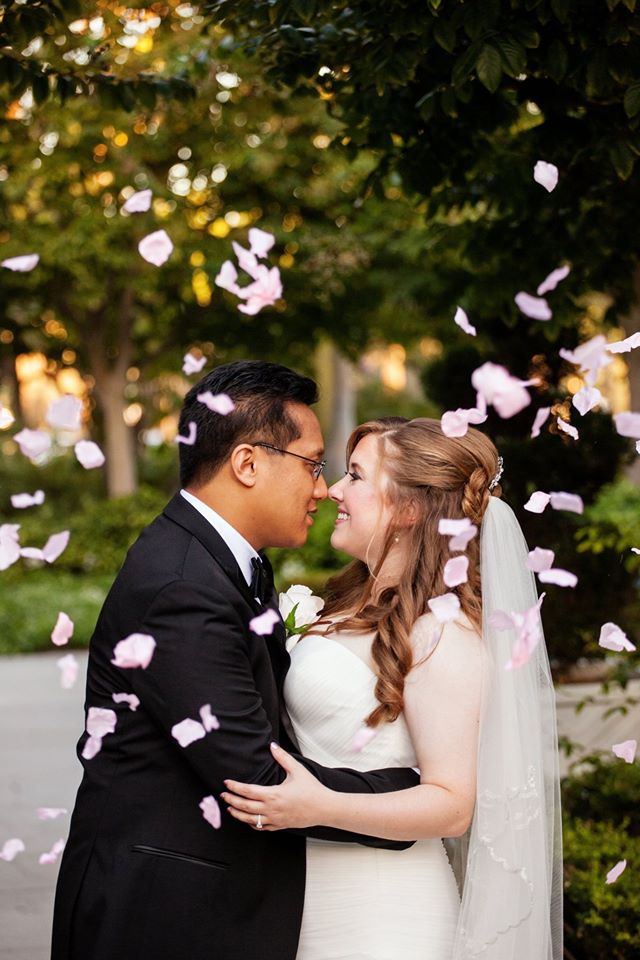 The perfect petal toss shot is one of the most common requests on a bride and groom's "photography wish list" for their wedding day. But what does it REALLY take to get that perfect shot, like the one seen above?
A lot of couples end up being disappointed with the petal toss as they are walking back up the aisle after the ceremony. First of all, guests are often too busy clapping or snapping photos to toss petals (or blow bubbles or wave ribbons). And some guests, believe it or not, simply don't know what to do with them. They haven't watched a bunch of wedding shows on WeTV like we have. More often then not the petals just sit there, sad and untouched, and the photos of the couple walking back up the aisle are woefully petal-less (but still very pretty, nevertheless).
In reality, most of the beautiful petal toss photos you see on the Internet are actually "staged" shots, which means the set-up was created just to get a good shot of the petals. Often the staged shot happens after the ceremony is over and guests have moved onto pre-reception hour. The photographer will enlist the help of friends or family to stand off to the sides and toss a ton of petals up into the air, over the couple. You may have to do this a few times to get the perfect shot!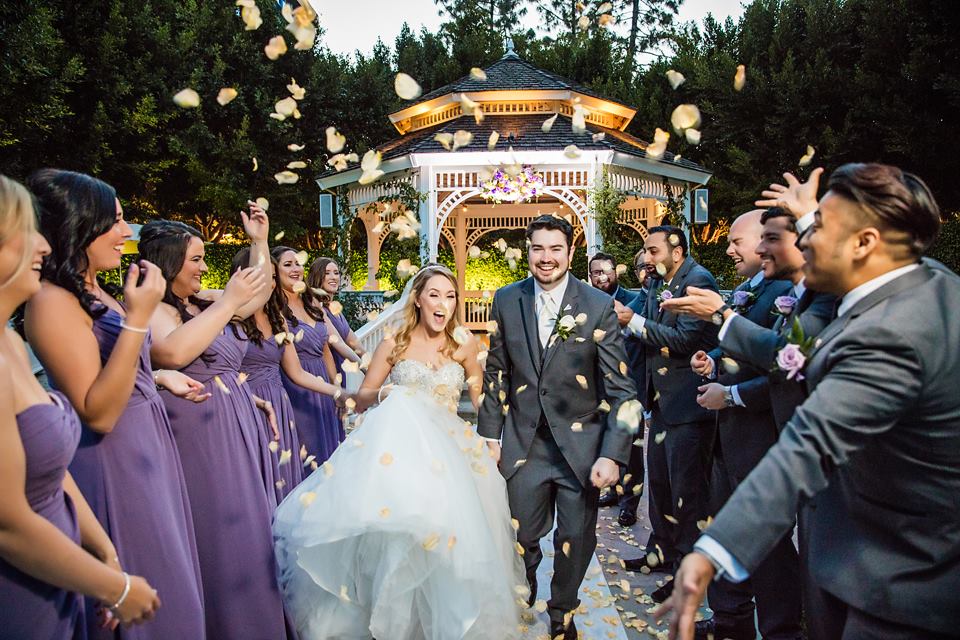 Jenna from White Rabbit Photo Boutique, who took all of the wedding photos featured in this article, gives this advice for couples wanting the perfect petal toss shot: "The key to a good petal toss is to have everyone throw their arms up and make a super happy face to each other while they do it! You want to throw the petals up and in front of the couple, not directly at the couple. And it's even better if you have someone next to the photographer but out of the shot who can throw an additional handful of petals in front of the camera to create the cool effect of petals everywhere. If you have a big wedding party, give everyone a handful and have them all throw it in the air and cheer, or have them stand in a line and toss them in the air as the couple runs down the aisle!"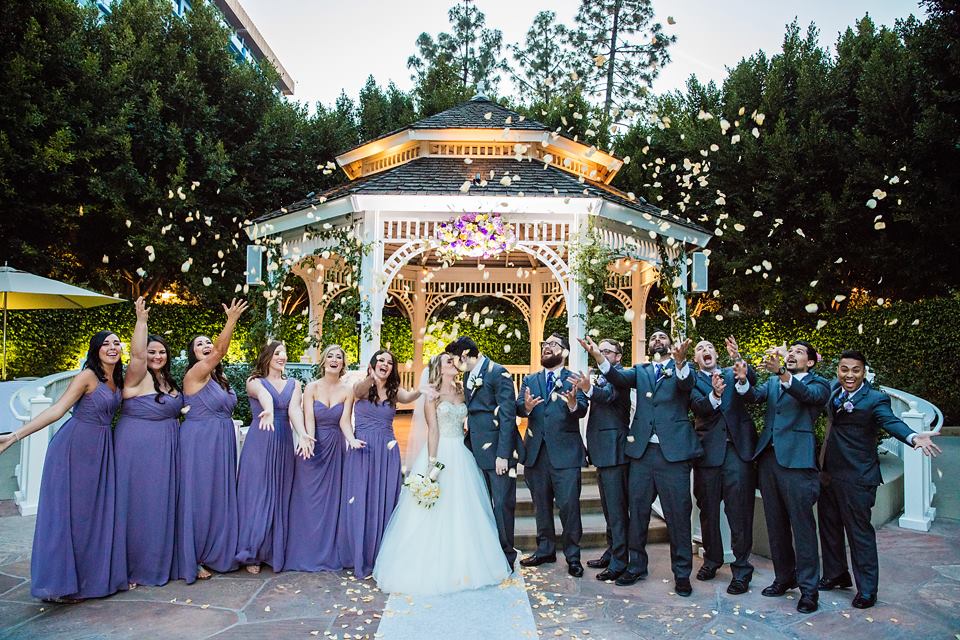 If you want a petal toss for your wedding, silk petals will generally be less expensive than real petals but look just a good in pictures. PaperMart has tons of different colored silk rose petals to choose from. My personal favorite look is mixing one of your wedding colors with white or ivory petals. (Not sure if you want white or ivory? Get petals that match your dress color.)
You can distribute petals to guests in pretty organza bags. I recommend the 4″ x 6″ size, but you can go bigger if you want MORE petals!
If you want to use real petals, you can save a bit of money by only putting petal cones at the seats along the aisle. Or, have your florist decorate the aisle with rose petals, then use those to do a staged petal toss after the ceremony.
Remember that any rose petals, real or fake, you bring in yourself will likely need to be cleaned up by you or a designated person from your wedding party, or you'll incur a venue clean-up fee (check with your venue about this – I know Disneyland does charge a clean-up fee if they have to clean up anything they do not provide themselves).
PaperMart has all kinds of budget-friendly wedding supplies, from bags and favor boxes and feathers and paper lanterns … I even found a hidden Mickey on their site!
Tissue Paper Pom-Poms
***GIVEAWAY***
I'm partnering with PaperMart to give one lucky winnner a $20 credit for PaperMart's website! You can spend your $20 credit on anything on their site – whatever you might need for your wedding or any party you are planning! You have until Sunday, March 26, 2017 to enter to win, and the winner will be announced Monday, March 27, 2017. The credit code will be delivered to the winner via email. Please be sure to read the Terms & Conditions before entering. Good luck!
NO PURCHASE NECESSARY. Sweepstakes ends Tuesday, March 28, 2017 at 11:59pm Pacific time. Open to Legal Residents (18 years of age or older) of the US only. Prizes cannot be shipped to AK or HI. Prizes cannot be substituted or exchanged for cash value. Prize is non-transferable. Winner will be selected by Random.org via Rafflecopter and be notified by email on Wednesday, March 29, 2016. The odds of winning depend on the number of entries. Winner will have 48 hours to respond before a new winner is selected. Please note that This Fairy Tale Life and Saccarzec Industries are not responsible for sponsors that do not fulfill their prizes. I have represented each sponsor with the expectation they will fulfill their prize and in a timely manner. I will contact the sponsor regarding your prize(s). I will make every effort to assist you in obtaining your prize. If there is an issue with a sponsor, please notify the blog you won a prize from within 30 days for assistance, after that we may be unable to assist you. Mindy Joy Media is not responsible for lost/undelivered email, typographical errors, technical failures, etc. The product offered for the sweepstakes is free of charge, no purchase necessary. My opinions are my own and were not influenced by any form of compensation. Twitter and Instagram are in no way associated with this sweepstakes. By providing your information in this form, you are providing your information to me and me alone. I do not share or sell information and will use any information only for the purpose of contacting the winner and facilitating communication between the winner and the sponsor. By providing your name, you agree your name will be mentioned in a blog post announcing the winner. No other information aside from your name will be shared. Prizes not claimed will be retained by the sponsor. VOID WHERE PROHIBITED.