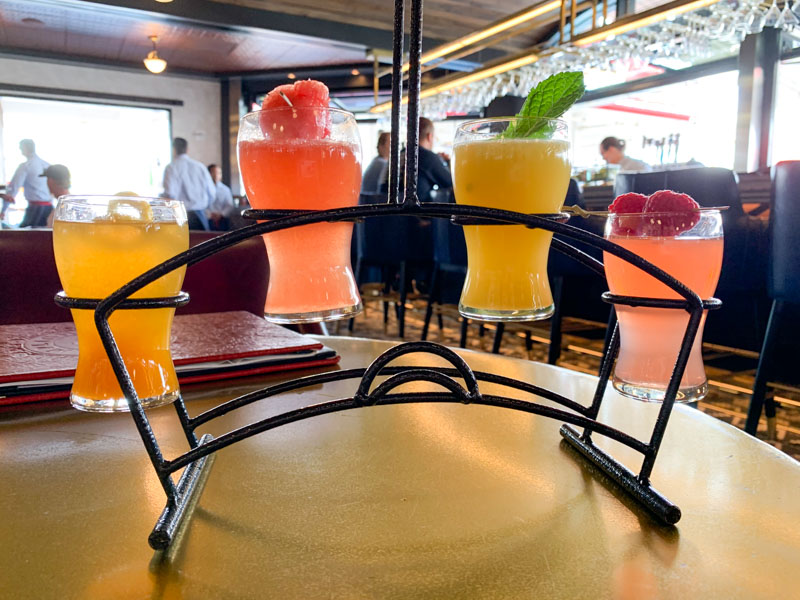 Did somebody say, mimosa flight?!?
Yes! Lamplight Lounge is now open for brunch on weekends!
Lamplight Lounge at Pixar Pier has been open for a few years now and has become one of the premiere restaurant experiences at Disney California Adventure. With additional crowds coming to Disney California Adventure this summer, adding an extra breakfast dining option was a smart move. I'm hoping they will eventually extend brunch to every day!
I was there for day one of brunch and I'm excited to share what I tried and provide additional details about the meal.
Lamplight Lounge Brunch Menu and Review
Lamplight Lounge Brunch Details
Lamplight Lounge brunch is available on Fridays, Saturdays, and Sundays, from opening to 2pm. The kitchen switches over to lunch at 2pm, so be aware that if you are seated after 1:30, you may have to order from the lunch menu. (Read my full review of Lamplight Lounge's lunch and dinner menu here.)
Reservations are highly recommended, but walk-ups may also be allowed depending on how busy it is. You can make reservations via the Disneyland app or on the Disneyland website.
For walk-ups, check for availability through the Disneyland app. Go to the map, then select "dining" from the top drop-down menu, then scroll to Lamplight Lounge. Tap on the location and select "Wait list." If there's availability, it will give you an estimated wait time.
Lamplight Lounge Brunch Menu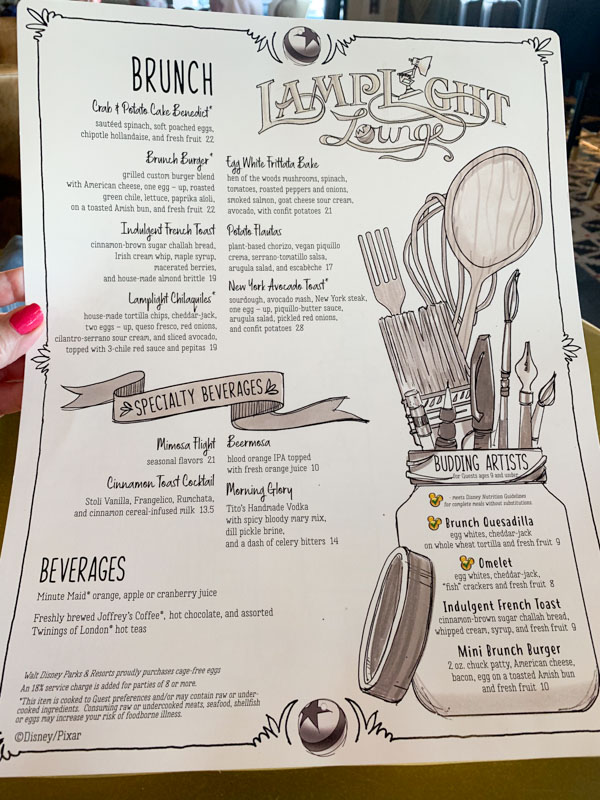 There are seven new menu items available for brunch. They are:
Crab and Potato Cake Benedict – With sauteed spinach, soft poached eggs, chipotle hollandaise, and fresh fruit
Brunch Burger – Grilled custom burger blend with American cheese, one egg – up, roasted green chile, lettuce, paprika aioli, on a toasted Amish bun, and fresh fruit.
Indulgent French Toast – Cinnamon-brown sugar challah bread, Irish cream whip, maple syrup, macerated berries, and house-made almond brittle.
Lamplight Chilaquiles – House-made tortilla chips, cheddar-jack, two eggs – up, queso fresco, red onions, cilantro serrano sour cream, and sliced avocado, topped with 3-chile red sauce and pepitas.
Egg White Frittata Bake – Hen of the woods mushrooms, spinach, tomatoes, roasted peppers and onions, smoked salmon, goat cheese sour cream, avocado, with confit potatoes.
Potato Flautas – Plant-based chorizo, vegan piquillo, crema, serrano-tomatillo salsa, arugula salad, and escabeche.
New York Avocado Toast – Sourdough, avocado mash, New York steak, one egg – up, piquillo-butter sauce, arugula salad, pickled red onions, and confit potatoes.
The kids menu options are:
Brunch Quesadilla – Egg whites, cheddar-hack on whole wheat tortilla and fresh fruit.
Omelet – Egg whites, cheddar-jack, "fish" crackers and fresh fruit.
Indulgent French Toast – Cinnamon-brown sugar challah bread, whipped cream, syrup, and fresh fruit.
Mini Brunch Burger – 2 ounce chuck patty, American cheese, bacon, egg on a toasted Amish bun and fresh fruit.
Lamplight Lounge Brunch Drinks
There are also four specialty alcoholic beverages available:
Mimosa Flight – Seasonal flavors
Cinnamon Toast Cocktail – Stoli Vanilla, Frangelico, Rumchata, and cinnamon cereal-infused milk.
Beermosa – Blood orange IPA topped with fresh orange juice.
Morning Glory – Tito's Handmade Vodka with spicy bloody Mary mix, dill pickle brine, and a dash of celery bitters.
Aside from the specialty beverages, the full bar is also available.
I started my meal with a mimosa flight, and wasn't aware I'd received 4 generous sized portions! Wowza! This was a little much for me alone (champagne goes right to my head) but it would be perfect for two people to share.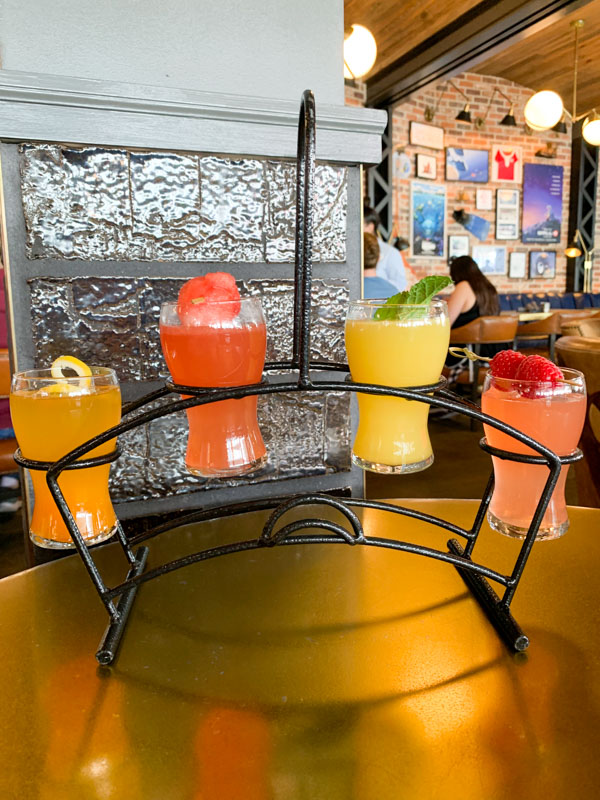 The mimosa flight flavors are (from left to right): Creme de Peach and Mango purée, watermelon fresca, orange juice and ginger, and St Germain (elderflower) and grapefruit. They aren't listed on the menu but the mimosas can be ordered as individual full servings as well.
Lamplight Lounge Brunch Food
Due to my food sensitivities, my options were limited. I asked about ordering the avocado toast without steak, and was pleasantly surprised to find out they can do this and with a lower price tag ($16).
Even without the meat, the dish was very filling and I really enjoyed it. The menu says one egg but I believe I received two. The potatoes were also soft and lightly seasoned. Really good!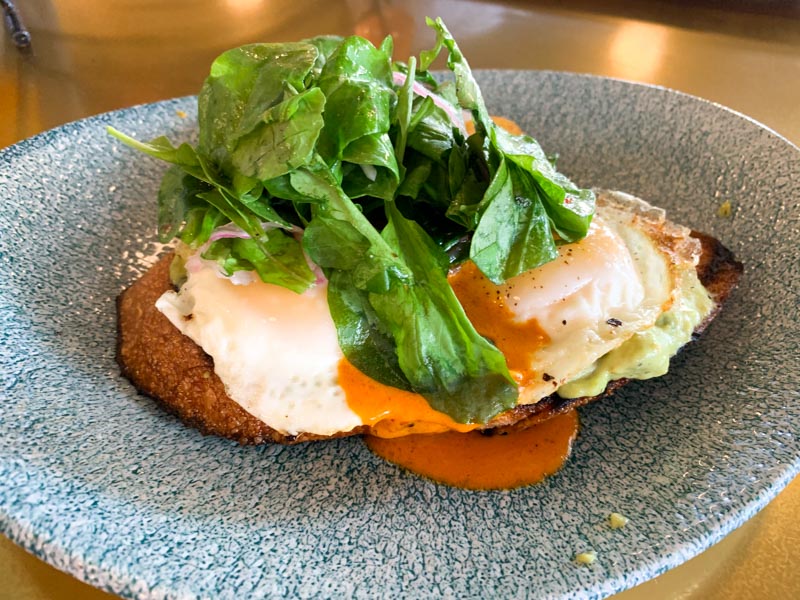 I saw a lot of people around me ordering the French Toast and it looked amazing! I'll certainly add more pictures to this article as I can.
Lamplight Lounge Brunch – Allergies and Special Diets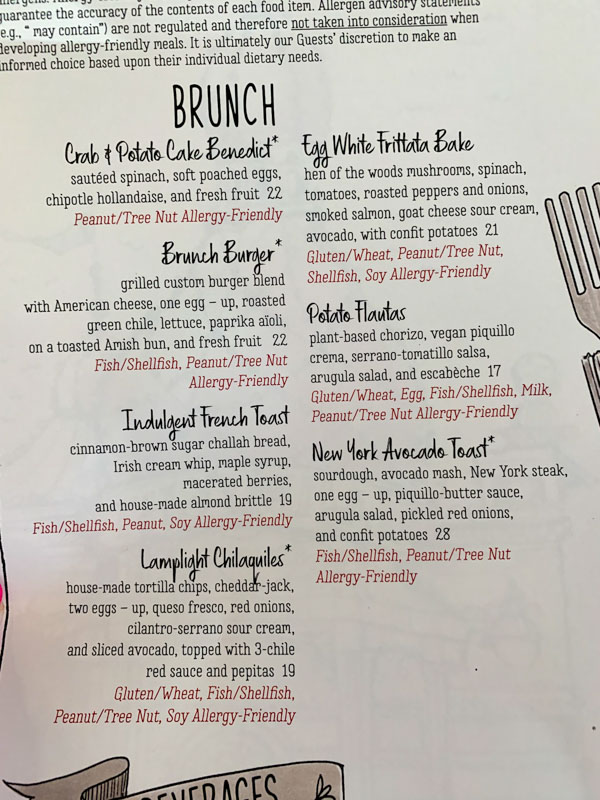 I also asked about an allergy menu or special diets and found out the following information:
– There are three "gluten friendly" options: The Lamplight Chilaquiles, the Egg White Frittata, and the Potato Flautas
– The potato flautas are vegan as ordered.
– The Chilaquiles can be made vegan by eliminating the cheese and egg, and you can also add the plant-based chorizo!
– As mentioned above, the avocado toast can be made vegetarian by eliminating the steak. It can also be served with salmon.
If you have a serious food allergy, sensitivity, or a special diet, be sure to ask to speak with the chef before ordering.
I really loved my experience at Lamplight Lounge brunch and can't wait to go back and try more menu items!
Related articles:
Disney Princess Breakfast Adventures – Is It Good for Adults?
2019 Disney California Adventure Food and Wine Festival Guide