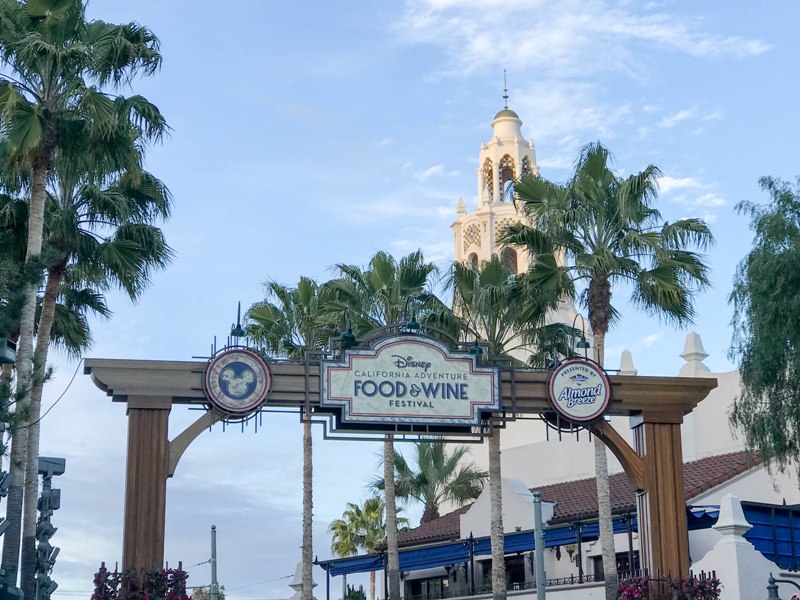 Food and Wine Festival has returned!!
The Disney California Adventure Food & Wine Festival is my favorite time of the year. As a huge foodie I'm always excited to try some new foods and sample some new wines. This year the festival has been extended to seven weeks, which should give me plenty of time to chow down on everything I want to try!
This article contains affiliate links.
2019 Disney California Adventure Food and Wine Festival Guide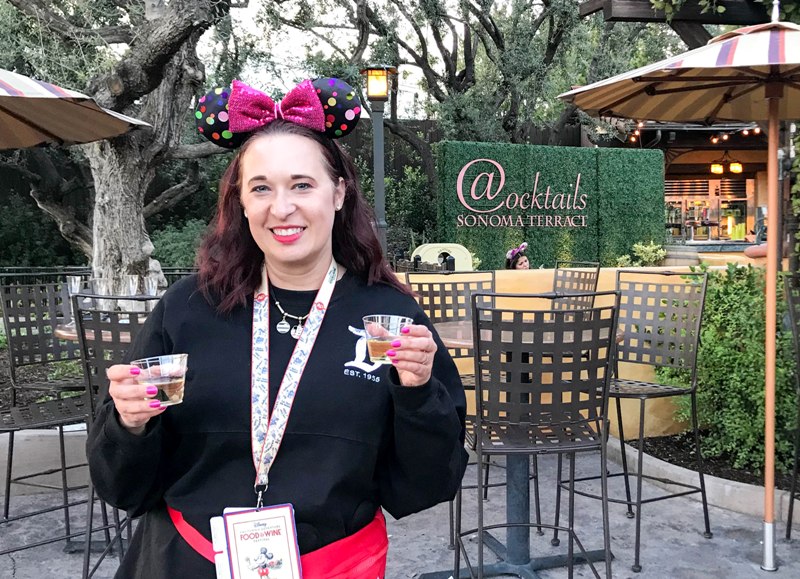 What and When is it?
Disney California Adventure Food and Wine Festival is a celebration of the delicious foods and spirits of California. Guests can purchase samples of a variety of delicious foods, wines, beers, and other drinks. Seminars, demonstrations, and guided tastings are also available, some free and some for an additional price.
The Food and Wine Festival is being offered every day between March 1, 2019 and April 23, 2019. Regular Park admission is required, and food and drink items are an additional cost.
Where to Go
Enter Disney California Adventure and head down Buena Vista Street towards Carthay Circle.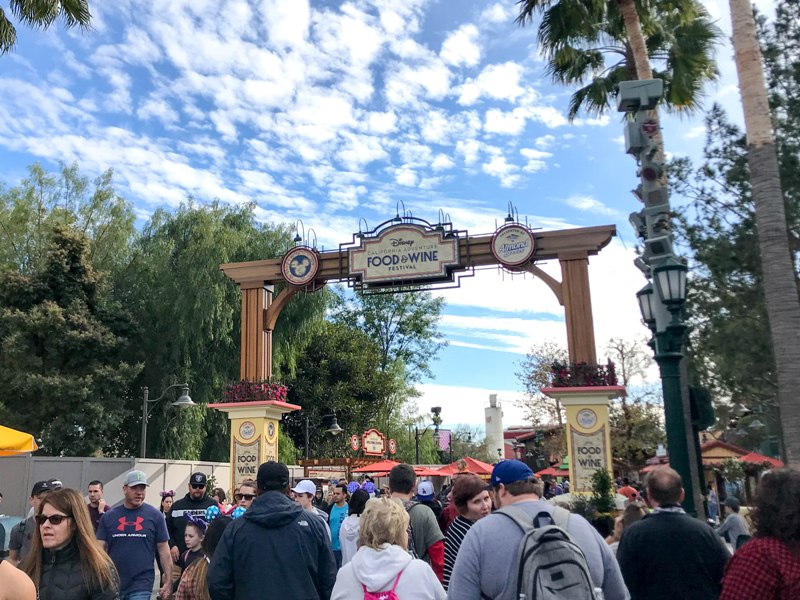 The entrance to the festival is marked by a huge sign right next to Carthay Circle. Right inside the entrance is an information booth where you can pick up a paper map and tasting passport. Most of the food and wine Marketplaces are located along the Performance Corridor (aka the parade route) in between the hub and the Golden Zephyr attraction. The festival itself extends all the way to Paradise Gardens and also into the Hollywood Land area, so there is lots to explore!
This year there are 14 Marketplaces total, with 3 or 4 food items and 2 or 3 drink options at each. Adjacent to some of the Marketplaces are semi-covered wooden pergolas with counters where you can stand and eat your food. Utensils and napkins are available from self service dispensers. There are also several tables with chairs and cocktail tables set up along the corridor. In between Marketplaces you'll also find kiosks selling official event merchandise, as well as some third-party products.
To order, approach the registers next to the Marketplace, pay for your order, then take your receipt to the window of the Marketplace. Your food and drink items will be prepared quickly, and you'll be given a cardboard tray if needed/requested. You can take your food to the nearby wooden counters or a nearby table. Don't forget to grab napkins and utensils!
***NEW THIS YEAR*** You can order any marketplace food item from any marketplace register! Order all your food at once, and then take your receipts directly to the pick-up window of the marketplace. Look for the shortest line and order all your food from there! This is such a time-saver!! Just be prepared with a list of all the foods you want so you don't forget anything.
Be sure to also pick up the Sip and Saver Pass! Each tab on the Pass can be redeemed for one food or one non-alcoholic drink item at any of the marketplaces. The lanyard is $54 for eight tabs, making each tab worth $6.75 (or $49 for Annual Passholders – $6.12 per tab). Food prices range between $5 to $8, so if you use the tabs on the right items this is certainly a good deal. You can also pick up the Sip and Savor pass at multiple locations throughout the Festival.
Keep walking into Paradise Gardens and you'll find the Festival Beer Garden. The Paradise Garden Grill also received a menu makeover for the festival (see below for the menu).
This year the Culinary Demonstrations and Jr Chef experiences are taking place at the Backlot Stage in the Hollywood Land area.
I was excited to see the Sonoma Terrace has added some new lounge furniture and is offering cocktails!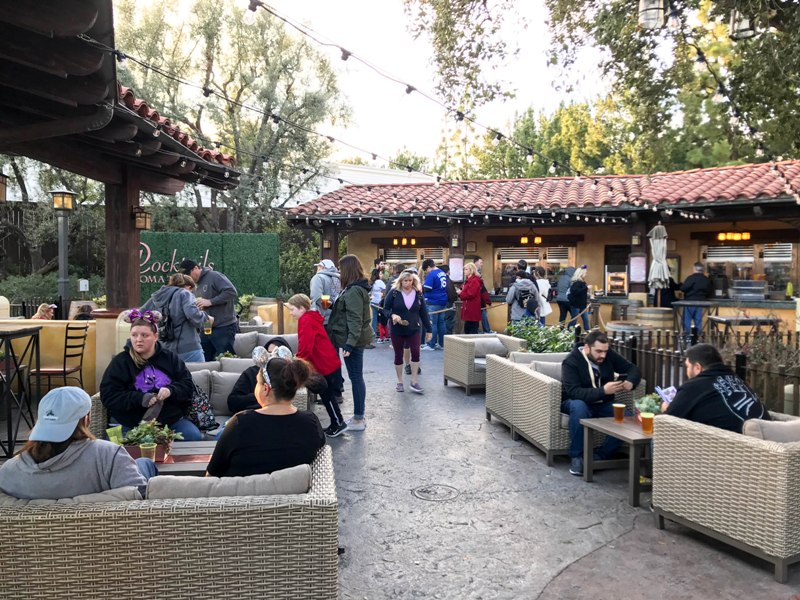 Look for merchandise kiosks along the Performance Corridor and the Hollywood Land area, where you can buy Food and Wine Festival branded items such as T-shirts, kitchen accessories, and wine glasses.
The AP Corner is back at Blue Sky Cellar this year. Be sure to stop by here for a special button and photo op, just for passholders!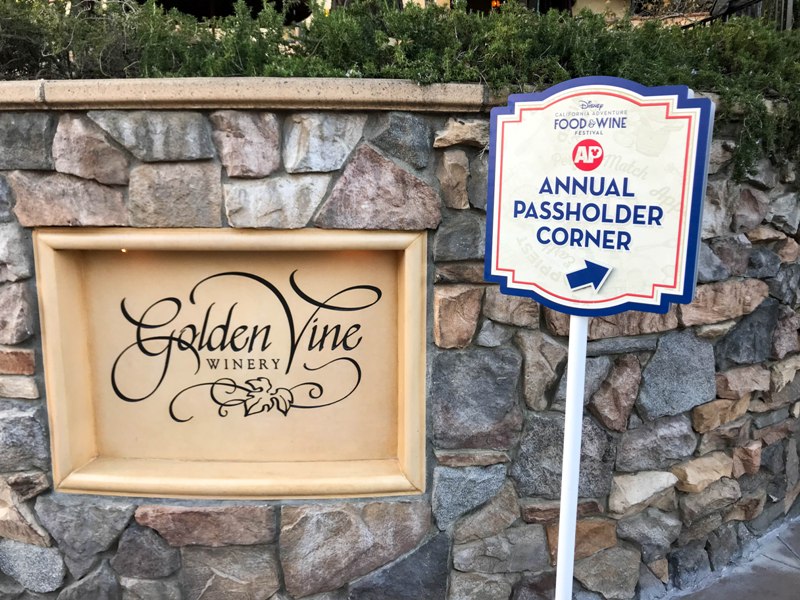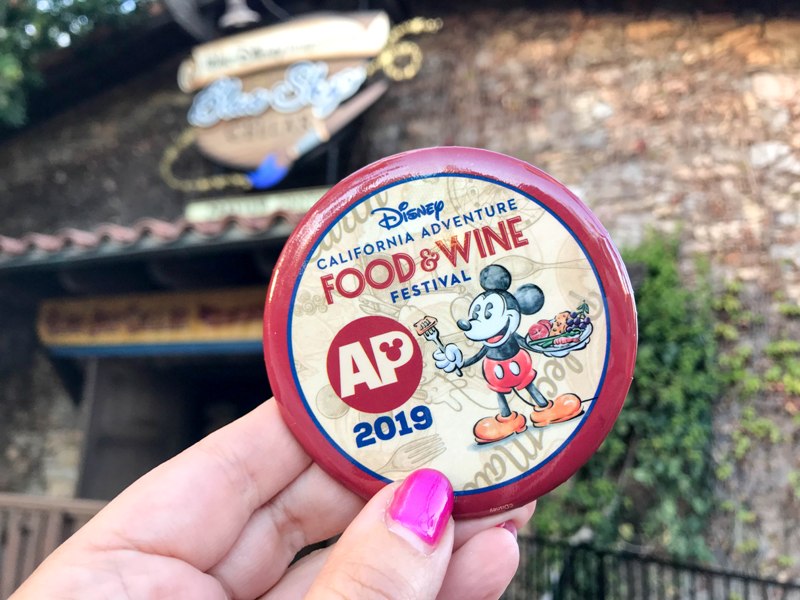 What to Do:
Aside from sampling food, wine, and beer, you can participate in instructor led tastings located at Sonoma Terrace, Paradise Gardens, or The Vineyard Room at Wine Country Trattoria. You can make reservations for these tastings online here.
You can also watch seminars, including celebrity and Disney chefs, or attend special receptions at Carthay Circle Restaurant or The Vineyard Room. Please visit the official Disneyland website for full details/schedule of what's available during Food and Wine Festival.
What to Eat
Obviously you should eat everything! Here's what's available, and what I've tried so far:
Nuts About Cheese – Fiscalini White Cheddar Lager Soup served in a Mini Boudin Sourdough Bowl; Ham and Vella Jack Cheese Pinwheel with Smoked Pistacios; Creamy Oikos Yogurt Cheesecake; Karl Strauss Brewing Company, Columbia Street, Amber Lager
My friend tried the Soup and loved it (I sadly cannot partake since I have a barley intolerance but I took a picture.)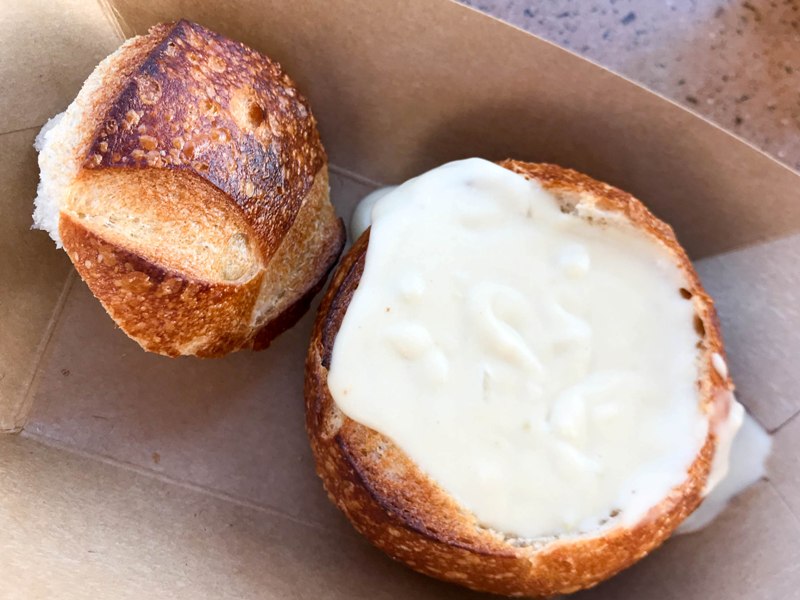 Uncork California – California Artisan Cheese Selection: Point Reyes Blue or Fiscalini White Cheddar Handcrafted Cheeses; White Wine Flight; Red Wine Flight; Mimosa Flight; Chandon Brut
I tried the white wine flight, which includes two Chardonnays. These offerings were a little "heavy" for me, and a bit of a disappointment after a couple years with great flights with nice varieties. This mimosa flight had some fun flavors; my favorite was Tropical.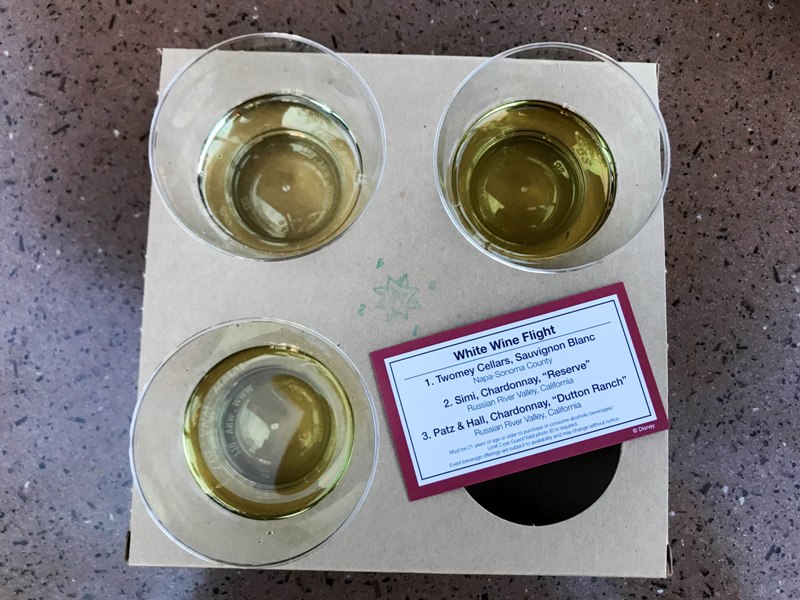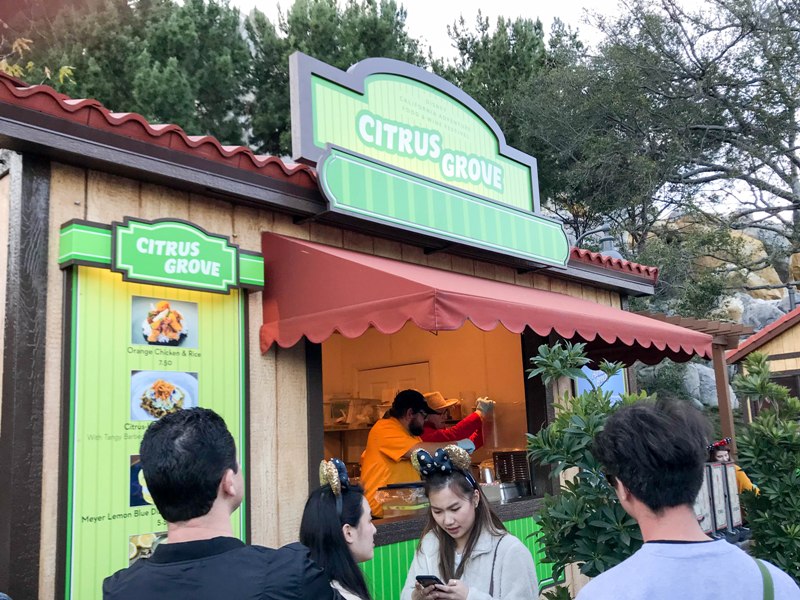 Citrus Grove – Citrus-brined Pork Roast with Tangy Barbecue Sauce and Lemon-Pepper Slaw; Orange Chicken and Rice; Meyer Lemon Blue Diamond Almond Macaron; Meyer Lemon Ginger Mule; Fever Tree Ginger Beer (non-alcoholic)
Despite all the flavors listed, I found the pork to be really bland. Tried (and really enjoyed and for some reason didn't take a picture of it) the Lemon Mule and really liked it. It really has a strong ginger kick.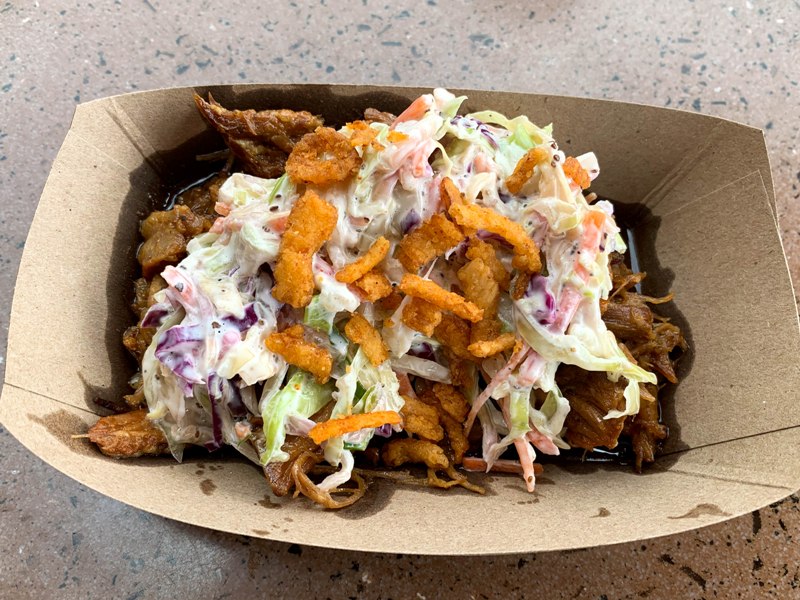 California Craft Brews – Pepperoni Pizza Egg Rolls with Marinara and Pesto Sauce; Bright and Balanced Beer Flight; Hoppy and Bold Beer Flight
My husband loved the flights and we both loved the egg rolls!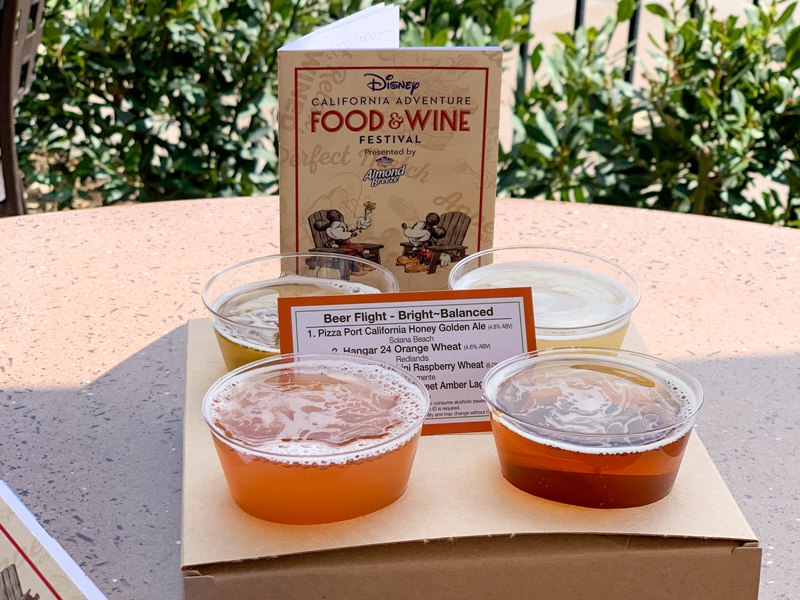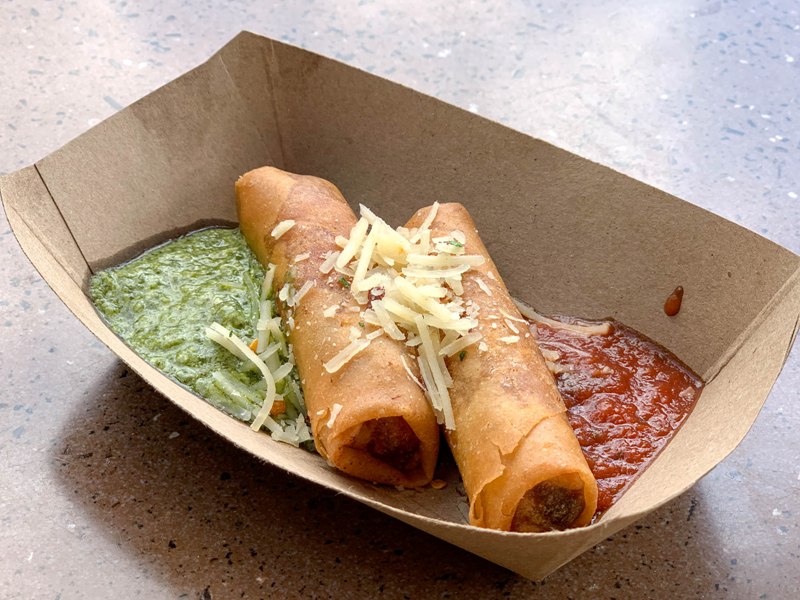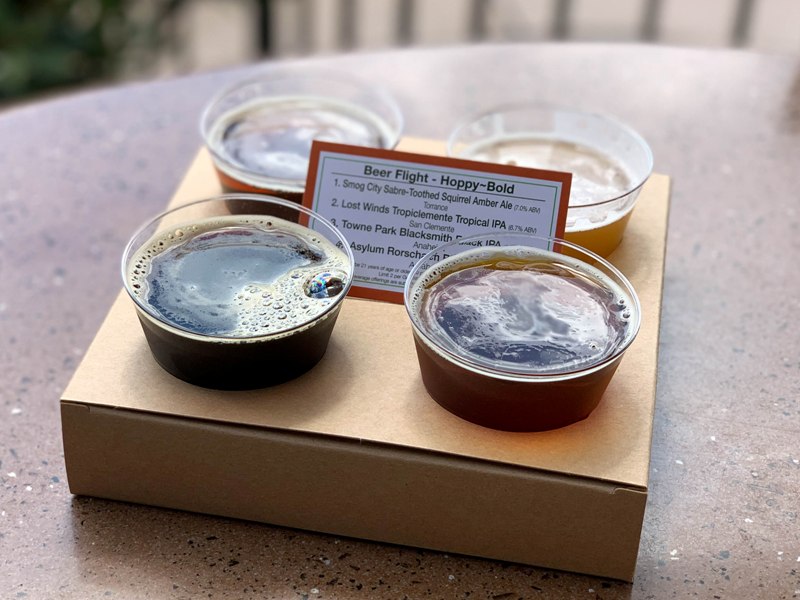 Berry Patch (new) – Strawberry & Coconut Rice "Frushi" with Sweet Oikos® Greek Nonfat Yogurt Wasabi Sauce; Fresh California Berry Pie; Blue Diamond Almond Breeze Almond Milk; Strawberry Float with Vanilla Ice Cream, Whipped Cream, and Crunchy Cereal Garnish
Just a side note that I tried the Frushi last year and it's good, although be warned it's very very sweet. This picture is from last year (and the frosé is back and available at Sonoma Terrace this year):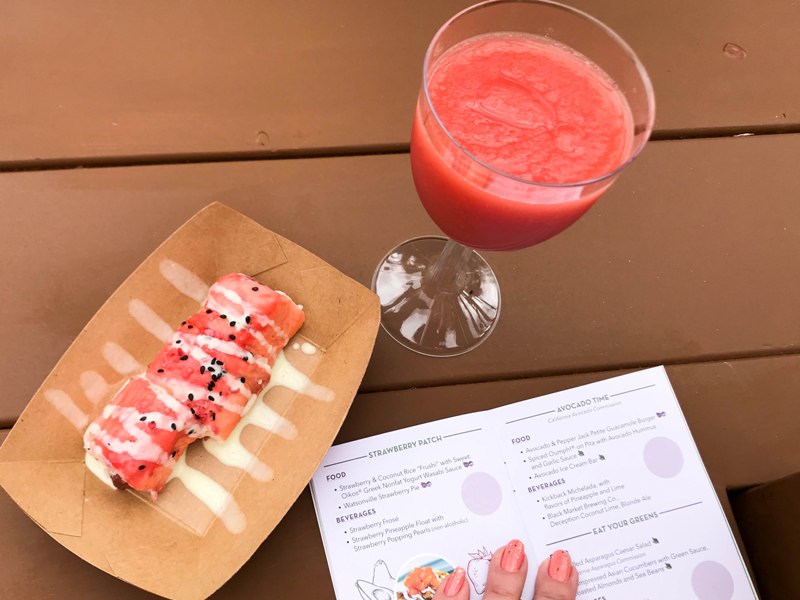 Peppers Cali-ente – If you like it hot, go here. Ghost Pepper Mac & Cheese with Chili Cheese Corn Chip Dust; Verlasso Sustainable Salmon Peruvian Poke with Cucumber-Lime Salad and Aji Verde Salsa; Jalapeño Lime Margarita with Jalapeño Garnish
Veggie, Veggie, Fruit, Fruit (new) – Grilled Asparagus Chicken Caesar Salad; Cauliflower Ceviche with Chile Corn Crumble and Tortilla Chips; Duo of Strawberry and Lime Fruit Fruit Bars; Davis Bynam Sauvignon Blanc, "Virginia's Block"; Chihuahua Cerveza, Limon, Premium Lager; Cool Lime Michelada with Frozen Lime Ice and Salt Rim
I enjoyed the asparagus salad, although it was a little salty for me (I'm fairly sensitive, according to my husband). I feel the chicken was not necessary; last year they served the same salad without the chicken. Still, if you like asparagus this is a good one to get. The fruit bars are also very popular because they are very "'grammable."
Avocado Time – Petite Impossible Burger with Guac and Pepper Jack Cheese; Spice Roasted Chicken on Pita with Avocado Hummus and Garlic Sauce; Kombucha Mojito Cocktail with Fresh Mint; Suja Organic Pineapple Passionfruit Kombucha
The little Impossible burger is so good! If you haven't tried Impossible meat-substitute before, this is a good way to have a taste. It's honestly so close to real meat, it's amazing.
I <3 Artichokes – Fried Artichokes with Blue Diamond Almond and Lemon Aioli; Artichoke Toast with California Olive Tapenade; Blue Diamond Almond Cake with Butter Streusel, Apricot Compote, and Brown Sugar Crème Fraîche; Chihuahua Cerveza, Rico, Premium Lager
Cluck-a-Doodle-Moo – Harris Ranch Grilled Beef Tenderloin Slider with Chimichurri Sauce; Salt and Vinegar Parmesan Chicken Wings; Watermelon Lemonade with Watermelon Garnish; Festival Beer Flight
Garlic Kissed – Creamy Mac & Cheese with Garlic Bread Crumble; Black Garlic Soy-braised Pork Belly Banh Mi; Chocolate Crunch Cake; Bloody Mary with Garlic-stuffed Olive
You all know I love my mac & cheese and I've been chasing the impossible dream of the french onion mac & cheese from a few years ago. IMO, nothing quite compares, but this garlic mac & cheese is pretty great. And it's nice to have two mac & cheese options this year. The banh mi was also delicious, although a bit spicy for me (even after removing the jalapenos). Crunch cake was delicious and cute.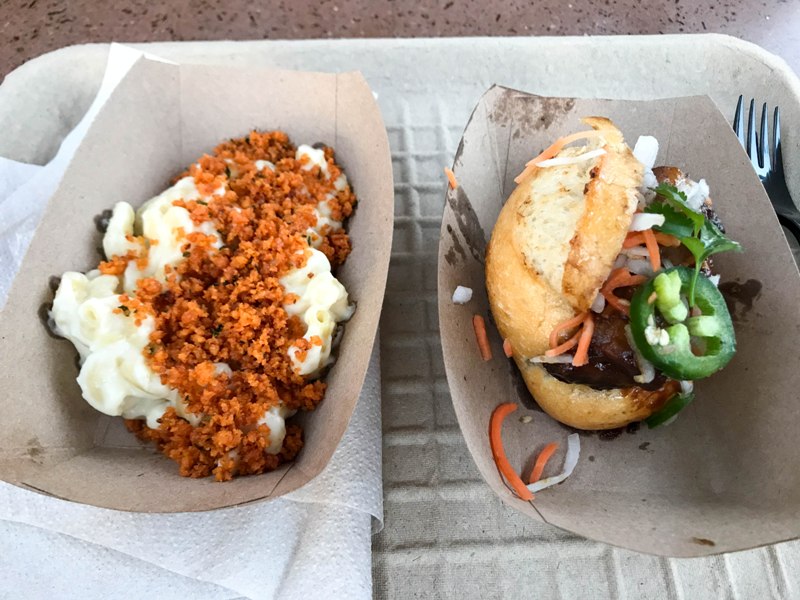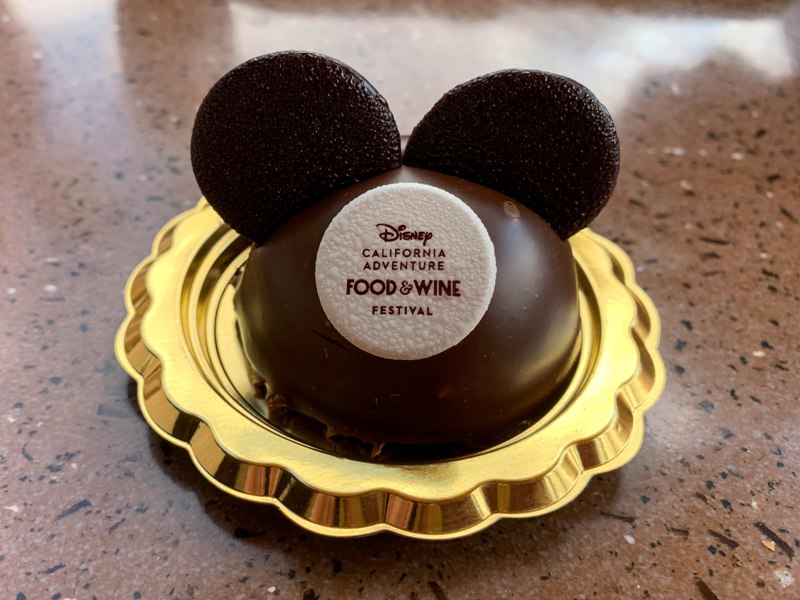 Off the Cob – Esquites Sweet Corn Nuggets with Bacon Lardons; Shrimp Boil Tacos with Andouille Sausage and Fresh Corn; Peach Tea with Peach Garnish; Citrus Radler Beer Cocktail, Lager with Grapefruit and Blood Oranges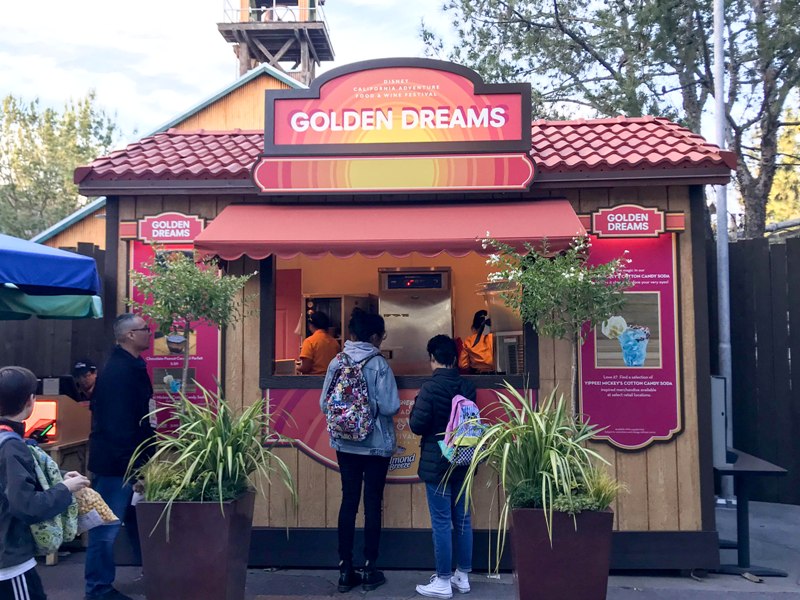 Golden Dreams (new) – Deconstructed Teriyaki Chicken Musibi with Pineapple Relish; Anaheim Chile Relleno Bites with Salsa Verde; Chocolate-Peanut-Caramel Parfait; Yippee! Mickey's Cotton Candy Soda (non-alcoholic): Sprite, Cotton Candy Premium Syrup, Half-rimmed Butter Cream with Pineapple Cotton Candy Garnish
Had a taste of the chili relleno bites before deeming them too spicy and passing them off to a friend. I really, really was hoping they wouldn't be too hot-spicy because chili relleno is one of my favorite Mexican dishes, but alas. It wasn't meant to be. The parfait, on the other hand, was my favorite item of the festival so far. Holy yum!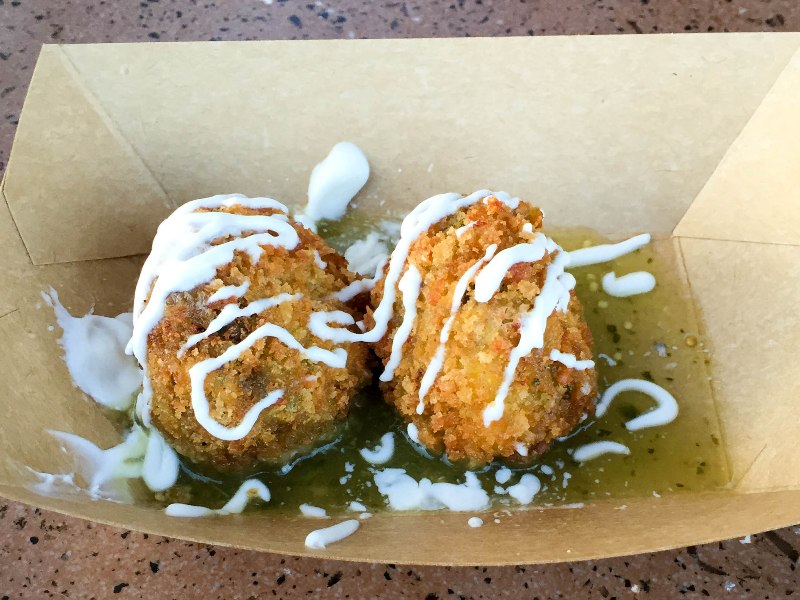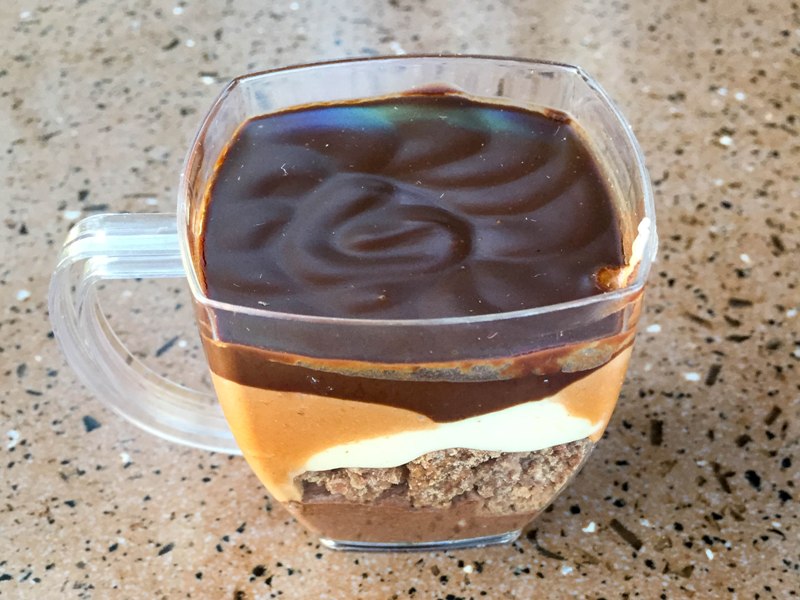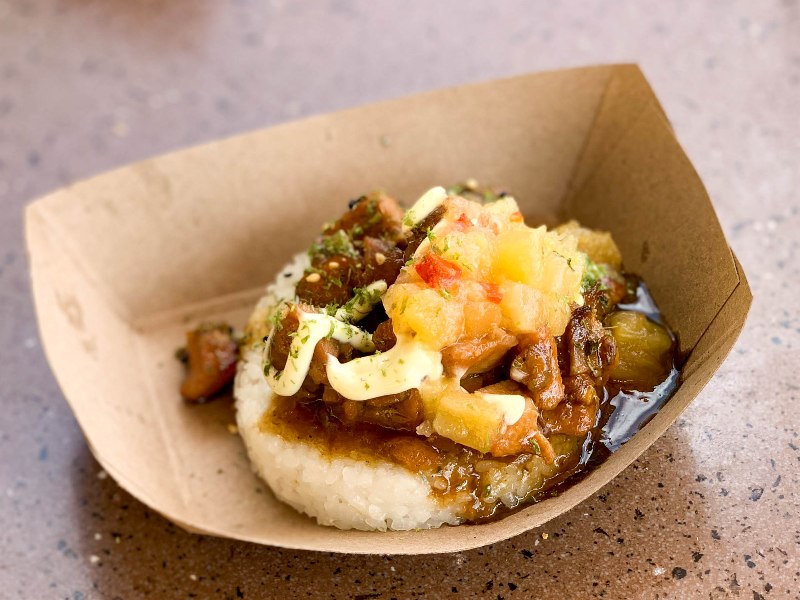 This Marketplace also recently added a new drink – Cinnamon Whisky and Frozen Lemonade Cocktail! I haven't tried it but sounds refreshing.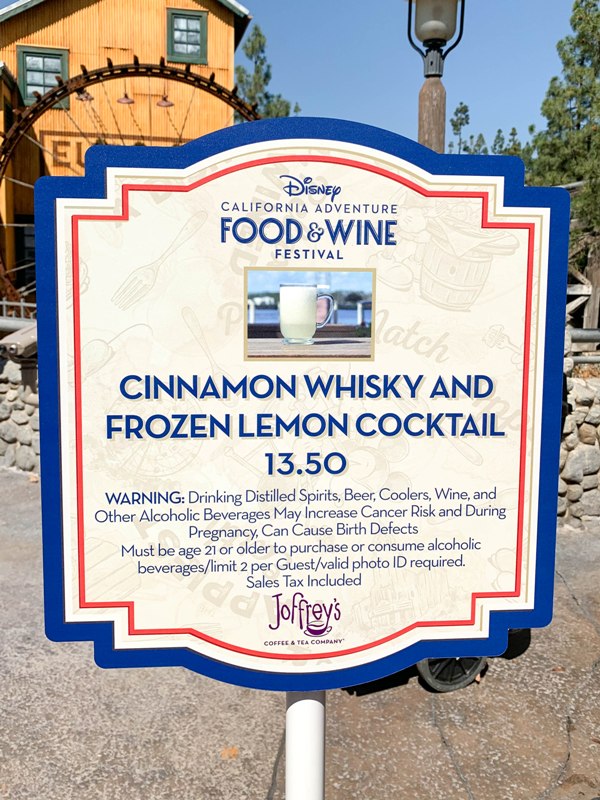 LA Style – Asian-Style Beef Barbacoa Taco with Pickled Ginger; BLT Chicharron Duro with Ranch Crema; Tiki Cocktail: Aged Rum, Falernum, Bitters, Lime and Grapefruit Jices, with a Mint Sprig and Luxardo Cherry Garnish
The Tiki Cocktail is grapefruit based so it's REALLY bitter. I won't be getting this one again but happy I tried it.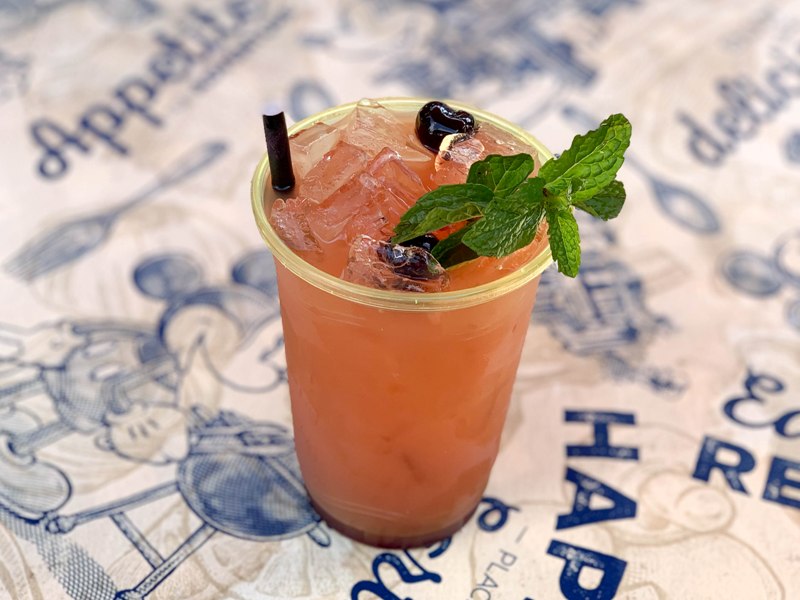 Paradise Garden Grill – Beer-battered Cod with Steak Fries and Spiced Remoulade; Impossible No "Meat" Ball Submarine with Marinara Sauce topped with Soy Cheese and served with Kettle Chips; Beer-braised Pork Tacos with Pickled Apple Slaw, Black Beans, and Queso; Buffalo-style Roasted Turkey Leg with Celery Slaw and Crumbled Blue Cheese; Large Soft Pretzel with Beer Cheese Dipping Sauce; Black Forest Parfait – Layers of Chocolate Cake, Vanilla Chantilly, Chocolate Mousse, and Cherries; Matanzas Creek, Sauvignon Blanc-Fume Blanc, Sonoma County, Nielson; 'Ōlelo Cabernet Sauvignon, Paso Robles; Deschutes Brewery, Pacific Wonderland; Sudwerk Brewing Co., Märzen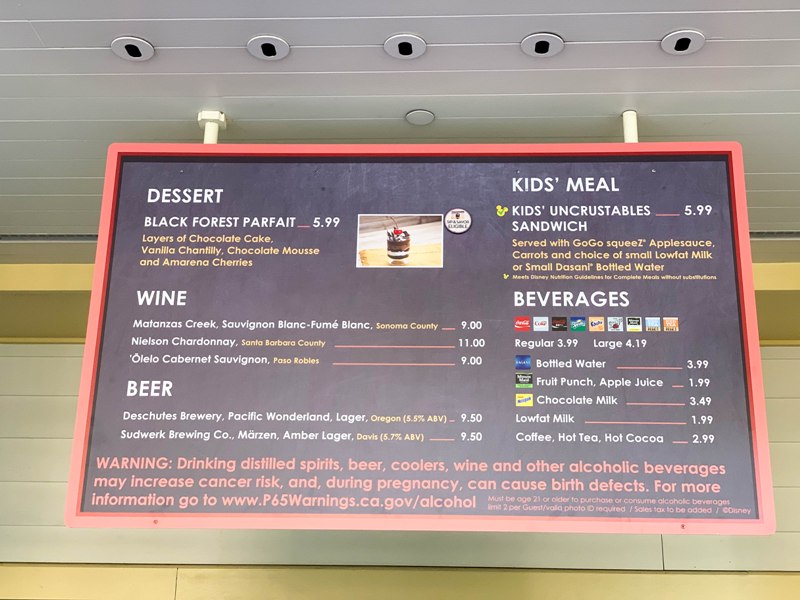 My friend got the sub and loved it, and check out the hidden Mickey! So cute. (Sorry it's upside-down.)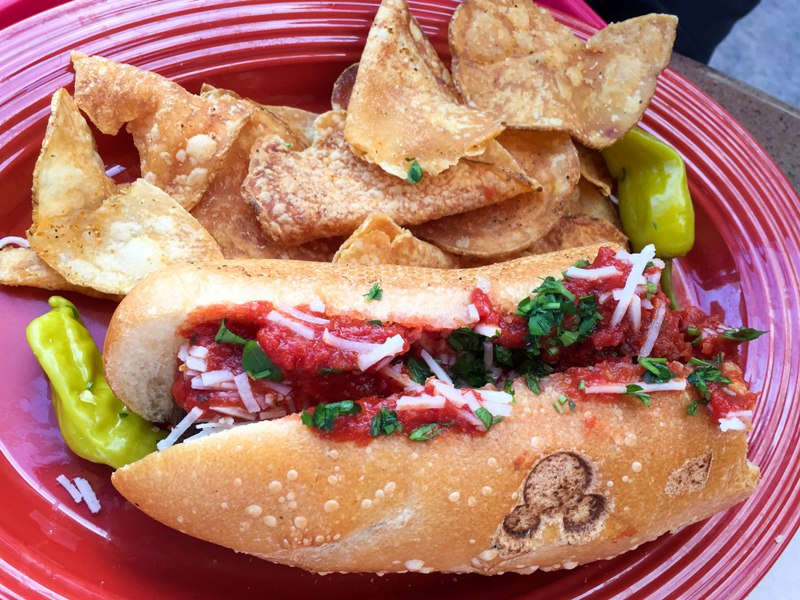 Cocktails at Sonoma Terrace – Mostly known for their beer selection, Sonoma Terrace has greatly expanded their festival offerings this year! As far as food, they have a Baked Brie with Blackberry Jam, and a Meatball Sandwich. My friend tried the brie and loved it. I tried the meatball sub and WOW, it was REALLY good! But huge! I shared it with two other people.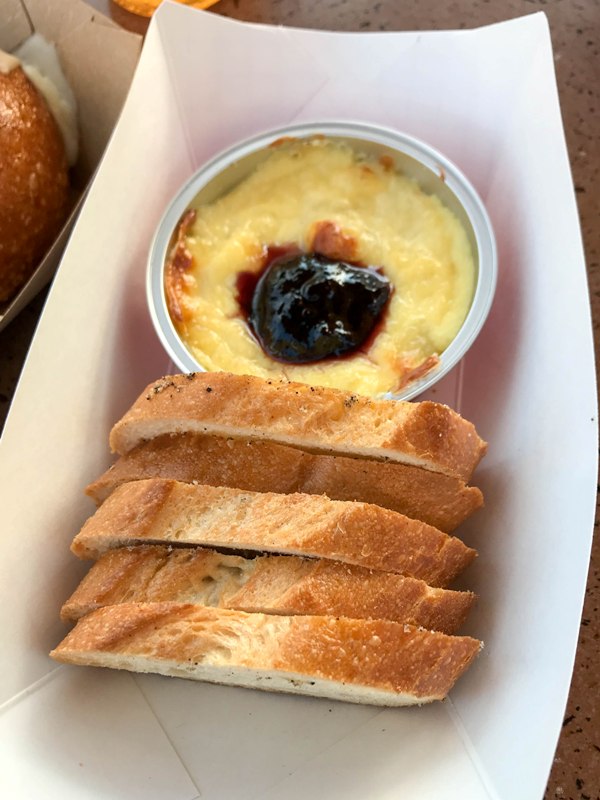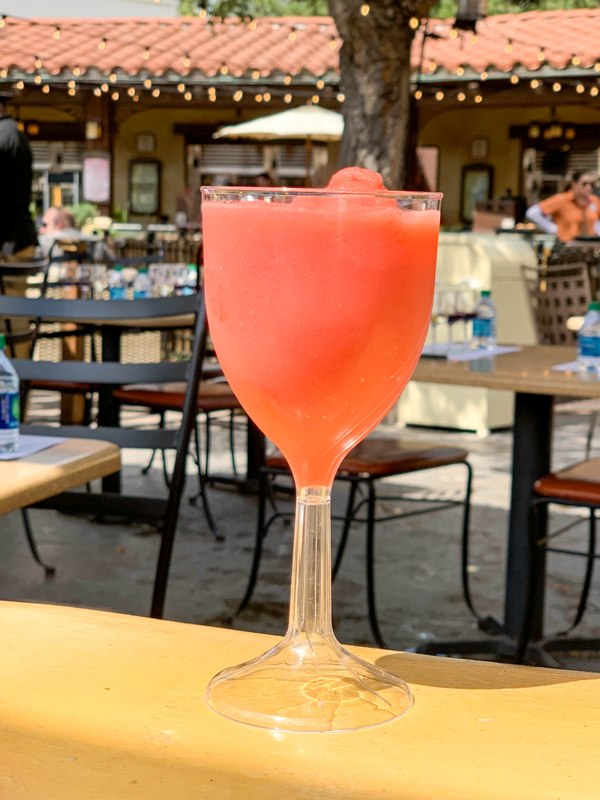 Be sure to pick up a Tasting Passport which you can get stamped as you go from Marketplace to Marketplace. They are free and should be available to get at any Marketplace or the information booth. The Tasting Passport also has a listing of all the Marketplace menus, plus Gluten-Free, kid friendly, vegetarian, and vegan items.
What to Drink
I don't drink beer (I have a barley intolerance) so I can't comment on any of the beers. But I did try the other drink flights.
California Craft Brews – There are 10 beers listed, as well as two flights: Bright & Balanced Flight or Hoppy & Bold Flight. Both flights are $15, and glasses range from $10.75 to $13.
Uncork California – The white wine flight is $17 and includes a Sauvignon Blanc and two Chardonnays.
The red flight includes a Pinot Noir, a Zinfandel, and a Red Blend. The red flight is $17.50.
There is a mimosa flight (one of two this year!) with hibiscus mimosa, tropical mimosa, and mixed berry mimosa. Try the flight for $17 or full glasses for $14 each.
Aside from the three flights and the full glass versions, there is a Chandon Brut available for $12.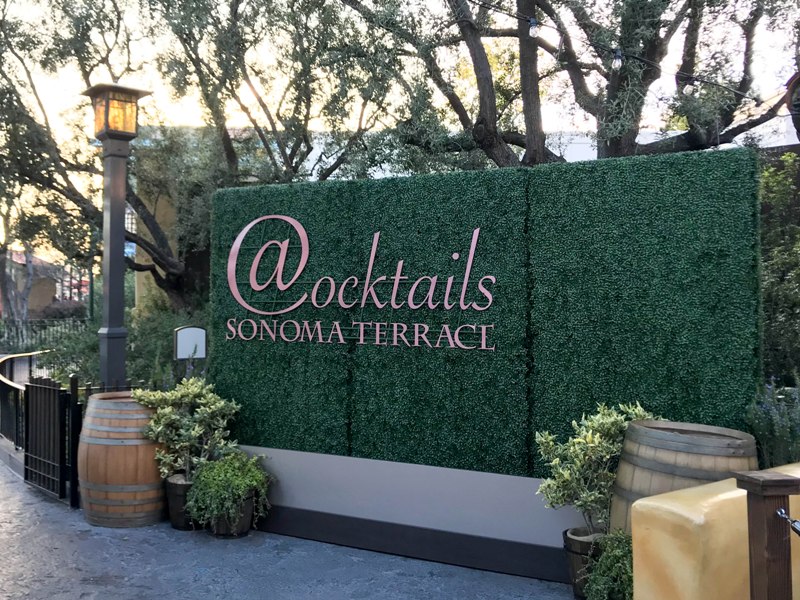 New this year is Cocktails at Sonoma Terrace. Loving the new offerings here! Not only can you get a rum drink and a vodka drink, they are also offering a mimosa flight that's different from the Marketplace one. The Sonoma Terrace mimosa flight includes a lemon sorbet mimosa, fruit punch mimosa with cherry garnish, and rosé sparkling wine with cotton candy garnish. Hands down my fave was the lemon sorbet mimosa! In fact, I would recommend skipping the flight and getting a full glass of that one. The flight is $16 and full glasses are $13 each.
Festival Beer Garden – The beer garden has four flights this year! The Beer Garden Flight, Bright and Refreshing Flight, Hoppy and Bold Flight, and Festival Indulgences. All flights come with four tastings, except for Festival Indulgences which comes with two (they must be very special). Also note that this "Hoppy and Bold" flight is four different beers than the flight at the California Craft Brews marketplace.
***
I'm really excited about this year's festival! I love the new additions and the unique food options. I'm planning to visit a lot and try as much as I can! When you go, don't forget to plan your menu ahead so you can order all at once, bring a hat in case you have to stand in the sun while snacking, and drink plenty of water!