My stay was hosted by Hilton Orlando Bonnet Creek. As always, all opinions are my own. This article contains affiliate links.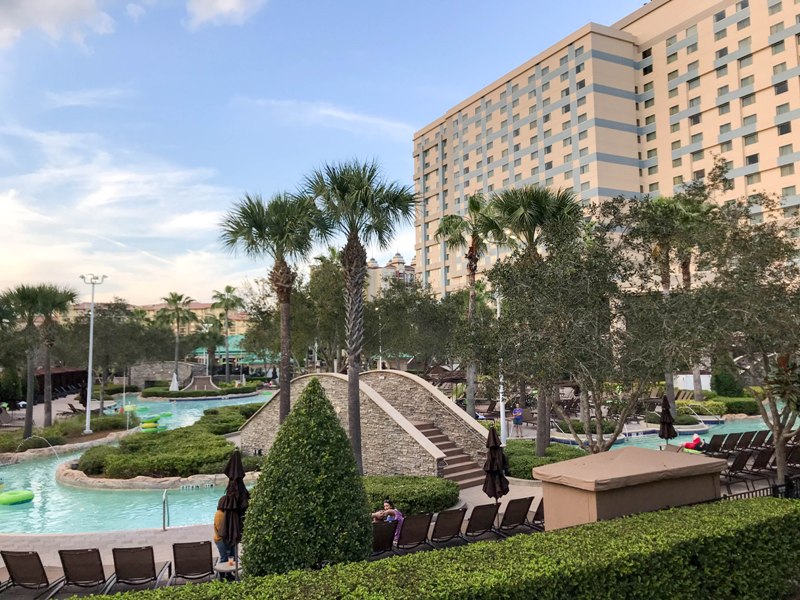 If you're looking for a convenient Walt Disney World hotel with lots of activities, amenities, and restaurants, but without the Disney price tag, look no further than the Hilton Orlando Bonnet Creek. I had a chance to check out the resort and was pleased with everything it had to offer! Keep reading to learn more.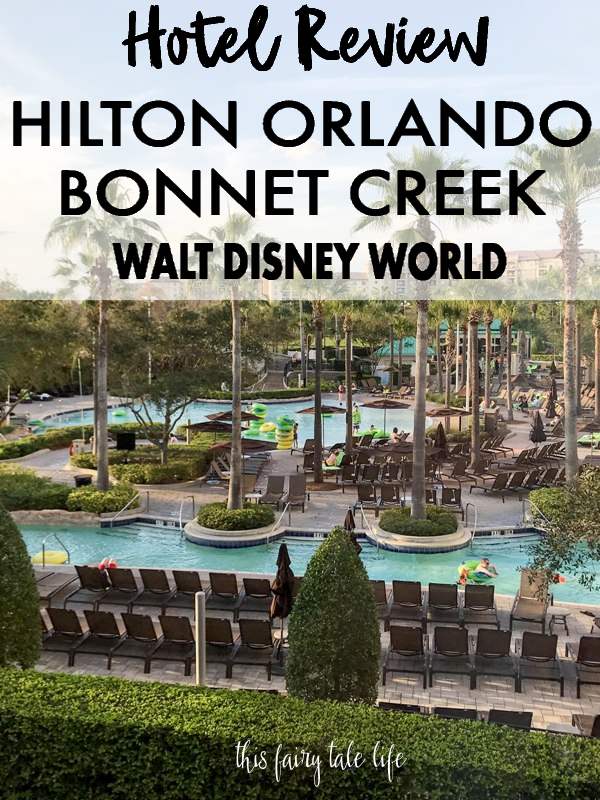 Hilton Orlando Bonnet Creek Hotel Review
Now that I've been to Walt Disney World a few times and consider myself an "expert" at getting around, I decided to branch out and try something new – staying "off property." But "off property" has a slightly different meaning at Walt Disney World than we're used to at Disneyland. People are familiar with the many Walt Disney World hotels to choose from, but did you know there are lots of other hotel chains in the mix? One of them is the Hilton Orlando Bonnet Creek, located in the Epcot area of Walt Disney World.

Photo credit: Hilton Orlando Bonnet Creek Facebook Page
The Bonnet Creek area is home to several chain hotels, but the Hilton appealed to me the most. Obviously it's a hotel brand I'm familiar with and have always liked, plus I'm a member of their Hilton Honors rewards program so I get those extra perks (like free wifi)! And, even though it's "off property," guess what? DURING MY STAY, Hilton Orlando Bonnet Creek became an "official" Walt Disney World hotel, which means guests get some of the same perks that on-property guests do.
If you've never visited Walt Disney World, I'm sure all of this is very confusing! Basically, if you stay at a Disney hotel you get certain perks that you don't get with a non-Disney hotel. But some non-Disney hotels have some of the perks.
Here's a list of the Walt Disney World perks guests receive when staying at Hilton Orlando Bonnet Creek:
– Walt Disney World Resort transportation (free motorcoaches take you to and from the four parks and Disney Springs at set times)
– Minnie Van service available
– Extra Magic Hours (this is new for Hilton and Waldorf Astoria! Guests must request a voucher at the front desk to participate in Extra Magic Hours.)
– FastPass+ selections at 30 days (vs 60 days for Disney hotel guests)
Here are the perks NOT included:
– No Magic Bands
– No Magical Express or complimentary airport transportation
– No Disney Dining Plan
For my trip, I used Mears for transportation to the airport (recommended on the Hilton website). It was $24 for a one-way trip, paid in cash to the driver. The motorcoach was ready early and everything went smoothly there!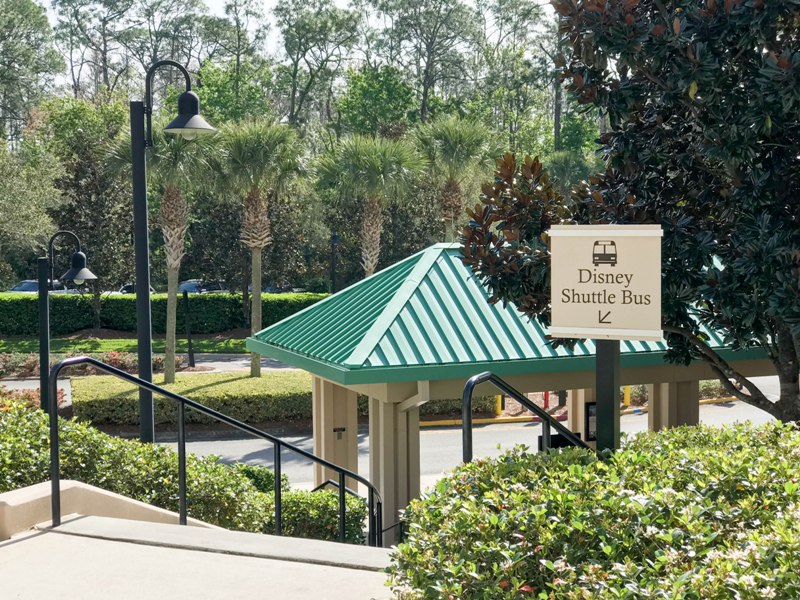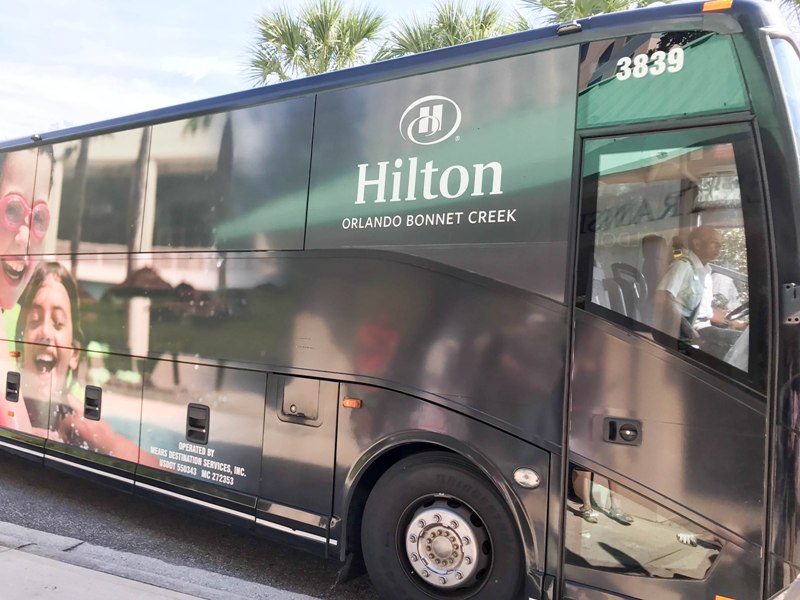 As far as the resort motorcoaches, they run pretty frequently and the timing worked out for me in most instances. If not, I used Lyft. For example, when I needed to get from the Hilton to Disney's Yacht Club for the Disney Weddings Showcase, I used a Lyft instead of transferring between shuttles. One note about the motorcoaches: They run on time or EARLY. I arrived at the bus stop at Disney Springs 10 minutes prior to the pickup time and the bus arrived 5 minutes before the pick up time and did not wait.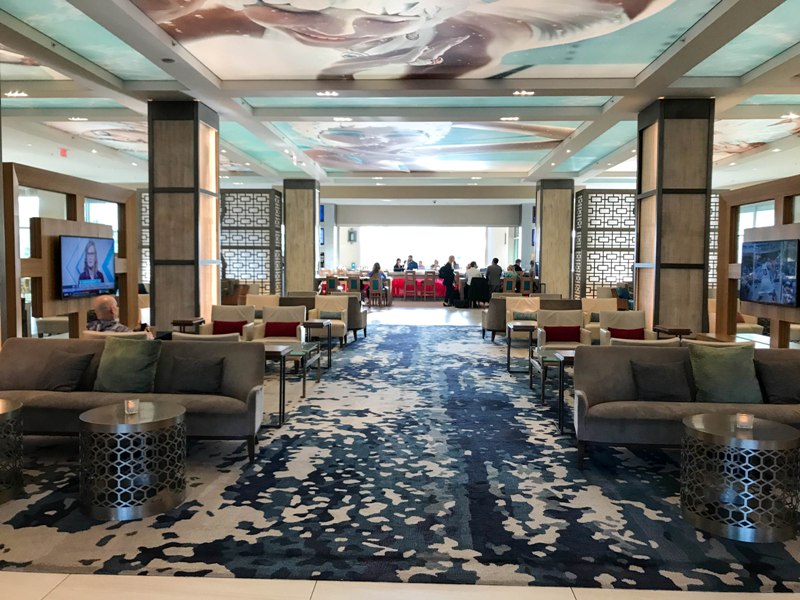 The Hilton Orlando Bonnet Creek is GORGEOUS right from the start. Opening in 2009, the hotel feels very modern, with a grand welcoming entrance and lots of open space in the lobby. When you walk in, you can go to the right to check in or visit with concierge, go left to the snack shop (open 24 hours), or go straight to the Myth lobby lounge. Guess where I went?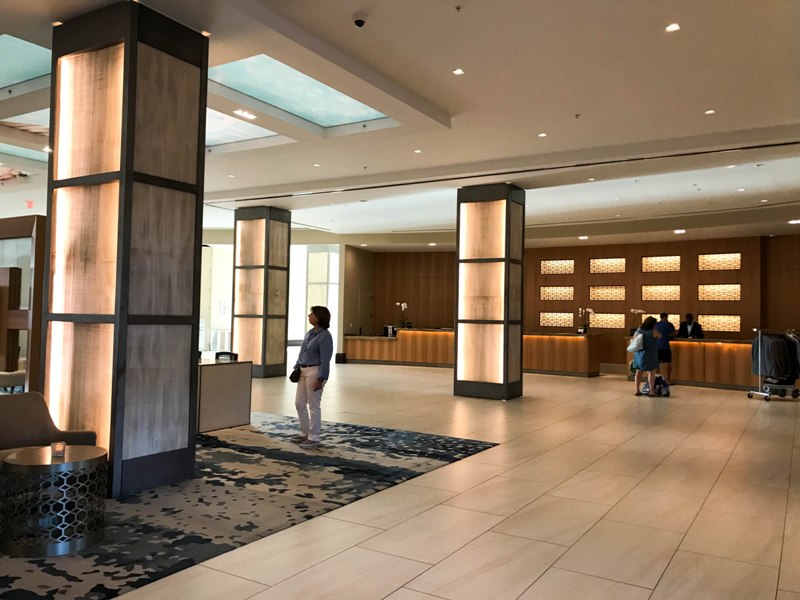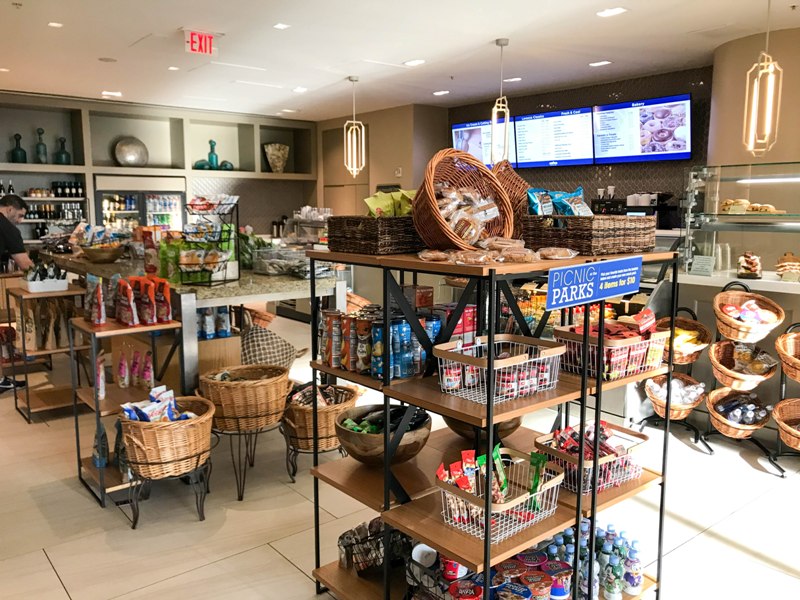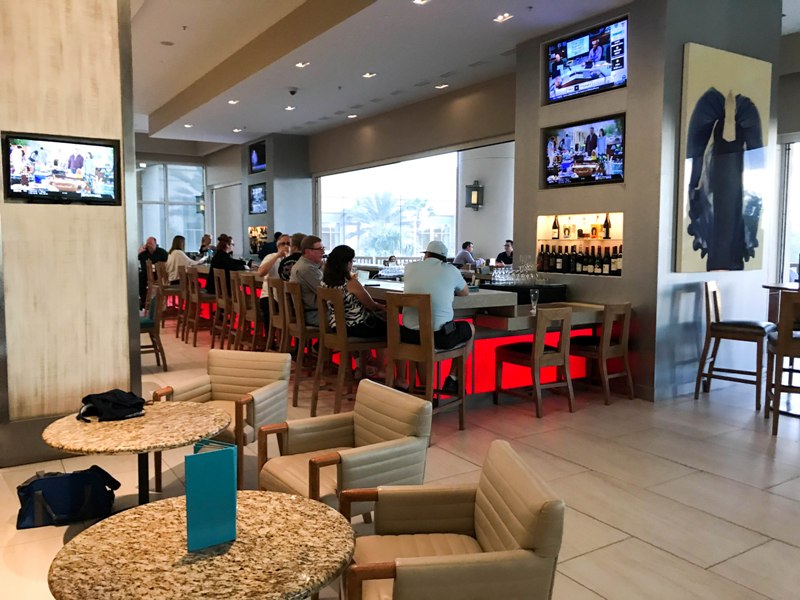 The Hilton is connected to the Waldorf Astoria via a huge conference center, which means a lot of the clientele are here for business. Walking around, you won't see as many guests wearing Minnie ears or Lularoe Disney leggings as you would at a Disney-owned property. I'll leave it up to you if that's a good thing or a bad thing. But, to all my Disney peeps, fear not – there is actually a mini Disney Store located at the Hilton! So you can stock up on all your Disney merch, including Magic Bands and Minnie ears headbands, before you head to the Parks.
Hilton Orlando Bonnet Creek Hotel – Rooms
My room was located on the 11th floor with a gorgeous view of the pool and a couple of the resorts – I spotted Disney's Hollywood Studios and Epcot! And yes, I did catch some Illuminations fireworks one night.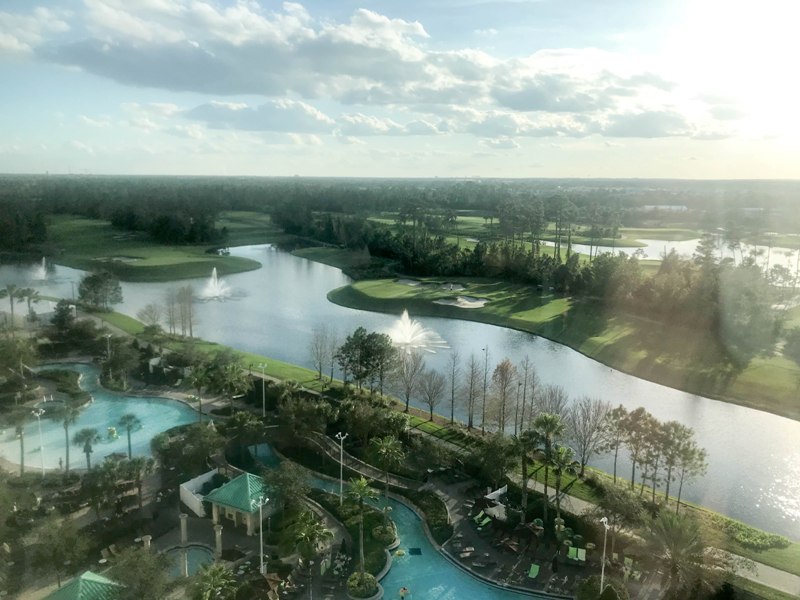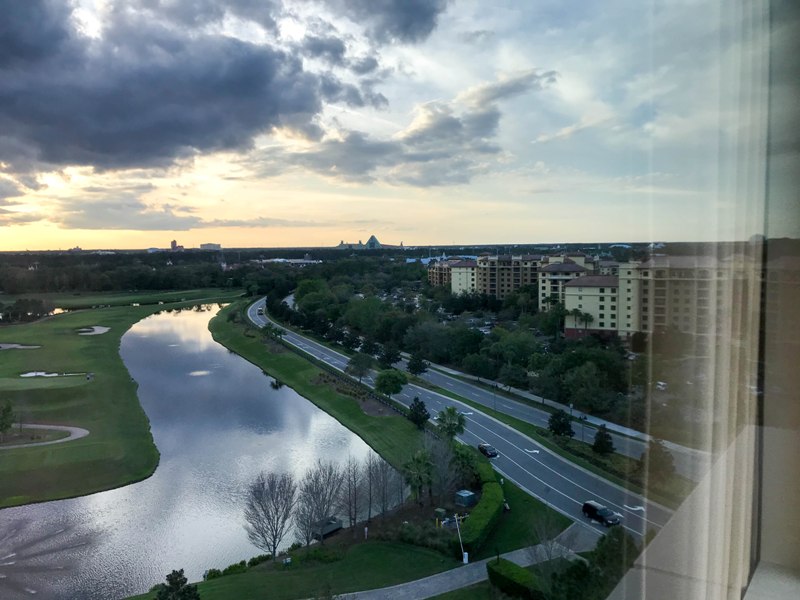 The room was comfortable and clean, with all the modern amenities you'd expect including plenty of power outlets by the beds (the only thing I care about in hotel rooms nowadays, to be honest). The room included a King bed, big flat screen TV, a safe, a robe to enjoy during your stay, and plenty of storage space. The desk pulled out to provide extra work space if needed.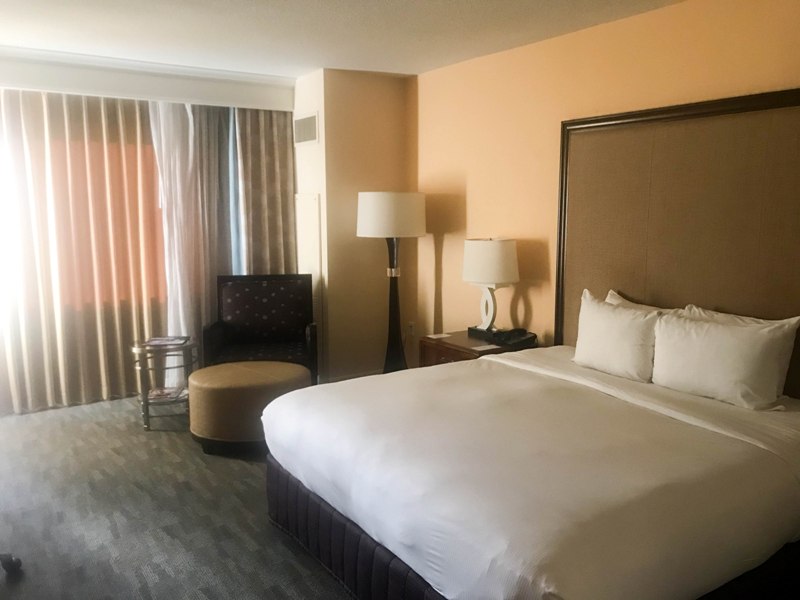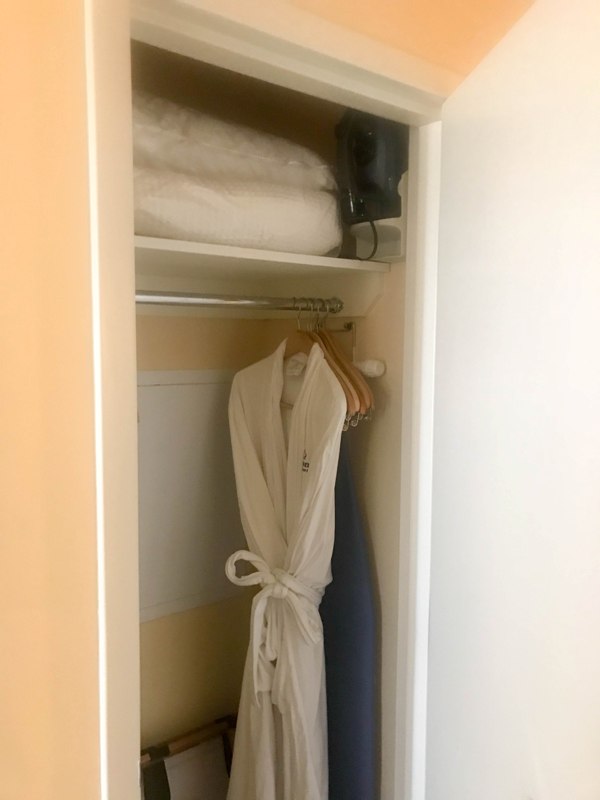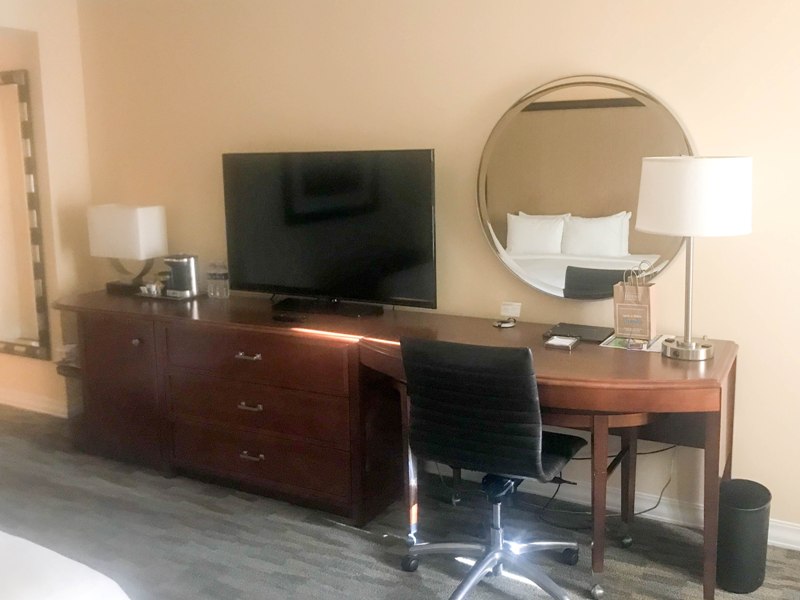 The bathroom was spacious, with a huge countertop (another necessity for me) and a nice glass shower.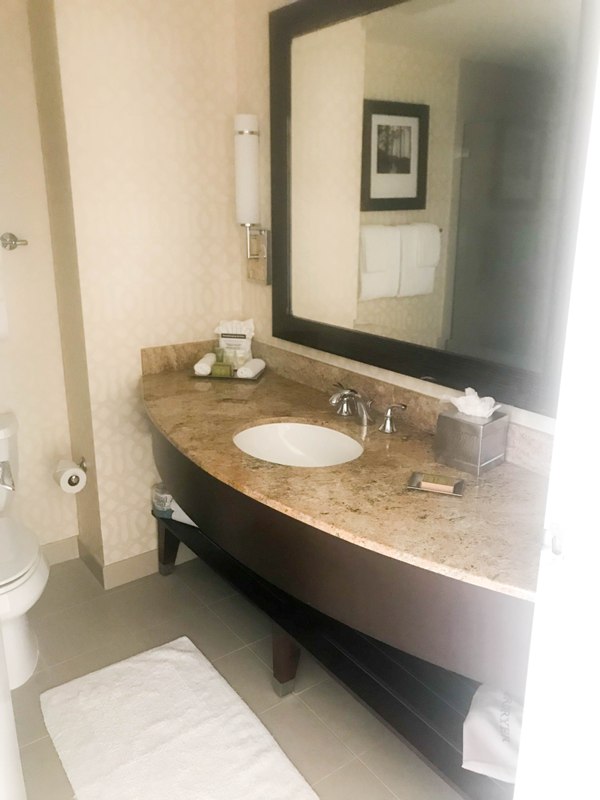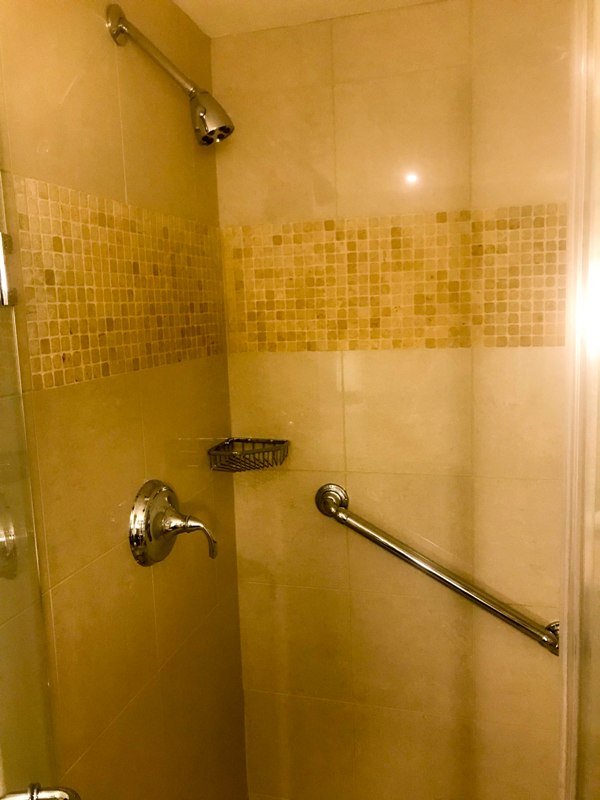 See the full room tour video:

Later in the day, Hilton surprised me with a bottle of rose and chocolate covered strawberries, which was very unexpected and much appreciated!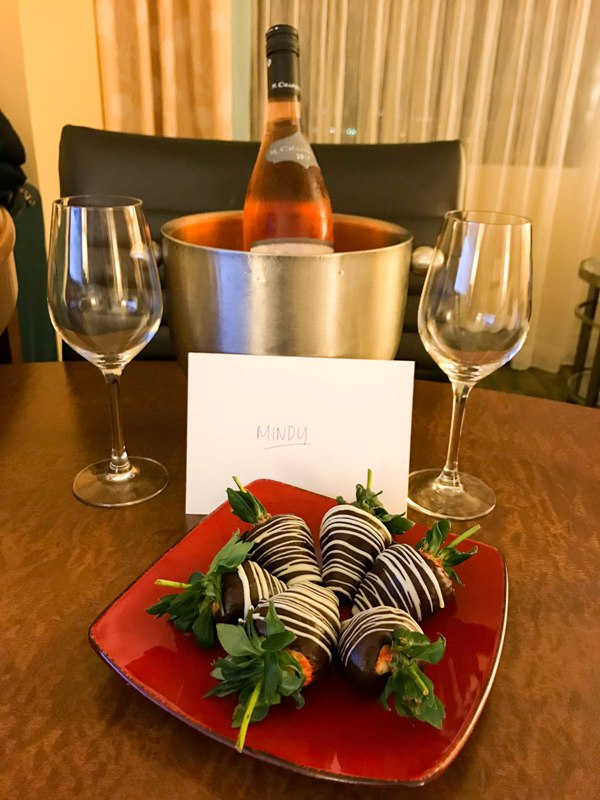 Hilton Orlando Bonnet Creek Hotel – Pool Area and Activities
I didn't get a chance to explore the pool during my short and action-packed visit, but it looks incredible. I can see why so many families love to stay here!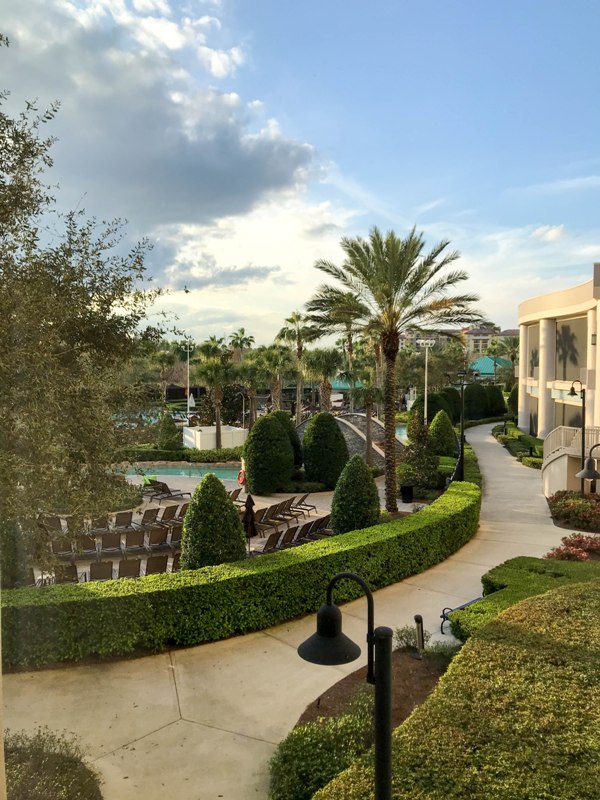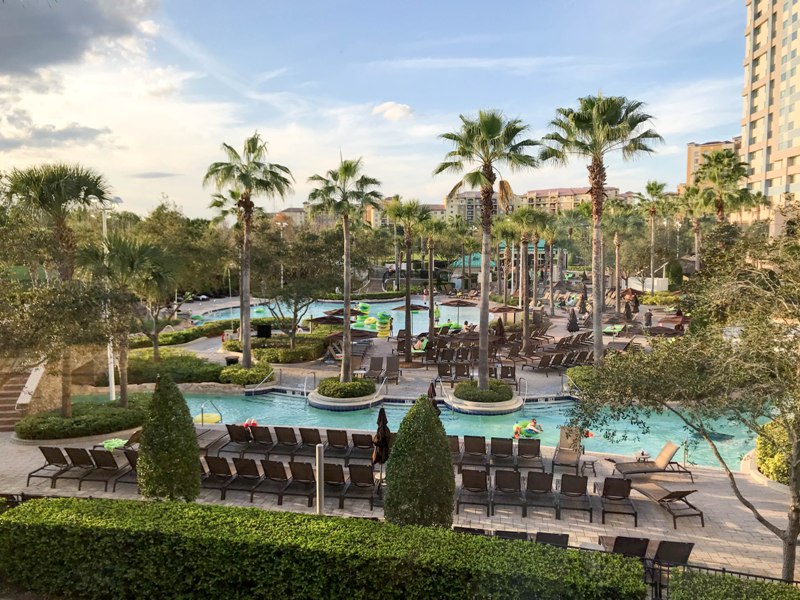 The pool area includes a large zero-entry pool in the center with a lazy river around it. Inner tubes and towels are available, free for hotel guests! There is also a pool bar for adult beverages and snacks, plus a small shop to purchase necessities like sunscreen. Private cabanas are also available to rent.
Across the way is the Waldorf Astoria Golf Course. Hilton guests have access to the golf course, and can reserve a tee time via the Hilton website.
If you want a spa treatment, guests can head over to the Waldorf Astoria Spa, also available to Hilton guests. You can make a treatment appointment online or inquire about reservations once you arrive. Couples massages are available, which seems like the perfect honeymoon activity!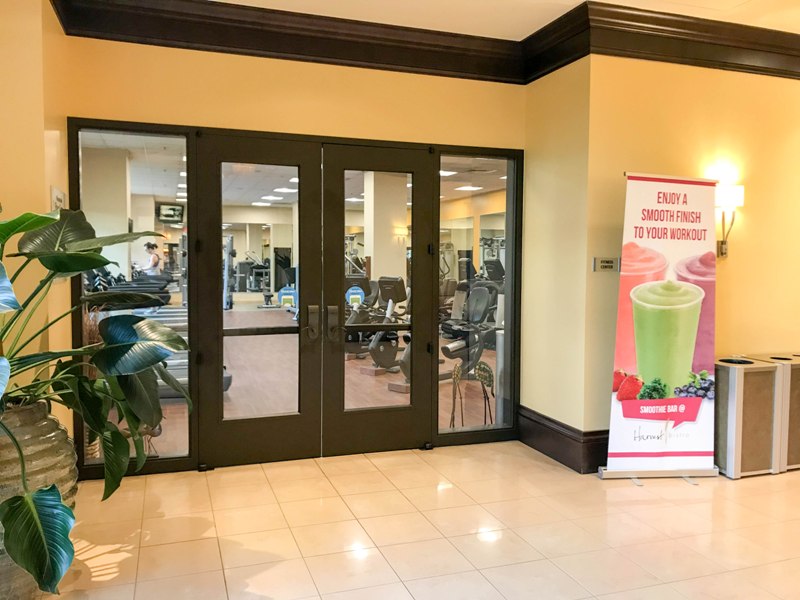 Finally, there is a fitness center located on the first floor of the Hilton, in case the Florida heat doesn't make you sweat enough.
Hilton Orlando Bonnet Creek Hotel – Restaurant and Food Options
One thing is for sure – you will NOT go hungry during your stay. There are several restaurant options to choose from, not even including the restaurants over at the Waldorf Astoria OR room service!
The first restaurant I want to highlight is Zeta Asia. Hilton Orlando Bonnet Creek was kind enough to host my dinner here, so a big thank you to them!
Zeta Asia features sushi and Japanese fusion dishes in a sophisticated atmosphere. The restaurant is right off the lobby and is open for dinner. There is a huge bar, so stop in for amazing cocktails or a full meal.
I'm not big on sushi or fish so I was a little nervous when I was invited to try Zeta Asia, but, wow! There are plenty of non-fish options and everything I tried was delicious. I even was brave and tried a little tuna sashimi … who even am I??? Vacation Mindy is so brave!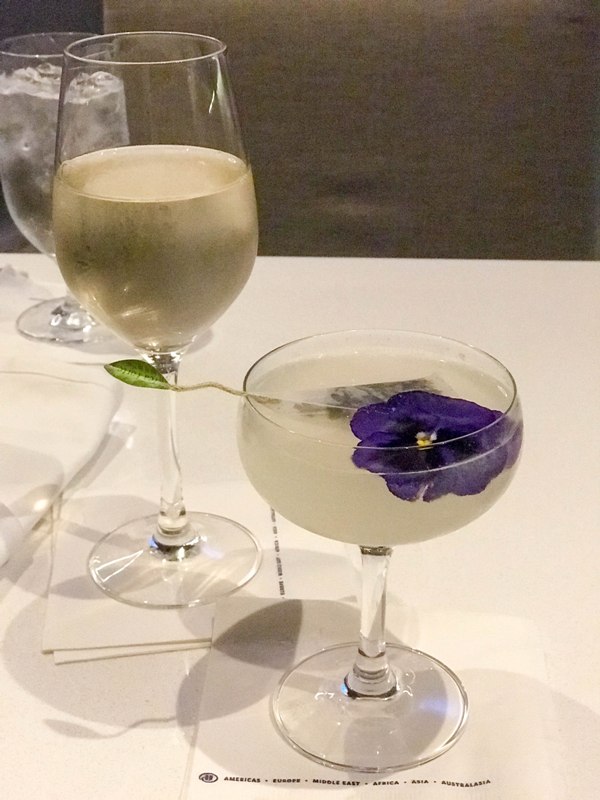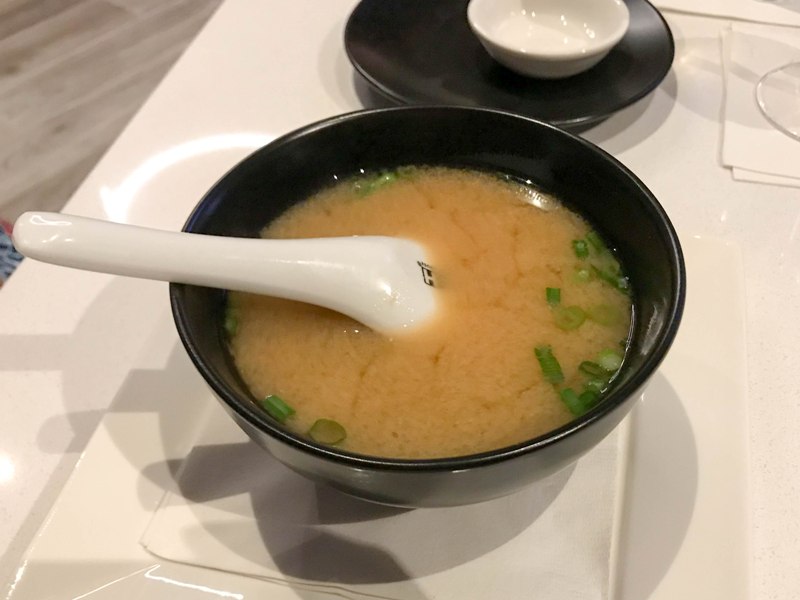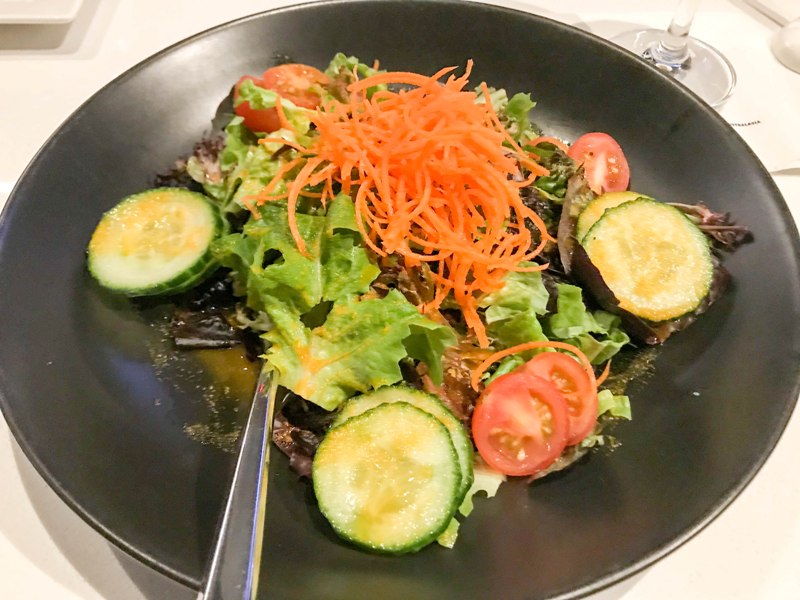 We started with drinks and appetizers. I ordered the Bonsai Tea cocktail, made with Absolut Pear and white tea. It was delicious! We also ordered the miso soup and Zeta Greens salad.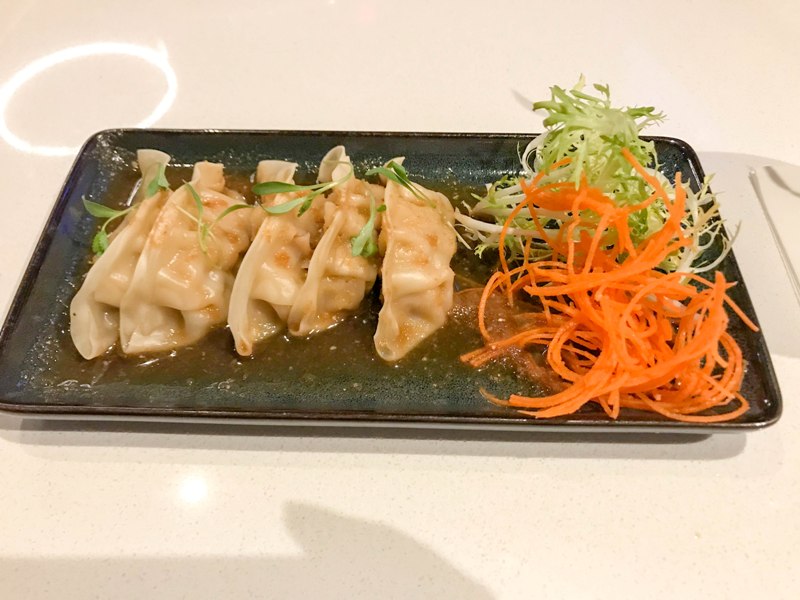 First course – I tried the Steamed Pork Dumplings and loved them! My friend ordered the Tuna Tosami and loved it also. I tried a bite and was impressed! It tasted more like super rare steak than fish.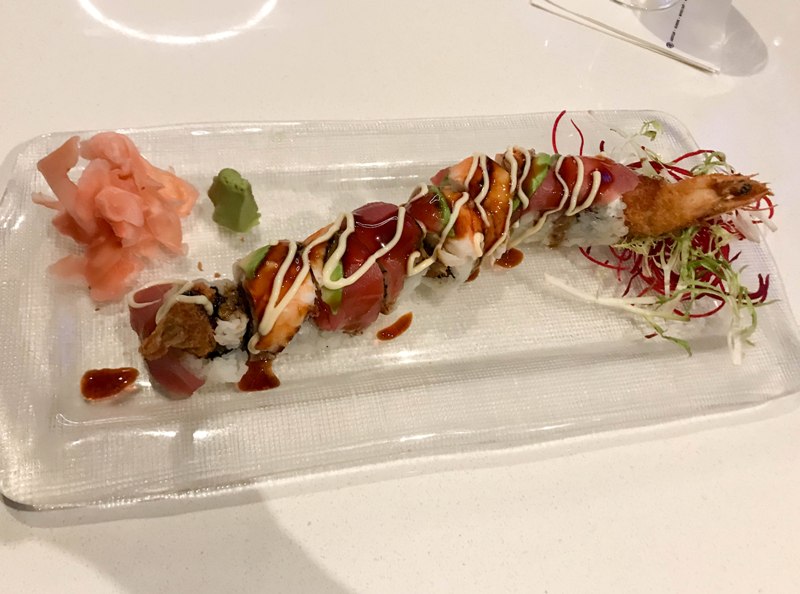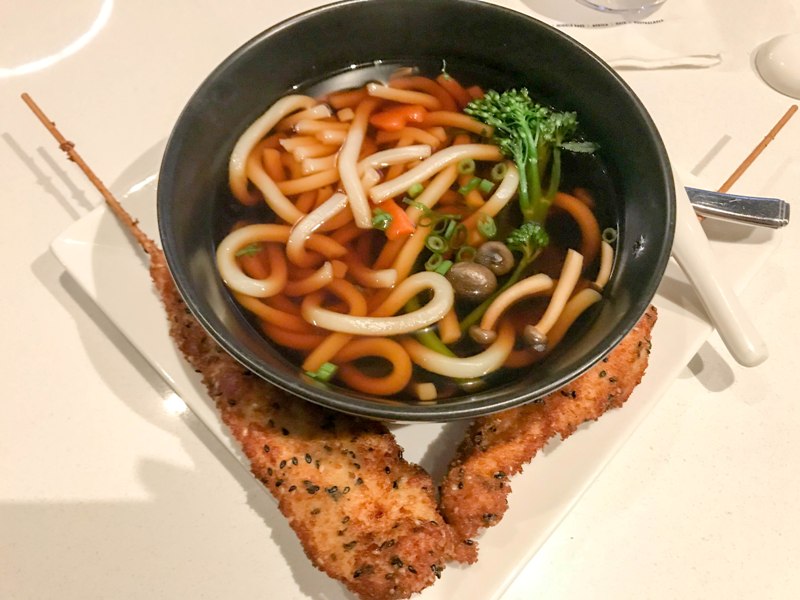 Main course – My friend ordered their very popular Dragon Roll and she was not disappointed. Despite liking the tuna, I stuck with a land dish, the Udon Noodle Soup with Panko Breaded Chicken. I was really impressed when the chef, Chef Gregory, came out with a sample of the broth which is made with fish oil. He wanted to make sure I liked it before I made my final order. Thank you, Chef Gregory! I did indeed like it! Maybe I do like fish after all, gasp.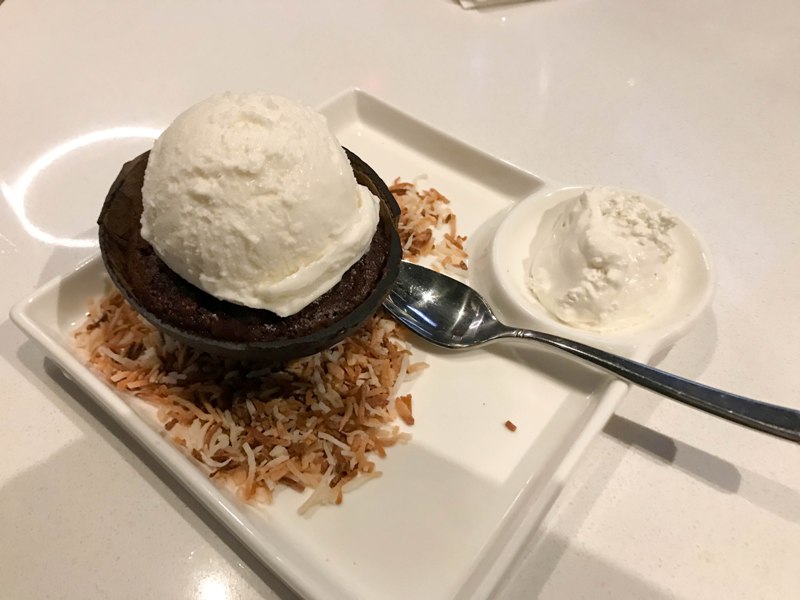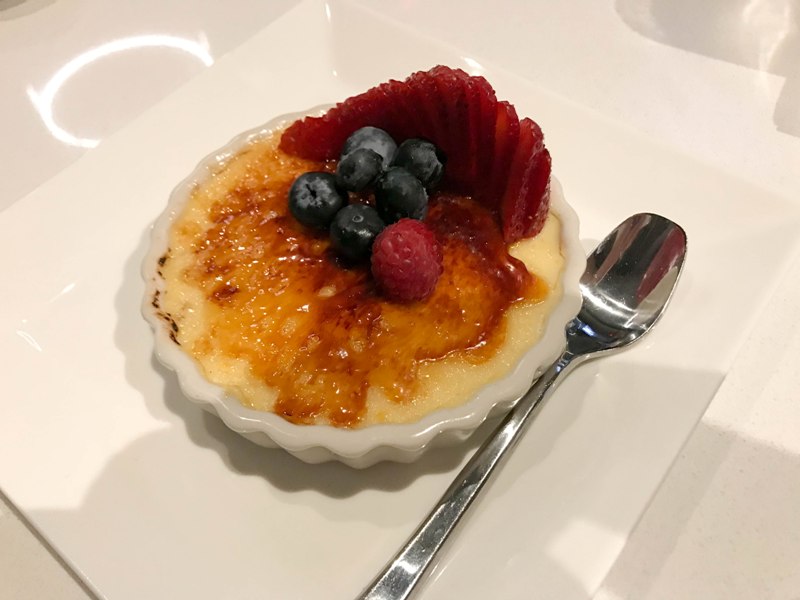 And for dessert – My friend enjoyed the Chocolate Coconut Cake, and I tried the Key Lime Creme Brulee. As a Creme Brulee connoisseur, I can assure you this is one of the best! The key lime flavor was very subtle.
The service and food at Zeta Asia were both outstanding; I highly recommend this restaurant for a romantic night out!
I also ate a couple meals at the lobby bar, called Myth, because I loved the open-air atmosphere (and the February weather in Orlando was utterly perfect). Plus the food was great! Bonus – USB ports at the bar!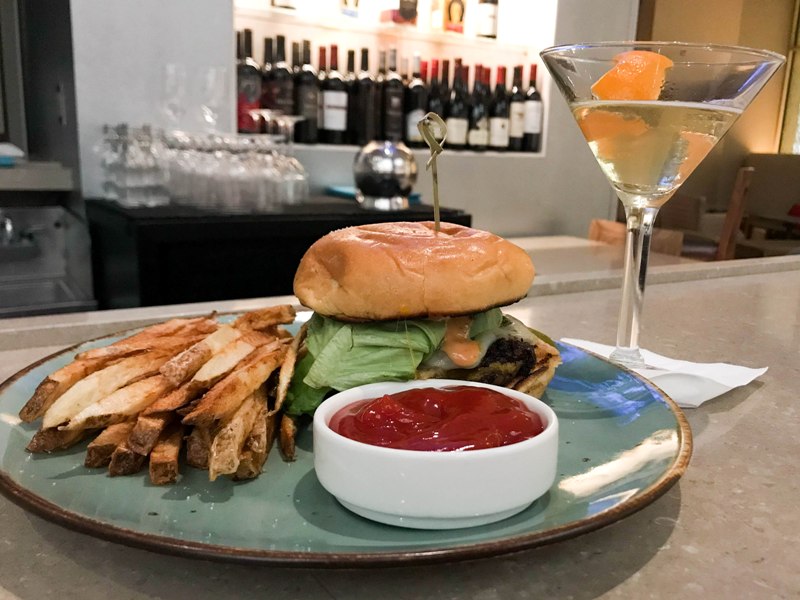 On my first night I had the Grand Cosmo and a Myth Burger. Really delicious! Later in my stay I had the Chicken Torta for lunch, and that was great too. All the food I had at the Hilton was top rate!
There are two additional restaurants I didn't have a chance to dine at, La Luce and Harvest Bistro. Both menus looked great; Harvest Bistro is the only one open for breakfast, seemed a bit more casual, and has a nice outdoor patio by the pool. La Luce is open for dinner and offers Italian fare.
Overall I loved my stay at Hilton Orlando Bonnet Creek and feel it's the perfect place if you're looking for a "non Disney" Walt Disney World vacation. Everything I experienced – from the room to the food to the top-notch customer service – exceeded my expectations. It's especially nice if you have Hilton points to use or are simply looking to stay in the heart of Walt Disney World Resort without the Disney price tag. With the pool area, golf, shopping, and all the restaurants, there is plenty of keep you occupied without even leaving the hotel resort grounds. This is a wonderful family hotel, but also a great place to spend a honeymoon or anniversary trip.
Book your stay at Hilton Orlando Bonnet Creek via Expedia.
Thank you again to Hilton Orlando Bonnet Creek for hosting my stay!