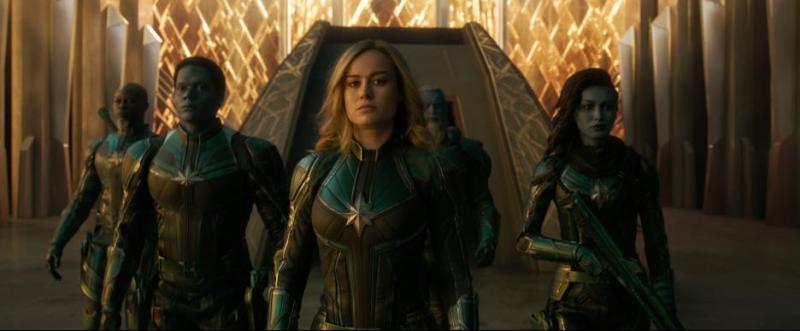 Earlier in the week I had a chance to attend an early screening of Captain Marvel! If you've been following me for a while, you know I'm a bit of a reluctant Marvel fan. I've never really been a superhero action movie kind of girl. But I've loved every Marvel movie I've seen, and Captain Marvel is no different! And obviously I'm a fan of more girl power in superhero movies. The representation is super important and Carol Danvers / Captain Marvel is a great role model. I hope my spoiler-free Captain Marvel movie review will encourage you to see the movie on opening weekend to show Disney WE WANT MORE WOMEN SUPERHEROES!
Captain Marvel Movie Review
About CAPTAIN MARVEL
Set in the 1990s, Marvel Studios' CAPTAIN MARVEL is an all-new adventure from a previously unseen period in the history of the Marvel Cinematic Universe that follows the journey of Carol Danvers as she becomes one of the universe's most powerful heroes. While a galactic war between two alien races reaches Earth, Danvers finds herself and a small cadre of allies at the center of the maelstrom.
The film stars Brie Larson, Samuel L. Jackson, Ben Mendelsohn, Djimon Hounsou, Lee Pace, Lashana Lynch, Gemma Chan, Rune Temte, Algenis Perez Soto, Mckenna Grace, with Annette Bening, with Clark Gregg, and Jude Law.
Marvel Studios' CAPTAIN MARVEL is produced by Kevin Feige and directed by Anna Boden and Ryan Fleck. Louis D'Esposito, Victoria Alonso, Jonathan Schwartz, Patricia Whitcher and Stan Lee are the executive producers. The story is by Nicole Perlman and Joe Shrapnel & Anna Waterhouse, and the screenplay is by Anna Boden & Ryan Fleck and Geneva Robertson-Dworet and Jac Schaeffer.
Watch the trailer for CAPTAIN MARVEL
As I alluded to before, I loved this movie. I tried to avoid all of the weird Internet backlash that's been popping up. In my opinion it's all very silly. The movie is well made, action-packed, and lots of fun. I wouldn't say it's my favorite Marvel movie but it's certainly a good time and a worthy addition to the Marvel line up.
If you've seen a Marvel origin story before, then you kind of know what to expect with Captain Marvel. Since this movie is set over a decade before nearly all of the other Marvel movies, it's sort of an origin story not only for Captain Marvel but for some other familiar characters as well.
Throughout the film, we watch as Vers, aka Carol Danvers, aka Captain Marvel, fights in a galactic war and tries to piece together her forgotten past, all at the same time. As with most Marvel movies, the plot can get a little complicated so just take it all in and follow along the best you can. If you have seen all of the Marvel movies thus far, you'll probably catch on a little quicker than I did!
Let's talk about the star of the film, Brie Larson. I first discovered Brie through the TV show Community, where she played the adorable Rachel. Then she went on to win an Oscar for Room, an amazing film. I was so excited when I heard she was cast as a lead in a Marvel movie. The world needs more female superheroes and Brie is the perfect person for it. She plays the role of Carol Danvers and Captain Marvel with such confidence and pride; you can really tell she's in her element!
The other star of the film is obviously GOOSE! Goose the cat is a scene stealer and has a few surprises up his collar so keep an eye on that adorable tabby. Attention Disney: More cats in your movies, please!!
One thing I really loved about Captain Marvel is the 90s nostalgia! As a gal who came of age in the 90s, I loved the music (this soundtrack is a must buy!) and some of the 90s-era technology references got a huge laugh from me.
One of the perks of living in Burbank is recognizing some of the filming locations. When Carol and Nick Fury were chatting inside a bar, I instantly recognized the interior of one of my favorite local hangouts, Tinhorn Flats. #BurbankLife
This is a Marvel movie after all, so stay in your seats for the credits. There are two bonus scenes. And you're going to want to get to your seats early for the heartwarming tribute to Stan Lee before the movie starts.
And if you're taking the kiddos, be aware this movie is full of your standard sci-fi combat and blasters, plus a few "S" words.
Overall Captain Marvel is full of action, laughs, and heart as we watch Carol Danvers realize her true potential. I loved it, and I think you will too!
Captain Marvel is in theaters everywhere Friday March 8, 2019 and is rated PG-13.