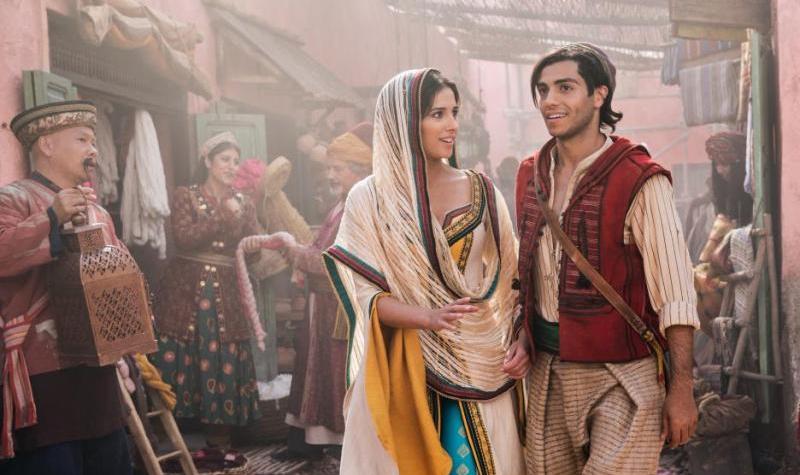 Disney's latest live-action remake, "Aladdin," is in theaters today! So if you're a big fan of the original, is this one worth seeing? I love the original film and especially loved Robin Williams as the Genie, so I went into this one with lowered expectations. I'm happy to say I really enjoyed it! The film is not perfect, no. But it's a delightful film with lots of funny, sweet, and empowering moments.
Live-Action ALADDIN Movie Review
Watch the trailer for "Aladdin:"

I have to say, I'm always a little skeptical of these live-action remakes of classic animated films. But "Aladdin" is my favorite of the bunch, so far. Which is saying a lot because I think the original "Aladdin" is my favorite classic Disney movie out of all the ones remade so far (with Dumbo being my favorite childhood movie).
I was in Junior High when the original "Aladdin" came out and I was a SUPER MOODY TEEN who was TOO COOL for Disney movies. I hadn't watched a Disney movie in years. But my friend wanted to go see it instead of having a traditional birthday party, so I reluctantly went along with the birthday girl and around 12 other girls from our class. And, wouldn't you know … it was actually really great.
So a big thank you to "Aladdin" and that Jr High friend for getting me back on the Disney animated movie train.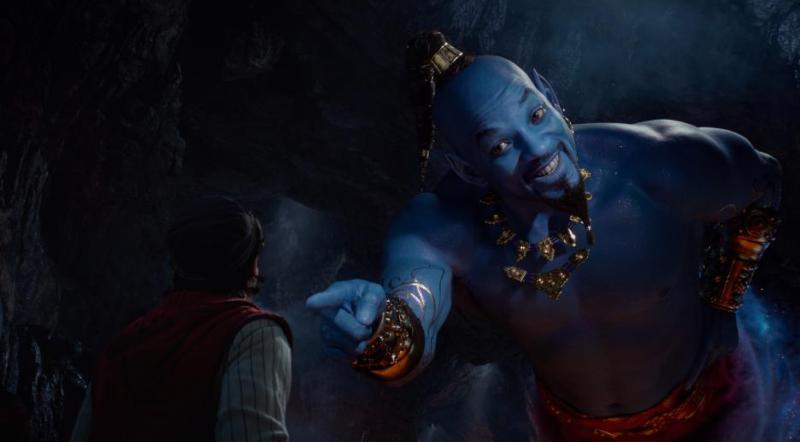 So, back to the new film … I know what your main question is. How is Will Smith as the Genie? Could he possibly do the Robin Williams character any kind of justice?
Disney got a lot of slack from Twitter when they first released clips of Smith as the Genie. I was a little skeptical, too. I didn't dislike it, buuuuuut … I didn't love it either.
Now that I've seen the film, I thought Smith did an excellent job of taking the iconic classic Disney character and making it his own. Do NOT judge Smith's Genie by the trailers and song clips released so far. His best moments are not in the trailers, and in fact I thought his singing was not very impressive.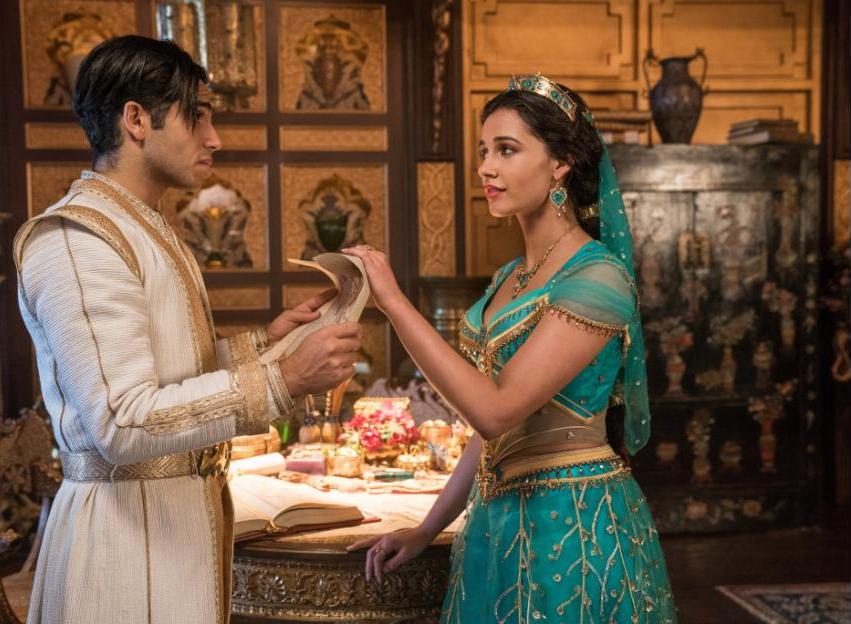 But Mena Massoud as Aladdin and Naomi Scott as Jasmine more than make up for it. They both have impressive and powerful voices and "A Whole New World" was absolutely delightful. I had chills, even.
The movie follows the plot of the original pretty faithfully. One major (welcome) change is Jasmine's independence. Jasmine was never a "prize to be won," but in the new film she has the ambitious goal of becoming Sultan, even though a woman has never been Sultan before.
Jasmine sings a new song, "Speechless," written by Aladdin's original composer and songwriter Alan Menken (along with "La La Land" songwriters Benj Pasek and Justin Paul). It's an especially fitting song for our current challenging times and is a welcome addition to the classic soundtrack.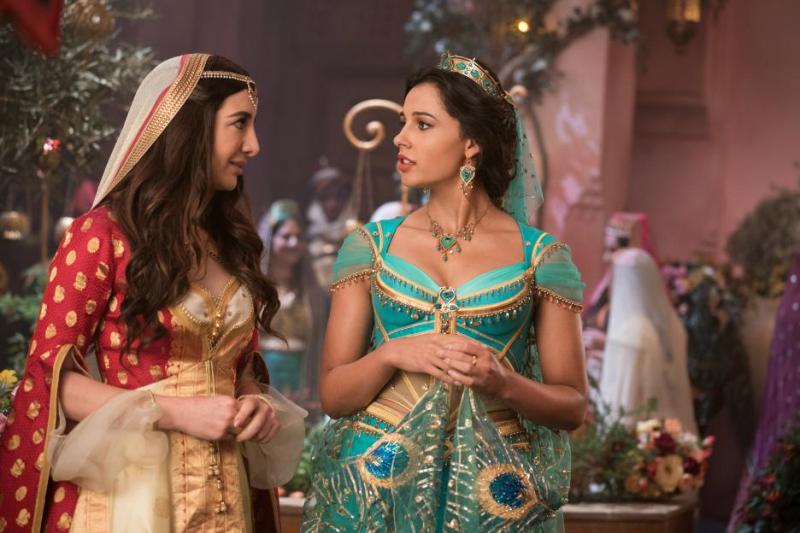 Perhaps my favorite aspect of the movie is how visually breathtaking every single scene looks. Agrabah and Jasmine's palace is an absolute fantasy. The outside market set for "One Jump" is mind boggling. The flying carpet scene is beautiful. Literally every turn a surprise. The quick effects they do for the Genie rival the original animation.
The fashion is dazzling. Abu is ADORABLE. Production level, cinematography, and special effects are next level amazing. I predict several Academy Awards for this one.
A few honest notes: I think the thing I dislike the most about these remakes is that I know what's coming up and I know how everything is going to end. This "Aladdin" remake stays pretty faithful to the animated original (aside from Jasmine's girl power story line as mentioned above). It's a GOOD story, so no need to change it. But, because the movie was so predictable, the two hour running time felt very long to me.
My only other note is about the dancing scenes, which seemed to have some kind of sped-up, jerky treatment applied to the final product for reasons I don't quite understand. Perhaps I'm old and out of touch with how the kids dance nowadays?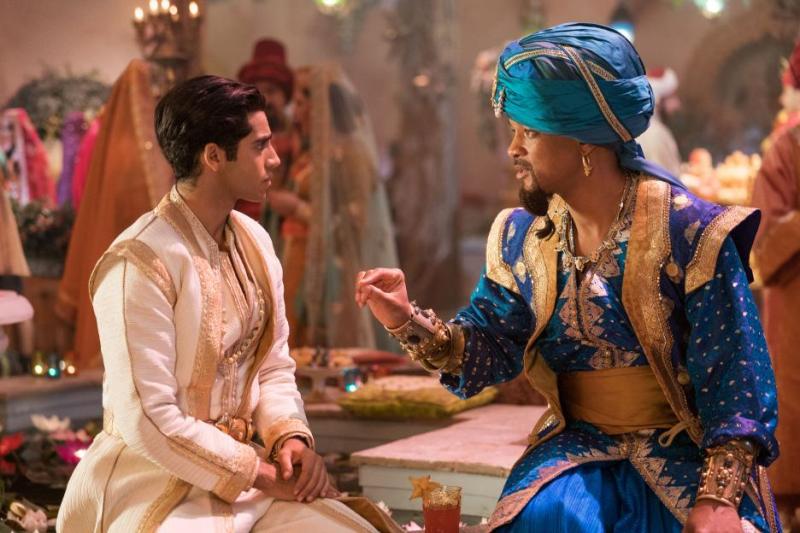 To sum up: "Aladdin" is a triumph and should be seen on the big screen. If you're grumpy about your favorite animated movie being re-made, don't be. It's true to the original story but also stands on its own. The cast is phenomenal. I laughed a lot, and I even got teary-eyed during "A Whole New World," because it was so perfect. This is a great date night film and worth seeing on opening weekend!
Aladdin is rated PG and is in theaters Friday May 24, 2019!