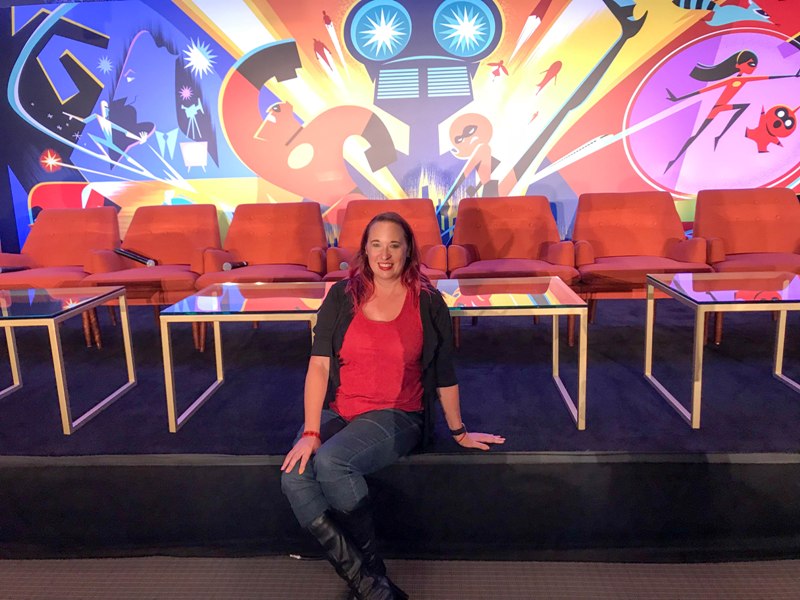 Incredibles 2 week continues with this fun conversation with the cast and creators of the movie. I always enjoy attending these media events; I get so starstruck. I mean … it's COACH! And Mace Windu! Gaahhhh! And can I just tell you that Sarah Vowell and Bob Odenkirk are two of my favorite people ever? It was a treat to be in the same room as this talented bunch!
To celebrate the return of the Parr Family, I did my best Incredibles Disneybound. I pulled these boots out of storage and now remember why I haven't worn them in a decade. #ouch
And we had a special surprise guest! Edna Mode, all the way from Pixar Pier, rubbing elbows with us regular folk. She was so sassy – what a treat!
We also got a preview of some of the merch available. Hopefully you saw the video of that Jack-Jack in action on my Instagram Stories! I have a feeling it's going to be a hot toy this year.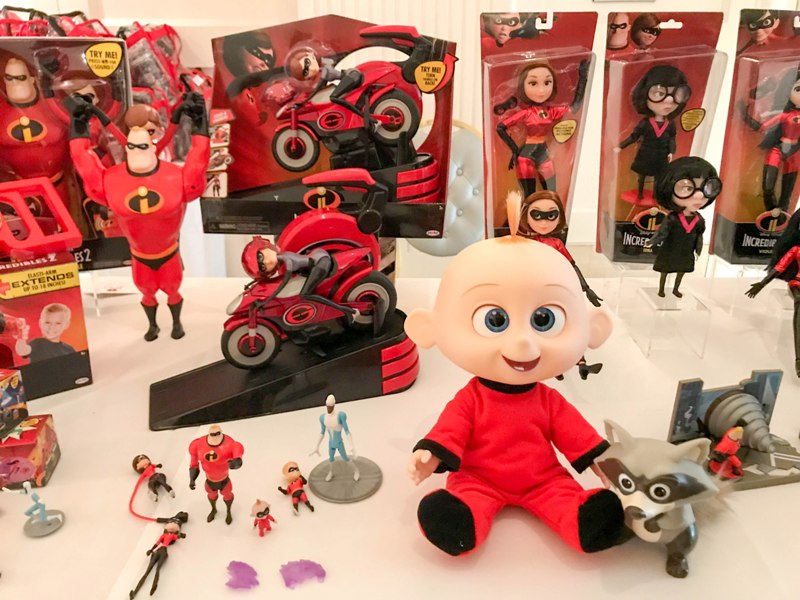 But back to the main event of the day. After waiting so long (14 years) for the follow up to The Incredibles, the cast and Pixar director Brad Bird had a lot to say. Here are some of my favorite tidbits!
Interviews with the Cast and Creators of INCREDIBLES 2
Craig T. Nelson ("Bob Parr / Mr. Incredible")
Holly Hunter ("Helen Parr / Elastigirl")
Samuel L. Jackson ("Lucius Best / Frozone")
Bob Odenkirk ("Winston Deavor")
Catherine Keener ("Evelyn Deavor")
Sophia Bush ("Voyd")
Sarah Vowell ("Violet Parr")
Huck Milner ("Dash Parr")
Director Brad Bird
Producer Nicole Grindle
Producer John Walker
ON THE DECISION FOR THE SECOND MOVIE TO PICK UP IMMEDIATELY WHERE THE FIRST ONE LEAVES OFF
BRAD BIRD: I just thought it was kind of bold and weird. Because I think people take the time that passes very literally. And they think that linearly, the characters should have aged. But if they age, their superpowers don't reflect the part of life that they're in and their role in the family. So I worked on the first eight seasons of the Simpsons. And the Simpsons haven't aged a day and they're still on the air. So it worked for them. And why not us?
HOW HAS ANIMATION TECHNOLOGY CHANGED IN 14 YEARS?
NICOLE GRINDLE: Well, honestly, the technology has allowed us to make the film look more like what Brad intended it to look like the first time. The characters are much more finally nuanced and developed. We were able to build a lot more sets more quickly. We've populated the world with a lot more characters that have hair and clothing. And that's stuff that most of y'all don't notice. But actually that makes the world feel richer and more alive. Not to mention all the other visual effects stuff. And we've also got a lot of artists who have had 14 years to get better at their craft. And a lot of artists who were, some of them kids when the first film came out. And it's a dream come true for them to work on this film.
WHAT DID YOU THINK OF THE BOB AND HELEN ROLE REVERSAL IN INCREDIBLES 2?
HOLLY HUNTER: It was a while before I truly realized what I was really going to get to do in the movie. And I was really thrilled. But it was like a retroactive thrill. Because over a period of months before I started gleefully singing during our recording sessions about how great my part was. But to me, it was just really fun. I don't think that this is a message movie in any way. I think it's purely like luck, luck of the draw that this happens to be dovetailing with 'me too' and 'times up.' But obviously, time is up. And I feel that way personally. And it happens to be serendipitously reflected in this particular movie.
CRAIG T. NELSON: I was resentful when I was told where Mr. Incredible was going to be in this film. Not saving lives. Not exhibiting any kind of strength at all. We argued about it. And then I found out that I'm going to be helping save the family. And Bob is going to learn how to be a dad and he's going to learn about these kids. And then the process started when we were recording. It was just so much fun. The stuff I did with Violet and the two of us together and Jack-Jack and that whole discovery. And then Dash. And then having to deal with Elastigirl out there doing what I want to do and being able to give her the encouragement. Let her know that everything is okay. It was just a lot of fun. I'm so honored to be a part of it. To be doing this.
WHAT WAS IT LIKE TO BE A NEWCOMER TO THIS CAST AND SEE THE FINAL MOVIE?
BOB ODENKIRK: It was super fun to see it. I loved it. I've been knocked out by the visuals in this film. And I've only seen the little moments from it in the course of recording this. So to see it in the big beautiful color on the giant screen, I knew it was going to be amazing. And it's beyond all expectations. I feel like somehow there's new technology that you're not telling us about. But because it just looks, it's got such richness and depth that that was a great treat. But again, like everyone else, I didn't read the whole script. There is never a whole script that you can read. So it's the first time I get to see the whole story. And I'm once again amazed at Brad Bird's talent as a writer and director and orchestrator of story. There's like five movies in this movie. And they all work together to throw each other into relief and make each other better. And it was a hell of an experience. And everyone in my family, including nieces and nephew, young, my son and daughter, older, teenagers. Everyone related to, they enjoyed the whole story, and everyone related to different characters and themes because there are so many and they're delivered on so well.
CATHERINE KEENER: I'm just getting to know all these people. Sarah and I have been friends for a long time. 15, 14 years, whatever. I've known Holly. But I'm realizing that Brad kind of mined a lot of the inside of these people in the characters. And like Craig was talking about, I was just talking to him about his kids. And he's a big mush dad, granddad. And you can see that. All of these people are awesome.
HOW HAVE YOUR IDEAS FOR THIS SEQUEL CHANGED OVER THE YEARS?
BRAD BIRD: It's been half this, two thirds this. The idea of the role switch, that the assignment would go to Helen rather than Bob I had when we were promoting the first film. And I also knew that I had the unexploded bomb of Jack-Jack's powers, that the audience knew that he had them, but the Parrs did not. And I had other notions that I just wanted to see an Incredibles movie and some things like the raccoon fight that were originally done for the first movie and there was no place for it and I loved the idea. But the superhero part, the villain part, it always seemed to change. And when I came to Pixar and said I think I have the other part of the story figured out, the version that got green lit, about four months that we got green lit, it got… John and Nicole came on. And we got a crew. And we started spending money and got a release date. And then the release date got moved up a year. And suddenly the pressure is huge. And that plot doesn't work. And now I'm screwed because I have a release date and everybody is going Incredibles 2, Incredibles 2. Because everybody has high expectations, okay? And I just realized it didn't serve the story. And so the villain plot kept changing. And it kept changing. And Ralph (Eggleston, Production Designer) had to adjust to it. Everyone else had to adjust to it constantly. Which only made it more anxiety. But I think that we wound up with the right version of this movie. And it wasn't until about a week ago that I was talking in one of these things. And I realized that was also true of the first movie. That Incredibles was the only project that came [from] outside of Pixar and was pitched to Pixar. And I had drawings. I had designs. I had an outline of the whole thing. And how it looked and all kinds of artwork that I paid for myself. And if they didn't want to make it, I was going to take it somewhere else. But I came with a villain that was a different villain than we wound up with. And in exploring an alternate opening when I came to Pixar, I introduced a villain that we killed off in the opening sequence and that was a better villain than the one that we had. And suddenly oh yeah, this guy is better than the one we had. And that was Syndrome. So the villain kind of for some reason, I don't know why, but it kind of comes last.
DO KIDS EVER RECOGNIZE YOU FROM THE MOVIE?
SAMUEL L. JACKSON: Kids don't do that. Their parents do. And they try to make the kid know who you are. "That's Frozone, honey." He's looking at you like … you don't have a blue suit on. You're not making ice stuff. So nah. "Where is my super suit, honey." What is this? And they have to give him a catch phrase. But they don't know who we are from Adam. Now as they got older, like the kids that are going to be now, the kids were four and saw the movie and now are 18. So they've been waiting. They're knocking little kids over to get in line. But no. We don't get a new audience because we did a movie that kids really like. They have no idea who we are in our real selves. Or do they Craig?
CRAIG T. NELSON: It's embarrassing really. Because the moms or dads are saying "look Bill, there's Mr. Incredible. That's Mr. Incredible there." And the kid is just staring at you. You don't look anything like him. "Okay, well, say something like Mr. Incredible. Go ahead. And then he'll …"
SAMUEL L. JACKSON: Pick something heavy up for him.
CRAIG T. NELSON: It's been 14 years, I don't remember what I said in the first one. I mean, okay. How about this? "It's show time." The kid is like …
SAMUEL L. JACKSON: Lift my car up.
CRAIG T. NELSON: It's just embarrassing.
SOPHIA BUSH: One of my best friends told her little daughter Anderson that I was going to be in this movie. And she took a video when she told her thinking she would be like, that's so cool. And she goes, "mommy, that's not true." She goes, "no, Andy, really, Sophia is going to be a superhero in the movie." And she goes, "mommy, she doesn't have all the things a superhero needs." She just was not having it. I was like well, okay, ego checked.
IS INCREDIBLES 2 JUST FOR KIDS?
BRAD BIRD: I'm a single guy. But I want to see this. It's an art form. It's like for anyone that likes movies. And you don't need to have a kid. People are constantly coming up to me, "My kid really enjoyed it." I go, "did you like it?" They go "oh yeah, sure. But Billy really liked it." And I'm like, I made it for you. And Billy can come. But I'm not a kid. And I made it something that I would want to see.
HOLLY HUNTER: Yeah. I think that we probably all felt that way about the first one as well, which was that it was a movie that stood on its own. It's not a kid's movie. In a way, this one is particularly more not a kids movie. Although kids totally dig it. There were a lot of kids in the audience in the premier night who loved it. And even small kids love Jack-Jack and love Dash. But I think it works, it's like Bob said, in a way, the movie has complexity that is really astonishing in that it has got like five different movies. And they all work in concert with each other. They all need each other, all five. But it's an incredible fabric that's been woven together. It's very sophisticated.
SARAH VOWELL: I like that one scene with you two [Bob and Helen], early on in the film, and you go outside to talk because you're both out of a job. And it happens to everyone. Your house just got like blown up by a super villain. And you're like, where are we going to live? What are we going to do for money? And there is shared love there. But also just that shared worry that is a really grown up affecting beautiful scene between the two of you.
DO WE HAVE TOO MANY SUPERHERO MOVIES NOW?
BRAD BIRD: There was a dark moment when all the machinery was kicked into gear. Okay. You got the release date. And I realized, two years from now, the film is going to come out. There's too many superhero movies now. Are people going to be just sick of this in two years? And I went, just what I want to happen, I arrive on the scene, anybody ready for some fresh superheroes? And everybody is like oh. Blah. And so I had a dark moment. Then I realized that what excited me about the idea in the first place was not the superheroes. It was that it was about the family dynamic. And people's roles in different parts of their lives and how superheroes, that genre is like a twisted lemon that you squeeze on top of this. It's not what the movie is about. And then I got excited again. Because to me, families are kind of a continent of fresh opportunities. Because it's so universal. And so I got excited again when I thought about it that way. And that was really what excited me about the first movie.
See Incredibles 2, in theaters Friday June 15!