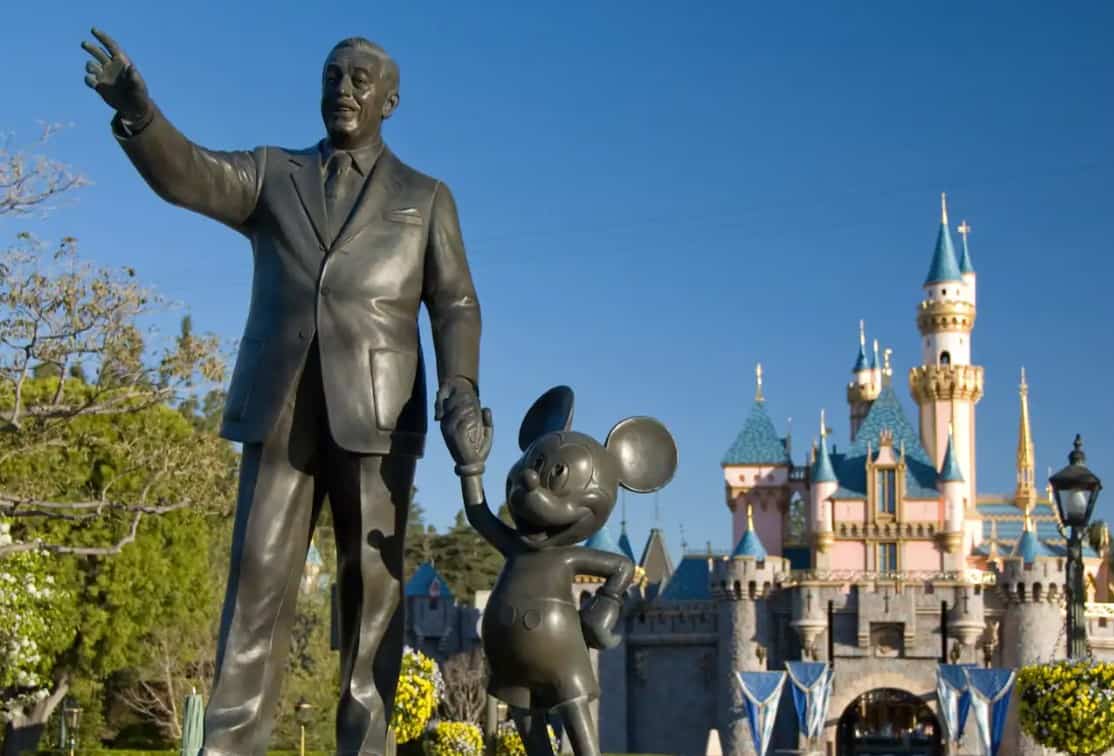 If you're looking to enhance your visit to Disneyland Resort, I highly recommend adding a Guided Tour to your visit!
A Disneyland Guided Tour is a great way to learn more about Disneyland, and even see some areas that are usually off limits to Guests.
Right now, Disneyland Resort is offering three tours: Walt's Main Street Story Tour, Happiest Haunts Guided Tour, and Holiday Time at the Disneyland Resort. While Walt's Main Street Story Tour is available on most days of the year, the Happiest Haunts tour is available during Halloween Time, and the Holiday Time tour is only available during the winter holiday season.
Keep reading to learn more about these tours at Disneyland including what you can expect on the tour, how to book your tour, and what they cost.
All About Guided Tours at Disneyland Resort in California
Walt's Main Street Story Tour
According to the Disneyland website, on this tour Guests will "Experience Main Street, USA through Walt's eyes while uncovering the history and secrets of this iconic thoroughfare."
This is a 90-minute tour led by dedicated tour guide. Guests will also learn how Main Street, USA ties into Walt's hometown of Marceline, Missouri. The tour is offered daily at various times between 9am and 5pm.
The tour ends with a visit to Walt's apartment over the Disneyland Fire Station in Town Square, including refreshments and photos on the apartment's patio – which has never been open to Guests before now. Guests will also receive complimentary PhotoPass downloads taken during their tour.
The cost of the tour is $160 +tax per Guest (prices are subject to change at any time). Theme park entry and reservation are also required. For more information, visit the Disneyland website.
*Note the popular long-running tour "Walk in Walt's Footsteps" is no longer being offered.
Happiest Haunts Guided Tour
This fan-favorite tour is back for 2o23! If you enjoy all things spooky, this may be the best tour for you.
This 2-hour walking tour through Disneyland Park gives a history of Halloween tales specific to Disney, expedited access to Pirates of the Caribbean, a photo op with the Hitchhiking Ghosts, a complimentary pin and treat, and reserved viewing area for Halloween Screams nighttime spectacular.
Tickets for 2023 go on sale August 3 on the Disneyland website.
Holiday Time at the Disneyland Resort Guided Tour
As you may already know, the winter holidays are a very special time to visit Disneyland. The Holiday Time tour gives Guests the opportunity to experience some of the holiday fun in a new way!
This is a 2.5 hour tour that is only offered during the Holidays at Disneyland Resort.
Your tour guide will share fun facts and anecdotes about holiday decor and traditions, and includes a ride on "it's a small world" Holiday and reserved viewing for A Christmas Fantasy parade. The website also promises Guests will receive "delicious holiday treats."
The cost of the tour is $110 +tax per Guest (prices are subject to change at any time). Theme park entry and reservation are also required. For more information, visit the Disneyland website.
Disneyland Resort VIP Tours
If the standard guided tours do not interest you, perhaps you can create your own private tour! But you have to have deep pockets for it!
Any Guest can book their own personal Disneyland VIP Tour for a group of up to 10 people, for the cool price tag of $500 to $700 per hour, with a minimum of 7 hours. So doing the math, that's $3500 to $4900 as a starting price. That may sound high (and it is!) but if you split the cost between 10 people, it makes the cost a bit more manageable.
Personal VIP Tours get you a lot of perks. VIP Guests get expedited access to most attractions, so you don't have to worry about spending most of your day in lines. You'll also get reserved viewing for any parades, shows, and nighttime spectaculars (if they are included in your time frame). And before your visit, your VIP concierge will help you with any dining reservations you desire.
Be aware that separate theme park tickets and park reservations are required! Park admission or reservations are not included in the price of a VIP Tour.
To book a VIP Tour you can call (714) 300-7710 or email Disney Special Activities at [email protected], or visit the Disneyland VIP Tour website for more information.
On the Day of Your Tour
All tours start inside Disneyland, so make sure you choose Disneyland as your starting park if you have a park hopper ticket and your tour starts prior to 1pm.
At the designated time, go to the Disneyland Tour Gardens which is on the west side of the park, between City Hall and the entrance. You will need to give the host/hostess your name and your tour confirmation number. The person who booked the tour may also need to show their photo ID. You'll be given further instructions once you check in.
Your entire party needs to be present when checking in. Late arrivals may not be accommodated.
Disneyland Tour Additional Information
Most tours can be booked 30 days ahead of time. Same-day bookings may be available, but it's best to book in advance if there's a tour you really want to do during your visit!
The theme park reservation system has made booking tours a little more difficult. Be sure you check for both theme park availability AND tour availability before booking anything! Note that park hopping is not allowed until 11am.
There are no tour discounts for Magic Key holders.
Guests ages 2 and under do not need a tour reservation.
Guests under the age of 14 must be accompanied by an adult for the duration of the tour.
There is a 24-hour cancellation policy for guided tours, and 48-hour cancellation policy for VIP tours. If you cancel after that time, you forfeit the entire cost.
Tours are subject to cancellation for any reason. All offerings are subject to change.
Need Disneyland Park Tickets?
I highly recommend Undercover Tourist for the best prices on multi-day Disneyland tickets!
Need Disneyland Tickets?



Get discount Disneyland or Walt Disney World tickets from my recommended travel partner, Undercover Tourist! Click here to check prices for your trip!
***