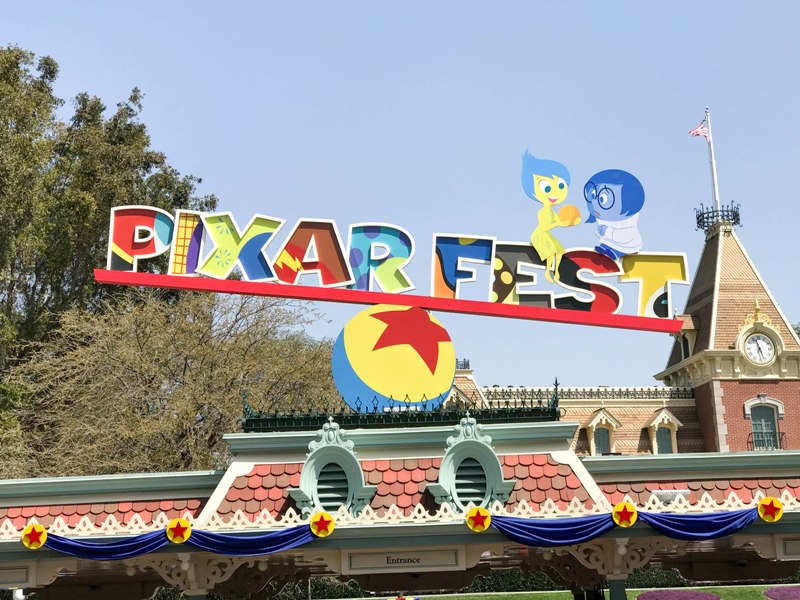 This summer, Disneyland has Pixar mania! The Disneyland Resort is celebrating all things Pixar during Pixar Fest – which features special entertainment, character meet and greets, merchandise, and of course, food. I checked things out on Day 1 and I'm happy to report I had a great time! I tried a few snacks and took a few pictures, and I'm sharing with you my best advice for making the most of your Pixar-filled day.

Shop my outfit: shirt, skirt, ears
What is Pixar Fest?
Pixar Fest is a celebration of Pixar's movies and characters taking place at The Disneyland Resort from April 13, 2018 through September 3, 2018. You'll see Pixar's iconic colors and characters all around the resort, including Downtown Disney!
What is there to do and see?
So much! Here's a run down:
Disneyland Park
Pixar Play Parade – The popular Disney California Adventure parade moves over to Disneyland!
Together Forever: A Pixar Nighttime Spectacular
Disney's California Adventure
Paint the Night – the beloved evening parade makes its debut at Disney's California Adventure with a new Incredibles float debuting sometime this summer.
Pixar Pals – Meet and greet with your favorite Pixar characters in the Paradise Garden Grill area.
AP Corner – Located next to Boardwalk Pizza and Pasta across from Silly Symphony Swings.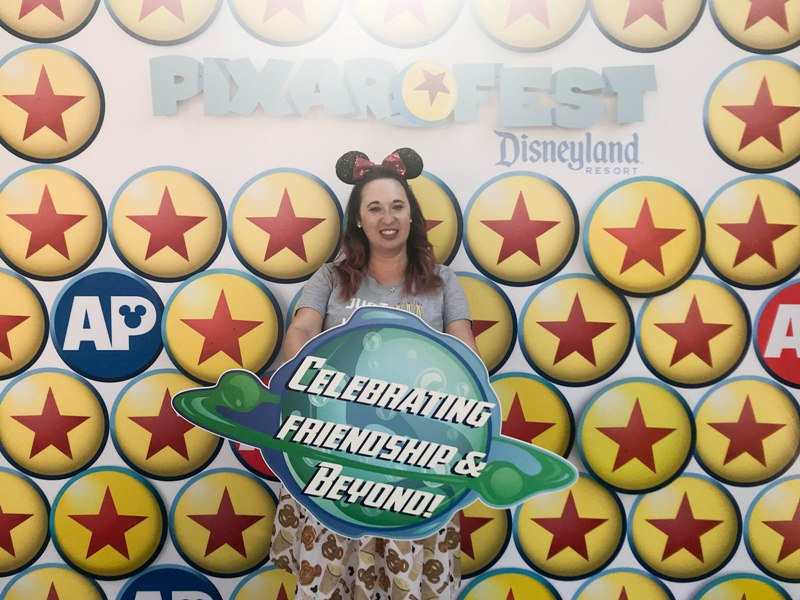 Pixar Shorts Film Festival – Visit the Sunset Showcase Theater in Hollywood Land to view rotating short films such as "Lava."
Blue Sky Cellar – Pixar Pier Preview
On Day 1 I watched the Together Forever fireworks show, and it was great! The Up house floating over the castle was magical. Expect big crowds for this show for the first couple of weeks.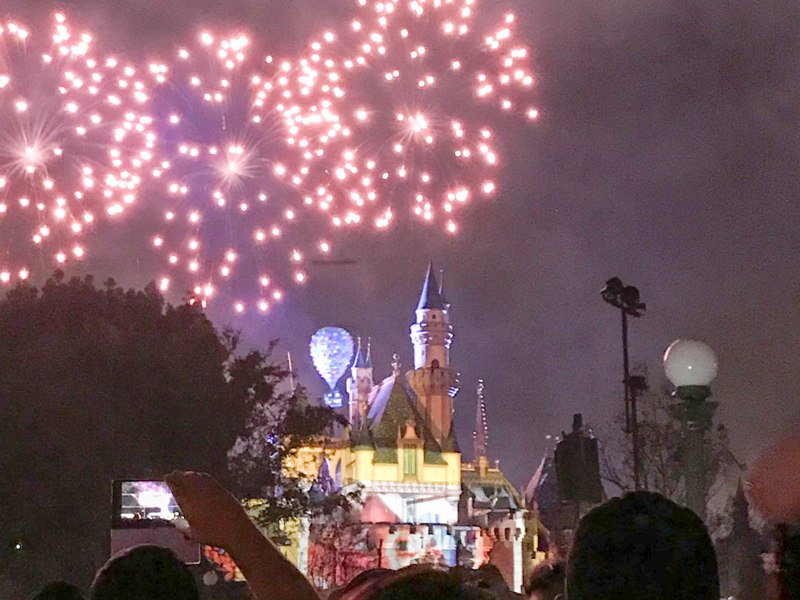 We will get into food in the next section but I want to mention there are several dining packages available for these shows.
Carthay Circle Restaurant – 4-course dinner from a prix fixe menu. $99 for adults; $45 for kids.
Wine Country Trattoria – Lunch or dinner 3-course meal from a prix fixe menu. Lunch starts at $38 for adults, $21 for kids. Dinner starts at $49 for adults, $25 for kids.
Sonoma Terrace Paint the Night Parade Reception – Desserts and charcuterie tray along with wine, beer, and non-alcoholic beverages, plus a box of truffles to go. $79
Pixar Play Parade Dining Package – A picnic-inspired meal at Plaza Inn which includes a FASTPASS for a special reserved viewing area. $40 for adults, $25 for kids.
At this time there is no dining package available for Together Forever fireworks show. You can, however, do a Fantasmic! dining package and watch the fireworks from that area.
Tell me about the FOOD!
Okay you guys, there is SO MUCH FOOD! I don't even know how I'm going to manage to try everything before summer ends!
On day 1 I made a bee line for the specialty churros sold at Disneyland. Here's a rundown:
– Up-themed Lemon Churro with lemon sugar and multi-colored fruity cereal — Town Square Churro Cart, Disneyland
– Lots-o-Straw-"Bear"-y Churro — Tomorrowland Churro Cart, Disneyland
– Coco-inspired Cocoa Churro with chocolate powder, salted cinnamon sugar, and a Mexican chocolate dipping sauce — Frontierland, Disneyland
– Carrot Cake Churro rolled in cinnamon sugar with raisin-carrot cream cheese frosting — New Orleans Square Churro Cart, Disneyland
I was able to grab 3 out of 4 … I had read the Lemon Churro would be at the churro cart in front of Sleeping Beauty Castle but they still had the special Rose Gold churro. So I missed out on that one. The Strawberry Churro smells really amazing but I ended up giving that one to a friend. I ate the other two and liked the Cocoa Churro the best!
I also had lunch at Redd Rocket's Pizza Port, which has been re-themed during Pixar Fest to Pizza Planet! Lots of fun Little Green Men food items and decor to see.
– Alien Macarons
– Blackberry Lime Parfait
– Green Star Pesto Pasta
– Cheeseburger Pizza
For my meal I had the Pesto Pasta (comes with peas, bacon, and Parmesan on top) and the Blackberry lime parfait. Both were so good! I also had a bite of my friend's alien macaron, which was good. But I liked the parfait better! My friend had the cheeseburger pizza and said it was delicious so that's on the list for next time.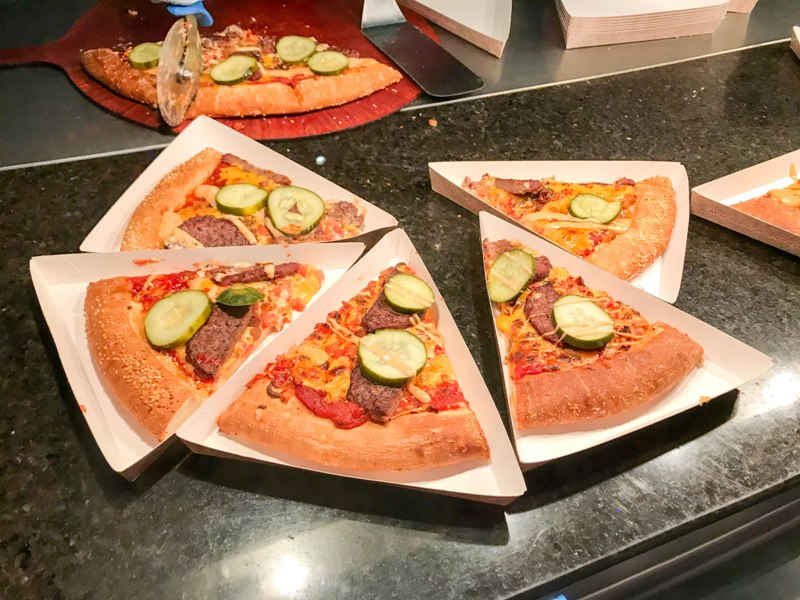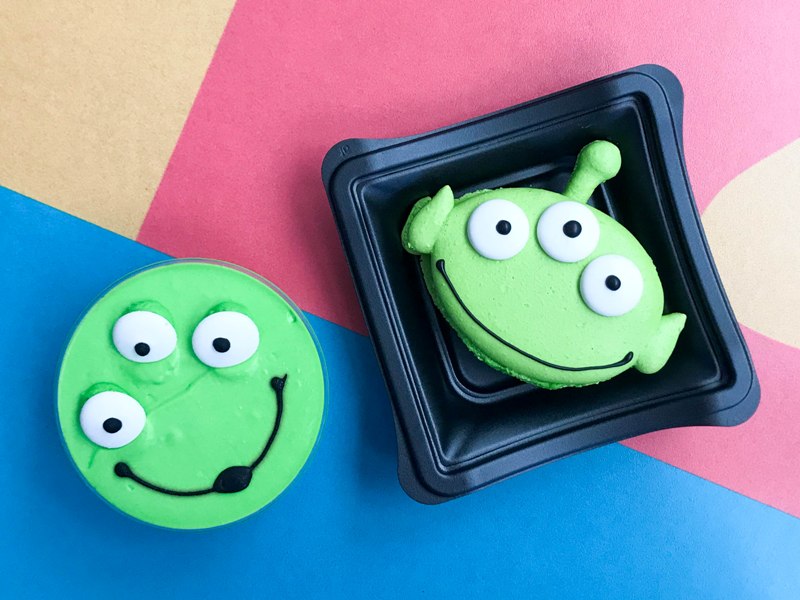 Other notable foods to try:
All food info from Disney Food Blog; I recommend saving their PDF list on your phone, it came in VERY handy!
Disneyland
– Three-course Remy-inspired menu at Cafe Orleans featuring Specialty Cheese Flight, Shrimp Ratatouille Byaldi, and Berry-stuffed Beignets with mascarpone cheese (Note – we asked if we could just get the beignets to go and were shut down.)
– Fried Bologna Sandwich – Carnation Café
– Pork Chop TV Dinner – Carnation Café
– Specialty menu items such as Al Pastor Huarache and Mexican chocolate pot de crème topped with a Miguel chocolate — Rancho del Zocalo
– Potato Leek Soup at Royal Street Veranda
– Up-inspired Frozen Grape Soda Slush at Cappuccino Cart
– Up-inspired Merit Badge eclair at Jolly Holiday
– Salted Caramel Butter Pecan Sundae at Gibson Girl Ice Cream Parlor
– Pastrami Dog at Refreshment Corner
– Root Beer Float Served in a Souvenir Woody's Boot – Golden Horseshoe
– Jessie's Berry Jubilee Funnel Cake – Stage Door Café
– Lots-o-Straw-"Bear"-y Funnel Cake – Hungry Bear Restaurant
– Cinnamon Pretzel — Frontierland
Disney California Adventure
– Mike Wazowski Sourdough Bread – Pacific Wharf Café
– Color-changing noodles — Lucky Fortune Cookery
– Mint chip smoothie — Schmoozies
– Whoopie Pie — Schmoozies
– Marshmallow Doughnut — Schmoozies
– Specialty menu items such as Mole Verde con Pollo, Tacos de Estilo Callejero, Yucatan-Inspired Vaporcitos, Tortitas de Papa con Queso, and Ensalada de Frutas. Drinks include a Jamaica slush and Mexican hot chocolate — Paradise Garden Grill
– Tres Leches Parfait — Cocina Cucamonga Mexican Grill and Paradise Garden Grill
– Three-flavored Corn Dog (a spicy hot link, pepper jack cheese, and a cajun chicken sausage with sweet and spicy blackberry sauce) — Corn Dog Castle
– Fruity Cereal Funnel Cake Fries — Award Wieners
– Habanero Meatball Cone — Cozy Cone Motel
– Champions Corn Cup — Cozy Cone Motel
– Road Gravel (cookie crumble) Ice Cream Topping — Cozy Cone Motel
– "Choose Your Racer" Churros: Yellow-sugared Churros for Cruz Ramirez, Red-sugared Churros for Lightning McQueen, Blue-sugared Churros for Jackson Storm — Cozy Cone Motel
– Iced Specialty Churro drizzled with doughnut icing and dusted with cocoa cereal — Churro Cart near A Bug's Land
Both Parks
– Pixar Fest Celebration Cake — Plaza Inn in Disneyland, Boardwalk Pizza & Pasta, Paradise Garden Grill, and Pacific Wharf Cafe in Disney California Adventure
– Pixar Ball Cake Pops and Caramel Apples — Disneyland Resort Candy Kitchens
– Grape Soda Badge Cake Pops – Disneyland Resort Candy Kitchens
– Sour Lemon Cotton Candy — Disneyland Resort Carts
– Nemo Cotton Candy — Disneyland Resort Carts
– Nemo Caramel Apples and Dory Cake Pops — Disneyland Resort Candy Kitchens
– Mike Wazowski Krispie Treats — Disneyland Resort Candy Kitchens
What about Merch?
Tons of cute new Pixar merch is available for this event! There is a special store set up at Disney's California Adventure which features JUST Pixar merch. It's at the entrance to Paradise/Pixar Pier across from Cove Bar/Lamplighter Lounge. The new store is called Knick Knacks and it's where Treasures in Paradise was located.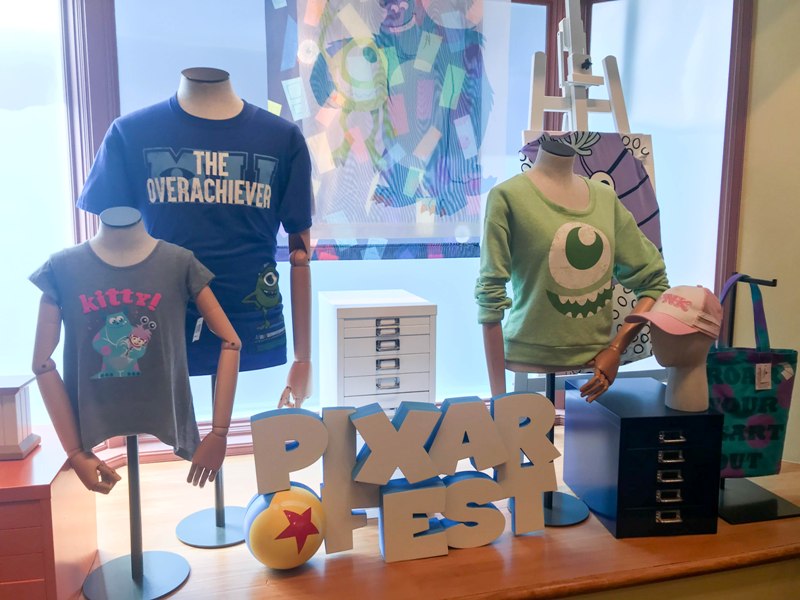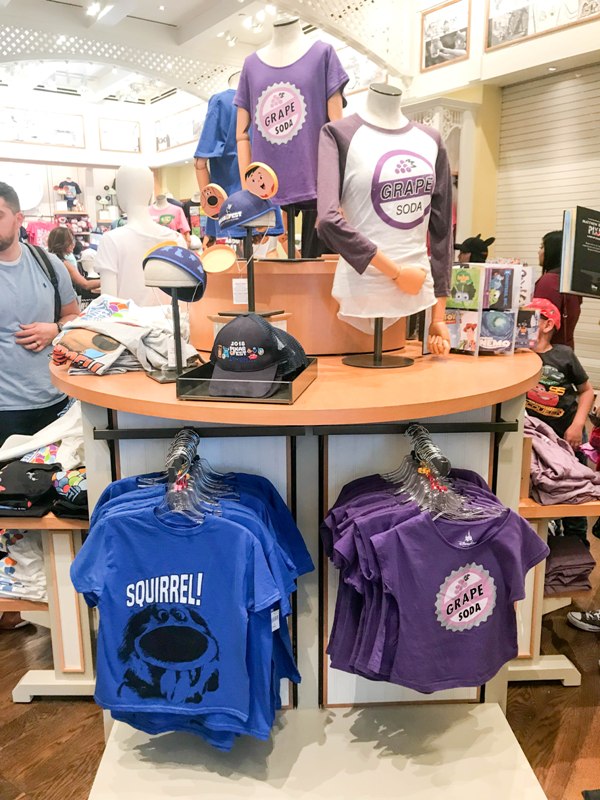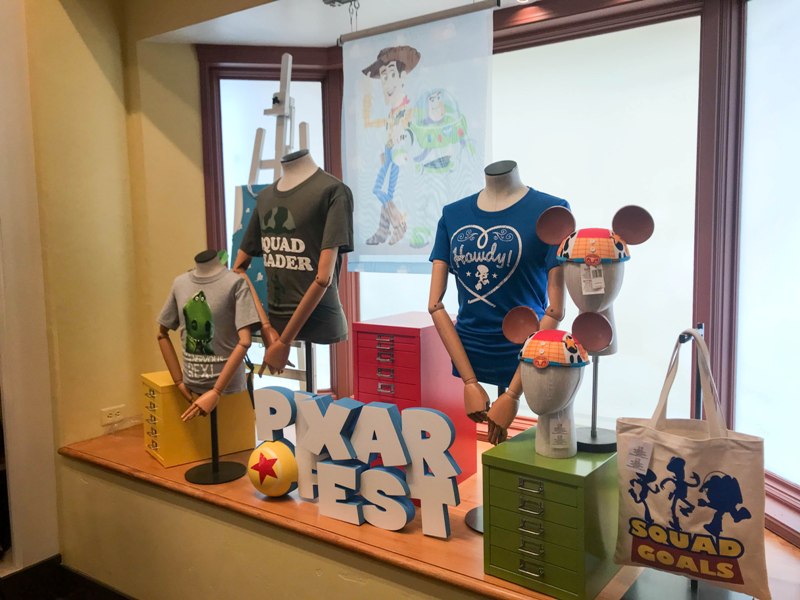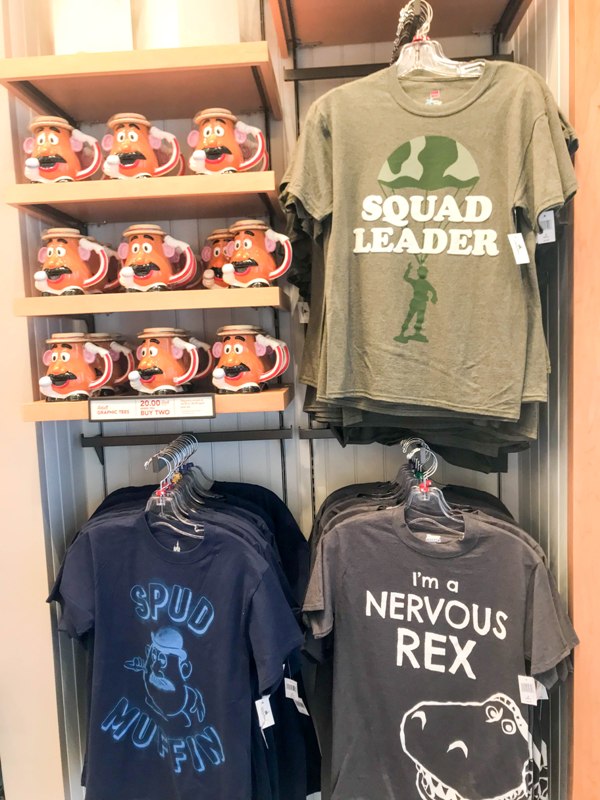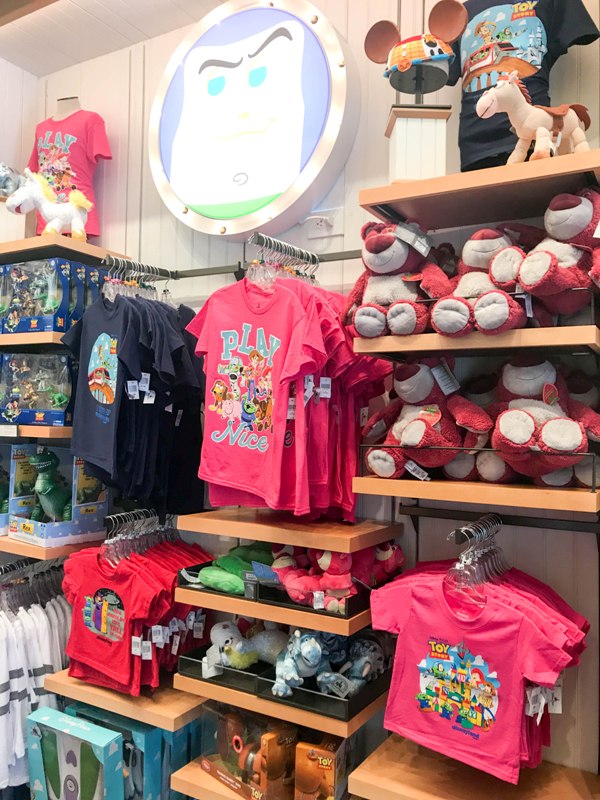 This shop also has a fun new wall – the Pixar Sketchbook wall! Get your 'gram on!
The store has most merch separated by movie so your favorites are easy to find. I picked up a cute Grape Soda necklace and Sully dress. I also am doing a giveaway for some Little Green Alien items on my Instagram so pop over there to enter!
The most popular items are the Sully popcorn bucket (found at all popcorn carts in both parks) and the Mike sipper (found at select Quick Serve restaurants and drink carts in both parks). I wouldn't be surprised if they both sold out very quickly. Annual Passholders can also purchase an exclusive item: The Little Green Alien popcorn bucket, although I didn't spot any during the first weekend.
There are also Finding Nemo and Finding Dory Souvenir Light-Up Sippers, located at select drink carts around the Resort
Another item I'm seeing popping up all over Instagram is the Coco Jaritas (mugs), found at Rancho del Zocalo in Disneyland and Paradise Garden Grill in Disney California Adventure.
How to Tackle it All!
If you only have one day, you definitely need a Park Hopper ticket! I think the Together Forever fireworks show should be a priority, so keep that in mind as you plan your day. This means you may miss Paint the Night, unless Disney California Adventure is open late enough for two parade showings. In that case, plan on watching the fireworks at 9:30, then running over to Disney California Adventure to see the 10:45 Paint the Night parade. (Always double check showtimes for your visiting date.)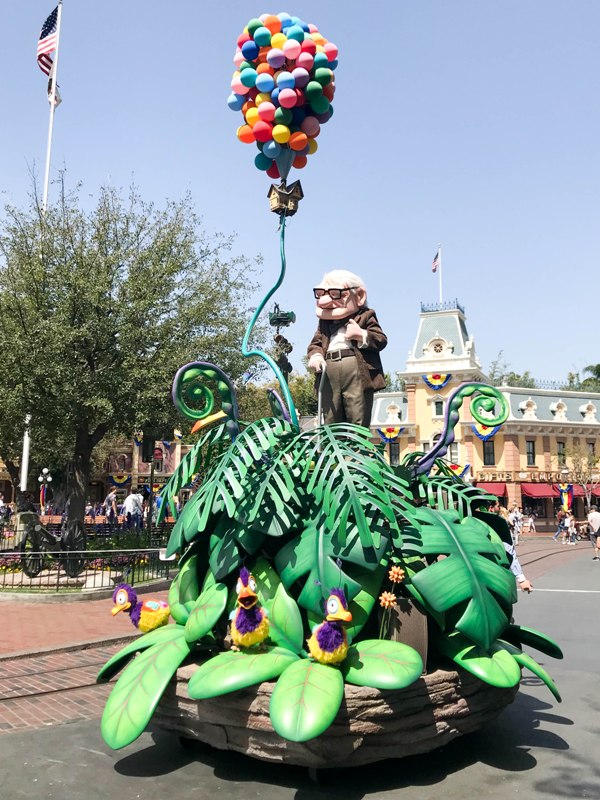 Here's my suggestion for planning your day:
Arrive at opening and get in as many attractions as you can before lunch.
Do the Plaza Inn dining package for Pixar Play parade.
Go over to Disney California Adventure to shop for merch and meet characters.
Dinner at Carnation Cafe or Cafe Orleans (make a reservation 60 days in advance).
Grab a spot on Main Street for the fireworks.
Run back to Disney California Adventure for Paint the Night.
How to get DISCOUNT TICKETS to Disneyland!

Right now with Get Away Today you can buy Adult tickets at the Kid's price if you book before April 17th on 3-day or longer park hoppers. If that deal is no longer active, check the Get Away Today for the current prices!
There's so much to see and do and eat at Pixar Fest, you're going to want to come back again and again! I can't wait for my next visit!