Hi, my name is Mindy and I love churros. Churros are my favorite Disneyland snack, so it's only appropriate for me to write a guide all about finding churros at the Disneyland Resort. If you're a churro fanatic like me, or simply love Disneyland snacks, you'll want to dive into this guide, take notes, or print it out for your visit! Enjoy!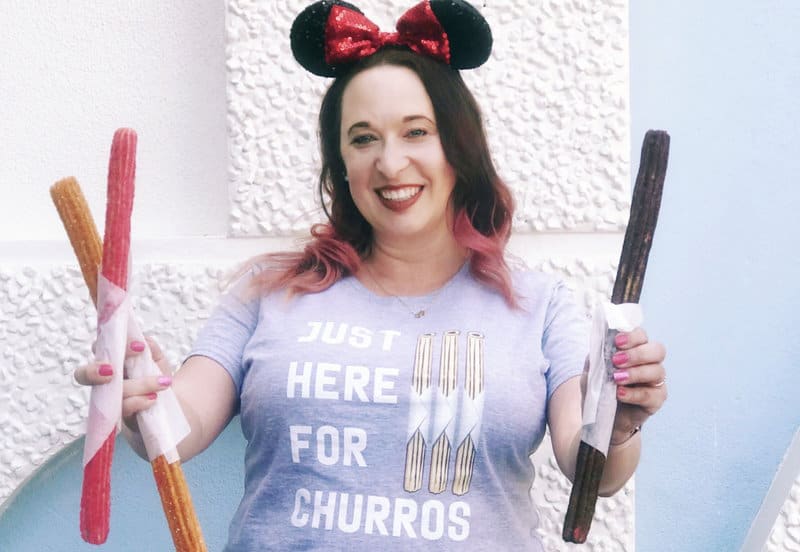 (Get my shirt on Amazon)
Crispy. Sugary. Deep fried. Who doesn't love a classic Disneyland churro? The churro is my favorite theme park snack. In fact, the FIRST THING I did when Disneyland reopened after Covid was eat a churro. Even though my face is partially covered, you can tell that I'm smiling just by my eyes.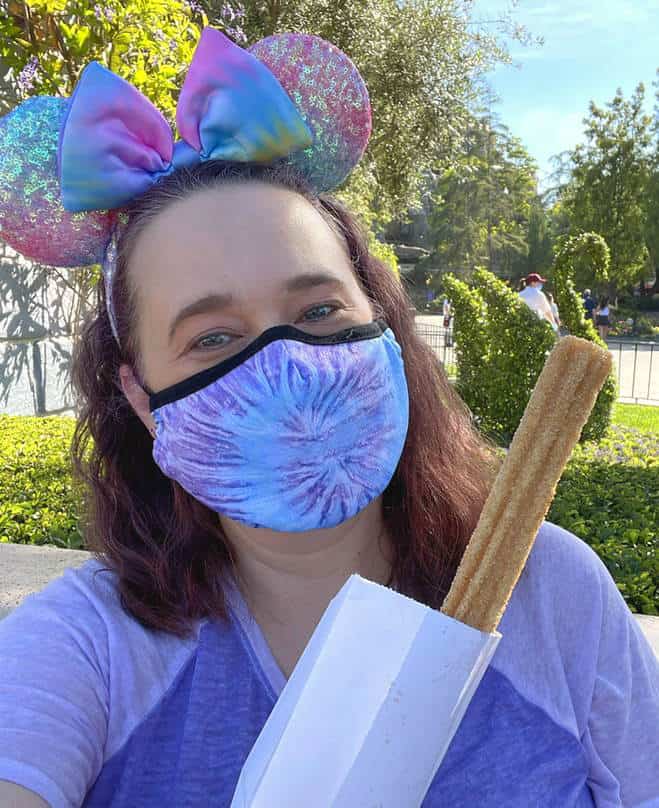 But did you know this delicious food item was not part of the opening day foodie lineup?
The churro was introduced to Disneyland in California in 1985 by a Cast Member named Jim Lowman. According to the Disney Examiner, Lowman worked in Food and Beverage and was responsible for the Fantasyland area. Lowman was tasked with coming up with snacks to bring to the new Videopolis area, which was primarily being marketed towards teenagers. Lowman needed snacks that could be eaten with one hand while the teens danced in the nightclub atmosphere.
While at the Long Beach Grand Prix, Lowman spotted a churro booth and knew that would be the perfect new snack for Disneyland. He reached out to the vendor, J&J Snack Foods, and asked if they wanted to work with Disneyland to sell their churros. The only caveat is, Jim wanted to increase the size of the churro to 12 inches. The company agreed and the rest is Disneyland snack history!
While the classic cinnamon and sugar churro is the main character, in recent years Disneyland has started introducing specialty churro flavors and dipping sauces. Usually these specialty churros are introduced as part of a seasonal menu or special event, and are available for a limited time.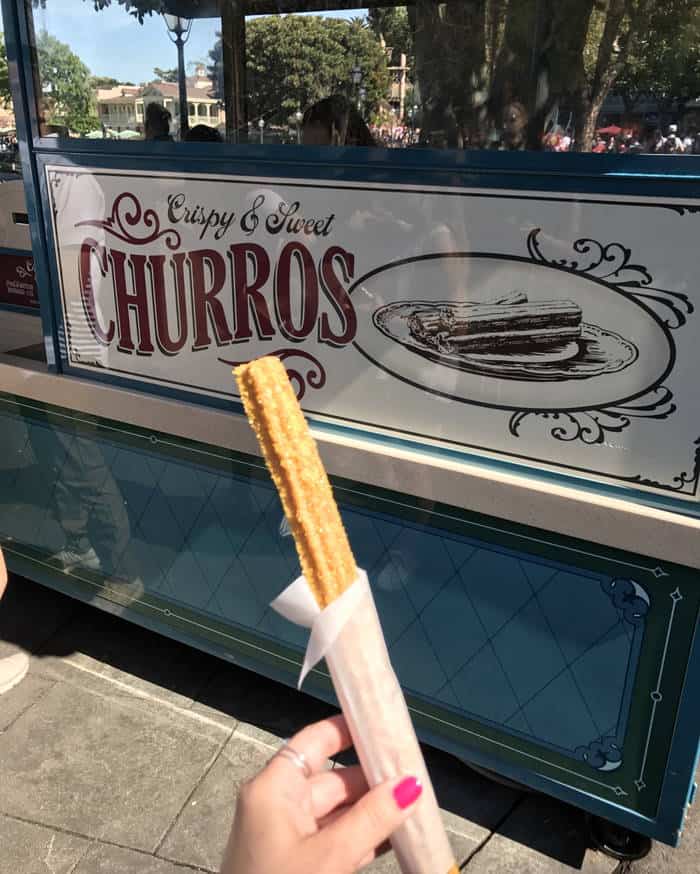 Specialty Churros Available at Disneyland Resort
(Availability and locations are subject to change at any time.)
Where to Find Churros at Disneyland
There are several locations throughout Disneyland, Disney California Adventure, and even Downtown Disney where you can purchase churros. Most of these locations are stand-alone carts, and you can pretty much find them in every land at Disneyland. Look for churro carts in Town Square (near the flag pole when you first walk into the park), Fantasyland in front of Sleeping Beauty Castle, Frontierland across from the Mark Train Riverboat loading dock, in New Orleans Square by Haunted Mansion, near the Hungry Bear restaurant in Critter Country, back by "it's a small world," and near the entrance to Buzz Lightyear Astro Blasters in Tomorrowland.
Over at Disney California Adventure, look for Willie's Churros cart on Buena Vista Street, by the entrance to Redwood Creek Challenge Trail, in Hollywood Land across from Schmoozies, Senor Buzz Churros in Pixar Pier, near Goofy's Sky School, and Cozy Cone 1 in Cars Land. Occasionally the Terran Treats cart in Avengers Campus will have a specialty churro.
NOTE – There is only one location where you can mobile order churros, and that's Cozy Cone! Take advantage of this feature to save time in line.
My top tip: Buy your churro earlier in the day to avoid long afternoon lines. And plan your purchase so you can enjoy your churro while waiting in line for an attraction! Don't forget some napkins and a drink to wash it down.
FALL/HALLOWEEN CHURRO MENU
Disneyland Park
All churro carts have the classic cinnamon and sugar churros!
Churros & Lemonade in Critter Country and Churros near Haunted Mansion (Available Aug. 29 through Nov. 9)
Trick or Treat Sweets Churro rolled in shortbread sugar, drizzled with caramel and chocolate sauces, and topped with TWIX cookie bar pieces (New)
Churros near Casey Jr. Circus Train and Pretzels at small world Promenade (Available Aug. 29 through Nov. 9)
Sweet Potato Cheesecake Dipping Sauce (New)
Churros near Sleeping Beauty Castle (Available Aug. 29 through Nov. 9)
Maleficent Churro: Classic churro rolled in chocolate cookie crumbles
Peanut Butter Dipping Sauce: Creamy peanut butter and vanilla dipping sauce
Churros near Buzz Lightyear Astro Blasters (Available Sept. 1 through Nov. 9)
Orange Citrus Churro: Citrus-flavored churro served with a citrus cream dipping sauce (New)
Citrus Cream Dipping Sauce: Orange-flavored icing and condensed milk sauce (New)
Churros near Town Square (Available Aug. 29 through Nov. 9)
Maleficent Churro: Classic churro rolled in chocolate cookie crumbles
Peanut Butter Dipping Sauce: Creamy peanut butter and vanilla dipping sauce
Disney California Adventure
Cozy Cone Motel 1 – Churros (Available Aug. 29 through Nov. 9; mobile order available)
Candy Corn Churro: Orange and yellow sugar-covered churros topped with vanilla icing and candy corn (New)
Churros near Redwood Creek Challenge Trail (Available Aug. 29 through Nov. 9)
Coffee and Donut Churro: Churro rolled in coffee sugar and topped with coffee-infused chocolate sauce, whipped topping, and seasonal sprinkles (New)
Churros at Hollywood Land (Available Aug. 29 through Nov. 9)
Oogie Boogie Churro: Chocolate cookie-covered churro with green icing, gummy worms, and candies (New)
Downtown Disney District
California Churro
There are actually two locations for California Churro at Downtown Disney – one on the west end and one on the east end. Both locations have a rotating menu of flavored churros but always have classic cinnamon and sugar.
Halloween Lollipop Churro: A round churro rolled in cinnamon sugar, drizzled with peanut butter and chocolate sauce, and topped with peanut butter candy pieces (Available Oct. 1 through 31)
One last suggestion … if can't make it to Disneyland soon and want to enjoy that sweet churro taste at home, you'll want to look for Tio Pepes brand churros in the frozen food aisle! They are made by the same company. Or, if you want to buy in bulk, you may be able to order J&J Snack Foods churros off Amazon!