Curious about staying at Swan and Dolphin Resort, the iconic buildings towering over Crescent Lake next to EPCOT? Even though the hotel is not an official Walt Disney Resort, the perks and the price make this a very popular choice for guests. Especially for solo travelers (like me!) or couples traveling without kids.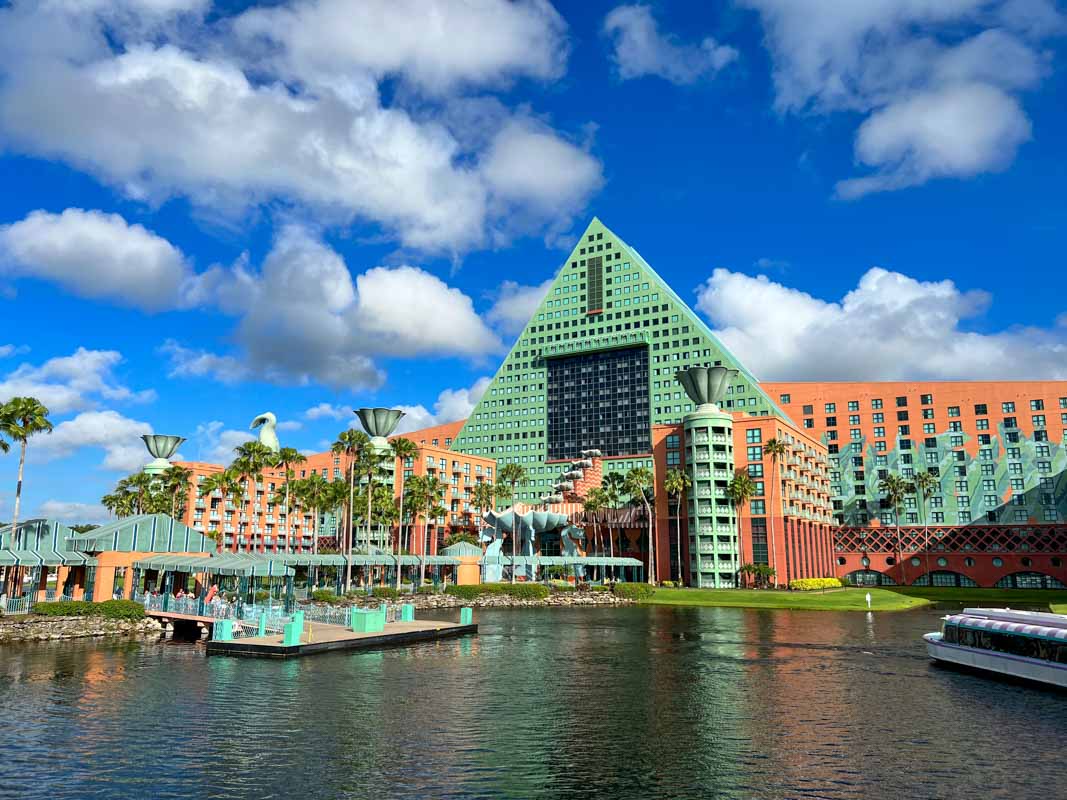 Ever since my first visit to Walt Disney World nearly 10 years ago, I have wanted to stay at the Swan and Dolphin Resort. Its proximity to my favorite park – EPCOT – being the main reason, but also because the grounds are beautiful. The only thing that held me back is that the hotels are considered "off property," meaning they are not owned by Disney, and guests at the Swan and Dolphin do not get as many perks as guests who are staying at an official Disney hotel.
However, after the Walt Disney World parks reopened in 2020 following the pandemic closure, a lot of those wonderful perks for Disney hotel guests went away. With no more free Magic Bands, and no more Magical Express airport shuttle, I realized there was nothing really holding me back from finally staying at Swan and Dolphin.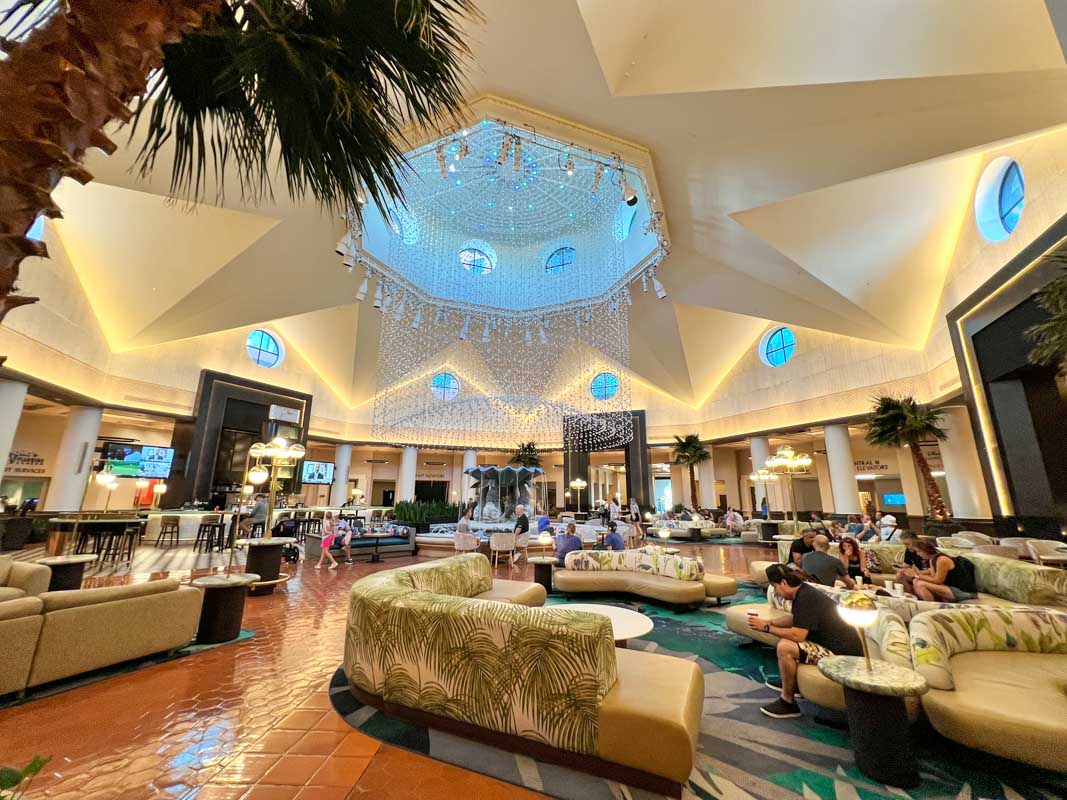 I stayed at the Swan and Dolphin Resort in June 2022, and despite the brutal Florida summer heat, I had a wonderful time.
I also spent a couple nights at the new Swan Reserve hotel and will write a seperate review for that.
Note – If you've stumbled upon this review from Google, you should know I write my reviews for adults traveling without kids! I am child-free and usually travel solo or with friends, so I will not be discussing any hotel amenities or activities for children.
Need Walt Disney World Tickets?



Get discount Walt Disney World tickets from my recommended travel partner, Undercover Tourist! Click here to check prices for your trip!
Walt Disney World Swan and Dolphin Resort – Review
Overview
If I were to rate the Swan and Dolphin Resort on a star scale, it would get 5 out of 5. I really enjoyed my stay and I feel like the hotel has a lot to offer.
Even though it's not an "official" Disney hotel, guests of the Swan and Dolphin still do get some perks such as complimentary transportation to the Disney theme parks, Early Entry and Extended Evening Hours on select days, and ability to make Individual Lightning Lane reservations at 7am.
I stayed a few nights at Dolphin before heading over to Swan Reserve, although if I had to do it over again I would probably stay at Swan Reserve first. I'll explain why later on in the article.
If you're not familiar with the resort, it actually consists of three seperate hotels – Swan, Dolphin, and the new Swan Reserve. The property is owned by Marriott, which is great news for Bonvoy members! Yes, you can use the Bonvoy app for all three properties and, yes, you can use Bonvoy points for free nights.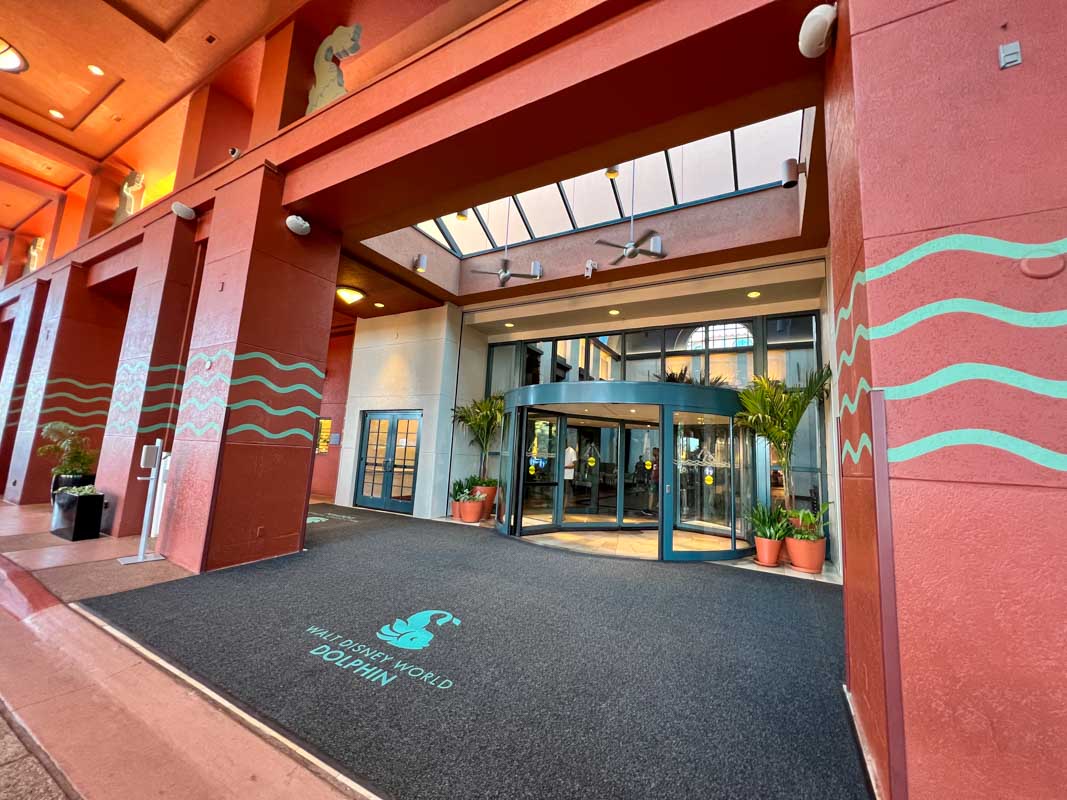 The Swan and Dolphin is located in the EPCOT Resort area, and guests have easy walking access to EPCOT via the World Showcase entrance, and to Disney's Hollywood Studios. Even closer are all of the restaurants, activities, and entertainment available at Disney's Boardwalk Inn Resort.
Swan and Dolphin also have plenty of their own restaurants, including a quick-serve coffee shop and large lobby bar at Dolphin.
The best part of staying at Swan and Dolphin? You get a "Deluxe" hotel experience at a fraction of the price.
Pros and Cons
Pros
Location (near EPCOT and Disney's Hollywood Studios)
Great value for the price
Comfortable rooms
Nice pools
Lots of dining options
Complimentary theme park transportation
Friendly staff
Marriott Bonvoy perks
Cons
Not an official Disney hotel
No theming (this may be a pro or a con for you!)
Hotel bar doesn't open until after 3pm
Late night dining options are minimal
Depending on your room location, bit of a hike to the pool area
Hotel Grounds and Amenities
The two main buildings, which house the Swan and Dolphin hotels, were built in the late 1980s by famed architect Michael Graves. The exterior, while very grand in scale, is starting to feel dated, especially when compared to the sleek modern style of the new Swan Reserve building.
Still, the interiors have been modernized and feel fresh and clean. (A bit of sleuthing found the property underwent a massive renovation in 2017.)
The Dolphin is the main hotel, where guests are dropped off (via car) and where you check in. There's a massive lobby, complete with a coffee shop and bar/lounge.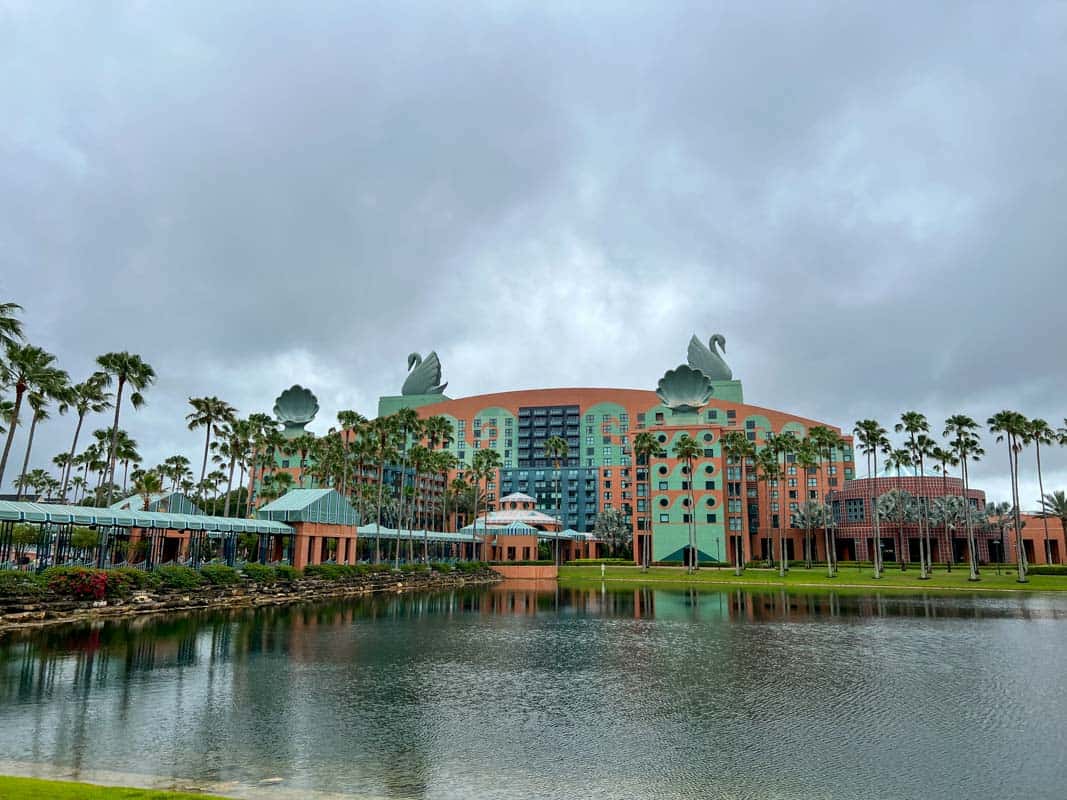 Across the breezeway you'll find the building for the Swan, with its smaller lobby.
And then across the street from the Swan, you'll find the Swan Reserve which has its own entrance and check-in area. The Swan Reserve is the furthest building from the theme parks and boat transportation, and includes a crosswalk. It's only about a 5-8 minute extra walk (depending on your speed) but at the end of a long day at the parks, those extra steps can really hurt!
Rooms
I was very happy with my room in the Dolphin building. The decor is very simple, but I prefer a room that doesn't feel too busy.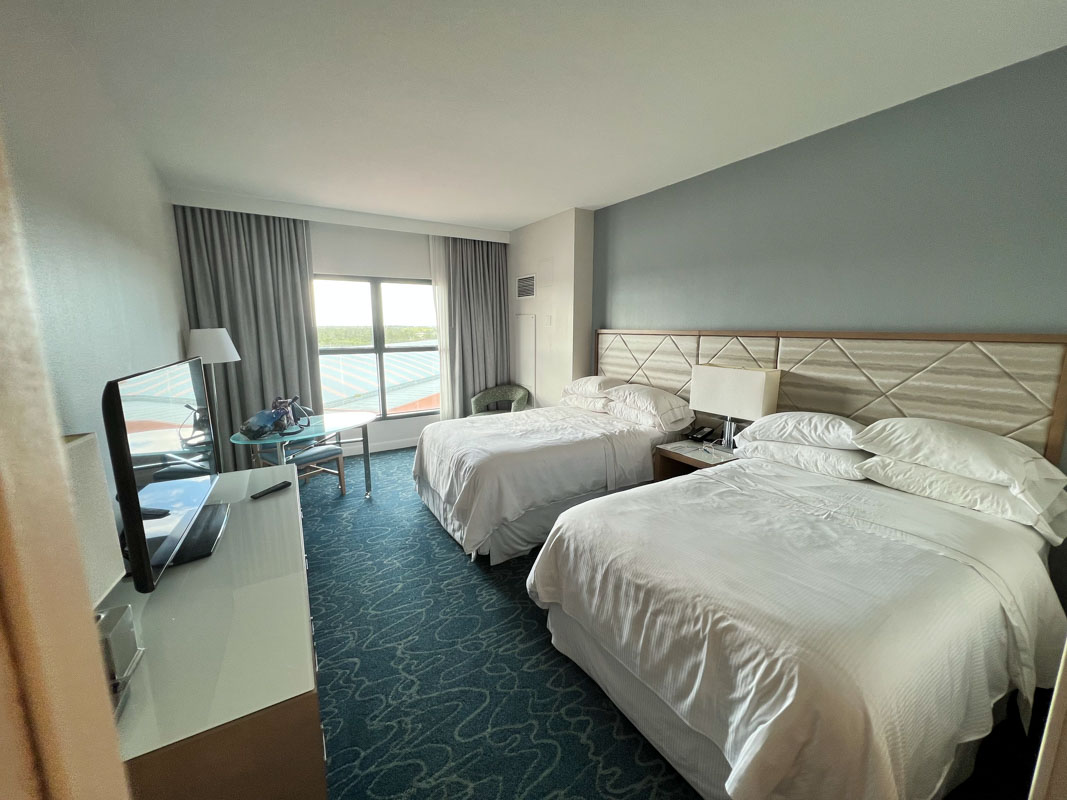 The room I stayed in was a standard room with two comfortable queen beds. My view was looking down on the room of the adjacent building, which was fine for me since I was not in the room too often.
The room had all the standard amenities you would expect – large TV with cable, coffee maker, refrigerator, bathing toiletries, and strong central air conditioning.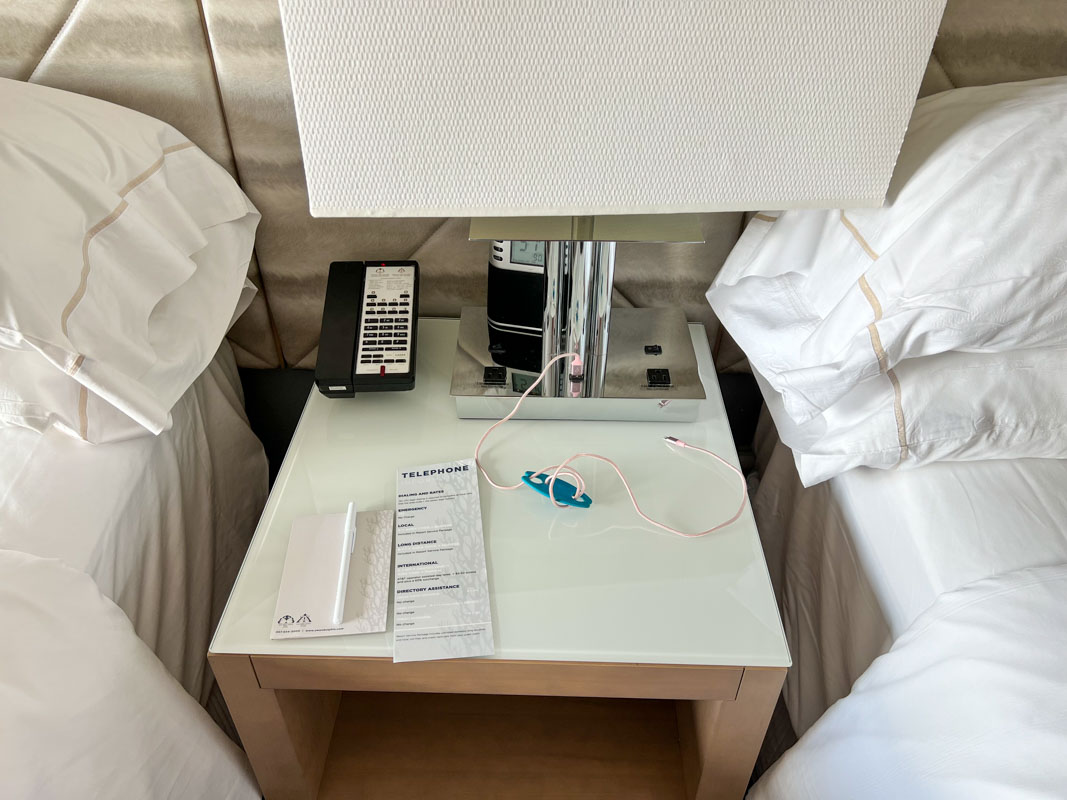 There were plenty of outlets and USB ports on the nightstand, which is handy for the multiple devices we must carry with us nowadays.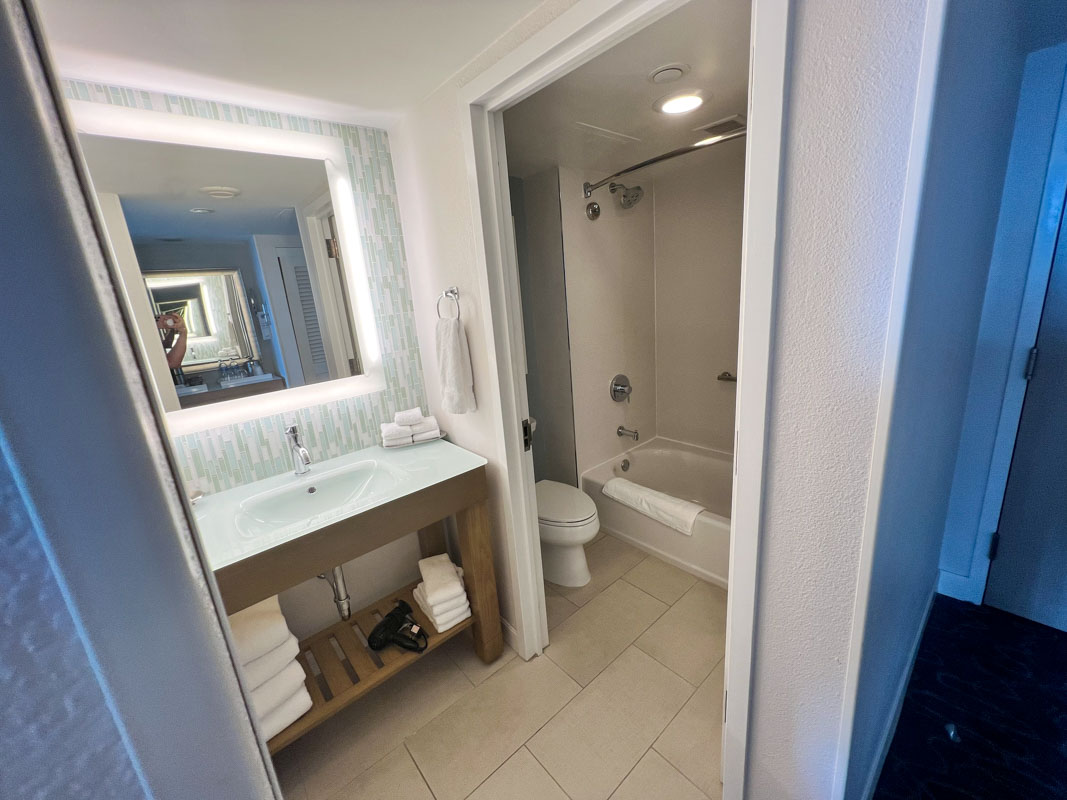 The bathroom is split with the shower/bathtub and toilet behind a sliding door, which is handy for multiple people getting ready in the morning. Countertops were fine for just me but I can be imagine the sink area would be cramped for multiple people.
One amenity I was not expecting was housekeeping service every day, without having to request it. I know this service is limited at some hotels post-Covid, so it was a nice surprise when I returned from the parks on day 1 and my towels were replaced and my bed had been made.
Pool Area and Activities
I did not have time to enjoy the pool during this trip, but the pool areas look very nice.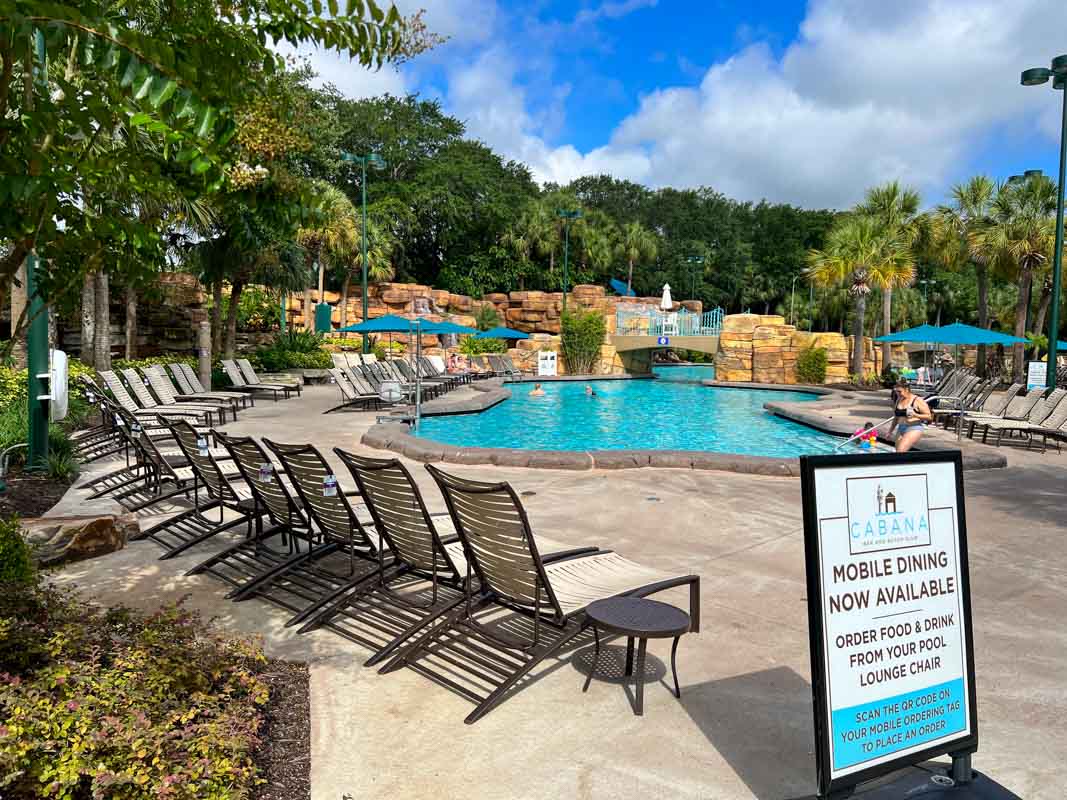 There is a large grotto pool area on the west side of the property. This section includes a large pool with waterfalls, a smaller pool, a kiddie pool, and a lap pool.
There is also a second lap pool closer to the Swan building.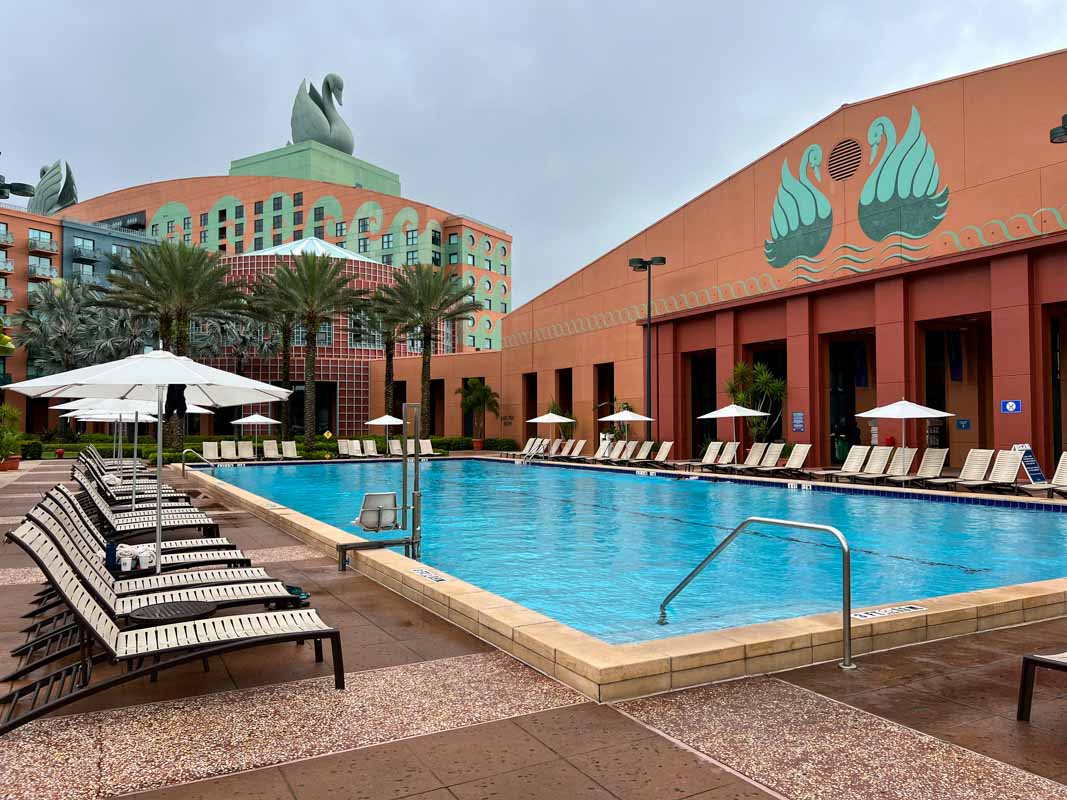 The Swan Reserve also has its own pool which seems to offer a quieter atmosphere, something that may appeal to solo travelers or couples traveling without kids. Any of the hotel guests may use any of the pools on property.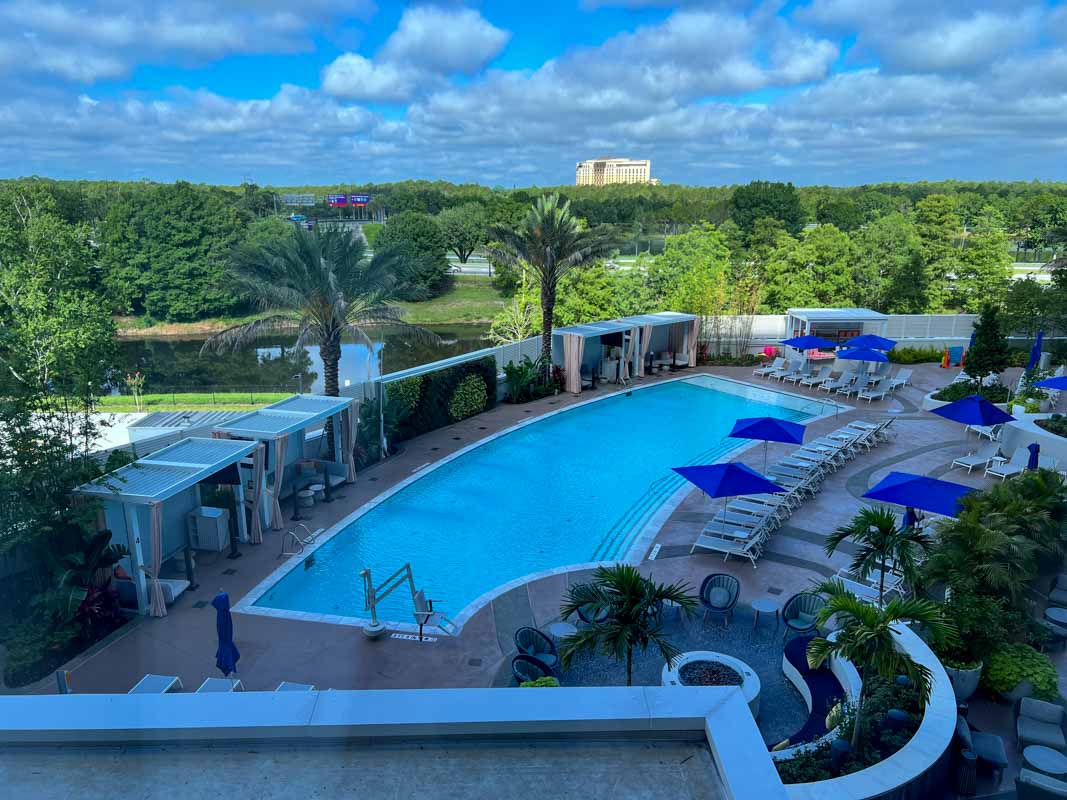 Other than the pools, the resort offers a large expanse of beach on the shores of Crescent Lake with plenty of lounge chairs and hammocks (water access is not allowed).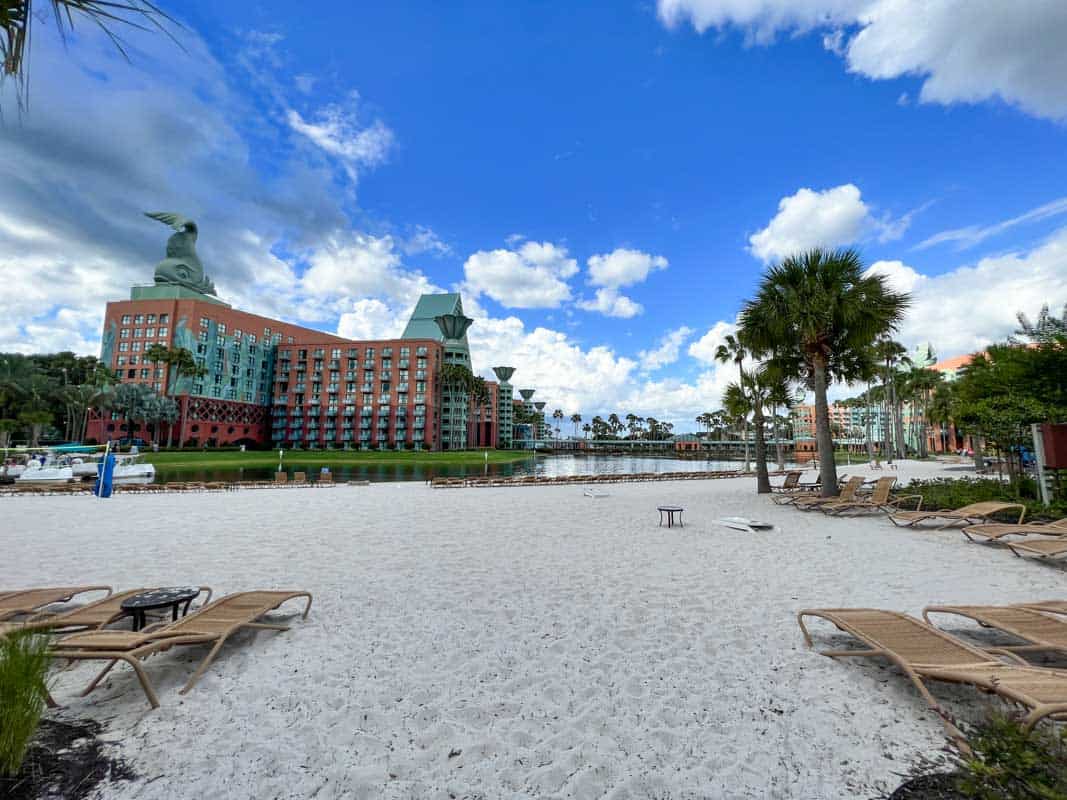 Swan Boats
One of the unique activities for guests at Swan and Dolphin Resort is to rent a swan boat! This 30 minute boat ride around Crescent Lake is a fun way to see the property. Guests can inquire about reservations at the Cabana Beach Hut at the pool area.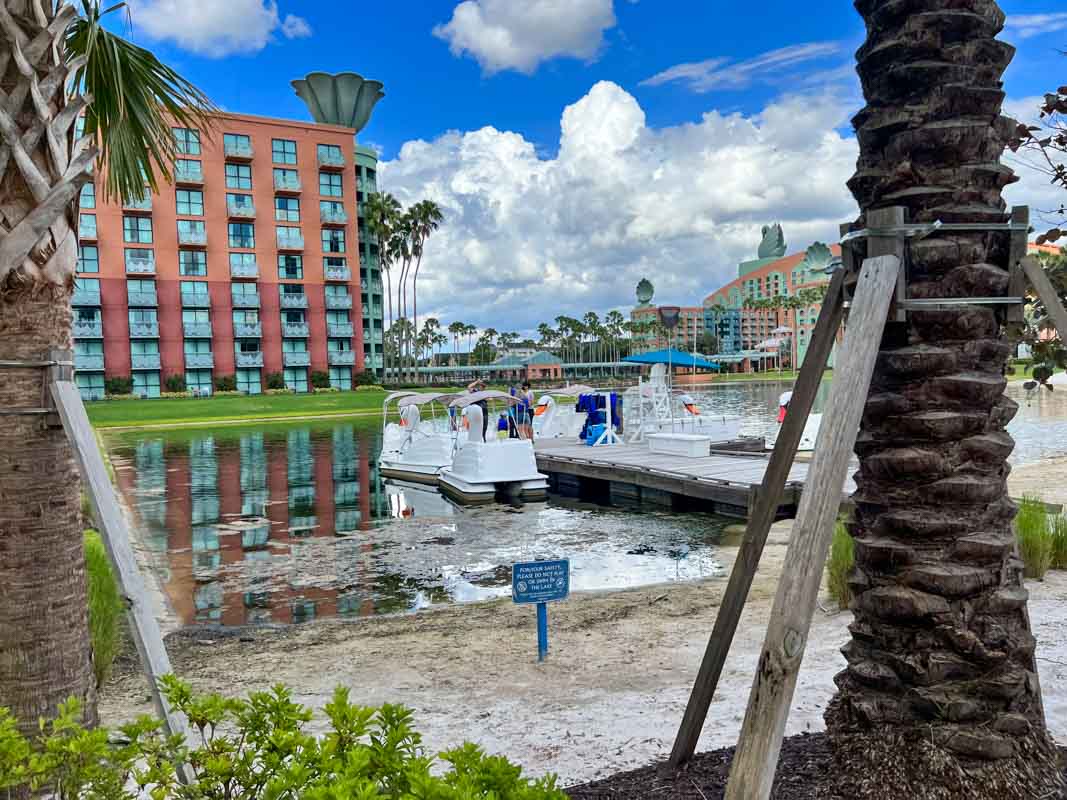 Other resort amenities include:
Convenience Shops
Mandara Spa
Fitness Center
Laundry
Game Room
Business Center
Complimentary Lobby WiFi
Running Trail
Poolside Cabanas
Poolside Activities on select days
Kid's playground
Disney Planning Center
Restaurants and Food Options
There is an abundance of dining options available at Swan and Dolphin, and with so many other foodie favorites on Walt Disney World property, I couldn't possibly try everything. But, I was very pleased with everything I tried during my stay.
Fuel
Fuel is the coffee shop in the lobby of the Dolphin, but don't let that name fool you! This is a full on dining and shopping experience.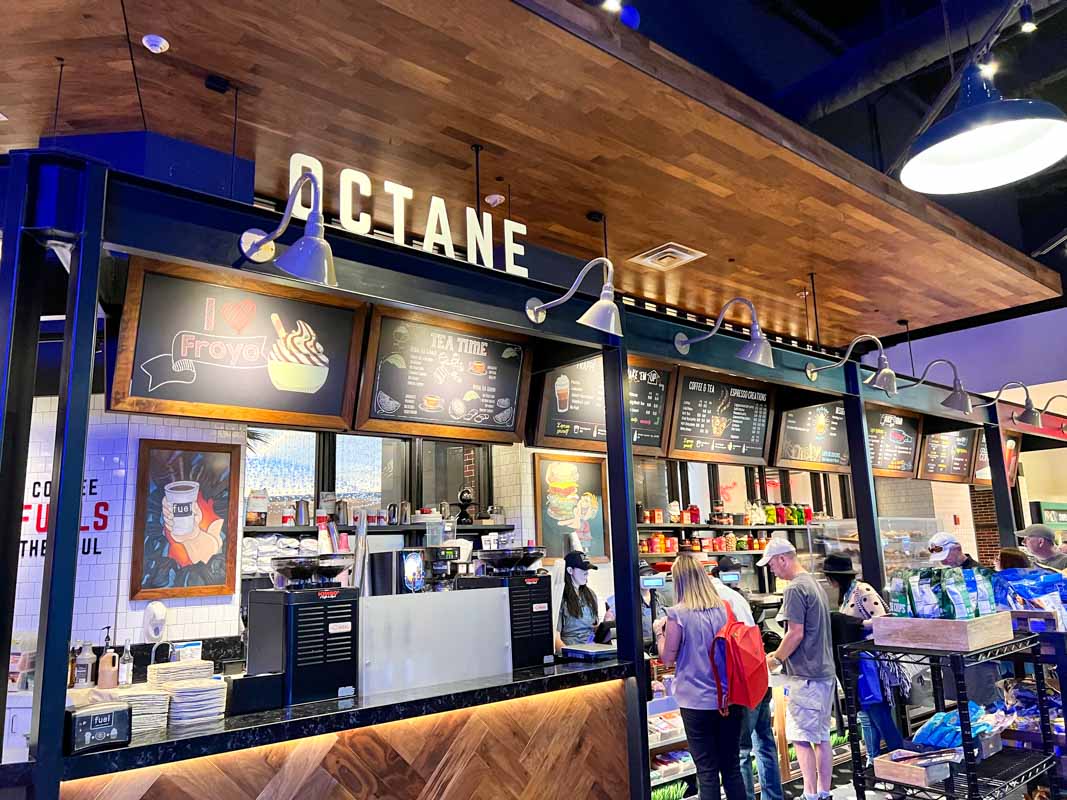 Fuel not only has traditional coffee, but also made-to-order lattes, grab-and-go breakfast sandwiches, and lots of snack options. They also have lunch and dinner items, as well as a DIY yogurt stand and bottles of wine.
After coming in on a red eye flight, I was delighted to see all the options available at Fuel. I had an egg white and spinach breakfast wrap that was actually really, really good.
Phins
The lobby bar/lounge at Dolphin can be a happening place, especially if there's a conference taking place at the hotel (and more often than not, there is). Even when it was slammed, the servers were hard at work making sure everyone got their drinks.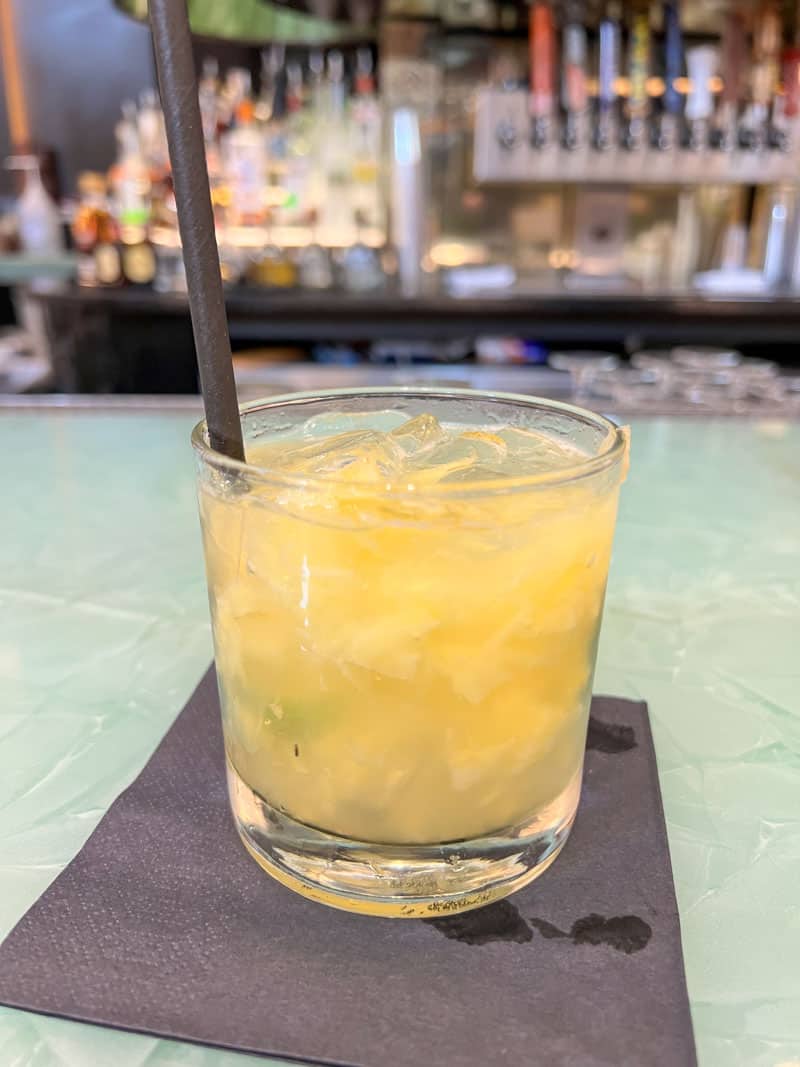 From their speciality menu I tried the Pineapple Crush (Housemade pineapple and vanilla infused vodka, middled lime, simple syrup) and it was very refreshing.
Tip – When the lounge was too crowded, I ordered my drink and took it up to my room. Very easy.
Shula's Steak House
During one night of my stay I treated myself to a little date night at Shula's Steak House. The restaurant was busy, but they were able to accommodate me at the bar.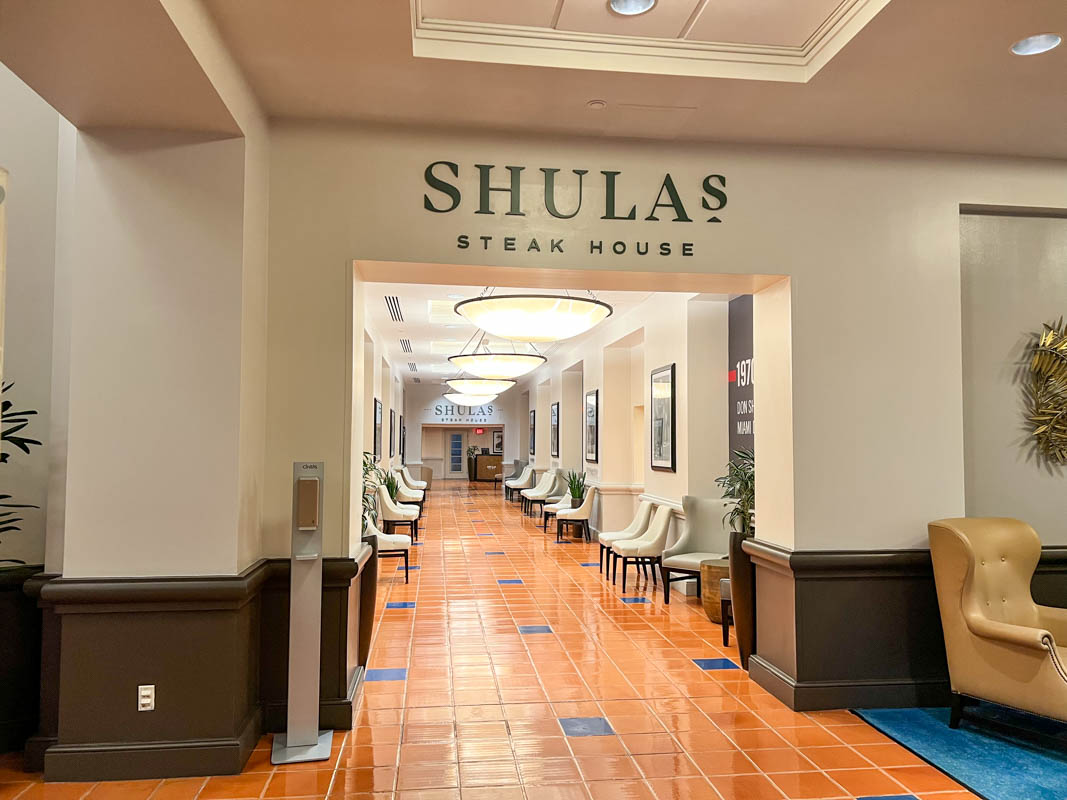 The service was outstanding, although I was a little disappointed with my prime rib. I think I'm a filet mignon gal, and I was trying to branch out, but whenever I do, I end up disappointed. However, my cocktails were fabulous and my server Michelle got my extra dirty martini just right on the first try (no small feat)!
Transportation
Disney Park Transportation
Swan and Dolphin is located on Crescent Lake and offers boat transportation to EPCOT and Disney's Hollywood Studios. The boats also stop at Disney's Boardwalk Inn Resort, and Disney's Yacht and Beach Club, so the trips can be somewhat lengthy. Walking could potentially be quicker, but physically exhausting.
The resort offers free bus transportation to Disney's Animal Kingdom, Magic Kingdom, and Disney Springs, as well as Typhoon Lagoon and Blizzard Beach (seasonal).
Be aware that the bus to Magic Kingdom goes to the TTC (Ticket & Transportation Center) which means you must take the boat or monorail to the front entrance of Magic Kingdom. Instead of this lengthy journey, some friends recommended walking over to Disney's Boardwalk Resort and taking their bus to Magic Kingdom. This worked out well.
Airport Transfers
Swan and Dolphin does not offer free pick up or drop off to MCO (Orlando airport). I arranged my own transportation with Mears Connect which worked out quite well. Mears took over the spot at MCO previously occupied by Magical Express and operates very similarly.
Parking
Free standard parking is included for registered guests. Valet is available for an up-charge.
Weddings and Events
Swan and Dolphin is a very popular venue for weddings, vow renewals, and other events! Visit swandolphinweddings.com for more details.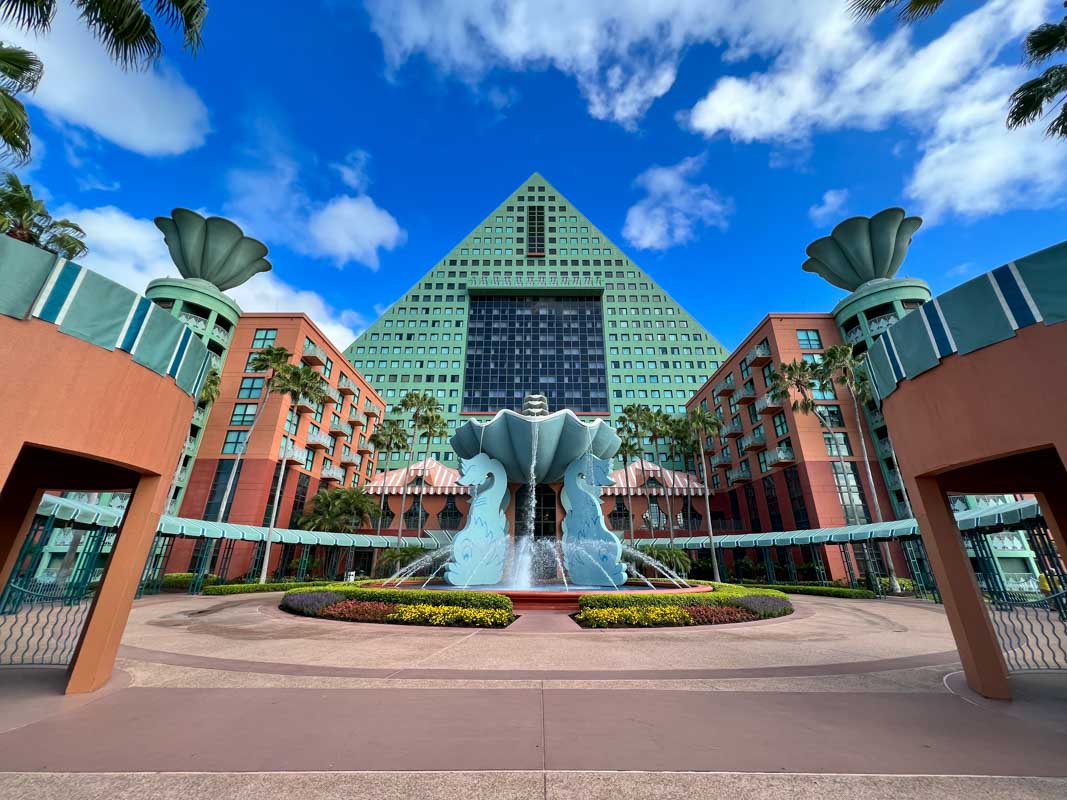 Summary
I really enjoyed my stay at Swan and Dolphin Resort. Between the location, comfortable & clean rooms, restaurants, helpful staff, reasonable price, and overall vibes, the hotel gets high ranks from me. I wouldn't hesitate to choose the Swan and Dolphin again!