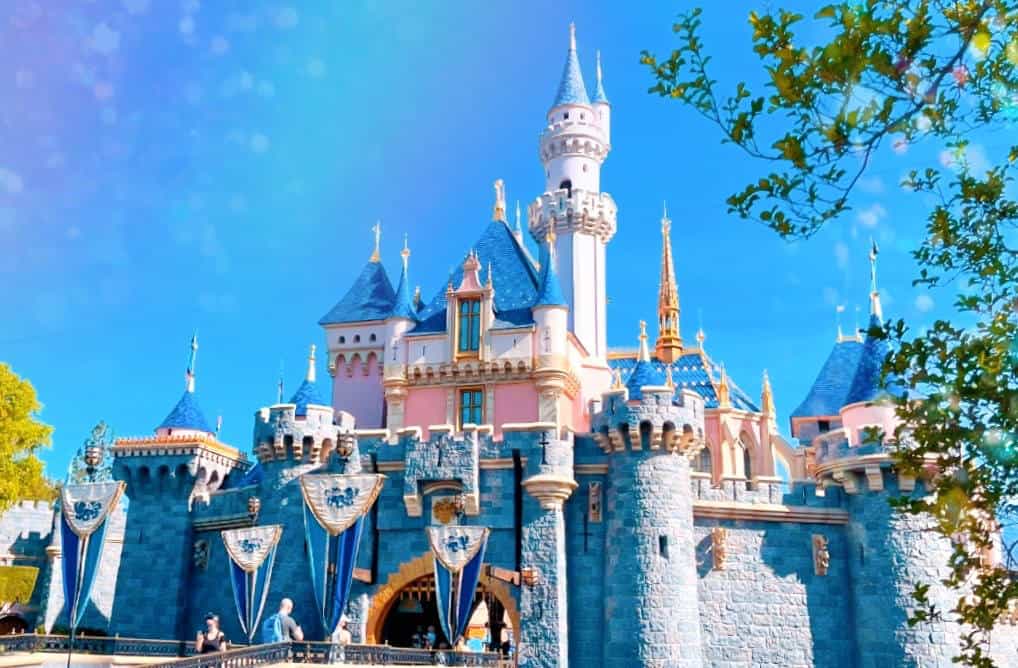 Are you planning on taking your first trip to Disneyland in California? If so, you're in for a great time! There's a reason Disneyland is known as The Happiest Place on Earth … there's something there for everyone to enjoy.
In this article I will provide some tips that will help make your first time at Disneyland Resort a memorable one. I'll cover everything from booking your tickets to packing your suitcases.
So read on for all the information you need to have a fantastic first visit to Disneyland!
A First Timer's Guide to Visiting Disneyland Resort
How To Book Your Tickets For Disneyland
The first step in your epic Disneyland vacation, after choosing the dates you want to visit, is buying your tickets.
I recommend purchasing your Disneyland tickets through Undercover Tourist. They are an authorized Disney ticket provider, and I have actually used them myself, many times!
Undercover Tourist provides the lowest prices for Disneyland tickets, even lower than other popular ticket sellers.
Need Disneyland Tickets?



Get discount Disneyland tickets from my recommended travel partner, Undercover Tourist! Click here to check prices for your trip!
Before you purchase your tickets, make sure you know:
How many people are in your travel party?
Are any travelers between the ages of 3-9 at the time of your trip? They quality for a child ticket. (Guests 2 and under are free.)
How days will you be visiting?
Do you want one-day tickets or Park Hopper tickets?
Do you want to add Genie+, a paid upgrade that reduces your wait time for some attractions?
Guests must make park reservations. Use this calendar to make sure there are reservations available for the parks you want to visit before purchasing your tickets. If you choose a Park Hopper ticket, you must choose your starting park. (Reservations are available 120 days in advance.)
Once your order is processed, you should receive confirmation of your tickets via email so you can feel secure knowing your booking has gone through. 
Once you purchase your tickets, you can add them to your Disneyland account via their website or the Disneyland app and assign them to a name.
(Note – Once you assign your Disneyland tickets to a name, they are non-refundable through Undercover Tourist.)
How Should You Pack For Your First Time At Disneyland?
Planning for any vacation to a new spot can be a daunting task, and you might have a lot of questions on what you should pack for your first visit to Disneyland.
Before you start piling things into your suitcase, it is important to consider a few key points to make the most out of your experience at the Disneyland Resort.
First and foremost, depending on when you are visiting, California's weather can get quite hot during the day, and chilly at night. Comfortable clothing and sun protection are essential when packing for your trip, and lightweight items like shorts, tank tops, and hats are all great choices. Don't forget to bring a sweater or sweatshirt to wear after the sun goes down. Be sure to check the 10 day weather forecast as your trip approaches so you know what type of clothing will be best for you!
As far as shoes, I recommend comfortable sneakers or sandals with a good grip will give you plenty of support while walking around the park and standing in long lines. This visit is not the time to break in new shoes!!
You'll definitely need some sort of bag to carry your things. For long park days, I recommend a backpack which provides a lot of storage and keep your items protected. If you don't like the idea of carrying around all your things, lockers are available for a daily fee.
There are a few items that will make your day at Disneyland a little easier. Consider bring an external phone charger (or plan on purchasing a Fuel Rod), a portable fan on hot days, a poncho on rainy days, and basic comfort items such as sunglasses, lip balm, and pain reliever.
Finally, think about bringing easy snacks like protein bars or trail mix as well as a refillable water bottle.
How To Navigate Disneyland as a First Time Visitor
If you're visiting Disneyland for the first time, there are some important things you need to know before embarking on your adventure.
First and foremost, familiarize yourself with the layout of the park before arriving. Do your research and review the park maps on the Disneyland app or pick up a paper map at the gate so that you know where everything is located. 
Once inside the park, plan your route according to what attractions, shows, and rides you want to experience first. Ensure that you leave enough time to take necessary breaks such as restroom stops and meals so that you don't miss anything!
Also, consider purchasing Genie+, which allows you select an arrival window for select popular attractions – this can significantly shorten wait times! Genie+ can be purchased at the same time as your ticket, which will give you the best possible price for the service. Genie+ can also be purchased on the day of your visit, after scanning into the park.
Moving on to one of the most important parts of a Disneyland day – the food! Trying different food offerings – from snacks like Dole Whip to sit-down restaurants like the popular Blue Bayou – is highly recommended to get the full Disneyland experience.
To save time in line, you'll want to mobile order some of your snacks and meals through the Disneyland app. With mobile ordering, you select your dining location, your time window, the items you want, and pay through the app. When it's time to dine, tap "I'm here" in the app to let the location know you're ready to pick up your food! Keep in mind some dining locations are very popular, so plan ahead!
Don't forget, Disney Parks are designed for everyone regardless of age or experience level, so don't be intimidated; just go enjoy a magical day of fun and adventure! My best advice is to have a loose strategy, stay hydrated, and go with the flow. Part of the fun of being at Disneyland are the unexpected magical moments that you can't plan for!
What to Prioritize as a First Time Visitor To Disneyland Resort
Whether you're an adrenaline junkie or looking for something more laid back, you'll find plenty of options at Disneyland and Disney California Adventure!
For starters, I recommend checking out the classic attractions that really made Disneyland Park stand out from other amusement parks. Pirates of the Caribbean, Haunted Mansion, Jungle Cruise, and it's a small world are absolute must-experience attractions. 
If you're looking for more thrills, don't miss Space Mountain, Big Thunder Mountain Railroad, and Matterhorn at Disneyland Park. Over at Disney California Adventure, you'll love the Incredicoaster and Guardians of the Galaxy: Mission BREAKOUT!
Both kids and adults alike will love the charming attractions in Fantasyland, including the popular Peter Pan's Flight, the newly refreshed Snow White's Enchanted Wish, and the Storybook Land Canal Boats. For me, a ride on King Arthur's Carousel is a must, since Walt Disney came up with the idea for Disneyland while watching his daughters ride a carousel!
If you're looking to wind down, you'll want to board the Mark Twain Riverboat – an iconic attraction that takes passengers on a leisurely voyage alongside Pirate's Lair on Tom Sawyer's Island and gives them breathtaking views of New Orleans Square and Frontierland. Don't forget to wave at the Guests dining at Hungry Bear Restaurant as you sail by!
With so many spectacular rides to choose from at Disneyland and Disney California Adventure, first time visitors have plenty of exciting options!
Conclusion
Visiting Disneyland for the first time can be an overwhelming experience, but with a bit of preparation and research, first-time visitors can get the most out of their visit.
Familiarize yourself with the layout of the parks before you arrive, plan your route, take advantage of Genie+, and don't forget to enjoy yourself!
If you still have questions about visiting Disneyland, be sure to check out some of my other articles:
Guide to Visiting Disneyland Resort
Everything You Need to Know About Visiting Disneyland in 2023
How to Use Disney Genie+ and Lightning Lanes at Disneyland