Sandra is planning an Escape wedding at Disney's Grand Californian Hotel at the Wedding Garden and Brisa Courtyard.
Today Real Disney Bride Sandra is sharing this really cute and REALLY easy DIY Pumpkin Ring Pillow she made for her fall wedding. It would also be really cute for a Cinderella themed wedding. Can't you just picture a dapper little ring bearer carrying it down the aisle? Thank you Sandra for sharing your tutorial!
DIY Pumpkin Ring Pillow
Supplies:
Small plastic pumpkin from a craft store
1/8th hole punch
1/4 inch ribbon 12" long
Assorted leaves
Hot glue gun and glue
Rings
Steps
Step 1: Layer leaves into a pleasing pattern or design. Using the hole punch, punch a hole towards the end of the leaves. This hole will be where you will thread your ribbon for the rings.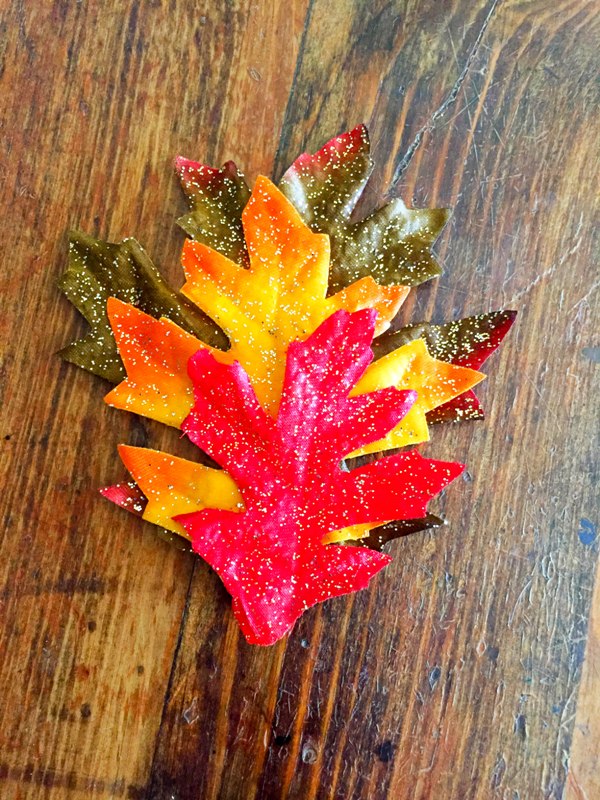 Step 2: Thread your ribbon through the hole in the leaves. I found doing one leaf at a time was the easiest. If you need help getting the larger ribbon through the smaller holes, cut the end of the ribbon diagonally, so it creates a point.
Step 3: After your ribbon is threaded, use a small dot of glue to attach the bottom leaf to the pumpkin. Make sure the ribbon doesn't adhere to the glue.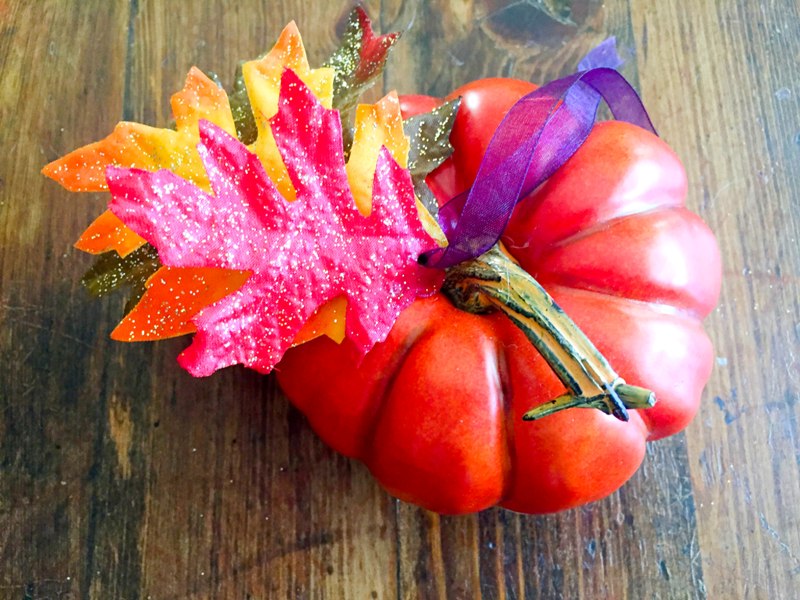 Step 4: After the glue dries a bit ( may take a few seconds) thread the rings on one ribbon strand, then tie the ribbon in a knot to secure the rings. Let the ribbon hang off the pumpkin.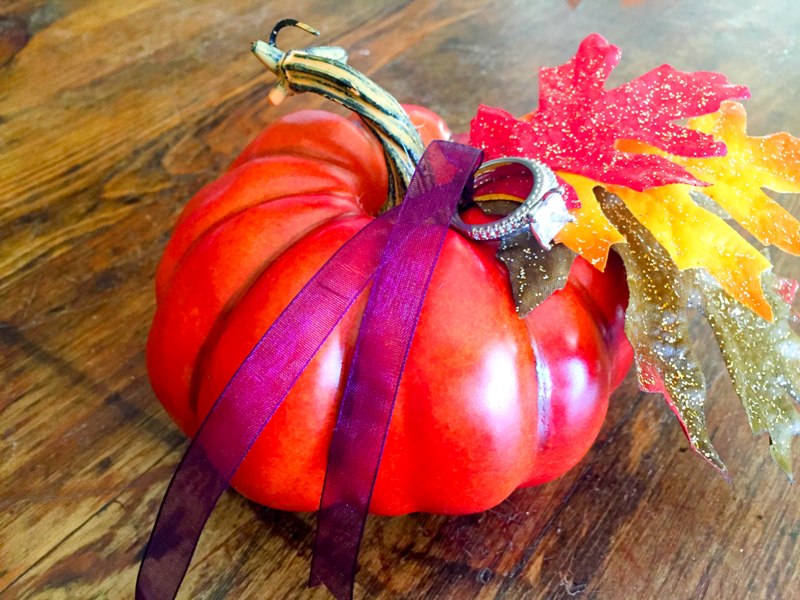 Tip – Attach costume/fake rings to the pumpkin for the ceremony and keep the real rings somewhere safe such as with the officiant, Best Man, or Maid of Honor.

This is a perfect DIY for a fall wedding! And I can't believe it's so easy to make. Even the pumpkins with leaves and ribbon would make lovely decor or centerpieces on their own.