Today was a bittersweet day – our last full day at Aulani. It's also a day where I was too lazy to write any kind of notes, so bear with me as I rely on photos and my extremely fuzzy memory!
But first, obligatory morning sunrise-from-our-balcony photo:
Before we arrived in Aulani we had discussed renting one of the private cabanas for a day. It's a splurge, sure, but with this possibly being a once-in-a-lifetime trip to Aulani we wanted to experience everything. We initially reserved our cabana for our first full day, but then decided we better move it to the last day, lest we become spoiled brats with our VIP cabana treatment. We chose a cabana in the adult pool area, which was not only the location we wanted but was slightly cheaper than cabanas by the family pools. Upon our arrival, finding out the adult pool was not near the beach, we did consider trying to switch it to family cabana with a sight line to the shore, then after experiencing the noise level at the family pools, we decided to stick with our original plan.
These are the cabanas by the grotto pool. Somehow I missed taking a wide shot of the cabanas by the adult pool but they looked exactly the same.
But I'm getting a little ahead of myself. The cabana rental was from 9am to 6pm, so we figured this was the perfect day to squeeze in the character breakfast at Makahiki. The character breakfasts operate a lot like the stateside Disney Parks character breakfasts. You check in, you wait in line to get your picture taken with Mickey, then you're led to a table. You can go between the buffet and your table however many times you like. As for the food, there was a wide selection with your standard American breakfast staples (cereal, eggs, bacon, Mickey waffles) as well as some Portuguese and Japanese specialty items and Hawaiian sweet bread. We certainly did not leave the buffet hungry. As for entertainment and characters, "Aunty" went around to the tables talking to guests while amplified, in between leading the kids in activities and conga-type lines. A few characters also came around for pictures but not as many as I had hoped. Aside from our picture with Mickey when we arrived, we also saw Minnie and Goofy. Aulani also surprised us with an anniversary dessert, which was strange because I was expecting one at our Ama Ama dinner the night before and it never arrived, so to receive cake at breakfast threw me off (but it was appreciated and of course I ate it).
Masaladas, a Portuguese donut with caramel drizzle, which is totally an appropriate breakfast food when you're on vacation.
Right after breakfast we walked over to check in for our cabana at Rainbow Reef. A Cast Member escorted us to cabana #8 in the adult pool area. Out of three cabanas we got one on the end, which we were happy about, although it hardly mattered since there ended up being nobody in the middle cabana all day.
King of the Cabana.
The cabanas are great. They include a seating area (loveseat, two chairs, and table), two loungers, a mini-fridge stocked with water, and a TV. There was also a clock radio which included USB docks for charging mobile devices. The cabanas had a dedicated attendant who came around for drink and food orders. We also were brought a fruit platter in the morning and a dessert tray in the afternoon. The attendants basically said to just let them know when we wanted them delivered.
It really was so nice having the cabana as our home base. We could come and go as we pleased and not worry about someone moving our stuff. However, we really didn't leave our cabana much since it was such a comfortable spot. My only complaint was that the loungers didn't lie all the way back! So to lay on my back I had to flip around and leave my legs bent up on the back of the chair. A little awkward.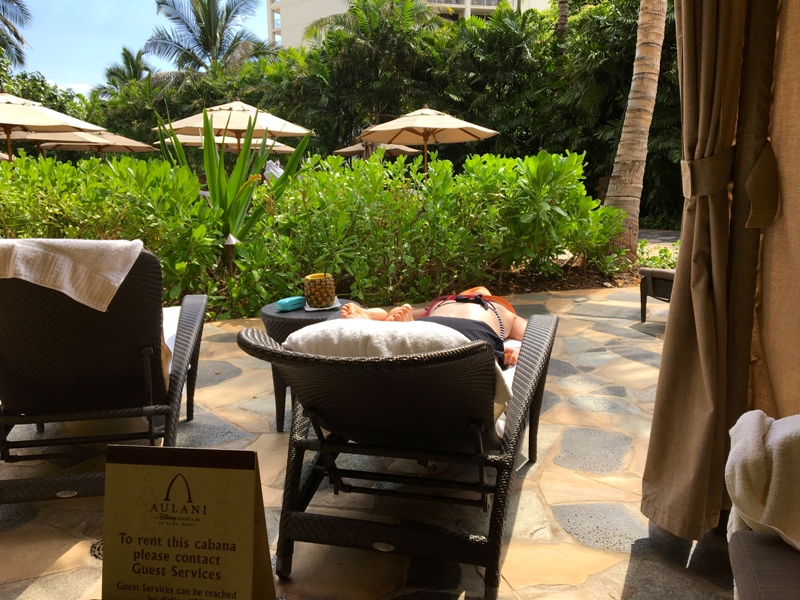 The view from my lounger.
With the TV, Tim was able to hook up his iPad and stream the Red Sox game through the MLB app. So someone was a happy vacationer.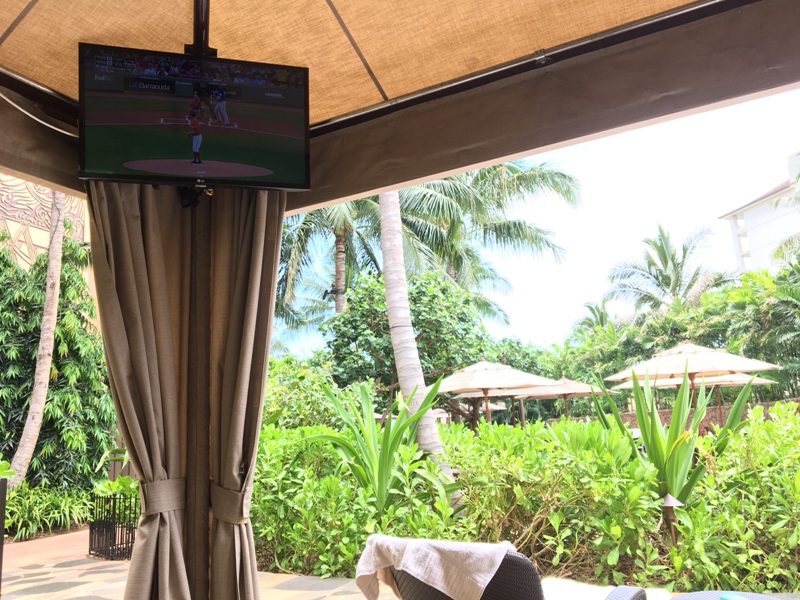 I did get up a couple times for some photo opportunities with characters. There's a phone extension you can call every morning to find out where and when certain characters will be out. Donald still eluded me but I managed to get some quality time with Stitch and also visited with Goofy and his pool shoes.
If I'm being perfectly honest I have no idea what we did for lunch or dinner because I didn't photograph it. I believe we ordered lunch delivered to our cabana from Off the Hook, but I believe we had a late lunch due to our huge buffet breakfast, and skipped dinner. I did finally order a drink in a hallowed out pineapple, something I had been eyeing all week.
I also took it on a photo shoot around the resort.
My pineapple drink was a big hit. I had two different people (neither of whom spoke English as their first language) ask me if they could take a picture of me holding my pineapple drink. I said "How about YOU hold the drink and I'll take a picture of you!" Both ladies laughed really hard while holding the pineapple drink; it was so cute. It's the little things.
Even Tim got in on the action when I wasn't looking.
And that evening I took it back to our room and drank pineapple wine from it, because Hawaii.
Best $10 I've ever spent.
Even though we skipped dinner and had a huge tray of desserts delivered to our cabana, I was determined to try the dessert menu at Ama Ama. Tim was full but he came with me for moral support. I ended up ordering three dessert items to try. Tim took a bite of each but the rest was up to me. I stuffed as much in my face as I could before throwing in the towel.
If I remember correctly, this is the Lime Semifreddo ..
The Honey Mochi Cake …
And the Chocolate with Aloha.
As you can imagine, they were all out-of-this-world incredible.
After dessert we decided to head back to the room and get a bit of packing done. It was going to be sad to leave Aulani the next day but we knew we still had a week of Hawaii adventures still ahead!
Next up: all aboard the Norwegian Pride of America!