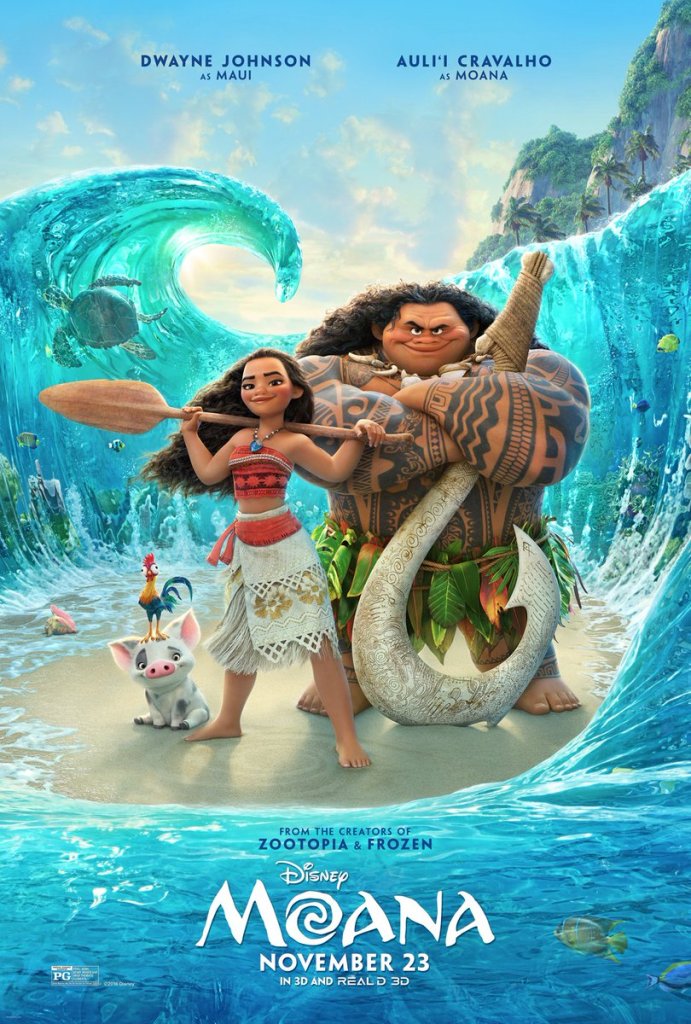 You guys, I'm SO excited about Moana!
I know it's partly because Disney animated movies are always good, and also partly because I just visited Hawaii. And now with the recent unveiling of a new trailer and poster, that means the movie release date is around the corner! (November 23, 2016 to be exact!)
Tropical themed weddings are nothing new, but this Moana poster just screams for a Poster Palette; I had to get it done right away!
I hope you enjoy this Polynesian-inspired color palette. Obviously there is a lot of blue, but I am seriously swooning over that aqua I pulled from the poster. It's so PERFECT.
I added an orange-red as an accent color to represent Moana's traditional island attire. And for neutrals I added an orangeish-tan to represent Moana's oar and beige to represent the sand. The two lighter shades balance out the vibrancy of the blues and red.
What do you think?
Naturally, a wedding at Disney's Aulani Resort and Spa is a perfect fit for this palette.
This cake is so simple yet stunning, and the natural elements such as driftwood branches really makes this decor stand out.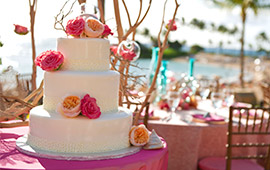 Of course you can't have a Polynesian wedding without traditional leis! These pretty much match Moana's island attire perfectly.
Now I'm going to spend the rest of the day dreaming of a tropical vow renewal celebration!
If you haven't watched the most recent trailer for Moana yet, check it out here:
And mark your calendar for November 23, 2016 when you can see
Moana
in theaters! Who else is excited?
Three thousand years ago, the greatest sailors in the world voyaged across the vast Pacific, discovering the many islands of Oceania. But then, for a millennium, their voyages stopped – and no one knows exactly why. From Walt Disney Animation Studios comes "Moana," a sweeping, CG-animated feature film about an adventurous teenager who sails out on a daring mission to save her people. During her journey, Moana (voice of Auli'i Cravalho) meets the mighty demigod Maui (voice of Dwayne Johnson), who guides her in her quest to become a master wayfinder. Together, they sail across the open ocean on an action-packed voyage, encountering enormous monsters and impossible odds, and along the way, Moana fulfills the ancient quest of her ancestors and discovers the one thing she's always sought: her own identity. Directed by the renowned filmmaking team of Ron Clements and John Musker ("The Little Mermaid," "Aladdin," "The Princess & the Frog"), produced by Osnat Shurer ("Lifted," "One Man Band"), and featuring music by Lin-Manuel Miranda, Mark Mancina and Opetaia Foa'i, "Moana" sails into U.S. theaters on Nov. 23, 2016.
Poster image source: Moviefone
Beach wedding image source: Disney Weddings inspiration gallery