Our seventh day in Hawaii was an incredibly busy one, as it is the day we checked out of Disney's Aulani Resort and boarded the Norwegian Cruise Line ship to begin our week-long island hopping cruise! Because so much happened I am going to break this day up into two parts.
Obviously waking up our final morning at Aulani was bittersweet. It was such a fun week and I was sad to be leaving Aulani, even though I knew we had another full week of adventure ahead on the cruise ship. I knew I'd have fun seeing the other islands but it's always rough to leave the Disney magic.
Believe it or not, but I failed to take a sunrise balcony photo this morning! Instead, I woke up shortly after sunrise and immediately got dressed and walked around the quiet resort, one last time.
About an hour later I came back to the room and sat out on the balcony while waiting for Tim to wake up, and I had a little friend stop by. Just call me Snow White!
Once Tim woke up, we grabbed our usual breakfast from Ulu Cafe and decided to take advantage of our last chance to see what some Aulani goers refer to as "Hidden Beach." Hidden Beach is a public beach walking distance from Aulani but you cannot access it from the Aulani lagoon. You need to actually leave the resort and walk along the main road the equivalent of a couple city blocks.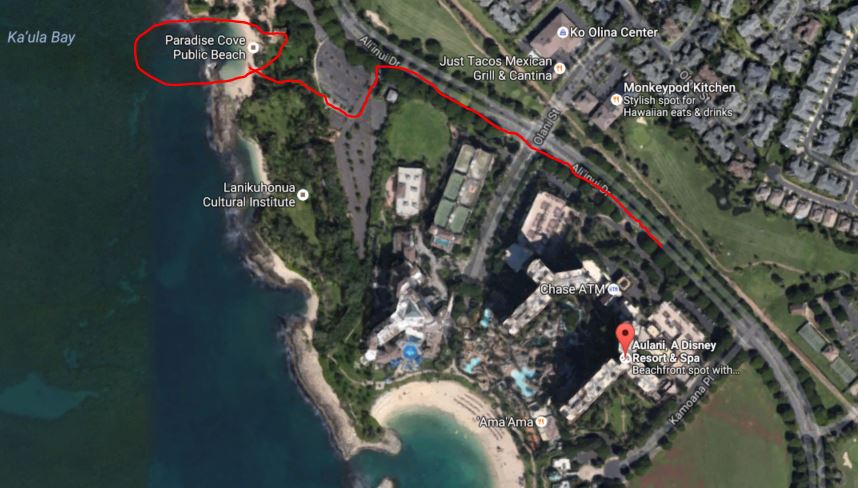 Once you enter the parking lot, look for the beach access path towards the right.
"Hidden Beach" is actually Paradise Cove public beach, and it's not well hidden because there were about 30 other people there at around 9:00 AM. However, it's a fairly big beach and it's certainly not as crowded as Aulani's beach. We decided to visit this beach to check out the snorkeling. We did see some fish but we were certainly spoiled by our experience at Shark's Cove in the north shore. However, if you are staying at Aulani and aren't venturing to any other part of the island and want to see some real tropical fish in the wild (verses Aulani's man-made snorkeling lagoon Rainbow Reef), you will find them at Paradise Cove. We had also read there were sometimes seal and sea turtle sightings at this beach but for the hour we were there, we didn't see any.
(Check out that sky, though … #nofilter.)
Side note – apparently there was a different "Secret Beach" which you could access from the Aulani lagoon via a pathway; however, the pathway now appears to be part of the Four Seasons Resort and is private property. This is not the same beach.
After snorkeling and exploring the lava rocks for a little while, we made the walk back to Aulani. We packed up the rest of our things, made the phone call to officially check out, and said goodbye to our room.
We could have made private transport arrangements from Aulani to the Port of Honolulu, but to keep things easy on ourselves we simply grabbed a cab that was waiting at the hotel entrance. The price ended up being a little higher than the cost of our private shuttle from the airport to Aulani, but I can't remember the exact amount now. The ride itself took about an hour with a little bit of traffic.
Before we got in the taxi I had one last sip of the magical Hidden Mickey fruity water.
Next up – Checking in at the Port of Honolulu and boarding the Norwegian Pride of America!