This post contains affiliate links.
As a non-sports-type person, there is one day a year I willingly watch football, and that's for the Championship Game I'm Not Allowed to Reference By Name Because it's Trademarked. Yep, I'm that stereotypical person who watches it for the halftime show and the commercials, and also because I hate feeling left out when the rest of America inevitably starts talking about that one crazy thing that happened.
I'm convinced any sport watching experience is better with mouse ears, so I quickly put together this easy pair of Mickey ears during a Facebook Live stream (which you can watch below). They were inspired by this Mickey Football Banner I made a couple years ago, which was another easy DIY. I wanted to keep these ears simple because some of the ears I've been making lately are really time consuming. Once you gather the supplies, these will take you no time at all to put together. Want to make it even simpler? Ditch the grass ear and make two footballs!
Watch the tutorial:
DIY Football Mickey Ears Tutorial
Supplies
Brown and Green craft foam
White headband
Scissors
Hot glue gun
Green tissue paper
Glue stick
White fabric pen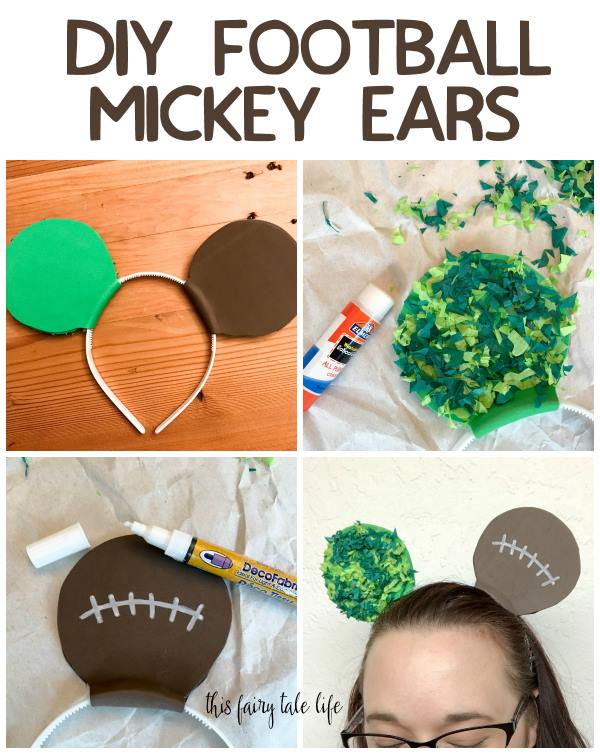 Steps
Step 1 – Cut your two Mickey ears from foam (one green, one brown) and glue them to the headband using the hot glue. See this post for detailed instructions and ears template.
Step 2 – Use your white fabric pen to draw the football's stitching on the brown ear.
Step 3 – Cut tiny bits of green tissue paper to resemble grass. Rub the glue stick on a small section of the green ear and stick on a bunch of the little green tissue pieces. Your fingers will get messy! Repeat until the whole ear is covered.
Once dry, repeat Steps 2 and 3 on the other side of the ears.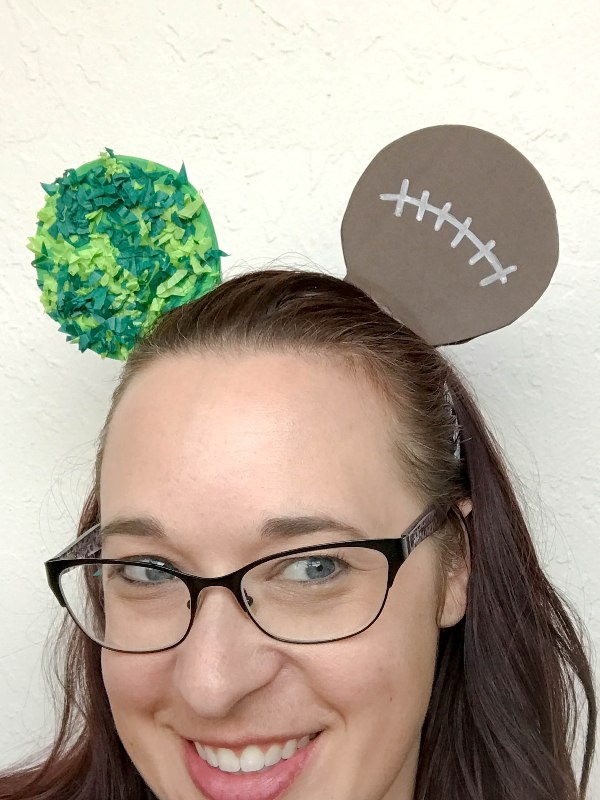 If you make these, be sure to come to my Facebook Page and share your photo!