I attended this hosted event by Disney as their guest. All opinions are my own. This post contains affiliate links.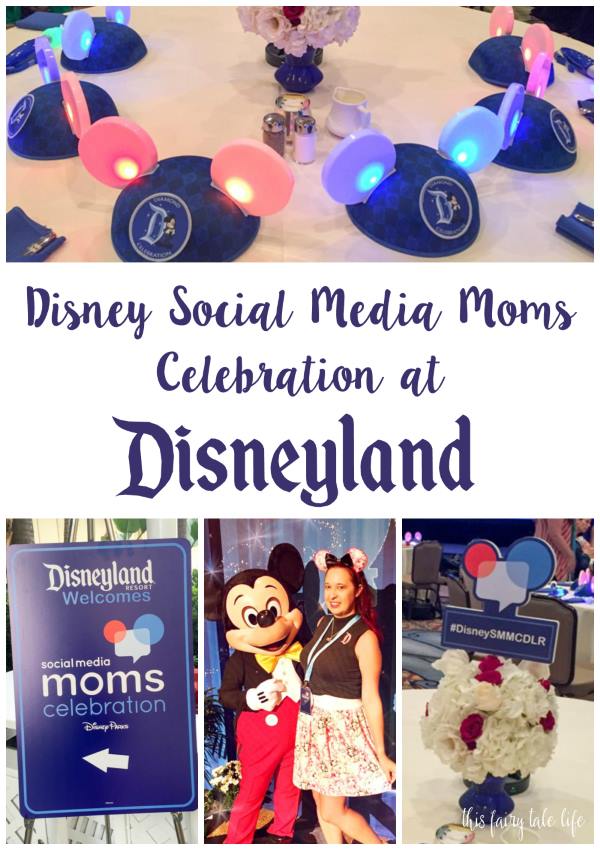 Earlier this week I had the honor of attending the latest meet up for Disney Social Media Moms!
You may remember two years ago I attended a similar meet up in Arizona, and then last year I attended their "big" conference in Walt Disney World!
When I didn't get invited back to the big conference this year, I'll admit I was a little bummed. But I assumed I had my share of pixie dust and I was happy for other bloggers who were now experiencing the magic. Which means it was EXTRA magical when an email showed up in my inbox inviting me to one of the events this year – a fun day at Disneyland with Disney Social Media Moms!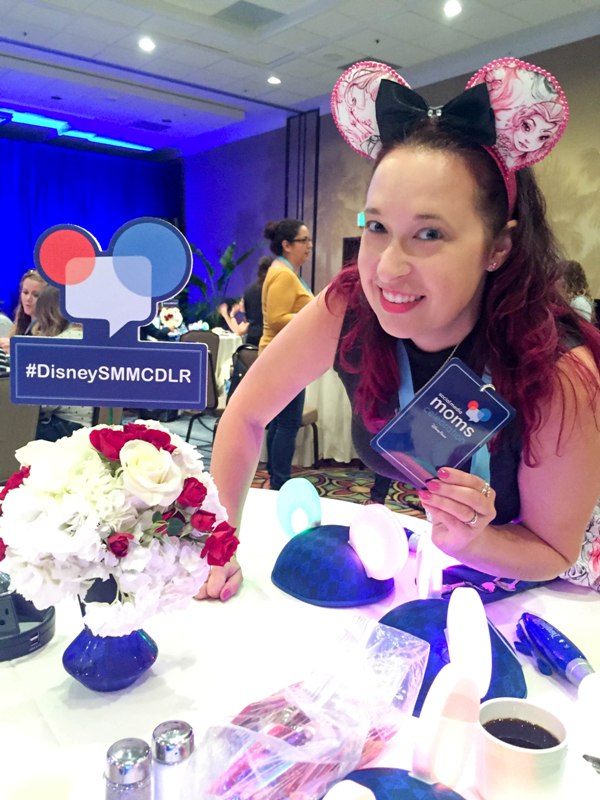 Being invited to a conference at Disneyland is a NO BRAINER for me, since I live so close and Disneyland is practically my second home! I was excited to spend a day there with my friends, and make some new ones.
The conference was held at the Pacific Ballroom at Disney's Paradise Pier Hotel. I was excited to finally get a peek at this ballroom! The room definitely has a tropical theme but it's not overpowering. The new carpet is gorgeous! This is a great room option for wedding receptions.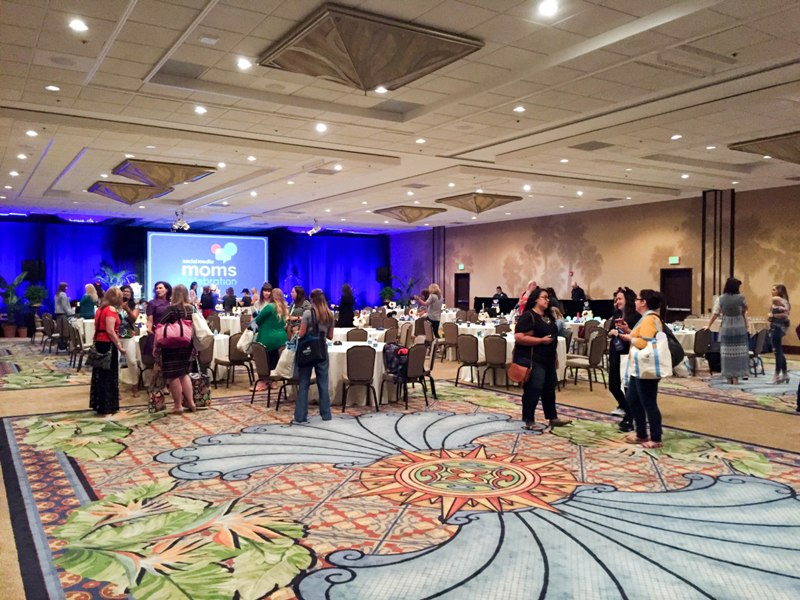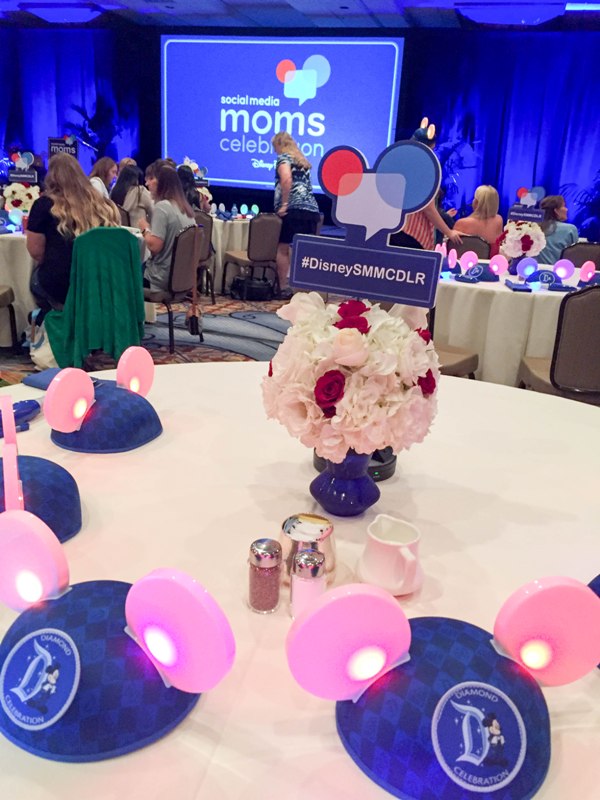 After a yummy buffet breakfast, our conference got started with a fabulous line-up of speakers.
First we heard from Michele Himmelberg, Public Relations Director at The Disneyland Resort. Michele talked about some of the great things happening at Disney Parks, such as Shanghai Disneyland just opening, the revamped Soarin' Over the World at Disney California Adventure and Epcot, the new Frozen musical at the Hyperion Theater at Disney California Adventure, new adventures at Animal Kingdom at night, two new cruise ships being added to the Disney Cruise Line fleet in 2021 and 2023, and celebrating five years at Aulani! Whew, so much Disney goodness all over the world!
Next we heard from Erin Glover, Editorial Content Director at The Disneyland Resort. Erin is heavily involved with the Disneyland blog content on the Disney Parks Blog, and she gave us a peek at their editorial process! One huge tip I took away from her presentation was to make sure you're re-purposing content. With one idea you can create a blog post, video (or live video), images on social media, and more.
Following Erin we had a very special treat. Amy Smeed, Animator with Walt Disney Studios, gave us an exclusive peek at Moana, the newest Disney animated feature coming out later this year. It was a really big deal that we were screening this footage, we were even ordered to turn our phones off and security guards patrolled the room! Disney does not play! We were shown 4 or 5 short scenes from the movie as well as some behind-the-scenes footage regarding the making of Moana. It was truly special. I wish I could tell you more; all I can say for now is that the movie looks truly special and I'm SO EXCITED to see the whole thing!
After a short break which allowed us time to recover from the gorgeousness of Moana we just witnessed, we heard from Victoria Lim, Managing Editor of Content at Walt Disney World. Victoria clued us in on some great phone apps we can use to make easy videos, such as Magisto and Videolicious. Video is HUGE on Facebook right now, so it's important we, as influencers, are adapting to the trends. The phone apps make it super easy to break into video!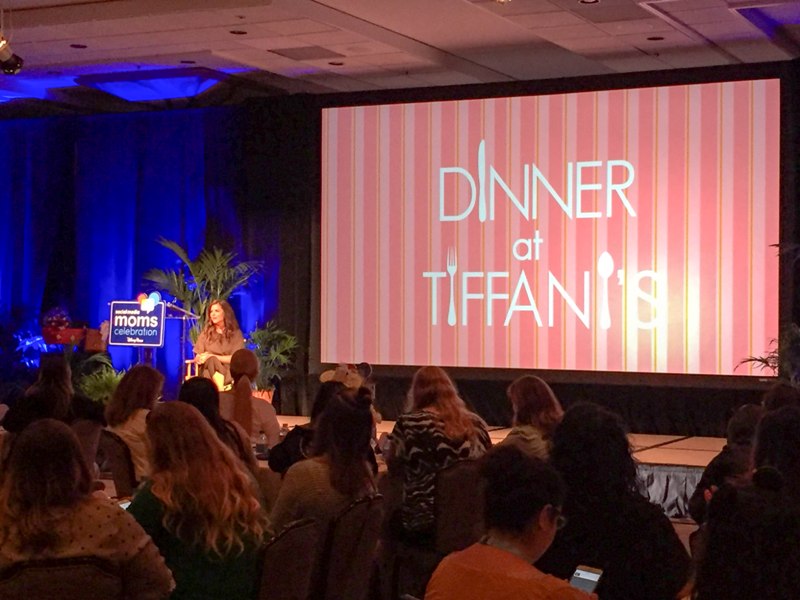 Our next speaker was actress Tiffani Thiessen, who you may remember from Saved by the Bell and Beverly Hills 90210. Did you know she's a blogger? Celebrities, they're just like us! Tiffani spoke about how using blogs and social media gives people a glimpse into someone's life, and it should be personal and genuine. I was so surprised when she told all of us she runs her blog on her own! It's refreshing to hear from a celebrity who doesn't have a huge team behind their blog, so when you read her blog you know it's really her doing the writing!
Our last presenter was Ginger Zee Meteorologist from Good Morning America. To be honest, before the conference I was just vaguely aware of Ginger, but after hearing her speak I'm a huge fan! Ginger spoke about work/life balance, and even though I don't struggle with this like most moms do, I know how important it is to take time to care for yourself. Ginger also talked about the haters … it just so happened she received a nasty tweet the morning of the conference in regards to her traveling … "If u wanted a life of travel why have a child..does your child know who you are… or is it all a out [sic] you." Comments like this make me beyond angry, and by the reaction in the room I could tell I wasn't alone. When you're a blogger, you tend to put yourself out there and open yourself up to anonymous criticism, and you do need to have tough skin. The bottom line is you need to live your life, and do what makes you happy!
With that, our magical morning came to an end, but not before a final visit with Mickey Mouse! I can never turn down a photo op with my favorite celebrity!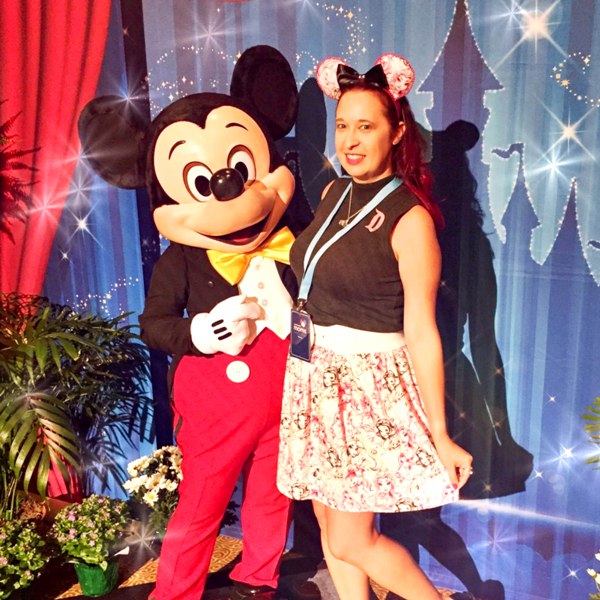 I also need to give a shout-out to some friends who helped me look extra stylish on this day! The princess skirt is by Ena's Bazaar, the matching ears are from Side of Nicole Slaw, and my trusty "D" pin is by Match Accessories. You can find them all on Etsy!
But the magic didn't stop there! Attendees were given a park hopper ticket for Disneyland and Disney California Adventure, a FastPass for the new Frozen musical, and VIP viewing for Paint the Night parade and Disneyland Forever! fireworks show. You can find a live stream for Paint the Night on my Facebook Page.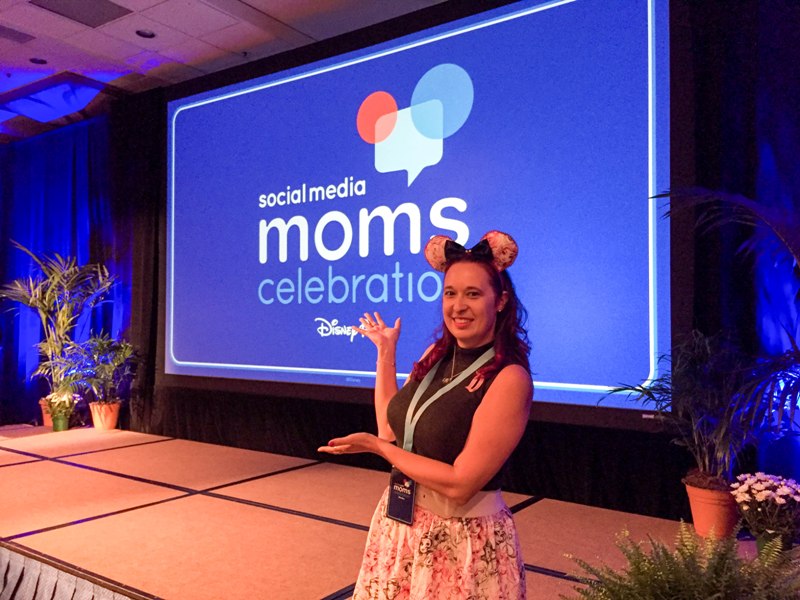 Thank you so much to the Disney Moms team, it is truly an honor to get to spend the day with so many lovely bloggers and media professionals!