Since I went to bed "late" at 10pm, I woke up "late" at 6am and missed the sunrise. I sat out on the balcony drinking coffee until 7am when Tim joined me. Today was Laniwai spa day, and after our adventures around Oahu the day before, we were more than ready to be pampered. We had signed up for a couples treatment at 11am but could arrive an hour early to enjoy the spa facilities, which meant we had three hours to burn in the meantime. We grabbed a quick breakfast at Ulu Cafe and then hit the lazy river, which is nice and empty first thing in the morning. I also went down the tube slide which was a lot of fun. Then we went to the grotto pool for a bit before making our way to the Laniwai Spa.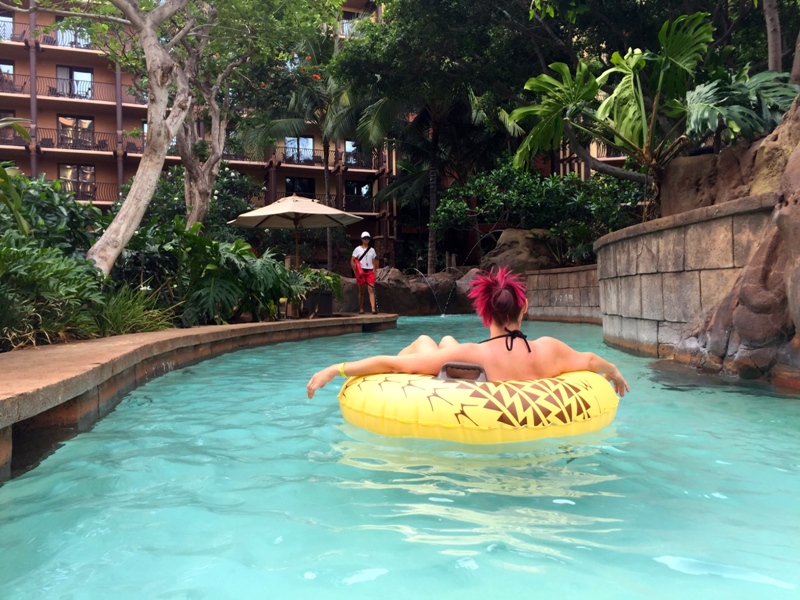 The spa is so nice, I'm not a huge spa connoisseur but I've toured a few and this has got to be the most impressive spa I've seen. In case you've forgotten, here are some spa pics from our tour on day 1.
Upon our arrival we were led towards the back with a Cast Member guide. We stopped for some pineapple water and he asked us to choose a river rock. The rocks have words written on them. Mine said listen (lol) and Tim got balance. We then walked into the next area, the "hub" of the spa with a nice water feature. Here we were asked to release our words (rocks) into the water.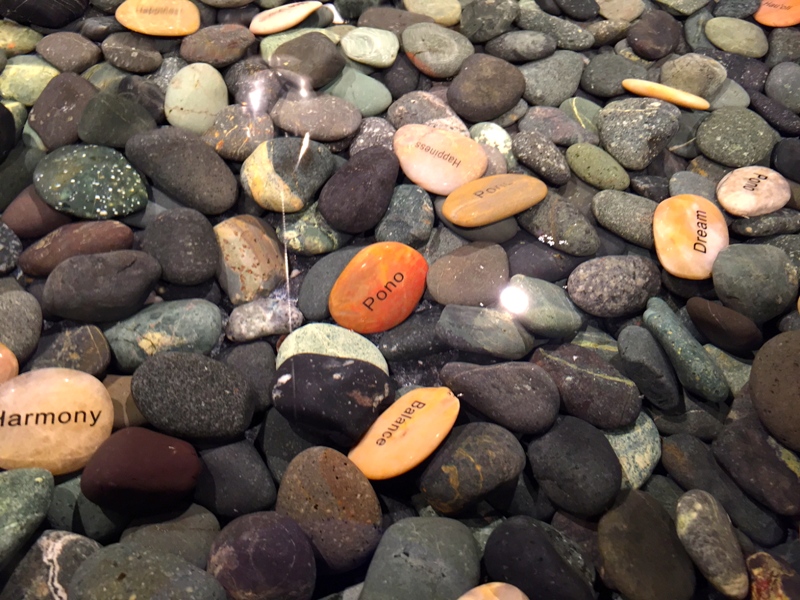 Then we were led to our separate changing and restroom areas, and we each had a Cast Member explain the men's/women's facilities to us. We were shown how to use our lockers which had our robes and sandals inside already. We changed into swimsuits and robes to enjoy the outside area. We were also given sugar body scrub to use in the outdoor showers or take home.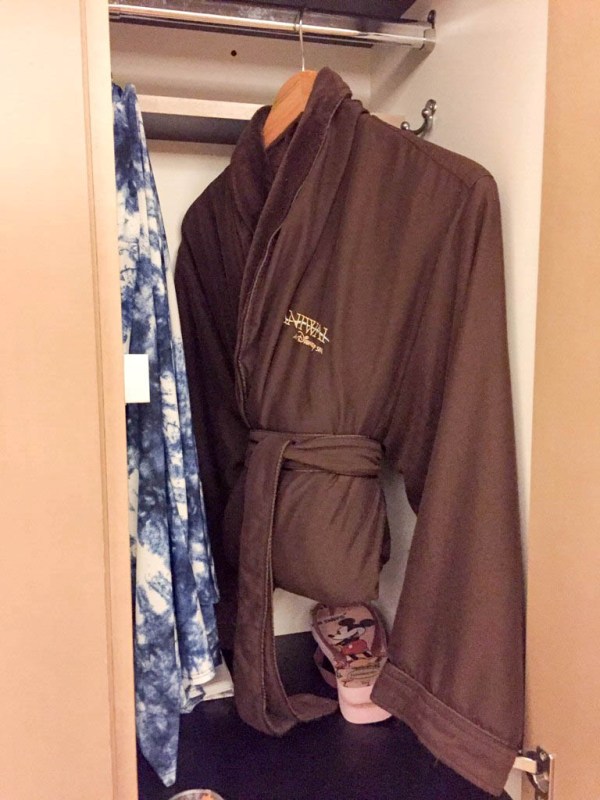 Tim and I reconvened in the outside common area and waited to be called for our treatment. While waiting we played with the showers and enjoyed a soak in the jacuzzi. Soon enough we were called into the relaxation room with the rest of the guests who had treatments during the same time frame.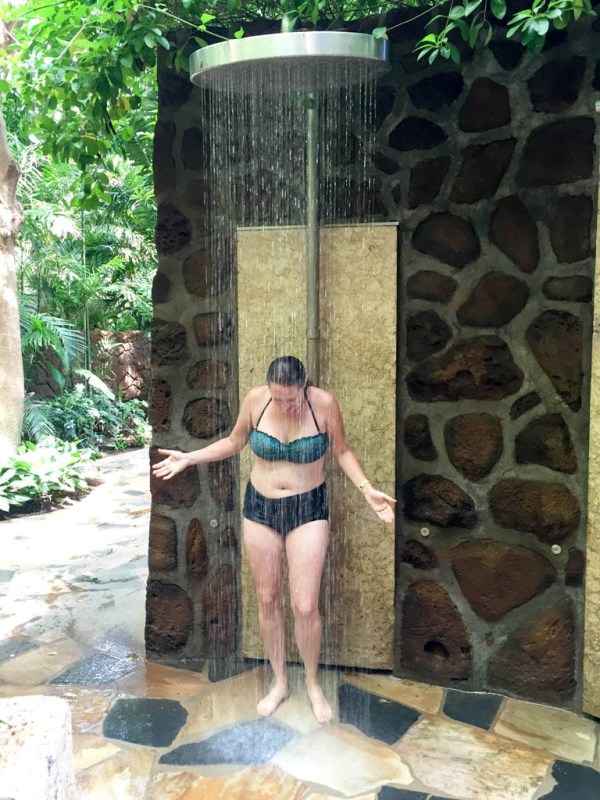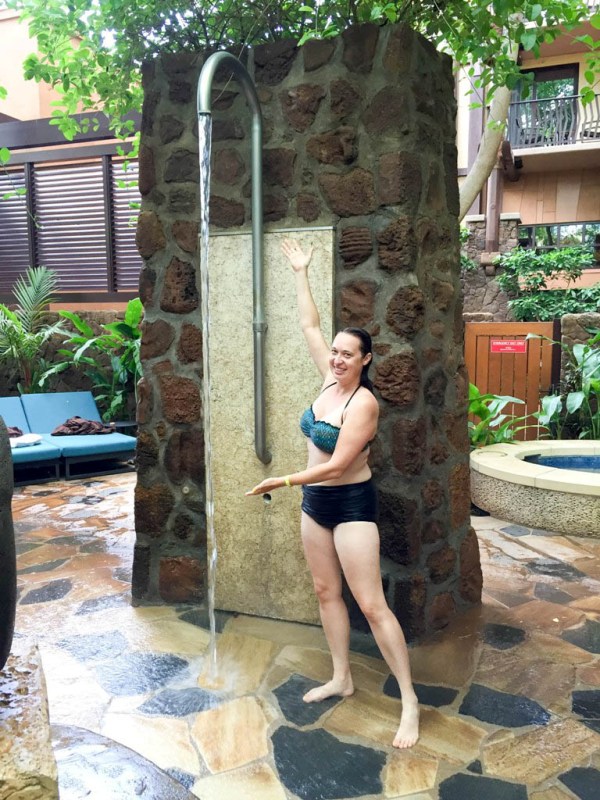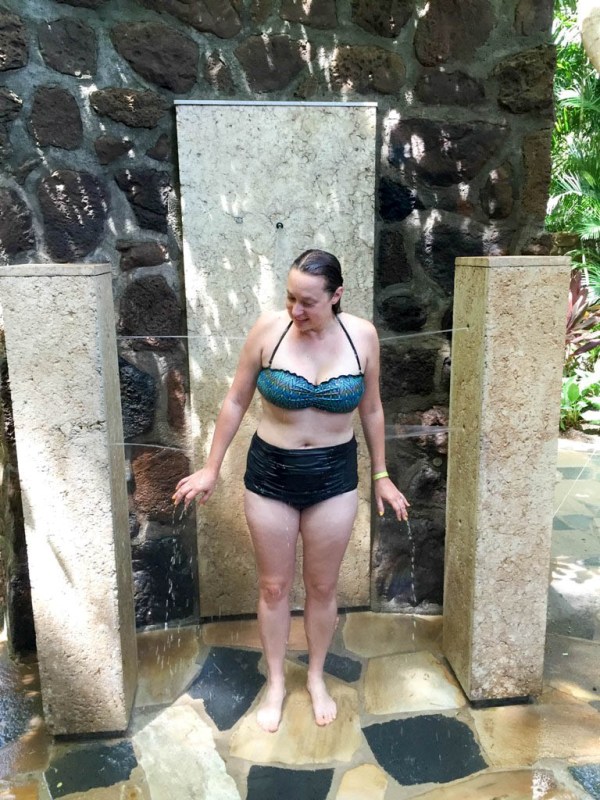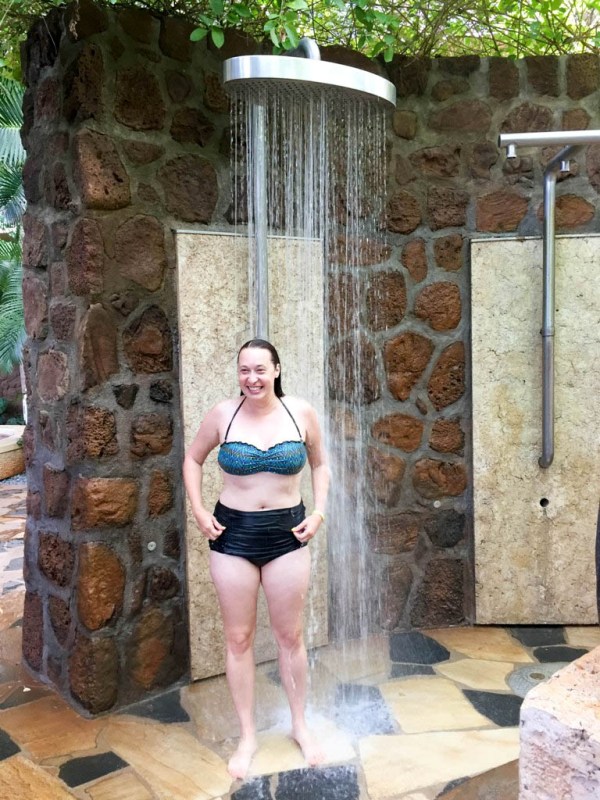 That last shower was no joke. And the one next to it was broken, sadly. I think it was supposed to squirt up from the floor.
One by one the attendants came and called for guests until it was our turn. Our two attendants led us to our private treatment room which was much more spacious than I was expecting. It smelled so good and there was some soft peaceful music playing. We were instructed to strip down to our comfort level and they offered disposable undergarments which we accepted. However you are welcome to wear bathing suits, go topless, wear their paper bikini, or go fully nude. Whatever you choose, the attendants are careful to protect your privacy while you're rolling over or standing up. We were told to lie under the blanket and towel and they would return in a few moments. When I laid down I realized the blanket under me was heated – so nice! Even without the treatment I could have just laid on that massage table and heated blanked for an hour and have been blissfully happy.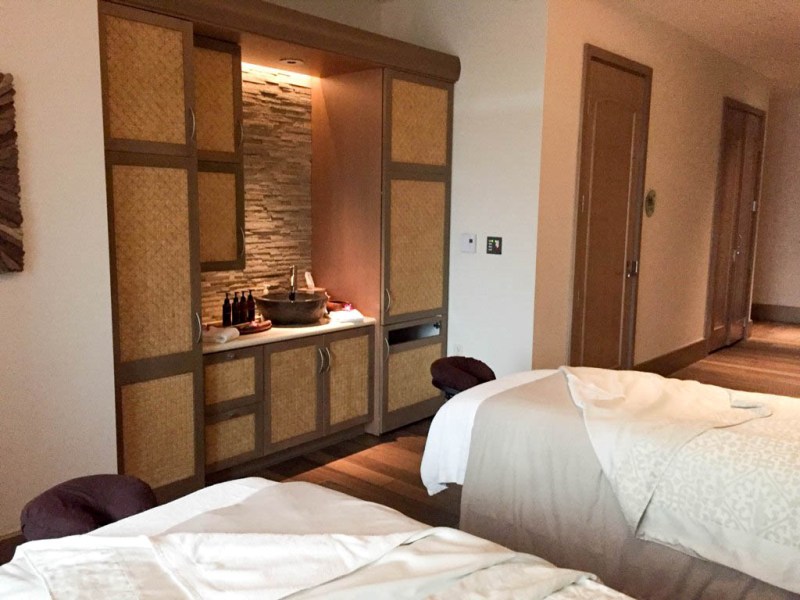 Tim and I got different treatments. He chose the volcano wrap and I chose the honey wrap. This meant we were on different timelines but it worked out okay. His treatment included a scrub, then the volcano ash treatment in the cocoon, then he rinsed. Mine was a pineapple sugar scrub which I rinsed off before the attendant applied the honey treatment before wrapping me in the cocoon. The attendants were so polite and friendly. I thought it might be awkward but Tim and I chatted and joked with each other occasionally, but mostly we relaxed and enjoyed our treatment. We could have done the treatments separately, but I'm glad we were together to talk and laugh with each other. When I got up to rinse he was already in his cocoon and he looked so funny; I wish I could have taken a picture. Then when it was his turn to rinse he saw me in my cocoon and started laughing. It was fun to share the silly experience with each other.
Too soon our treatment was over. The attendants unwrapped our cocoons so we could change back into our swimsuits and robes. We were led back to the relaxation room where our attendants got us some water and said goodbye. I'm still having dreams about the delicious coconut water from the Laniwai Spa; I think I drank about 10 glasses worth.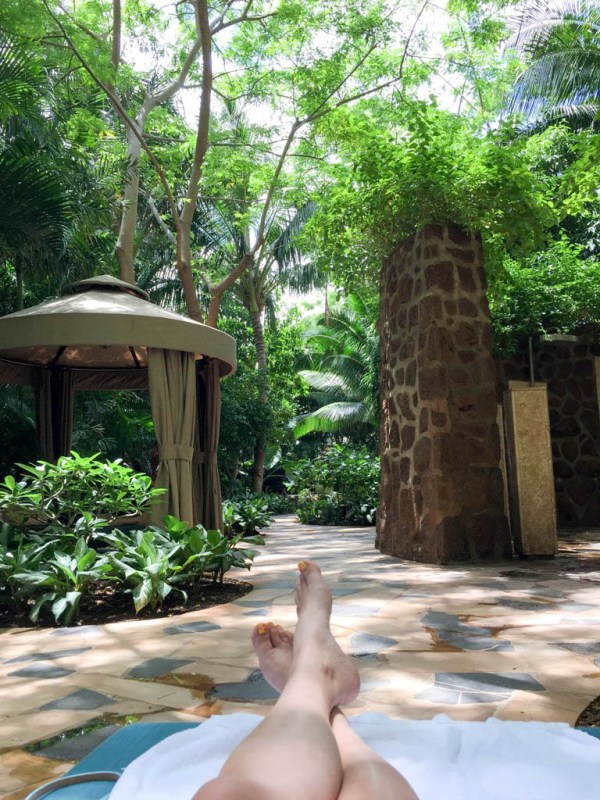 Our plan was stick around the spa area as long as we were comfortable. We ended up spending another two hours in their comfortable loungers. I tried all the different pools but ultimately spent the most time in the whirlpool. We checked the spa private dining menu but nothing on it excited us, so we ultimately decided to leave the spa earlier than anticipated for lunch. We called from the spa phone and made an Ama Ama lunch reservation for their latest seating time, 2:30. Again, we weren't blown away by the food at Ama Ama but I enjoyed their patio and great service.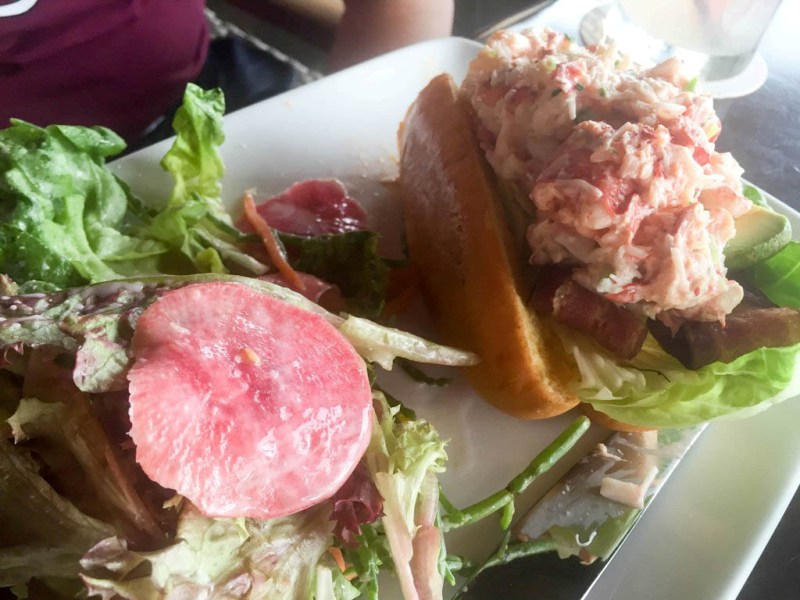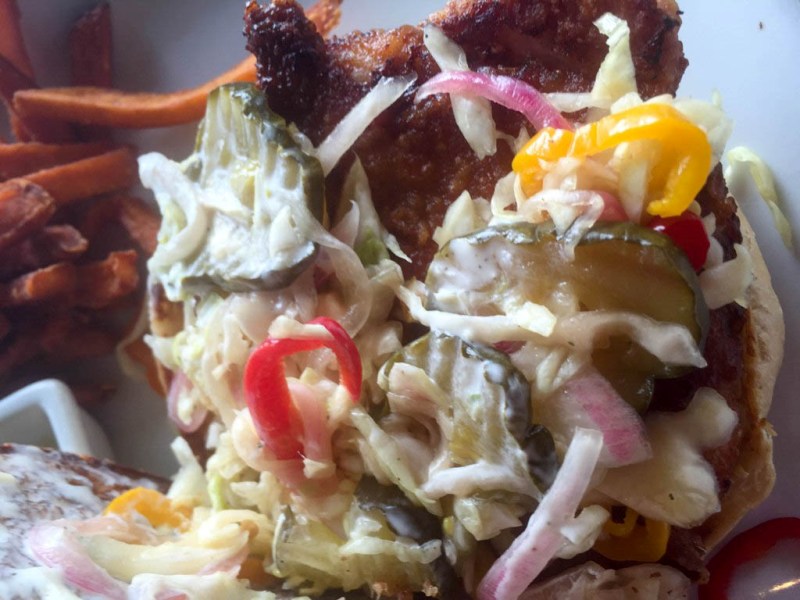 After lunch we decided to check out the lounge deck we were at two days earlier (near the wedding) since we were right by it and we enjoyed it. It was easy to find two empty loungers (not sure why this spot was never crowded; maybe because it's on the outskirts of the resort and not near the pools, but we loved the quiet). Tim signed up for a free ukulele lesson around 4:30pm, so while he went off for an hour I got a shaved ice and a frozen cocktail, went into a sugar coma, and tried to get artistic with my selfies. Tim really enjoyed his ukelele lesson (he later bought a ukelele on a different island and now I love hearing him play it in his office at random times), and when he returned we went for a walk on the beach as the sun was setting. By the way, as soon as the sun gets low a small army of PhotoPass photographers appear, and you can wait in line for a sunset photo on the beach. We settled for selfies.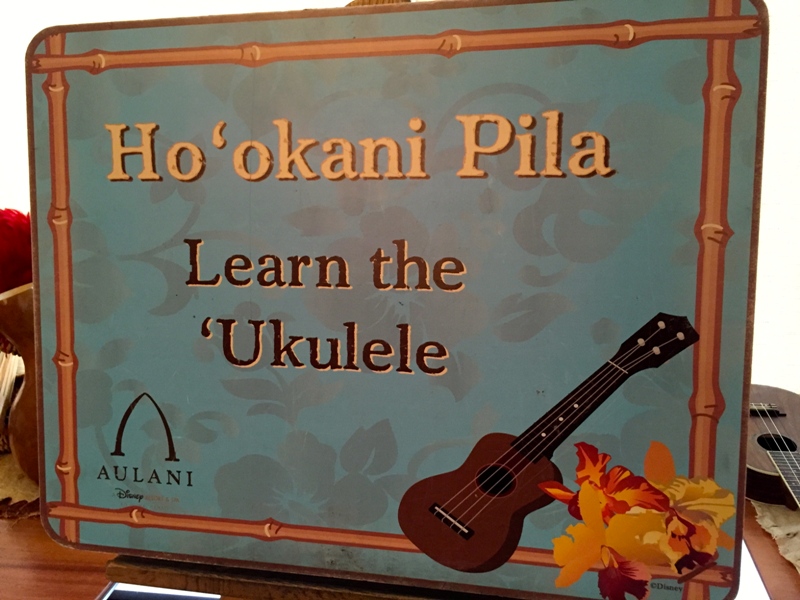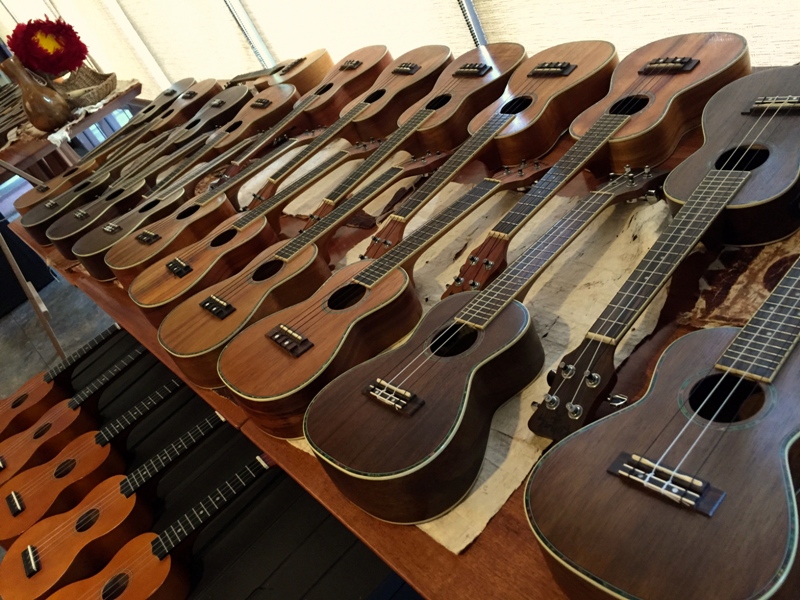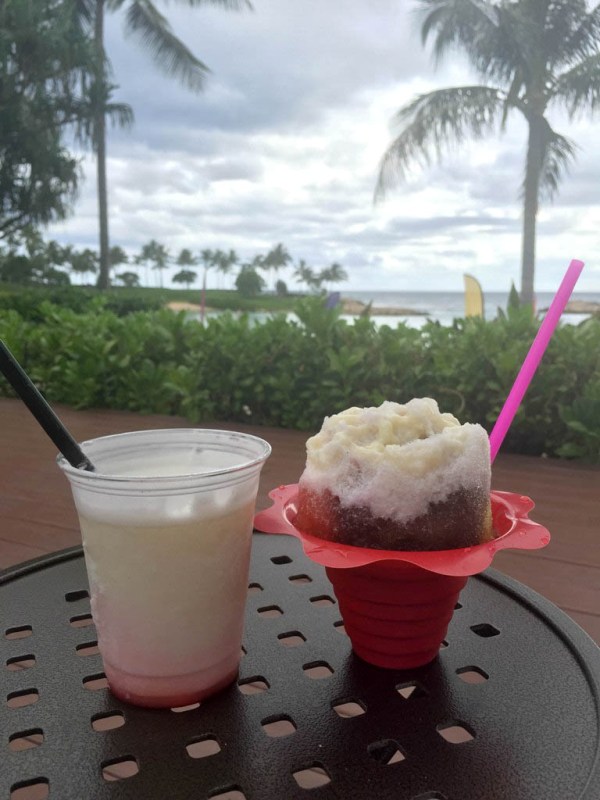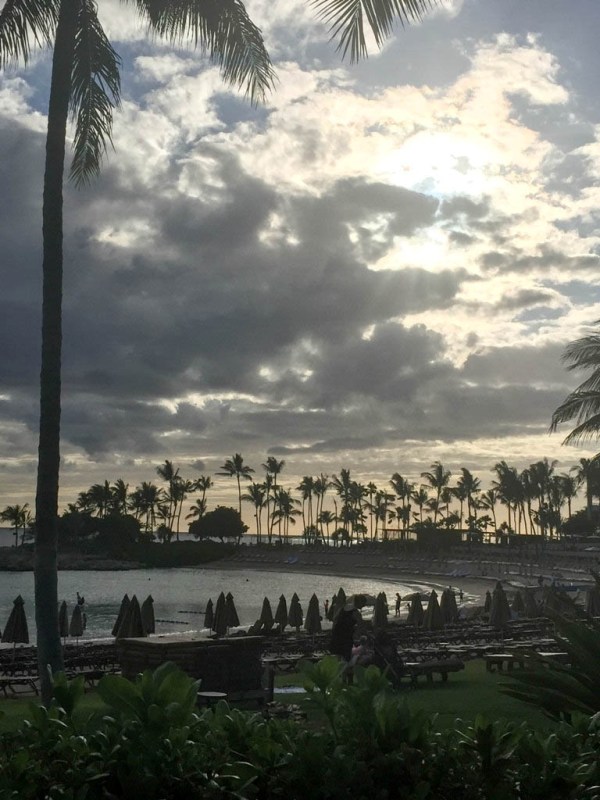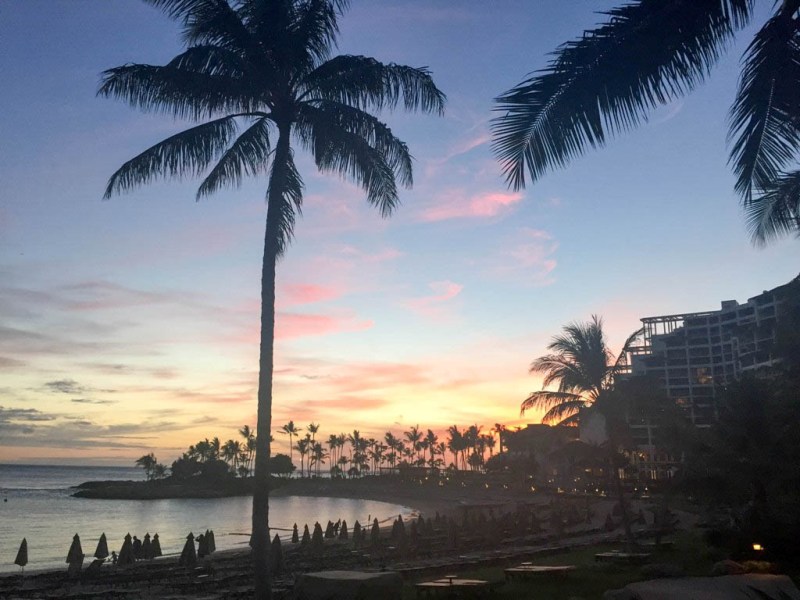 We packed up and headed up to the room to change for dinner. We had reservations back at Ama Ama on this night; we heard that dinner was way better than lunch and we were excited to try it, even though we just had lunch there a few hours earlier.
Dinner turned out to be wonderful, the best meal of the week by far. The servings were huge and we were stuffed by the end. In fact, we had to skip dessert, which was really sad, but turns out we would come back the next day just for dessert (spoiler alert). Also for the beginning of our time there, we were serenaded by a Hawaiian strings duo which sounded really lovely.
By the way, this is what we ordered: House bread and salted butter, tomato soup, Maui onion soup, the sustainable catch of the day, asparagus gratin, grilled pork chop.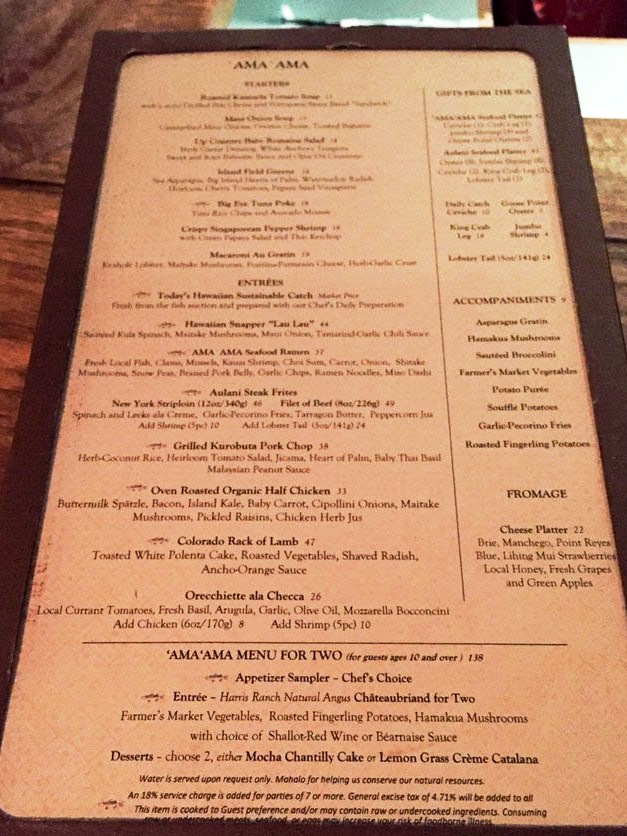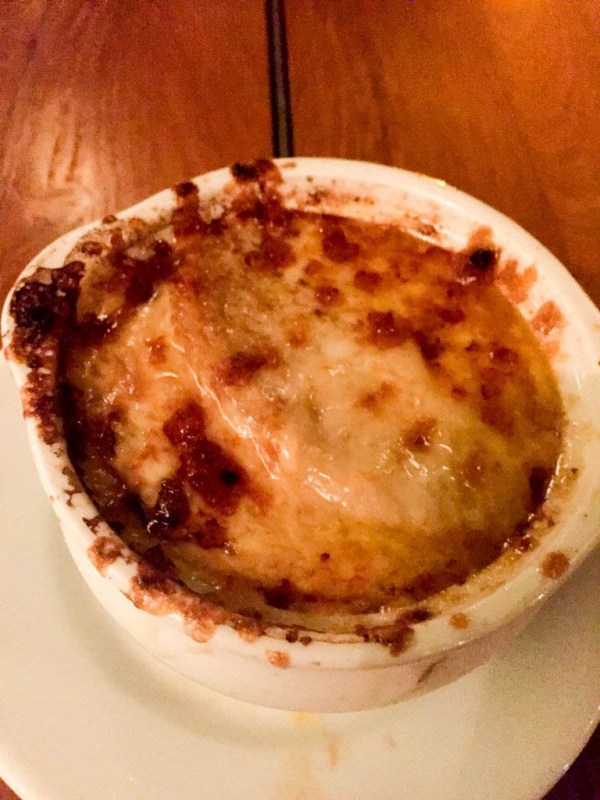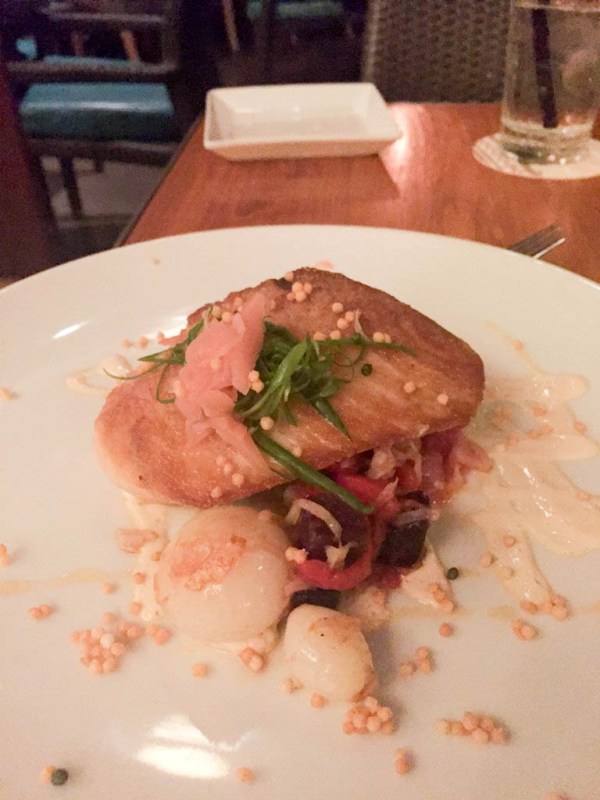 We also had a special treat – the Four Seasons resort next door was celebrating their grand re-opening and a fireworks show went off while we were dining. None of the Cast Members seemed aware it was going to happen.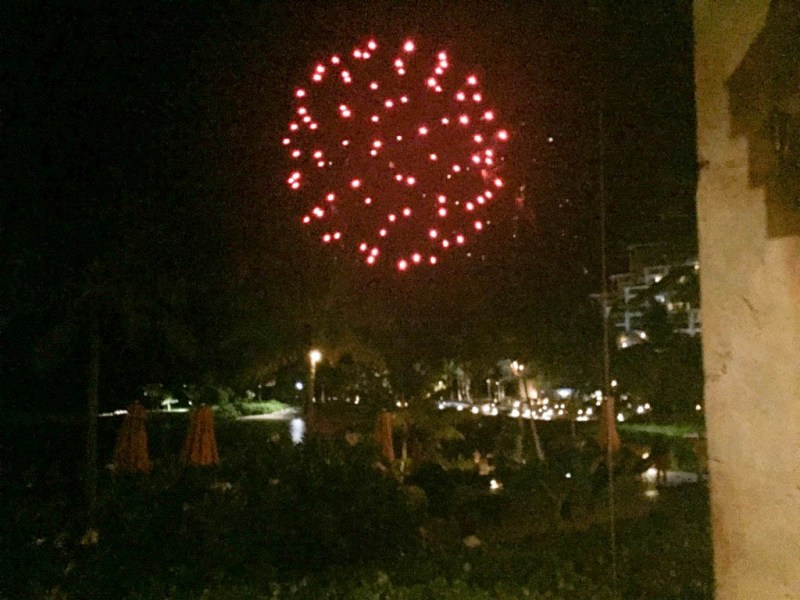 Full and happy, we went for a short walk along the running path. On the way we happened upon "Uncle" who was telling Hawaiian folklore around the fire pit. The pictures aren't great but the experience is really cool.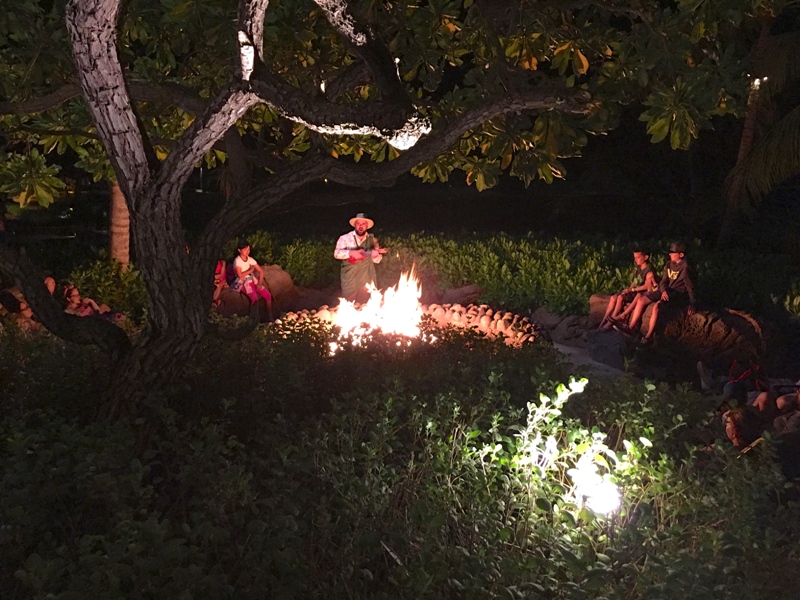 We didn't walk too long because I was too full to even move. We headed back up to the room where I went straight to bed, too full for even a glass of pineapple wine on the balcony.
Next up – Our final day at Aulani (sad face) and the special slurge we did for our last day (happy face)!