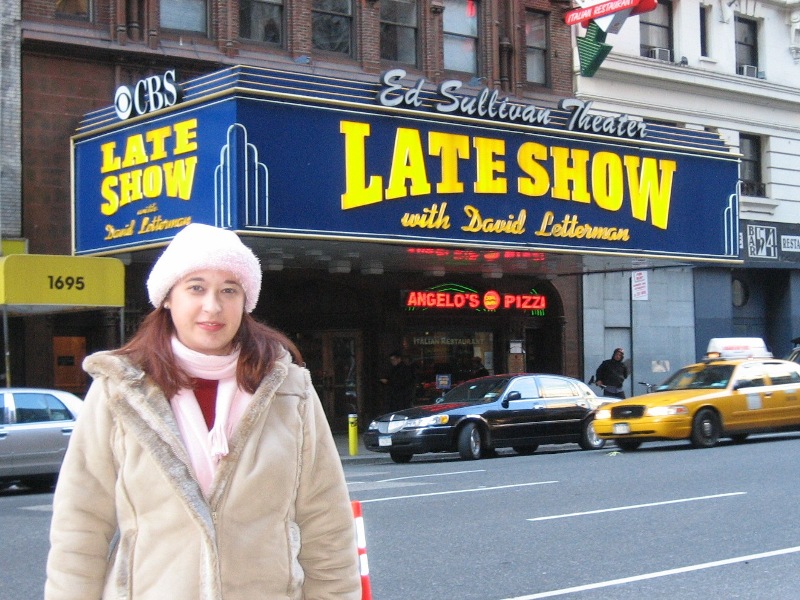 This story is 99% embarrassing and 1% inspiring. I hope you can focus on the inspiring part but it's also okay to laugh at the embarrassing stuff. I certainly do.
I was a weird kid. I was awkward, shy, and nervous about EVERYTHING. I was a tomboy who couldn't relate to the other girls in my class. I was into dinosaurs and Ninja Turtles and Nintendo. I spent a lot of time by myself. To oversimplify, I knew I was "different" and it left me lonely and depressed.
When I was 11 or 12, I discovered Late Night with David Letterman. I had known about the show, and Carson of course, but at some point Comedy Central played old Late Night episodes and I became hooked. Dave did weird things. He Velcro'd himself to a wall, he put a camera on a monkey and let it run around the studio, and Chris Elliot lived under the studio audience stairs. Weird stuff. Funny stuff. Dave was different. But here, different was funny. Different was celebrated. Different was good.
Carson retired from The Tonight Show. Dave went to CBS and The Late Show. It was a big deal. Also a big deal, around this time I got my own TV and VCR in my bedroom. I started recording The Late Show with David Letterman (and also Late Night with Conan O'Brien, Dave's successor). And from there, I became a new person. I was still weird and awkward and different, but so was Dave, so it was okay. Dave knew he was weird and he made fun of it. He was the master at self deprecating humor. Laughter and comedy became key for me. I learned to embrace my uniqueness and I would be the first person to make fun of myself. I struggled socially and internally but I knew if I could make it home to watch last night's Letterman episode, and he could make me laugh, everything was going to be okay. I wasn't sure how, but I knew I wanted to grow up and have a job where I made people laugh. Some type of comedian, or performer, or writer. Or all three, like Dave. I wanted to be the first female host of The Tonight Show or The Late Show. Clearly that didn't happen, but it was the first thing that gave me any kind of direction for the future.
My love and admiration (some might say obsession) for Dave reached peak levels while I was in high school. I bought books, magazines, shirts, videos, anything with his face on it. I plastered my walls with Rolling Stone and TV Guide covers the way some girls my age covered their walls with pictures of Leonardo DeCaprio and Jared Leto. It was never sexual, it was more like … I wish I could hang out with this dude, like, all the time. I knew it was super weird but I couldn't help it, the heart wants what it wants. Towards the end of my Junior year I went to have my senior portraits taken. When my mom picked me up, she asked if the photographer was nice. I said he was, but at one point "he tried to get me to smile by asking me to think of the boy I like." My mom started laughing and she said, "You thought of Letterman, didn't you!" And I broke into laughter because, yes, I did.
Also during my Junior year, I came into class one morning and a newspaper article was sitting on my desk. My friend Adrienne had taken this article about Dave and decorated it with little hearts. The little thought bubble reads, "I wish she were Mindy." It's probably one of the nicest gestures anyone has done for me. Most people thought I was RIDICULOUS but Adrienne celebrated it. I had this hanging on my wall for years, taking it with me into my first apartment. I now have it saved in plastic in a keepsake box with other important documents. (Thanks so much, Adrienne. I can never express how much this small, silly gift meant to me.)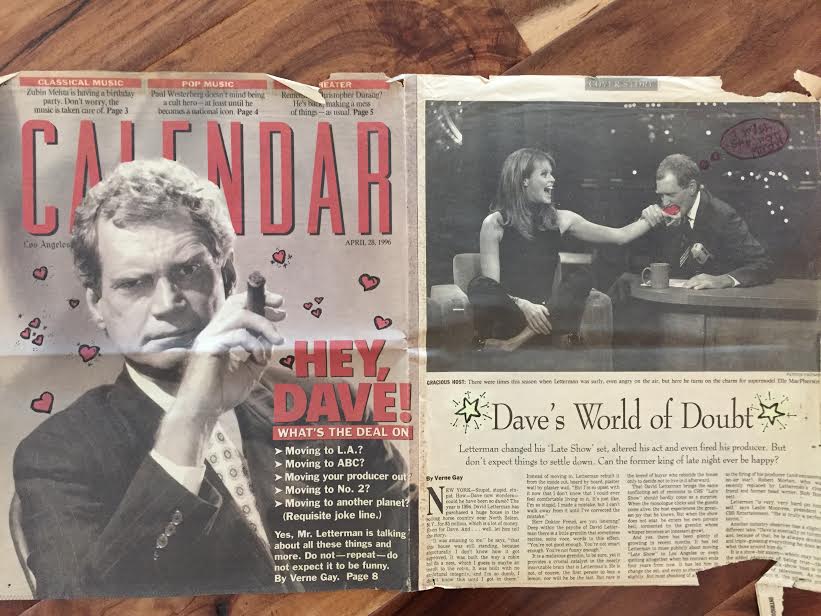 When I was 16 I built my first website on Geocities. It was a David Letterman fan site. I would write reviews of shows, create collections of quotes, and even painstakingly transcribed my favorite bits and interviews. I used to get comments on my "guest book" from people, telling me how much they loved Dave, too, and thanking me for my site. I once got an email from someone in Switzerland. That blew my mind. Suddenly I was connected to crazy Dave fans from all over the world … people just like me. It was my first glimpse into the Internet bringing people together based on fandoms.
It's safe to say, without hyperbole, that Dave helped mold my life into what it is now. He was my comedy role model and idol. Watching him gave me confidence and strength to be myself. To follow my own unique path, and that, eventually, I'd get to where I'm supposed to be.
In 2005 I went to New York City with my now husband. He used to live there and we stayed with one of his friends who lived in an apartment literally around the corner from the Ed Sullivan Theater. It was so exiting to be in New York, so close to where Dave did his show. We saw several other shows during our vacation to NYC, including Saturday Night Live and Late Night with Conan O'Brien. But I wasn't able to see a taping of The Late Show. It's one of my big regrets now, that I never got to see Dave do any of his shows and I will probably never get to meet him in person. But it's okay, sometimes meeting your idols can be disappointing, and I want to only have happy memories of Dave.
But enough about me. I want to chat very briefly about Dave's influence on late night television. Everyone knows Johnny was king, but Dave reinvented the game. Jimmy Kimmel would not be reading Mean Tweets if it were not for Dave reading Viewer Mail. Conan would not send Triumph the Insult Comic Dog out to talk to strangers if Dave had not had put Larry "Bud" Melman in a bear suit. And Jimmy Fallon would not be playing beer pong with Betty White if Dave had not been dunked in water while wearing a suit of Alka-Seltzer.
Dave loved to experiment with the standard late night talk show style. The bits and the gags were not always successful but he and his staff were always willing to try something new. And when you are willing to try, when you're willing to be yourself, and willing to work hard, you create a legacy.
Tonight, as Dave celebrates his final show, all I can say is #ThanksDave for being yourself and pushing me towards my legacy.