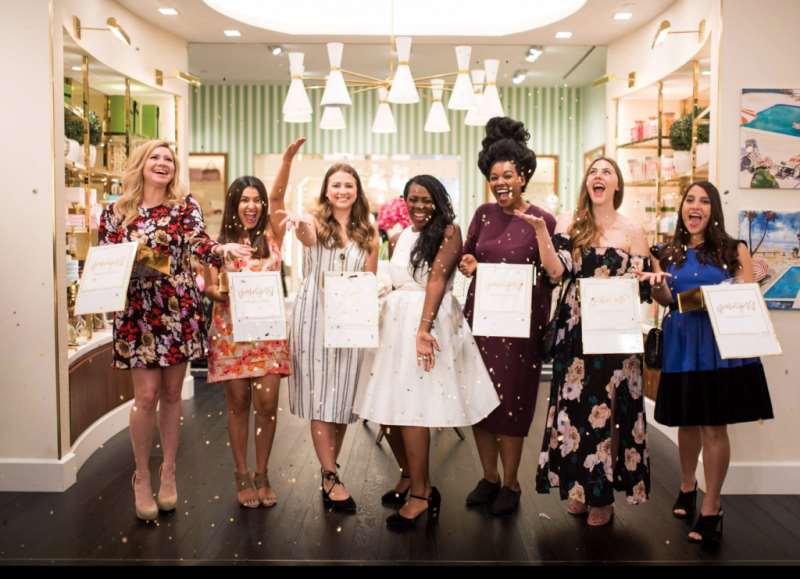 Disney Bride Erin is planning a Disney themed "at home" wedding for November 2018.
***
Katherine Noel Brosnahan consistently showcased her ability to channel positive views of the world into colorful collections. "Kate Spade" inspired a generation and her sparkle will be missed. In her memory, I encourage everyone to spread love and kindness because we never know what battle someone is fighting.
Over the years the Kate Spade brand has become a huge part of my life, and I thought what better place to host a bridesmaid proposal party! Whether it's a classic A-line dress or a magical Disney collaboration, Kate Spade always delivers. The brand's South Coast Plaza Flagship location is hands down one of my favorites. The location carries the Disney x Kate Spade collaboration products in-store due to the proximity to The Disneyland Resort. Two of my favorite things coming together in one place, Disney and fashion, so what better place to propose to my bridesmaids and ask them to stand by my side on my wedding day?
We had the entire store to ourselves for this private event. I presented the ladies with one-of-a-kind bridesmaid proposal boxes to kick off the celebrations. It was at this event that I announced my wedding venue and date. A fun fact – the event was exactly one year before my wedding date! The day started off with breakfast at Kate Spade and a fashion show. The fashion show consisted of dividing the guests up into three groups and having the groups "model" the styles for three bridal events: bridal shower, rehearsal dinner, and the honeymoon.
The day continued with mixing and mingling and of course shopping! A great way to uniquely celebrate with your bridal party and loved ones is to think of what you love and what moves your heart. Then incorporate those elements into various activities and events leading up to your big day.
Pop the bubbly I'm getting a hubby!
Photography credit: White Rabbit Photo Boutique