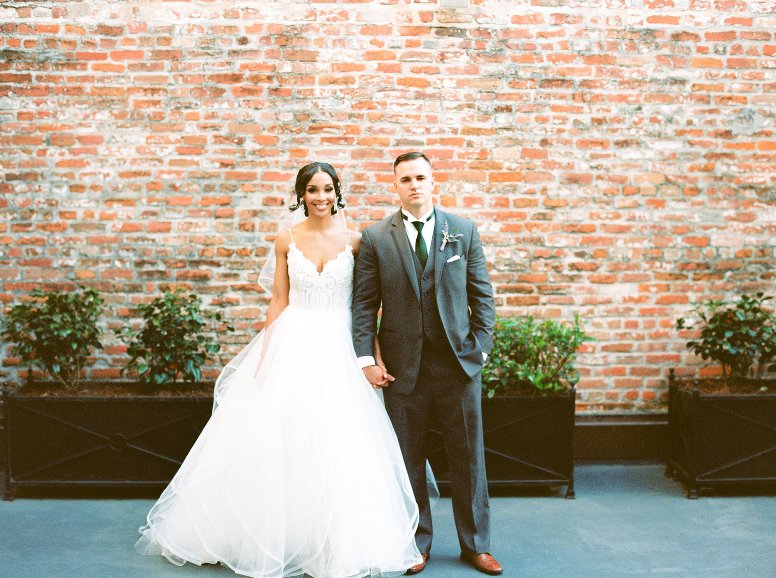 Get ready for some gorgeousness! This stunning The Princess and the Frog "at home" Disney wedding is one of my new faves. I love the subtle nods to Tiana and Naveen, and the reception sounds like a blast. Congrats to Eryka and Matthew on the start of your happily ever after!
Photography: Christi Clark Photography
A New Orleans PRINCESS AND THE FROG Disney Wedding
Disney Bride: Eryka, 27, New Orleans, Louisiana
Disney Groom: Matthew, 29, New Orleans, Louisiana
Wedding Date: March 3, 2018
Ceremony Location: W Hotel, French Quarter
Reception Location: Eiffel Society
Total Budget: Approx $20,000
Guest Count: 100
Why did you choose a Disney wedding?
Following a beautiful Disneyland proposal, U.S Soldier Matthew and blogger Eryka tied the knot in a quaint courtyard in New Orleans. While the bride is an avid Disney enthusiast, the groom is not. "I always knew I wanted a Disney-inspired wedding. Matthew however, felt otherwise. He said to me, 'I proposed at Disneyland so, we are not getting married at a Disney park!' I knew I would have to find a creative way to incorporate my love for Disney without scaring off my husband in the process." The bride did just that!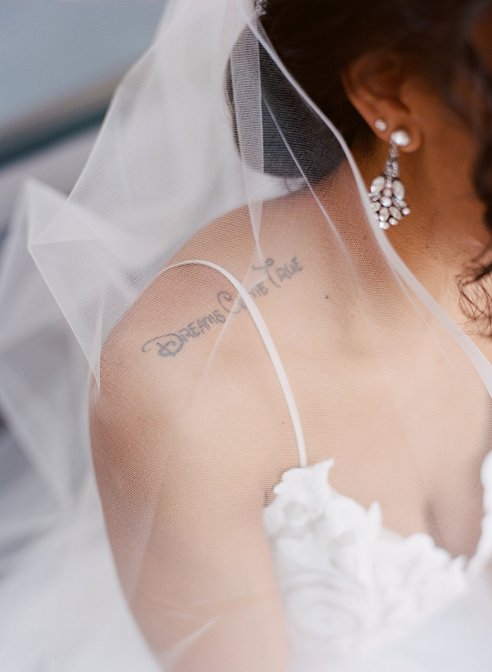 How did your family/friends react to your Disney wedding?
The bride and groom's friends and family were very supportive of the decision because they knew that ultimately it is what would make us happy.
What was your theme?
Disney's Princess and the Frog.
What was your biggest challenge in planning your Disney wedding?
The biggest challenge we faced in planning our Disney wedding was merging our dream with our budget. Capturing all of the Disney magic doesn't come without a cost.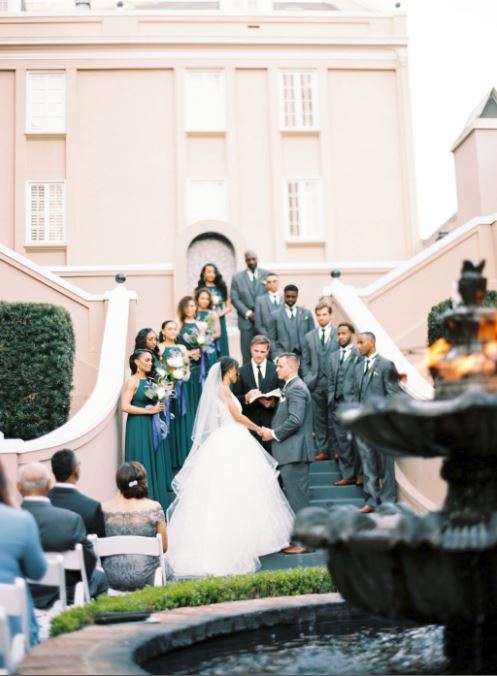 Tell us about your ceremony. Did you include any Disney touches?
This couple chose to infuse their wedding with elements inspired by Disney's Princess and the Frog. From the location, to the Mardi Gras infused color scheme complete with rich hues of purple and green, to the bride's 1920's jazz-inspired accessories, to the menu complete with gumbo, po boys, and beignets, this southern soiree was perfect for this prince and princess. Disney touches were incorporated throughout the ceremony. The bride included hidden Mickey's in her bouquet and proudly displayed her Disney inspired tattoo in her gown. The wedding programs also included a silhouette of Princess Tiana and Naveen – who vaguely resemble the bride and groom.
Describe your reception. Was it completely traditional or did you do anything unique?
The reception was done in true New Orleans fashion. The cocktail hour was filled with hurricanes and jazz music before the bride and groom entered the room accompanied by a 2nd Line band, Grand Marshall, and a Mardi Gras Indian. The bride and groom shared a quiet moment and a meal before being blessed with toasts from their loved ones, sharing a dance with their parents, playing the infamous shoe game, and dancing the night away.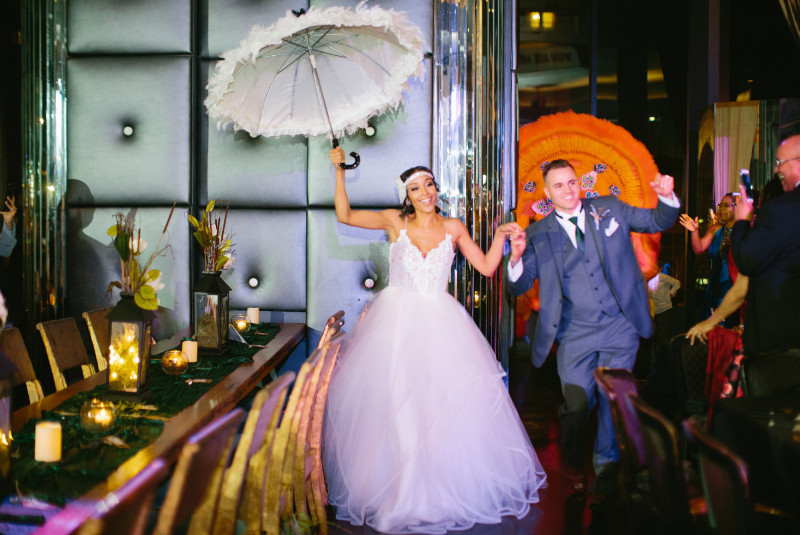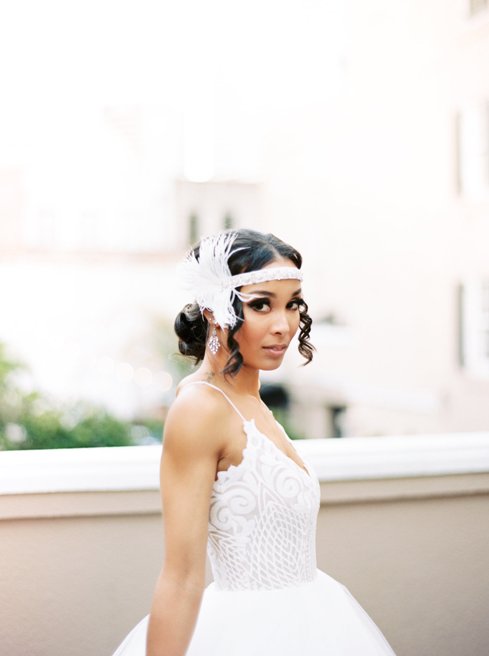 What did you splurge on? Where did you save money?
Location, location, location! That's where all of our money went. After all, you can't have a Princess and the Frog themed wedding anywhere else, except maybe New Orleans Square! We saved money by DIYing our décor and receiving tons of help from family and friends.
What was your favorite moment of the day?
My favorite moment of the day was the first look with my husband. It was the calm before the storm. Getting to share such a private moment with the love of my life before being showered with love from friends and family was wonderful.
What would you change if you had to do it all over again?
As cliché as this may sound I would not change a single thing about our wedding day. It was absolutely perfect.
What advice would you give to couples that have just started planning their Disney wedding?
I would tell couples planning their big day not to stress over the small stuff. When planning such a grand event there are bound to be hiccups along the way. Everything will work out. Keep calm and wedding plan on!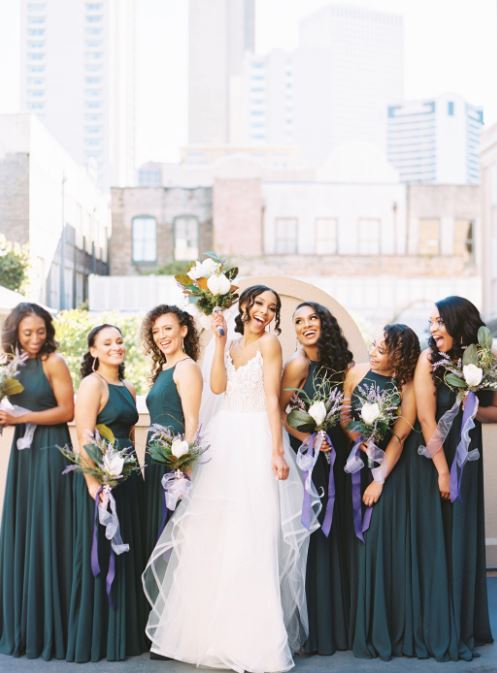 Vendor list
Photography – Christi Clark Photography
Second Shooter – Erika Parker Photography
Wedding Dress – Hayley Paige
Bride's Shoes – Blue by Betsy Johnson
Bride's Veil – Sara Gabriel
Make-Up – Selena Jackson
Cupcakes – Bev's Artistry Sweets
Hair – Victoria's Beauty Garden
Bride's Accessories – Unique Vintage
Bride's Ring – Helzberg
Groom's Ring – Family Heirloom (passed down from grandfather)
Groom's Attire – Men's Warehouse
Floral Design – Bride DIY
DJ – Chauncey Davis aka DJ CD
Bridesmaids Dresses – Lulus.com
Originally featured on Get Lost in Love