This post contains affiliate links.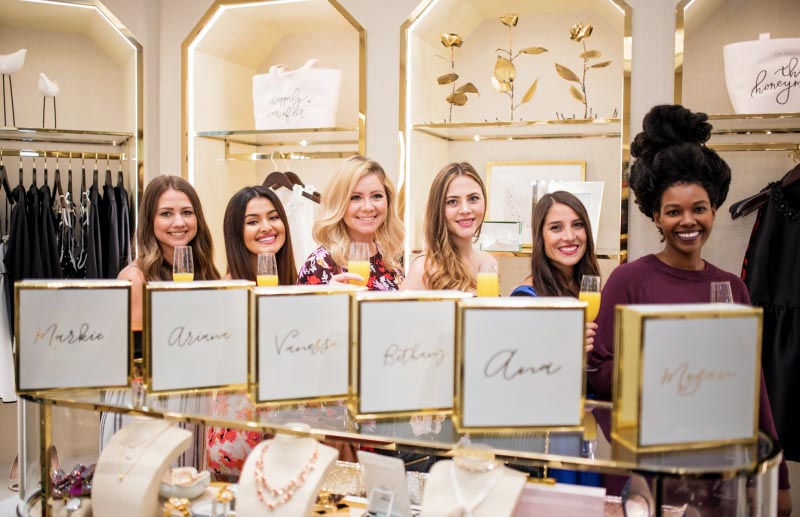 Disney Bride Erin is planning a Disney themed "at home" wedding for November 2018.
Now that my fiancé has proposed and asked me to marry him it's my turn to pop the question to my family and friends and ask them to be my bridesmaids!
Bridesmaid proposal boxes are a fun new trend that you may incorporate into your wedding activities. I knew I wanted to ask my "bride tribe" to stand by my side with a unique gift that was personalized and representative of myself and the theme of my upcoming wedding.
When creating a unique once in a lifetime gift, the themes, items, and directions that one may incorporate are endless. The beauty of the box is you get to make it all about you and your bridal party! I opted to go in a highly personalized direction as I wanted my family and friends to know that I thought of each of them as individually unique but together complete. By using their names such as "Ariana" and not "Bridesmaid" to label the contents, they will get years of use out of the various items. However, if you want to use labels such as "Maid of Honor" and "Bridesmaid," these are also a great way to celebrate and live in the moment.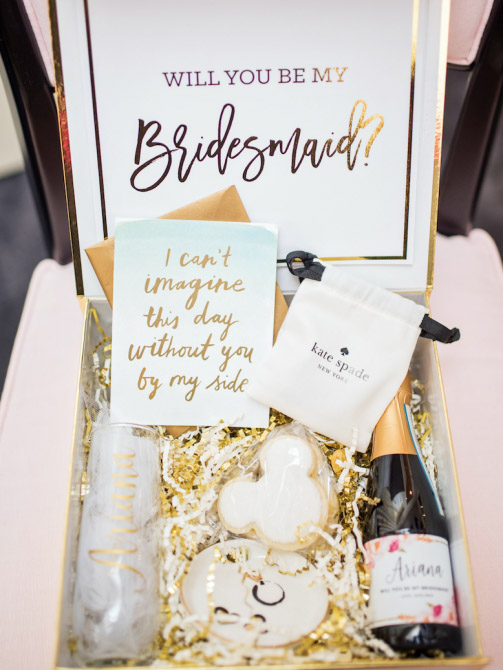 I presented each of my future bridal party members with proposal cards that contained individual private letters. I then decided to go with a "classic luxury" theme for my boxes with a touch of Disney magic in the form of a sweet treat. I had personalized boxes made with each of the ladies' names on the front in gold foil that once opened asked: "Will you be my bridesmaid"? I filled the box to the brim with goodies.
I incorporated custom stemless flutes personalized with their names as well as cute miniature champagne bottles that stated their name and a festive – you guessed it – "Will you be my bridesmaid?" I'm getting a hubby, so we had to pop some bubbly! For the additional elements, I included a fun ring dish that the women will have as a keepsake to place their knick-knacks in.
Perhaps my favorite magical touch were homemade custom Mickey shaped cookies that my dear friend Tiffany made for each of the women in bridal white and shining, shimmering, splendid gold.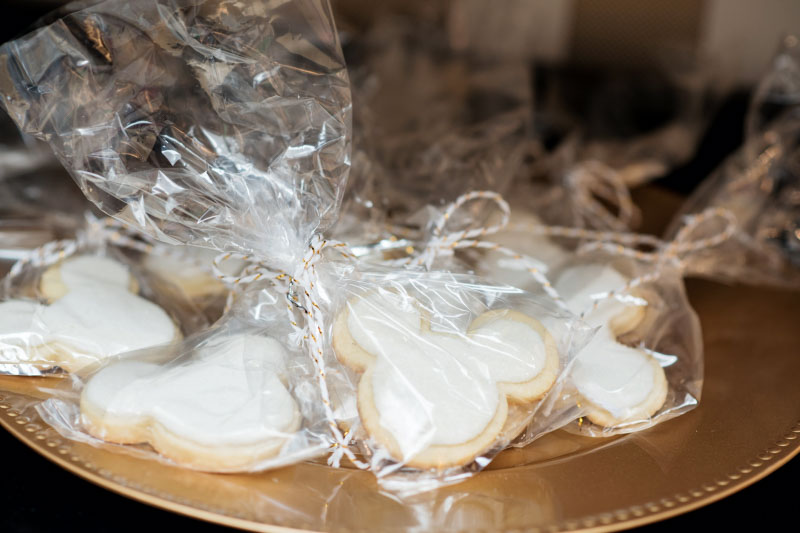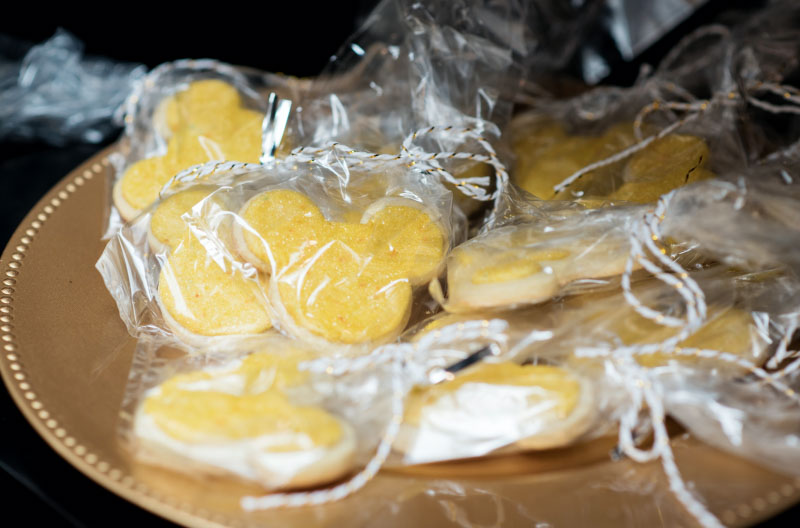 Each of the women loved their boxes, and I found that creating bridesmaid proposal boxes was a fun way to request that they stand by side on the day my "Ever After" begins!
Product list:
Boxes – B + D Custom Crafts
Ring Dish – Kate Spade NY
Champagne – Total Wine and More
Stemless Flutes – Work of Heart Gifts
Labels – Label with Love
Photography credit: White Rabbit Photo Boutique