This post contains affiliate links.
Disney Bride Laura planned an "At-Home" Disney wedding in July 2018.
We all know an important aspect of the wedding process is the proposal, but another important part is asking your bridesmaids to be a part of your big day. This may sound like a simple endeavor, but choosing your bridesmaids/Maid of Honor and asking them can become a daunting task; especially when you want your "maids" proposal to be as special and unique as they are.
So, as I thought long and hard about how I wanted to ask my bridesmaids, I came up with a unique and exciting idea. It was just coming into the Christmas season around the time that I was deciding how to ask my bridesmaids, so I knew that I could get away with giving them a "gift." So, I made them DIY Mickey ornaments with a special message inside!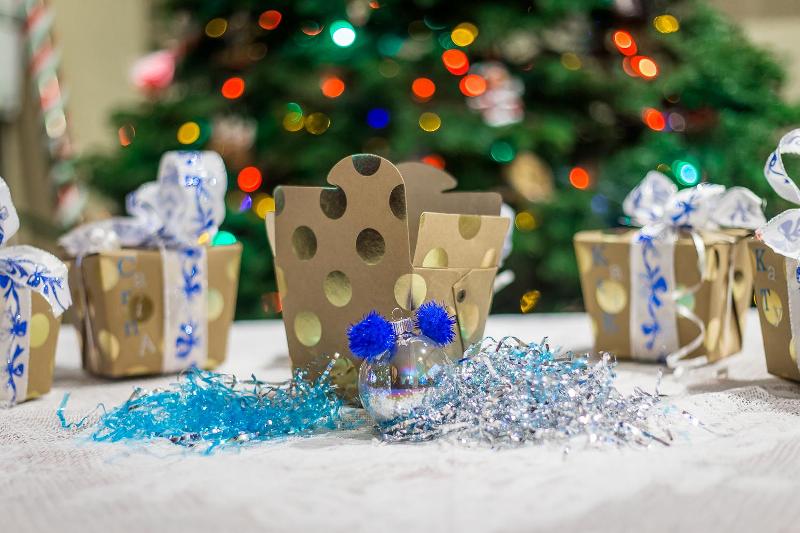 "Will You Be My Bridesmaid?" DIY Mickey Christmas Ornaments
First, here is what you need:
I first got 6 circular ornaments for all 6 of my bridesmaids. On the top of the ornament is a little stopper to which a hook can be attached to; I popped this off. I dumped silver and blue glitter into the ornament. I then got Disney themed paper and cut it into 6 strips. On these strips I wrote, "Will you be my bridesmaid?" in blue ink. These individual strips were rolled up into little scrolls and stuck into each of the ornaments. The little stopper was then popped back on. On the outside of the ornament I attached two blue pom-pom balls with glue to basically create a Mickey Mouse out of the ornament itself.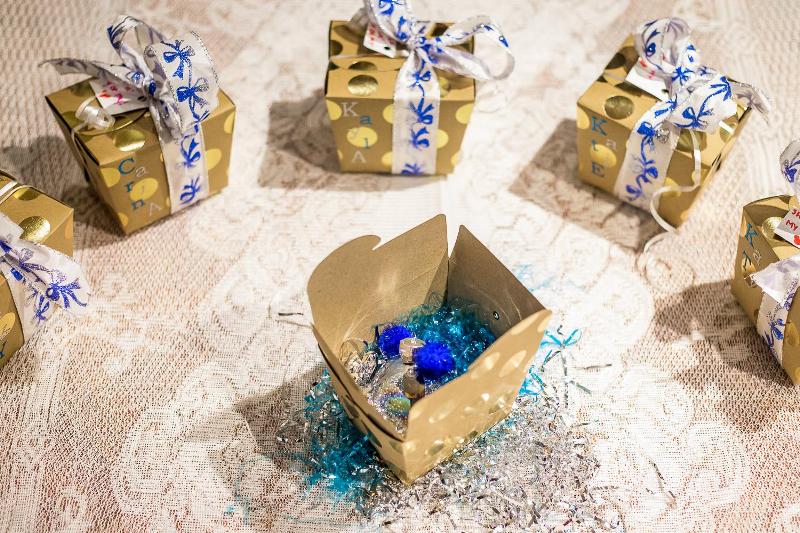 Now that the ornament was all put together I had went to work on the presentation.
I also bought 6 small ornate boxes that would fit the ornament. I didn't want to place the Mickey ornament directly into the box without some cushion so I placed blue and silver tinsel on the bottom. This prevented the ornament from moving, as well as created a shinier more presentable base. The ornament was angled correctly so that it wouldn't move around much as well as would look aesthetically pleasing.
The tricky part was trying to figure out how to tell my bridesmaids to open the ornament itself without actually vocalizing it. I decided to keep it simple and cut out 6 more small chunks of Disney themed paper. On each of these pieces of paper I wrote "OPEN ME" with an arrow pointing to the ornament. It was simple yet effective. The box was closed and tied with a silver and blue bow. I attached their names to the outside of the box with another piece of Disney themed paper. Finally, they were finished and placed underneath our Christmas tree.
One thing no one prepares brides for is how nerve racking it is to ask each of your bridesmaids. Although majority of people will almost always say "yes" to being asked to be a part of a bridal party, it still is a daunting task. Opening all of their gifts went off without a hitch. Sitting there watching and waiting for your bridesmaids to respond is extremely exciting, scary, and thrilling, but just remember to enjoy each and every moment and reaction. I am truly grateful to have had all of my wonderful bridesmaids say yes and support me on this amazing journey.