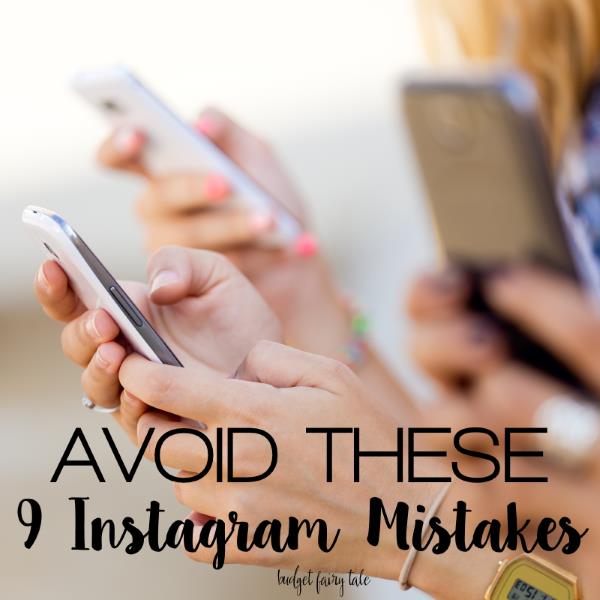 Are you on Instagram? If you run a blog or a business, you should be! In the ever shifting landscape of social media, Instagram has become my favorite marketing and networking platform. Facebook throttles reach, Pinterest's "smart feed" is anything but, and Twitter has become too noisy. Instagram is simple – post pretty pictures & engage with people.
I have been using Instagram for a few years but I just started really using Instagram strategically to engage with my audience and find new followers and blog readers. I also read an article recently about a blogger with a large following who gets paid five-figures for sponsored images … that lit an entrepreneurial fire under my rear.
I have researched, read articles, watched webinars, studied the feeds and profiles of successful Instagrammers, and – perhaps more importantly – taken note of what I DO NOT like on Instagram. And that includes my own feed! I look back on some of my early photos and cringe! But that's okay … we all need to practice and learn. I've been putting some best practices into place over the last few months and I've been growing my following by about 100-150 new followers per month. That may not sound like much, but in all of 2014 my following grew by only about 400, so comparatively I'm seeing GREAT results and getting better every month! Is every photo I post worthy of a golden First Place trophy? NO WAY! But I'm learning and improving as I go along.
The following are some of the best practices I have discovered, and how to avoid Instagram mistakes!
Mistake #1 – Sharing ugly photos. Sorry to be blunt but if you post an ugly photo, you are not going to get much engagement! Instagram is all about bright, beautiful, interesting photos. Take a look at your "recommended for you" feed (under the magnifying glass) … it's going to look a little different for everyone, but what do you notice about these photos? Most of them will be clear, bright photos, and will have a focal point. You can browse through all of the photos and understand within a couple seconds what is happening. Now, we can't all be instant professional photographers, obviously, but here is a quick guide to taking awesome photos:
1. Find the light. The light source should be behind you. Do not take pictures where the light source (like a window) is behind your subject. I see this so much and it makes me so irrationally angry.
2. Use natural light whenever possible. A flash will cause your image to look dull and flat. Diffused sunlight is the best option.
3. Watch for shadows. Adjust your angle if the subject has shadows on it (like a shadow of your phone or your head, for example).
4. Instagram is meant for "in the moment" phone or tablet photos but if your phone camera sucks, go ahead and share pro pics.
And ask yourself ….
1. Is the photo bright or is it too dark or grainy?
2. Is the photo in focus?
3. Is the subject matter obvious upon first glance?
4. Would I "like" this photo if I came across it in my feed?
If your photo is too dark or a little fuzzy, never fear. You may be able to salvage it using a photo editing app. But rule of thumb – if your photo is not pretty, DON'T POST IT.
Mistake #2 – Hashtag abuse. The main point of hashtags is for other people to find your photos. They should be generic, and they should be relevant to what you're sharing. Please don't hashtag your picture of a sunset with #kimkardashian just to get more eyeballs on it. The other reason to hashtag your photos would be to search them easily. Let's say you go on vacation and give all your vacation photos a unique hashtag. You, or anyone, can pull up that hashtag and see all the photos.
You can add up to 30 hashtags, but I don't recommend that many. I recommend adding 5 – 10 hashtags, and adding them in the first comment. When your photo gets a couple additional comments, your hashtag block will become hidden behind the "view all comments" jump.
Mistake #3 – Liking your own photos. Self love is not cool on social media. Just don't do it.
Mistake #4 – Ignoring comments. If people are taking the time to leave a comment on your picture, you can take the time to respond to them. Aside from being the polite thing to do, people will continue to interact with you if they know you're appreciative. Taking the extra time to connect with your followers on a personal level will make a huge difference in your Instagram success.
Mistake #5 – Having a confusing profile picture. Your profile should be either your logo or your face. Keep in mind your profile picture is very tiny on the phone app, but larger on the website, so it needs to look good and clear on both platforms. As always, do not use someone else's photo without permission.
Mistake #6 – Leaving your bio area blank or confusing. Your profile bio should succinctly answer at least 3 Ws – who, what, and where – with a sprinkle of your personality. If you own a location-based business, be sure to list the location in your bio!! I can't believe how many business don't state their location, especially wedding vendors!
As an example, take a look at my profile bio: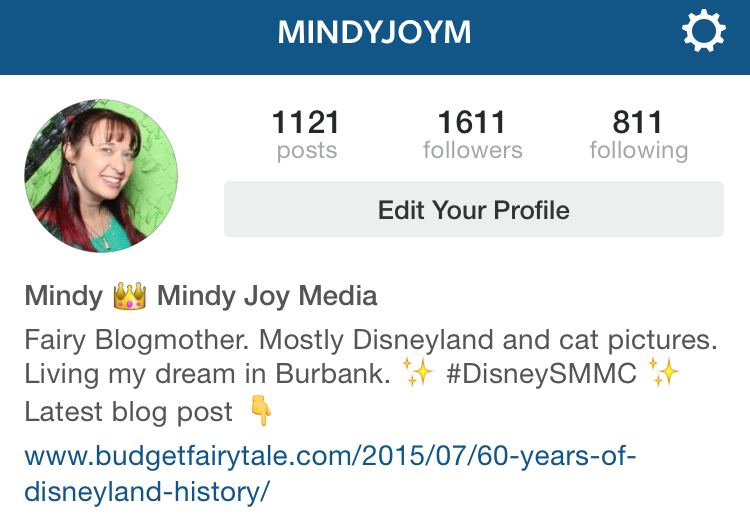 Mindy – Mindy Joy Media
Fairy Blogmother. Mostly Disneyland and cat pictures. Living my dream in Burbank. #DisneySMMC
For my name, which is in bold, I have my first name and my business name.
In my bio, I list my "title" which matches my business cards – Fairy Blogmother. I imply I frequently share photos from Disneyland and pictures of my cat. Both these things are true. I also note I live in Burbank, and I'm a Disney Social Media Moms Celebration attendee. Since I'm a blogger, I often update my bio's URL with a direct link to my latest blog post.
Mistake #7 – Leaving your photo description area blank. You should be thinking of your Instagram feed as tiny blog posts. They should tell a story, or provide useful information, or be entertaining. Your followers don't only want to see pictures, they want to learn your story and know your personality.
Mistake #8 – Do not take your picture directly through the Instagram app. Take the photo with your regular camera app, so you can run it through other photo editing apps if needed.
Mistake #9 – Not posting consistently, or posting too much at once. If someone comes across your profile and notices you haven't shared anything in two weeks, they might not follow you! Conversely, if you post 10 photos in a row, current followers may become annoyed and unfollow you. Ideally you should be posting once or twice a day. If you have a lot to share at once, consider making a collage!
Do you have any other Instagram tips to add to this list? If you're on Instagram, leave your profile link in the comments so others can add you!