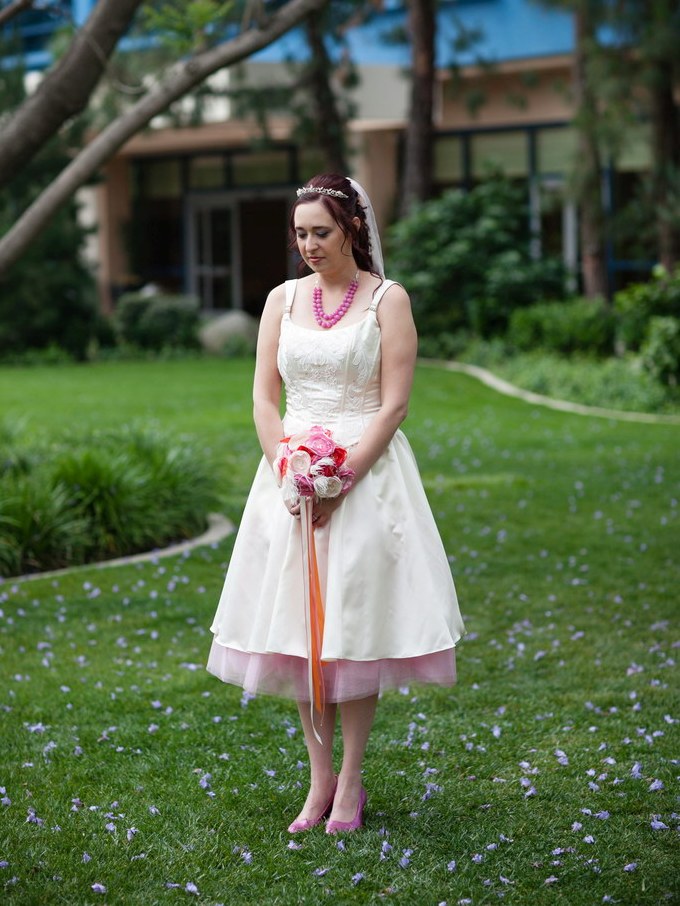 (Photos by Root Photography)
You know that old saying "hindsight is 20/20?" Well, it's especially true for planning your wedding. And even though Disneyland weddings are the most beautiful, magical, and special weddings on earth, no wedding is perfect. And no human is perfect. There are bound to be mistakes and regrets once your event is over, and I'm here to tell you that is normal and probably unpreventable. I promise this post isn't meant to bum you out, it's meant to be educational and informative.
A recent Disneyland bride asked myself and other Disneyland brides about post-wedding regrets. Not what you wish you could have had at your wedding that you couldn't afford, or regrets about cake flavor or music choices, but the more heavy stuff. Specifically she asked, "(What was the) ONE thing you would have changed that would have made your (wedding) experience more pleasant, more fun, less stressful, etc?"
Well, lots of past Disneyland Brides chimed in, which just goes to show you that this happens to EVERYONE. Personally I loved our wedding day but I have many regrets over small things (napkin colors, videography) and larger things (several wasted DIY hours, broken friendships). I found myself fascinated by the wide variety of unexpected answers, so I asked everyone if they would be okay with me turning their answers into a blog post. I want to thank everyone who gave me permission to share their personal thoughts here on the blog, to help others. If you are currently planning your Disneyland wedding, or any wedding, take this advice as a reminder to focus on the big picture as you're planning out all the little details.
Elyse: "I wish I would of made a timeline for the day of the wedding. I felt my wedding was all over the place and I didn't get the photos I wanted and too many people made speeches."
Angela: "I would have given other people the option to speak at our reception. Only the best man did and I found out later that my brother really wanted to say something. It would have been nice to have that on video especially now that he's passed away."
Christine N: "I would have taken more time to relax on the big day and day before. I was a sleep deprived, stress mess, taking care of all my DIY & wedding dress things solo. My family helped me setup the morning of the wedding at least, but it would have been nice to have help the day/night before, from anyone."
Michelle G: "I wish we had known we could have extended our reception, so we could have had more time to eat, mingle with guests, take photos, and dance the night away!"
Holly: "I wish we had stuck to our guns with what we wanted instead of trying to change things to accommodate other people. We changed from a Wishes to an Escape package so we could pay for some of my fiance's family members to come. They've played games with us all along and money was never the issue for them. People tried to tell me from the very start not to budge on what we want, but I wasn't convinced his family would be this way. I thought even though they're 'different' surely they'd behave when it came to our wedding. I should have listened, as I've learned weddings bring out the crazy. I always think "I should have listened and held my ground!"
Renee: "I would have made sure to ask my DOC directly and maybe some friends too to grab some of the pre-reception food for us and put them at our sweetheart table. Or hold them for us. I didn't get any the day of our wedding."
Aide: "I would have made my guest list bigger and my biggest regret was not doing the castle shoot … so that's why we are planning a 10 year renewal with more guests and the castle shoot."
Michelle L: "Always check your banquet event order (BEO) to make sure everything is in writing. So if you want a certain flavor or item, make sure it is clearly spelled out in the BEO. We had a slight mix up with our pre-reception hour but it was quickly fixed on the wedding day."
Claire: "When I think back to our big day, I kick myself for not having a professional videographer as well as someone from the Disney vendor list for photography. I also wish I had splurged more on accessories and shoes!"
Molly: "It's impossible to make everyone else happy so make sure to put yourself and your significant other first!"
Kari: "I would have gone with my instinct with more of what I wanted for my wedding as opposed to listening to my mom. I felt like I had to give in to her suggestions because my parents were paying for the wedding."
Janet: "Although I LOVED our ballroom I wish I'd chosen a reception venue with a lower required guest count and spent less on food so I could have gotten the carriage and/or castle shoot."
Linda T: "I think we would have done the castle shoot. I would have had clearer communication with our photographer so we made sure they understood we wanted a first look. Our photos are great regardless but I sometimes wonder what that experience would have been like if we had done it. And I would have made sure to eat the ham at the carving station I picked out specially for me because I wanted it and I forgot all about it; I hear it was delicious."
Dezarae: "One thing I would have got and I still think about is the castle shoot! At the time I couldn't justify spending the price but immediately after the wedding, not doing the castle shoot filled me with regret."
Mandy: "This is silly, but I wish I wouldn't have indulged quite so much at the rehearsal dinner. I woke up a tad hung over the day of the wedding and I think it threw off the whole day."
Krista: "I wish I would have told my mom she couldn't have brought her best friend (who is a total drama queen) to the wedding. She ruined my chance to get mother/daughter photos with my mom."
Christine C: "My wish would have been for more time … for everything. Extended the reception, gotten ready earlier so we'd have more time for pictures. Also I would have also not waited in line for photobooth pics. It gave me time to chat with the guests who wanted photos with me, but the more efficient way to have done it would have been to just jump in and out of the photos while the guests waited so that I could visit with more people and experience the other elements of my reception in the mean time."
Linda N: "(I wish I had) packed earlier so I wasn't up super late into wee hours of the morning the day before our rehearsal, especially since it was useless paying for a room that night that we didn't sleep in because we were traveling. I wish we could have afforded for my family to go in the park. That was the big idea I had in my head, that our family and friends would be in the parks and we would be like the 10-15+ people in matching shirts. (And I wish we could have) incorporated my brother into the wedding party somehow."
Melanie: "I would not have had my two sister-in-laws (husband's sisters) be my bridesmaids. They didn't contribute or help with anything. They never answered my phone calls (which was frustrating to me) and they went and got dresses that I didn't want. They pretty much did what they wanted and didn't care about me at all."
Chelsea: "My one thing I wish I had changed to help reduce the stress of the wedding was to not have certain people be a part of the wedding. I mean to say not have them be bridesmaids or groomsmen or what not. I love my friends that were a part of the wedding and I love my sisters. Everyone that attended our wedding commented on how well loved we were as a couple and as individuals, but from the other side as the person trying to round everyone together, I felt like more stress was put on myself because I tried so hard to be accommodating and not be a demanding bride and in the end because of that, I was abandoned by some and expected just to forgive their behavior and be understanding of their view point when it was supposed to be my moment where everyone should have been supporting me. It was the complete opposite and certain people gave me a 'don't give a care what you want to do' attitude towards everyone wedding party-wise on the wedding day."
Carrie: "I wouldn't have invited certain people to the wedding because I thought I should have, I should have followed my first instinct. I could have cut two entire tables. I also would have cut my bachelorette party list. I had 8 but I could have had only 5 and really wish I did."
Brittney: "One big thing I would've changed was going into the parks with everyone after the wedding. Instead I would've liked to have spent some time alone with my husband. It was very rushed, changing & getting everyone organized & going into the park. The first alone time we had all day was a special spot for the fireworks show & we were completely exhausted by the end of the night! I wish we had done a first look before the ceremony so we could have just had some time together. Overall though, when you would only change a couple of relatively minor things about an important day with so much build-up, that's pretty good!"
***
Unfortunately, as brides, we are sometimes but in a really tough position. We expect our friends and family to be supportive of our plans for our big event, and if anyone disagrees with us we are pegged as Bridezilla. These expectations and mixed feelings can often lead to breakdowns and regrets. Honestly, for most of us, you just never know how things are going to turn out. Sometimes you learn your best friend really isn't that supportive when things get a little tough. And sometimes you learn your mother or mother-in-law has already planned your entire wedding for you. (Surprise!) The best thing for you to do as you plan your wedding is, be on the same page as your partner, stand your ground, and remember the wedding is just one day. Just one day! One very special day, but certainly not the last day of your life, and maybe not event the best day of your life. It's okay if it's not perfect.
For me, what is one thing that would have made my wedding day experience more pleasant? I would have not invited certain people because I felt I had to. And I didn't sleep at all the night before so I wish I had taken some kind of anti-anxiety or sleeping pill (with doctor's guidance of course). I was so wiped out by mid-day that the whole afternoon and evening is a total blur. Other than that, all the details that didn't go exactly to plan are mostly forgotten two years later.
Now it's your turn! Tell me in the comments: "What was the ONE thing you would have changed that would have made your wedding experience more pleasant, more fun, less stressful, etc?"