Are we still good and obsessed with the Tsum Tsum game/app? Me, too.
The little Disney character tsums are so cute, and the game has an addictive Pokemon-like "gotta catch them all" quality. (Still working on the elusive Little Green Men tsum.)
But one cool thing that happened quite accidentally is I figured out how to get essentially unlimited hearts (lives). It takes a little effort to get going and some continuous effort to maintain, but once you're set up the hearts just keep flowing in. So want to know the secret?
The secret to getting practically unlimited hearts in the Tsum Tsum app is … have a lot of friends. And I mean friends you're connected to in the app! And by friends, in this instance I mean complete strangers.
What do friends have to do with hearts? If you play the game then you know you can send hearts to your friends once per hour. That means YOUR friends can send hearts TO YOU once an hour, too.
Now, you can't control how many hearts your friends send. But the more friends you have, the higher chances of getting hearts.
One thing to keep in mind is your "backlog" of hearts fully depends on how often you play the game. If you play less games than the number of hearts sent to you each day, then you will amass quite a collection of hearts … and eventually it will show "+999" hearts … practically an unlimited supply! As far as I know, hearts don't expire after a certain amount of time.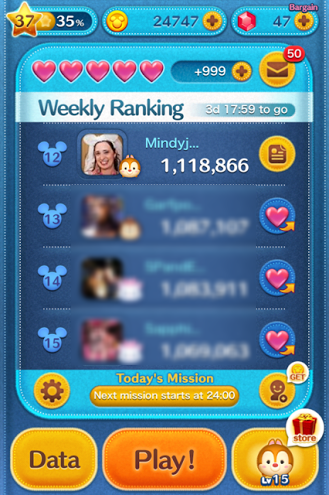 Here's How to Get Unlimited Hearts in Tsum Tsum App
You must have an account in the LINE app. If you're confused about what the LINE app does and how it connects with Tsum Tsum, read my first post about the app. The important thing to remember about the LINE app is your privacy.
Do not make your phone number public. Do not enter any personal information other than what is totally necessary to set up your account. You don't even need to add a picture of your face, if you don't want to (you have to add a profile picture but it doesn't have to be of you).
You must add friends in the LINE app. As many friends as you can. If those friends are also playing Tsum Tsum, they will automatically show up in your Tsum Tsum app friends list.
So how do you find friends? Here are some ways to start:
My original post about the Tsum Tsum app has over 50 comments with players leaving their LINE User Names. Connect with them! Also, leave your LINE User Name in the comments of this post, if you want.
Do a Facebook search for Tsum Tsum groups to join. A quick search turned up SEVERAL, including one that has over 1000 members! Once you join these Facebook groups, there will surely be a spot (file, post, etc) where members are adding their LINE User Names so that others may connect with them. Add your User Name to the list, and also look up the other users in LINE and connect with them.

(Facebook profiles and names blurred to protect the innocent.)
DisBoards has a thread where people are leaving their LINE User Names
.
On Twitter and Instagram, announce you're looking for #TsumTsum friends (use the hashtag) and leave your LINE User Name, so others may connect with you. Also, do a hashtag search on Twitter for #TsumTsum and look for others that are sharing their User Names, and connect with them in LINE.
The more friends you have in Tsum Tsum, the more likely it will be that someone will invite you to a Tsum Tsum group in LINE. These groups are NOT searchable, and you can only be added to them by someone else. Once you are in a group, other group members can add you as a LINE friend. And then you are golden. The hearts will come streaming in.
The Downside of Unlimited Hearts
Getting unlimited hearts and the coins that come with them takes some effort on your part. Remember, if you get hearts, you should always be a good Tsum Tsum friend and send hearts.
I have over 100 friends in my Tsum Tsum list and I try to send hearts to everyone at least once a day, and it takes a good chunk of time.
I also try to send additional hearts to my actual IRL friends each day. I admit I don't always have time during my day to send all the hearts I want to. But I figure if people are taking the time to send me hearts, then I should be a good friend and send them back.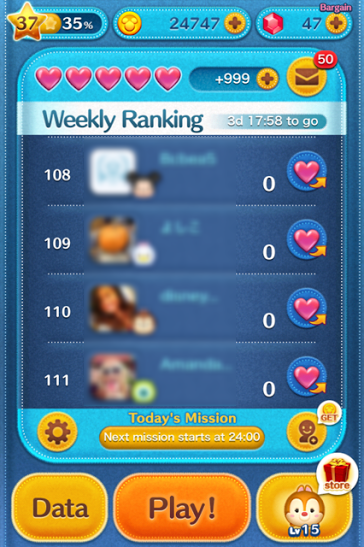 Remember if you collect your hearts within an hour of sending, you will get 200 coins for each heart. I try my best to open my Tsum Tsum app a few times every day, even if I don't have time to play, just to collect my hearts and coins.
Connect with enough people in the LINE app and continue to collect your hearts whenever you can, and soon you will show +999 hearts, like me.
Questions? Tips? Tricks? Leave them in the comments (don't forget your LINE User Name)!
RELATED:
29 Things Every Tsum Tsum Addict Thinks Every Day
10 Tsum Tsum Game Tips
Cute Merch for the Tsum Tsum Fanatic