Disclosure: I was provided a media pass for Taste of Downtown Disney. As always, all opinions are my own.
In August I attended the Taste of Downtown Disney event to benefit CHOC (Children's Hospital of Orange County). This annual event has become a major fundraiser for CHOC and their annual CHOC Walk in the Park and now I know why! This was the 7th annual but my first Taste of Downtown Disney event. The event was so much fun, not to mention tasty, and my fellow attendees were friendly and ready to celebrate. It was a great way to spend an evening!
The event started in the meeting rooms area of Disney's Grand Californian Hotel, where we signed in and received our badge. Our badges split us up into groups of about 80 people, and each group had a different restaurant rotation. My group (yay red group, whoop whoop!) started out at Tortilla Jo's where we enjoyed margaritas, chips and guacamole, and passed mexican-style hors d'oeuvres. Tortilla Jo's is a place I do not eat at very often due to my corn intolerance and I didn't realize what a nice outdoor patio area they had! It would be great for a rehearsal dinner or wedding after party.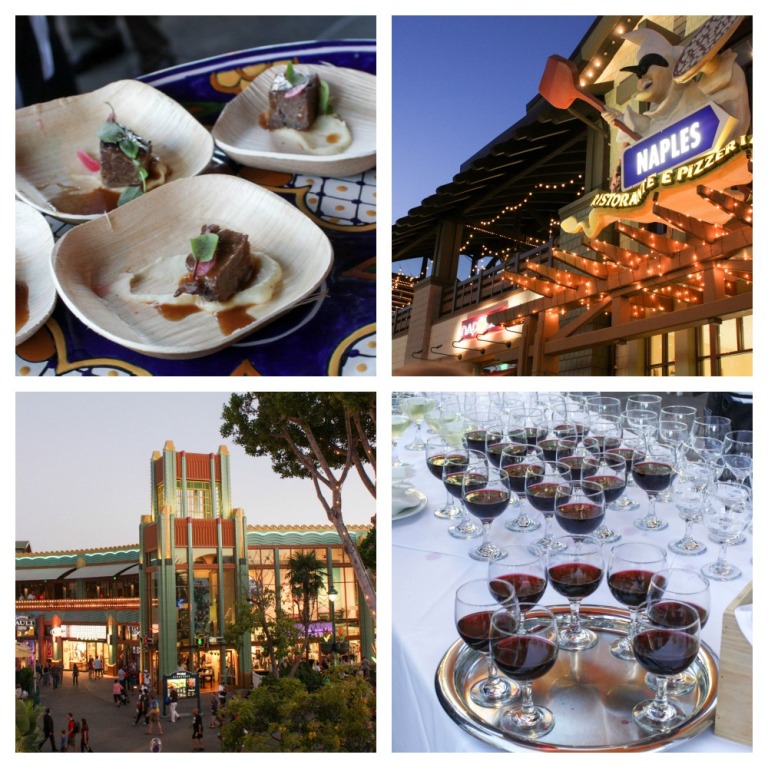 We spent about 15-20 minutes at each location, where the drinks kept flowing and the food kept coming. I think my favorite stops were Catal Restaurant and UVA Bar where we sampled their hummus trio (already one of my favorites) and lamb burger sliders, and Wonderground Gallery where we were served ginger lemonade and savory grilled cheese sandwiches. Yum yum!
Here's a list of all the locations included in the rotation:
Catal Restaurant and UVA Bar
Tortilla Jo's
Naples Ristorante E Pizzeria
ESPN Zone
Ralph Brennan's Jazz Kitchen
House of Blues
Wonderground Gallery
Each group was also treated to a high energy quick painting from Art Attack! In a matter of 10-15 minutes we witnessed a plain black canvas turn into images of tigers, Mickey Mouse, and the CHOC bear logo. It was pretty cool.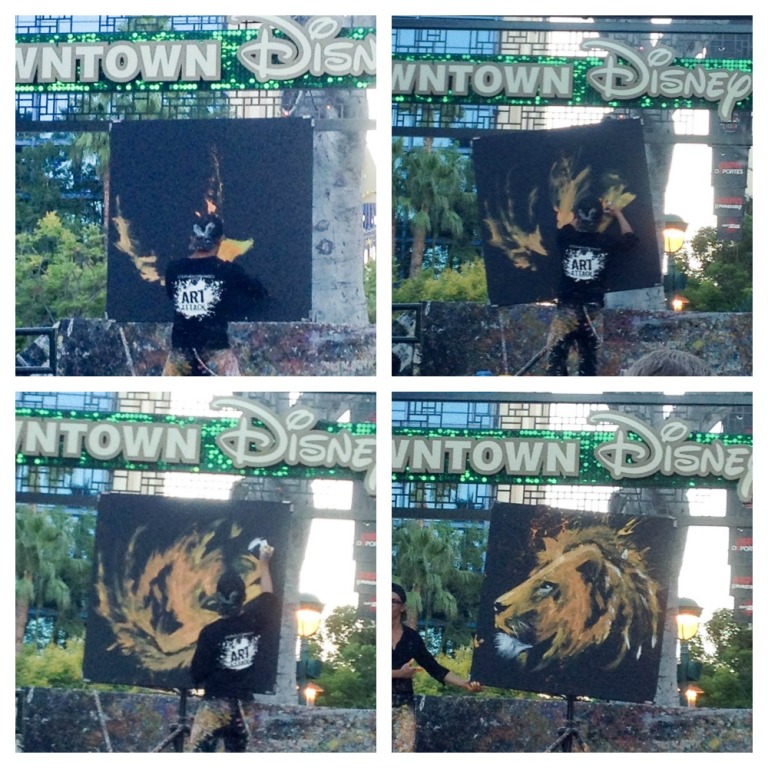 At the end of the night we gathered in the open space between Tortilla Jo's and House of Blues where we were given smoothies from Jamba Juice, pasties from La Brea Bakery, and cookies and coffee from Starbucks (my favorite new addition to Downtown Disney)! As we enjoyed our desserts, we had a great view of the fireworks going off over Disneyland – good timing! The Art Attack paintings were also lined up for auction.
My friends the Disney Sisters made this really fun video of the event – check it out!
This was a great way to spend an evening, highlighting all the restaurants at Downtown Disney. It would make a great date night or an evening out with friends!
As I mentioned earlier, Taste of Downtown Disney is a major fundraiser to support CHOC's biggest event – the CHOC Walk in the Park! This is a 3 mile early morning walk through Disney California Adventure and Disneyland Park to help raise money for the Children's Hospital of Orange County. This year, the CHOC Walk in the Park will be held on October 12, 2014. Walkers get a chance to see what the parks are like before they are open to the general public, and there are even some photo ops with your favorite Disney pals! At the end of the Walk, the event continues in the resort's Downtown Disney District where event sponsors, hospital support groups, shops and restaurants have special offers for Walk participants.
I'm excited to say I will be participating in the CHOC Walk in the Park for this first time this year! And I've created a team especially for Disneyland brides and grooms! I'm hoping we can make matching shirts or buttons, and all wear our bride and groom ears and walk together – won't that be fun?!
If you want to participate in the CHOC Walk in the Park on Sunday, October 12 and also join the Disneyland Brides team (everyone and anyone is welcome to join, even if you didn't get married at Disneyland), you can click here to sign up: http://choc.convio.net/goto/DisneylandBrides. I would love to walk with you!!
Can't walk but want to help? I've committed to raising $50 for CHOC but I'm hoping to go well beyond that! If you would like to make a donation to sponsor my walk, you can click here: http://choc.convio.net/goto/mindymarzec.
If you want to learn more about CHOC and the CHOC Walk in the Park, you can click here to visit CHOC's website.