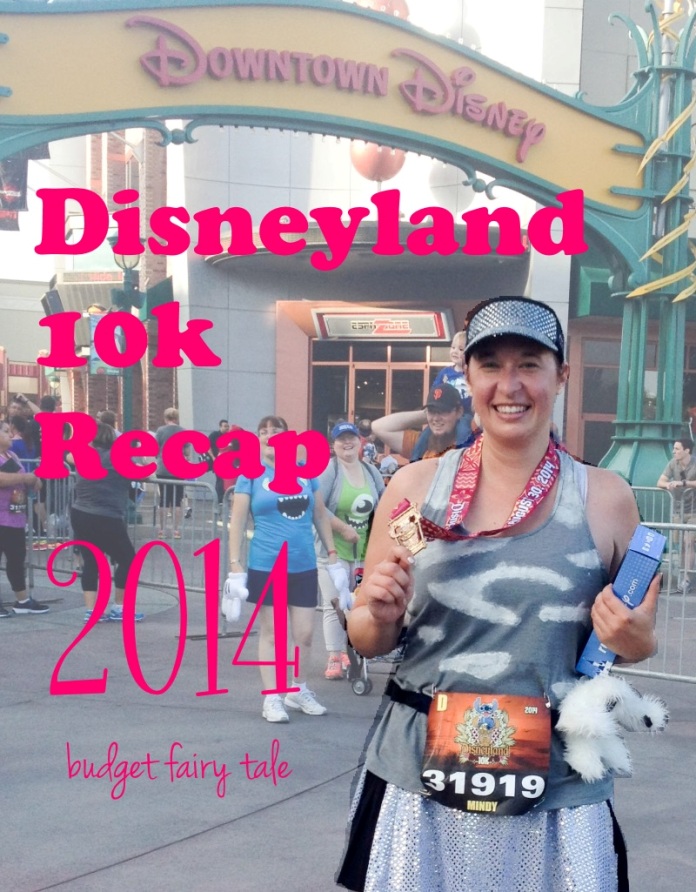 This past weekend I completed my fifth race and third 10k! This was probably my most unprepared and painful 10k to date but since it's a race at Disney I still had a wonderful time!
For this race I stayed at the Best Western Stovall's Inn. It's a far cry from last year's luxury suite at Paradise Pier Hotel but I had a great stay. This is my second time staying at Stovall's Inn and I was surprised I had a "theme park view." I even forgot my toothpaste and they gave me a complimentary trial size tube at the front desk. After the race I stopped at the continental breakfast for some fruit and a muffin. It worked out really well! The only downside to this hotel is the noisy wall unit AC. But otherwise, two thumbs up for Stovall's Inn.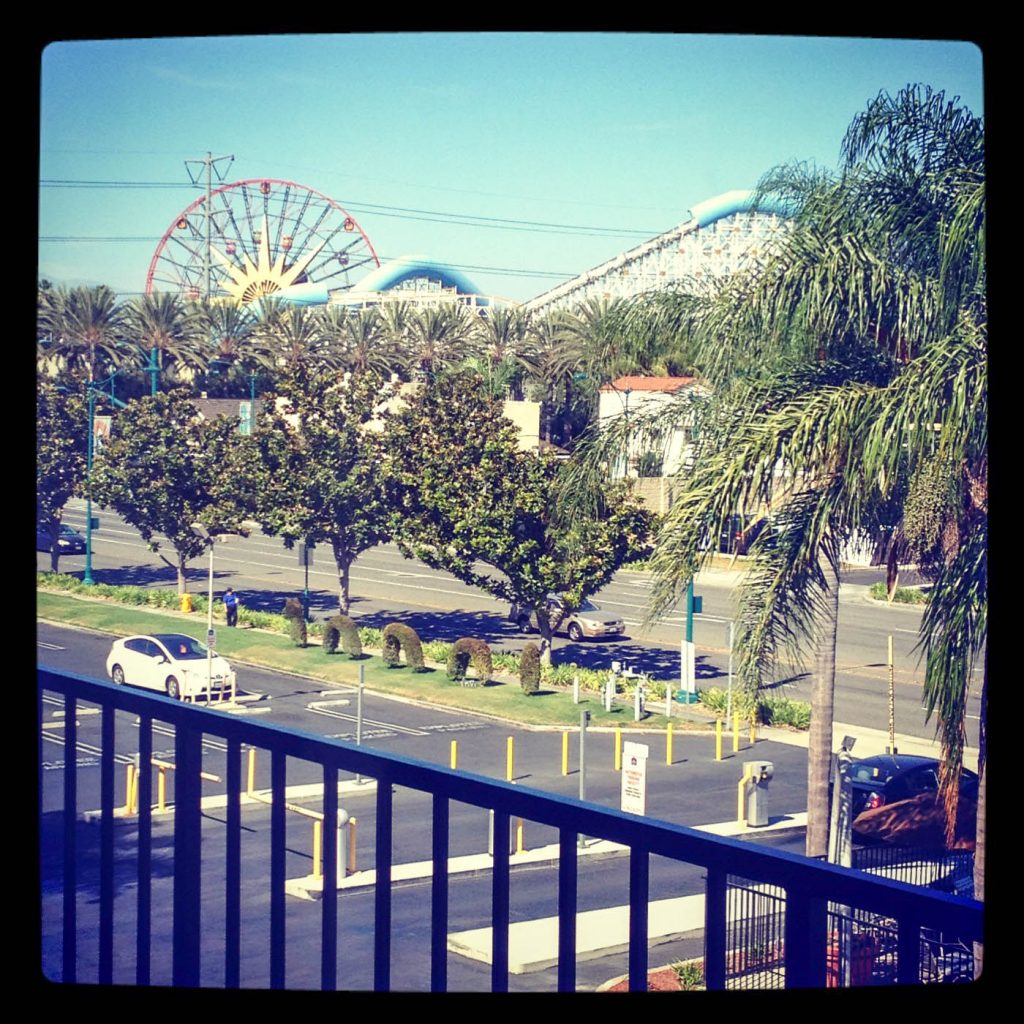 At the last minute (like, three days before I left for Alaska) I had a brainstorm to make a costume based on my favorite Disneyland attraction – the Matterhorn Bobsleds! I decided to dress as Matterhorn mountain. I ran out and bought a grey tank top and I painted "snow" with white acrylic paint. It's not made for longevity since the paint will wash right out, but it worked for a quick one-time costume. The skirt is some sparkle fabric I bought at Joann's Fabric. I measured it to fit over my black running skirt and sewed it together with elastic. It's actually two pieces because I wanted to be able to access the pockets in my black skirt for my phone and snacks and such. Like the top, it was thrown together VERY quickly and it's not something I'm especially proud of but it did the job, I think. The pièce de résistance is my Harold the yeti plushie which I bought on eBay and thankfully was delivered and waiting for me when I got home the day before the race! I paired these new items with stuff I already owned – grey sports bra, white compression socks, Nike shoes, and visor by Sparkle Athletic.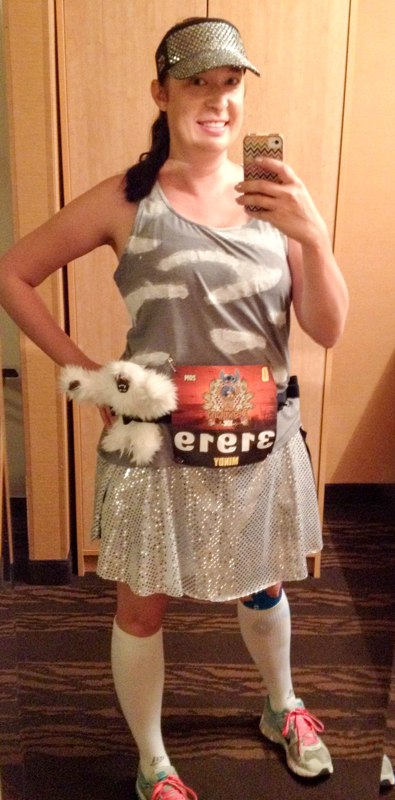 A couple weeks before leaving for Alaska I aggravated my hip burstitus during a training run. It was such a bummer because I was having so much fun with my training. Plus I wanted to be in good shape for Alaska because I knew there would be a lot of walking and hiking involved. In the few days leading up to vacation, I rested so my hip could heal before the trip. While I was on the cruise, I only did weights at the gym. I did do a lot of walking but my hip pain wasn't too severe. I even did a 22 mile bike ride while in Anchorage! My legs hurt for a couple days after that but my hip was fine. We arrived home from Alaska on Thursday late night and Friday morning I was on my way to Disneyland. As I prepared for the race on Saturday morning I felt hopeful my hip was going to be okay and even was focused on a new PR (personal record)!
But I was wrong. At least partially wrong.
I was jogging along pretty good but before I even reached the mile 1 marker I could feel a twinge in my hip. By the mile 2 marker my hip was as painful as it's ever been. I was so angry! I can't wait to see the pro photos because I know there's some of me with a big ole grimace on my face. Thankfully I knew this was a 10k and there was "only" four miles left and I was going to get through it, even if it was pretty slow.
I alternated walking with running in short 10 second spurts. 10 or 15 seconds was the most I could do without the hip pain getting too bad.
In my opinion this is the best race course. I love how much time we have in Disneyland! When I'm runwalking through my happy place, it's easy to fight through the pain. The last stretch through Downtown Disney with the crowds cheering on either side really pushed me through to the end. I jogged across the finish line and got high fives from Goofy and Minnie. Pain? What pain?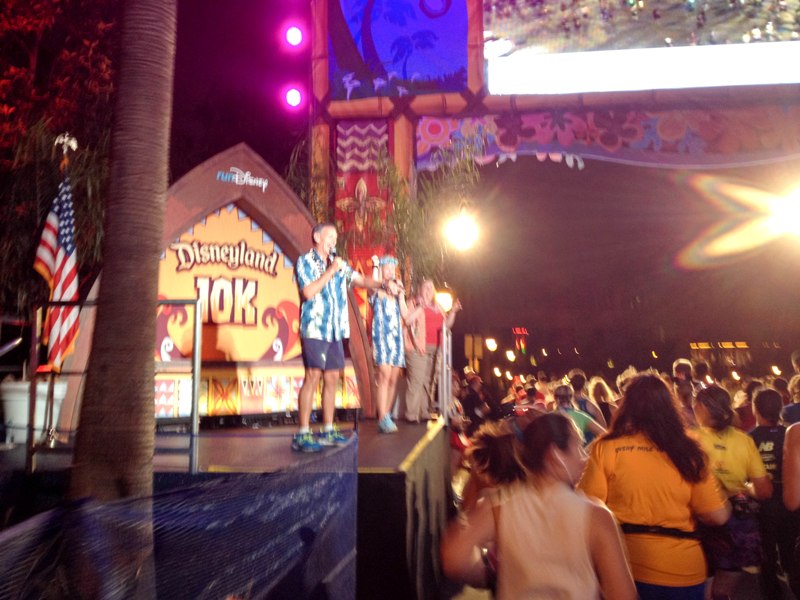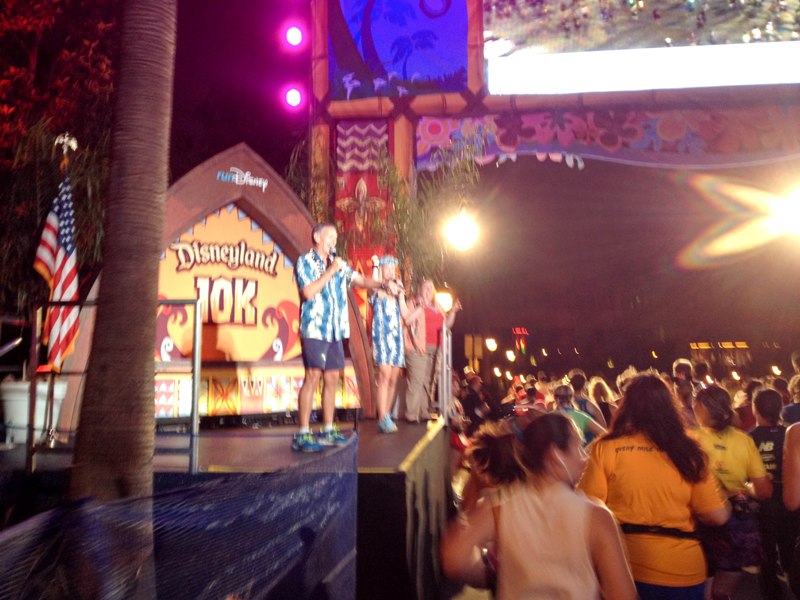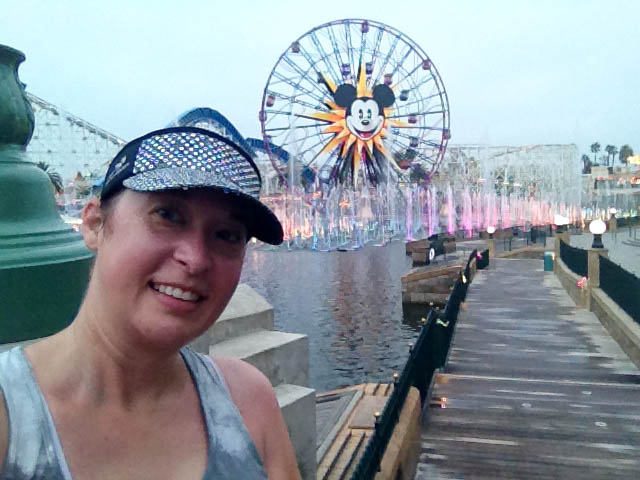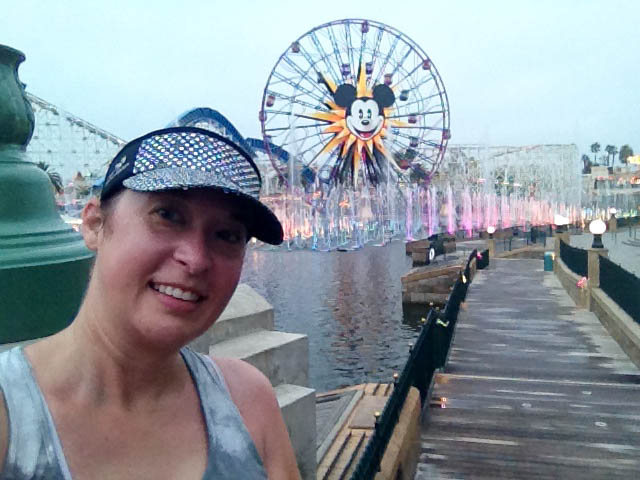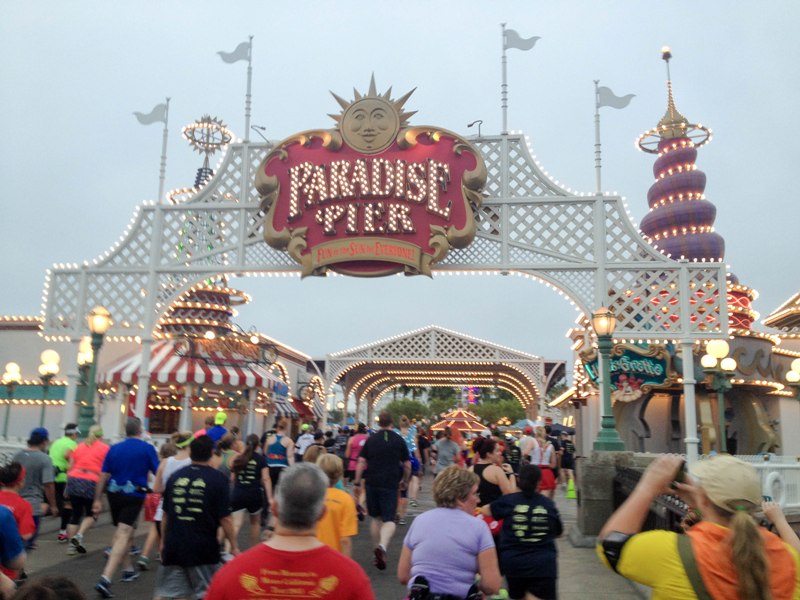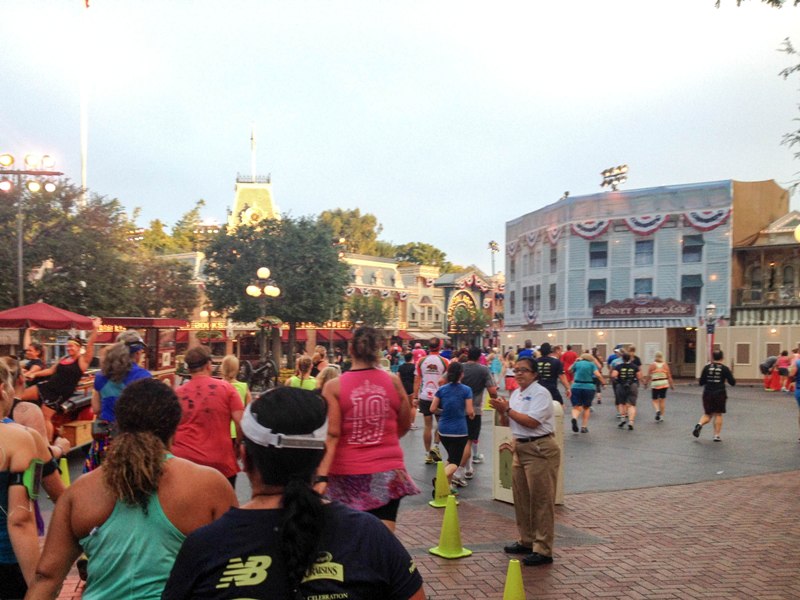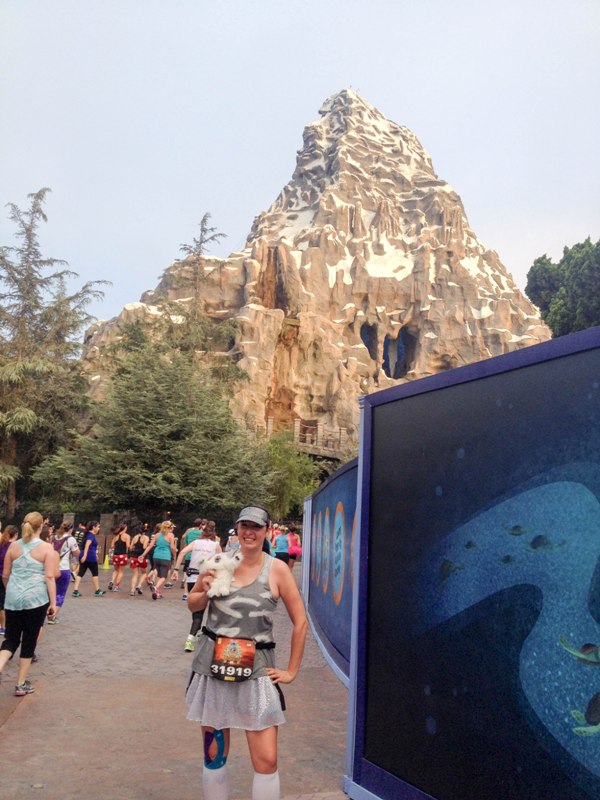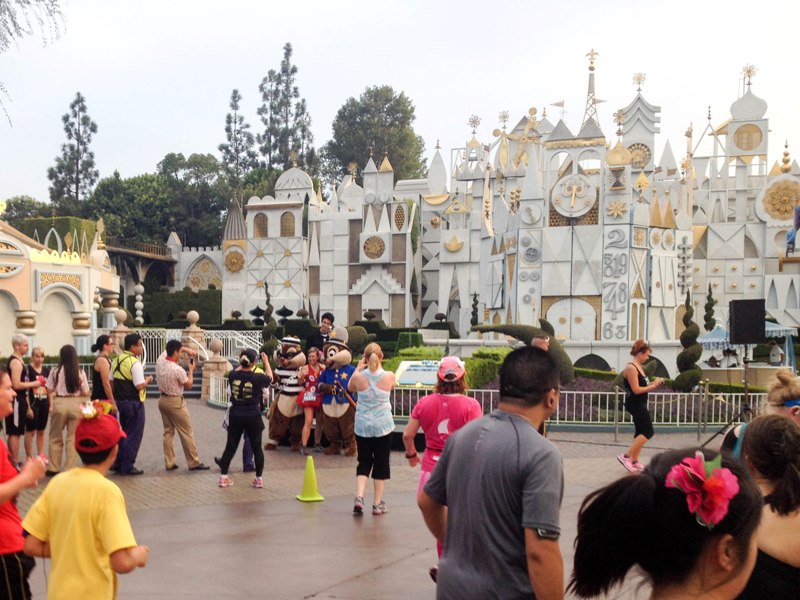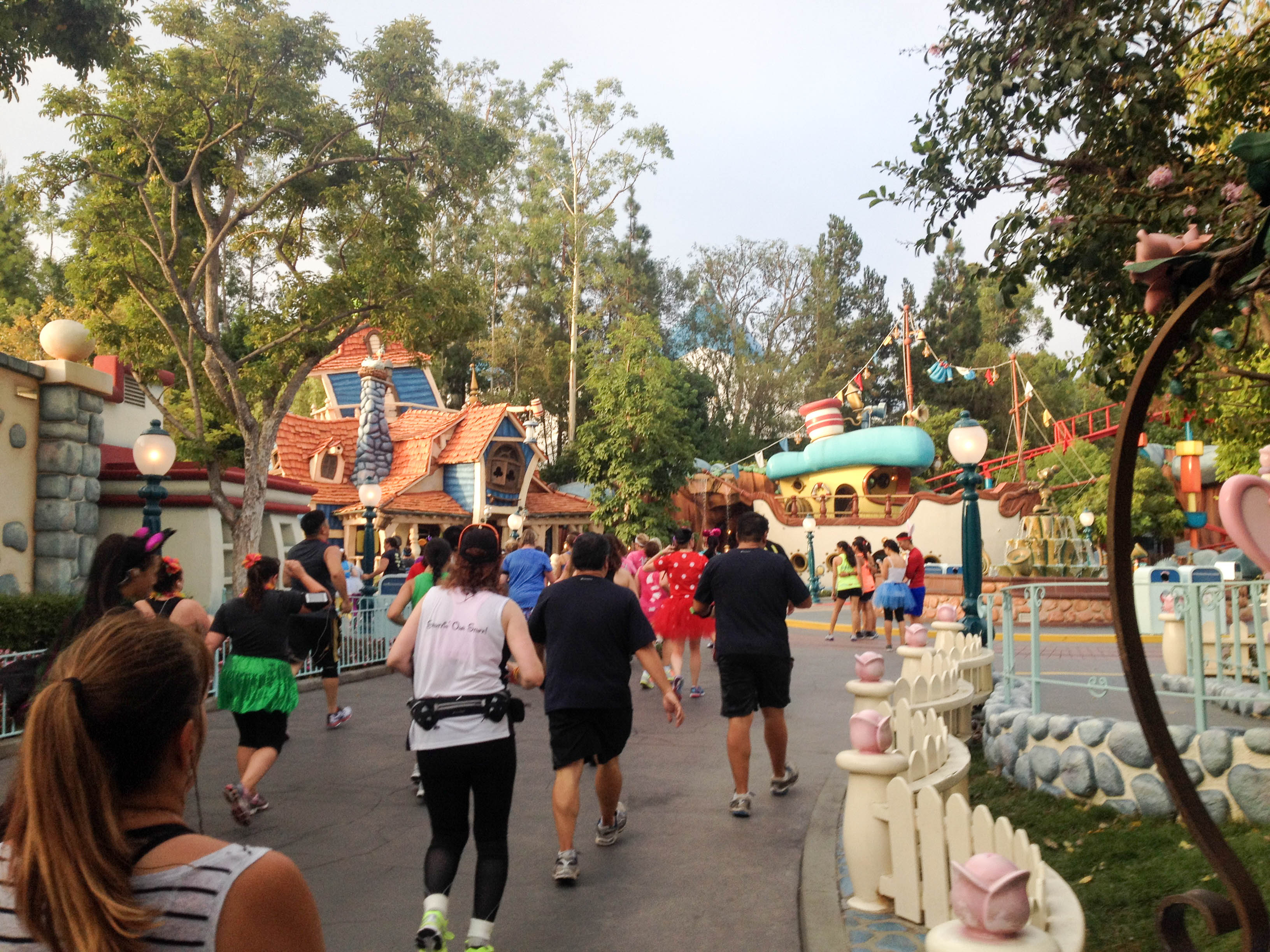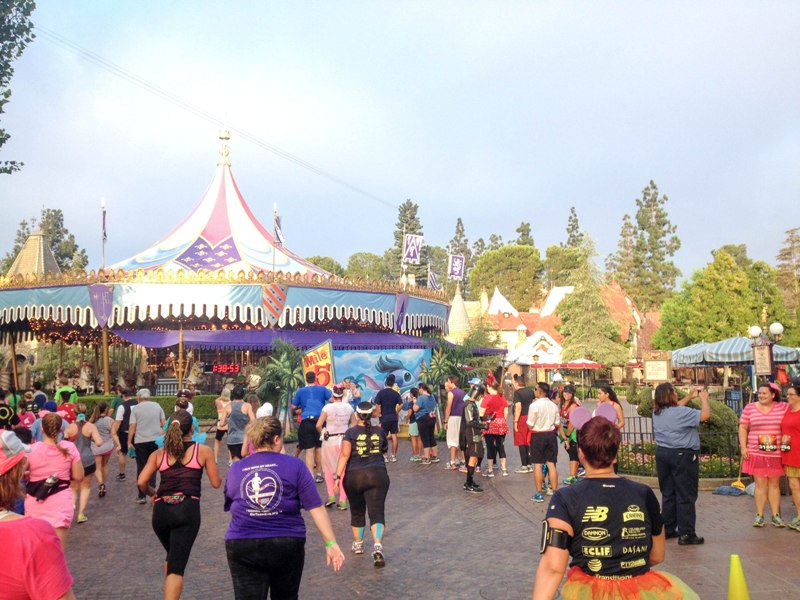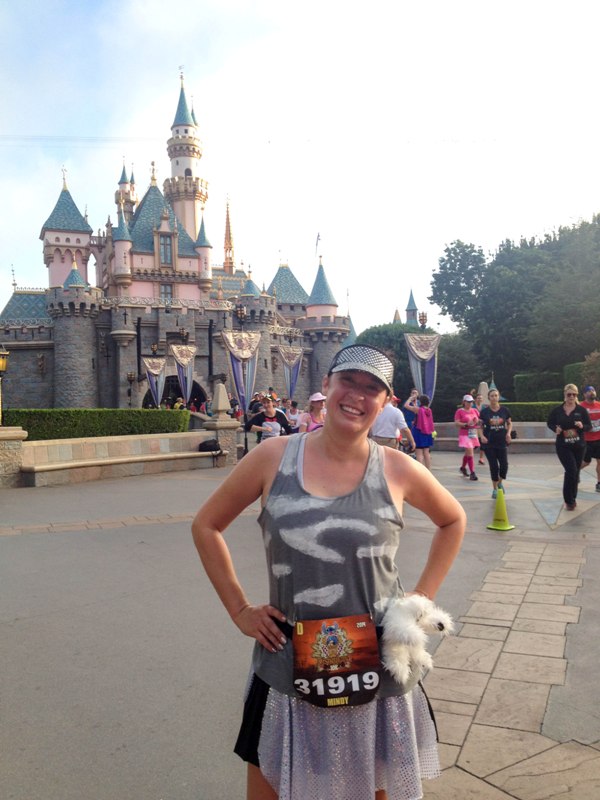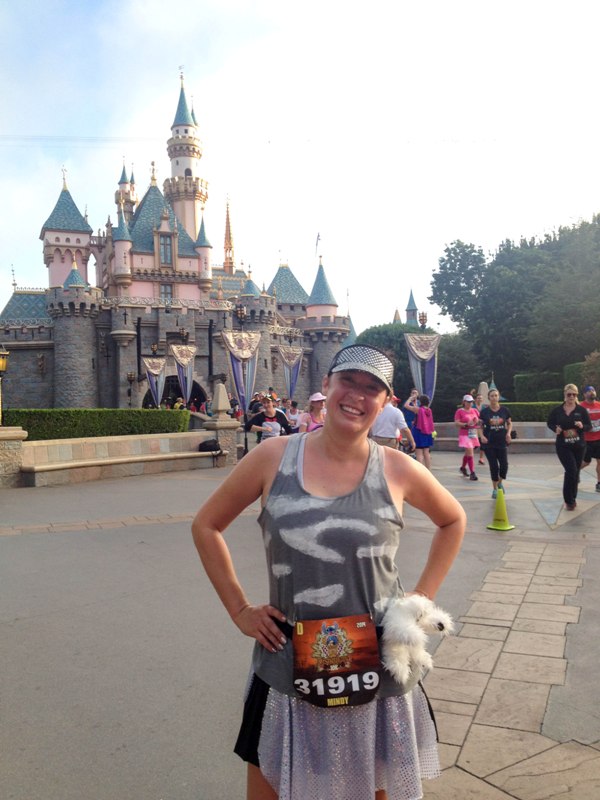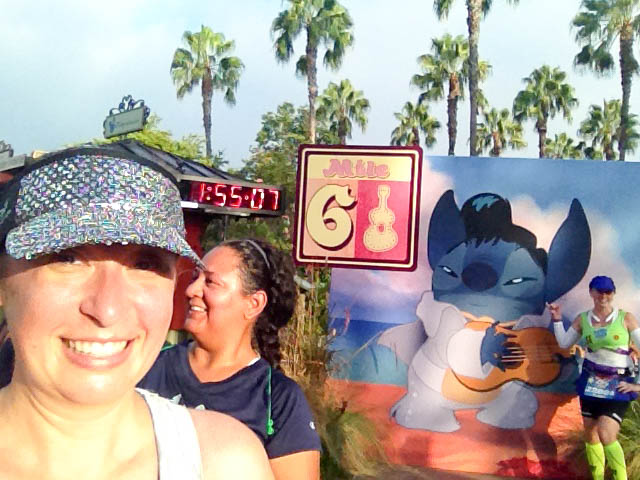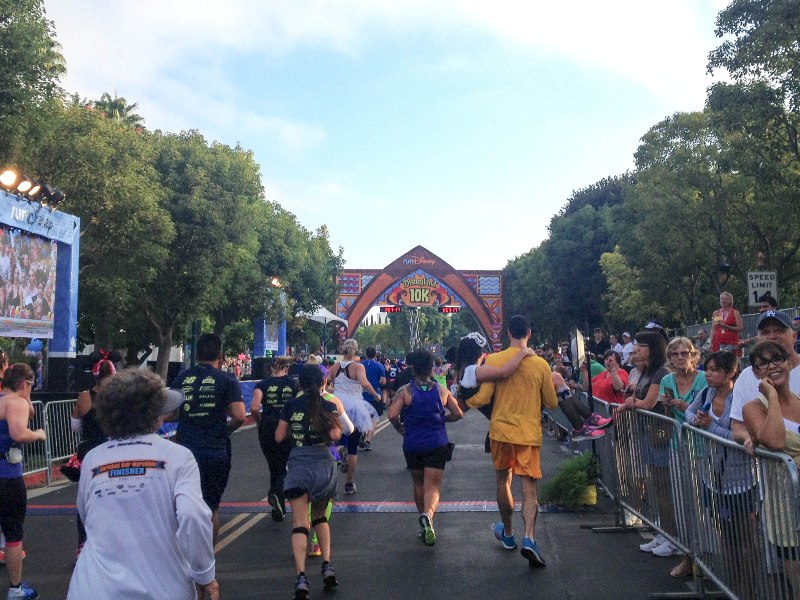 After getting my medal, taking the finisher picture, and grabbing water, I limped back towards my hotel. We had to cross through Downtown Disney where the race was still happening. There was a huge crowd to cross and I noticed a lot of the spectators had left. I thought back to 30 minutes prior when it was me running through towards the end, and I was compelled to cheer. Instead of waiting to cross, I walked up the barrier, put my things down on the ground, and started clapping and cheering. This was the first time I ever stood as a spectator and cheered on the racers. As I watched these final racers, most of them walking or shuffling by, I realized I was getting teary eyed. Being in the back of the pack sucks. Being injured and struggling with your race sucks. I suddenly felt humbled and lucky for my place in life and my "slow" time. Time doesn't matter. All these racers who were just a couple minutes from the finish line were all achieving a personal victory, and that's a beautiful thing. I stayed and clapped and cheered until the last person had run through. I was happy to see that, although the crowd was a fraction of what it was 30 minutes earlier, a lot of spectators were still there, cheering louder than ever as the sweepers came by with the last few racers. I think maybe I have found a new calling … back of the pack supporter? Hehe.
I walked back to the hotel, had a snack, cleaned up, and had a quick unintentional nap while my phone charged. I checked out and threw my luggage in the car, and walked to Trader Sam's for a pizza and a Ka-Blue-Ie. I was so happy my friend Nerissa was able to join me. I completed my first two 10ks with Nerissa and I really missed runwalking with her this time around but I'm glad she came by to celebrate with me. With Mr. BFT out of town and running by myself, I was feeling very lonely this race weekend, so her stopping by to see me meant the world to me. Thank you for being a wonderful friend, Nerissa!
After my victory meal, I walked back to my car and headed home to recover my hip. I think Vela missed me, she insisted on laying on my chest the entire afternoon. I think maybe she only loves me for my body heat.
So what about that PR I had wanted? Well I'm shocked to say that I did it!
Official time – 1:34:49
I beat my best time by around six minutes. Not bad considering I stopped for a couple pictures and walked A LOT. But 1:30 is generally my 10k training time and I'm shocked I came so close to that! Yay me!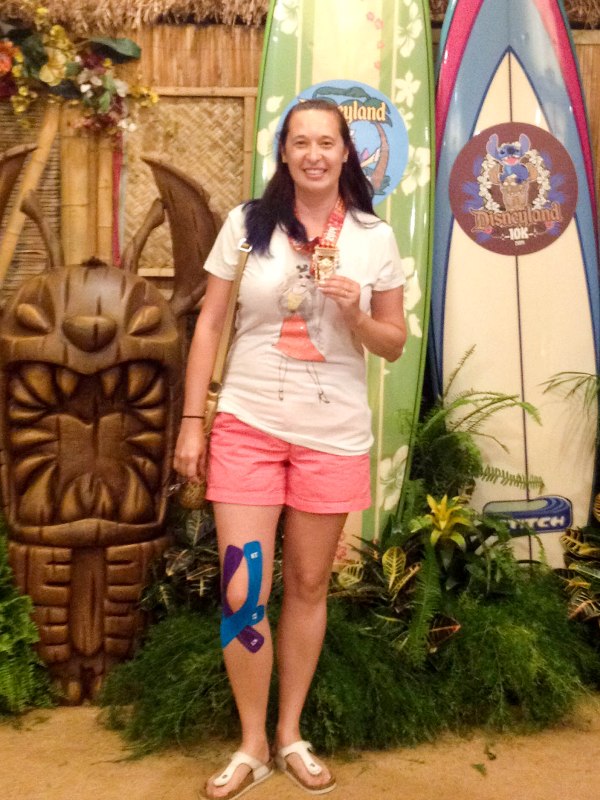 I have two more Disneyland 10ks coming up so I'm going to have to figure out what to do about my hip. I thought it had healed completely but I'm thinking now I just may have this pain forever. I'm considering seeing a sports medicine specialist and asking about physical therapy. I can't imagine giving up my Disney races! And I still have hopes of completing a full marathon SOMEDAY. But I also can't continue to run with this pain.
Did anyone else finish the Disneyland 10k this year? I want to hear about your experiences!