I don't know about you guys, but I love booze. I love to celebrate my accomplishments with a little cocktail or champagne. New job? Celebrate with a drink. Figure out how to program the DVR? Celebrate with a drink. Finish a half marathon? Celebrate with a drink. Or several. Over the course of a few weeks. Because, WOW, that's a BIG accomplishment. Half Marathons are no joke, folks. Finish one and enjoy some major "treat yo'self" moments.
I consider Disneyland to be my second home and I've done a lot of drinking there. (Fun fact: I had my first, uhh, LEGAL alcoholic drink on my 21st birthday at Storytellers Cafe at Disney's Grand Californian Hotel. It was blue and it was yummy. We won't talk about how long ago that was.) In my opinion, there's no better way to celebrate the awesome accomplishment of completing a race – any race, no matter the distance – than with a special Disneyland cocktail. So after the 5k, 10k, half marathon, and my goodness, ESPECIALLY the kids races, I hope this article leads you to the perfect Disneyland adult beverage. Personally, after a race I enjoy lighter drinks, and drinks made with juices. So below I'm going to list some of my favorites and where you can find them.
DISCLAIMER: Remember to consume alcohol responsibly after running any race, and watch your sugar intake. After a race you need to hydrate, hydrate, hydrate, and I mean with WATER. Also limit your alcoholic intake if you're taking any ibuprofen for anti-inflammatory or pain management medication, because these two things mixed together make your liver unhappy. And no one wants an unhappy liver. Above all, be smart and listen to your body. If you're already feeling faint, exhausted, or tired, alcohol may not be the best option for you. (I can't believe those words are coming out of my fingers.)
Best Cocktails for Celebrating After the Disneyland Half Marathon
Inside Disney California Adventure
Sparkling Mare – This festive drink from Carthay Circle Restaurant lounge is made with sparkling wine, so it's perfect for celebrating. It's very light and sweet, and probably is my favorite drink in all of DCA!
Tropical Mojito – Quite refreshing and tropical, this drink from Cove Bar has rum, pineapple juice, and mint.
Wine Flights – A new addition to DCA are the wine flights at Alfresco Tasting Terrace, on the second floor of Wine Country Trattoria restaurant. This spot also serves beer and really yummy snacks. Click here to read my review of the wine flights and new menu items at Alfresco Tasting Terrace.
Downtown Disney
The O.C. Cocktail – If you're visiting Orange County just for the Disneyland Half, you should probably try this popular cocktail at ESPN Zone. It's just rum, triple sec, and orange-pineapple juice and it tastes like liquid sunshine.
Electric Lemonade – Just vodka, blue curacao, and lemon juice make up this yummy drink from Uva Bar.
Hurricane – A classic drink, Jazz Kitchen's Hurricane is made with rum and fresh fruit juice. No fuss!
Resort Hotels
White Sangria – This drink is, hands down, my favorite drink in all The Disneyland Resort area! You can get it in several places, including all three Disneyland Resort hotels. My favorite spot to have one is the lounge of Steakhouse 55 in The Disneyland Hotel. The White Sangria is basically just white wine and peach schnapps and it's really light and refreshing. Here's a tip from a pro: Ask for easy ice. You won't get more booze but what you do get won't water down so quickly.
Ka-Blue-Ie – This tropical concoction from Trader Sam's at The Disneyland Hotel is my second favorite drink in the Resort! This is a richer drink and some may think it's too rich for after a race, but I find it quite refreshing. I also ordered them a lot during our wedding week so it's now a drink that reminds me of our Disneyland wedding. The Ka-Blue-Ie is light rum, cream of coconut, pineapple juice and a splash of blue curacao.
Godiva Liquor Flight – What better way to celebrate your victory than with some chocolate! This trio of Godiva liquor shots is served with fresh strawberries so at least you can feel kind of healthy while eating those. This (along with the White Sangria) are on the "generic Disney Parks drink menu" so you can usually order this at all three Resort Hotels and most locations inside DCA.
What Disneyland Resort drinks would you add to this list? How do you like to celebrate after a race?
If you liked this post, be sure to visit the other blogs participating in this Virtual Disneyland Half Marathon Weekend blog hop!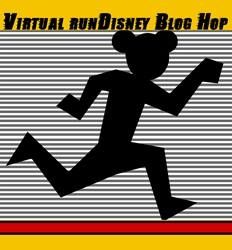 Image credits, from left to right:
Manhattan: Aloha75 on Flickr
Ka-Blue-Ie: Daryl_Mitchell on Flickr
White Sangria: Harshlight on Flickr
All used and modified under Creative Commons 2.0