Image Source: DiamondAce on Flickr, used under CC2.0
I'm so excited … in less than ONE WEEK I'll be exploring the city of Vancouver, British Columbia in Canada. My family visited British Columbia when I was very young (three years, maybe) and I don't really remember anything. So basically this is my first trip to Canada!
I knew NOTHING about Vancouver, so I researched the more popular stops for cruisers and also BFT reader Natalie, a Vancouver native, hooked me up with lots of cool suggestions! So here's the plan:
Our plane lands around noon on Sunday and we'll head straight to our hotel to see if we can check in or at least stow our bags. Robson is the main street in Downtown Vancouver and it's also where our hotel is located. We found a great rate at The Listel. It looks very modern, with a partnership with the University of British Columbia's Museum of Anthropology and unique works of art in every guest room.
The first order of business will be lunch! Natalie recommended Cactus Club located near Olympic Plaza, which we wanted to visit anyway. Cactus Club apparently has great views of the water and Olympic torch. Can't wait to see it up close!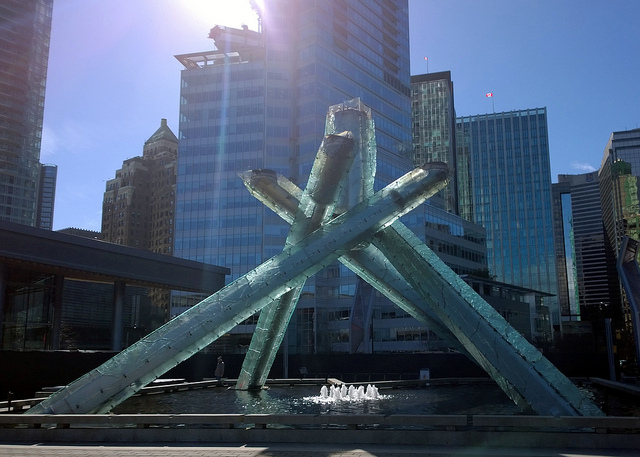 Image Source: Ruthanddave on Flickr, used under CC2.0
Nearby, at Canada Place, there's an attraction Flyover Canada, which is compared to Soarin' and Soarin' Over California. This might not be the best attraction to visit immediately after lunch, but it's near the Port so maybe this would be a great wait to kill some time before we can board the ship the next day.
Continuing on, we will probably head to Stanley Park, the largest park in Vancouver, said to have lovely paths with great views. Maybe if we have time we can pop into the Aquarium. If my hip is up for it, we will probably walk, but there is also a hop-on-hop-off trolley that winds through Downtown.
If we plan our day correctly, I'm hoping to have a sunset view of the city at the Harbor Centre Tower and the Vancouver Lookout. They also have a revolving restaurant, 550 feet above the ground! Seems like a great way watch the sun go down in Vancouver.

Image Source: Vancouver Lookout Facebook Page
In the evening, it would be fun to hit up one or two local bars. Score on Davie looks like a fun sports bar near our hotel, and there's also a nearby steakhouse called Black + Blue, with your standard collection of overpriced fancy cocktails.
The next day, I have read good things about brunch at the Pan Pacific Hotel, which is located right next to the cruise port. I'm hoping we can check luggage, grab breakfast, walk along the water for a bit, then board our cruise ship!
Then, it's off to Alaska!!!
Have you been to Vancouver? Do you have any recommendations on what to see/eat/do?