This post contains affiliate links.
I have a Tsum Tsum problem.
To be fair, I didn't have much of a problem until Disney released the Star Wars Tsum Tsums. I maybe owned 10 mini tsums. So with the Star Wars tsums that have been released so far, my collection has tripled. I felt bad keeping them hidden away in a box, so I went in search of some way to display them in my office.
For a while they sat on a shelf, but the slightest movement would knock the stack over. I knew I had to find a way to display them but also protect them.
I reviewed a lot of options but ultimately decided on this wall shelving unit from Amazon. I thought it was visually interesting, had plenty of space, and was sized perfectly to fit the allotted wall space.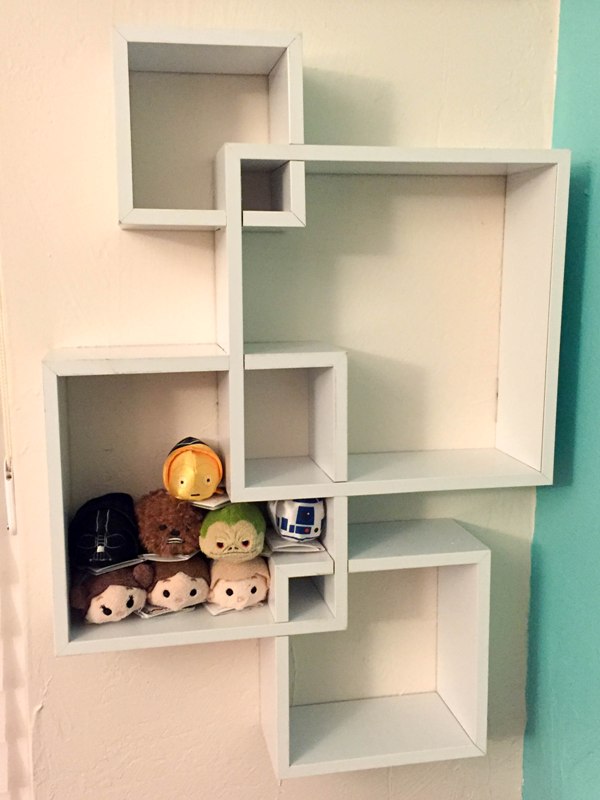 The unit comes with wall mounts but Tim went out and bought something a little more heavy duty, even though I told him the unit would be filled with practically weightless plush toys. I'm really happy with how it looks. The unit arrived with a couple scuffs but you have to look really close to find them – not worth the hassle of returning it.
So now I have tsum storage AND some room to grow. I'm guessing I'll fill this sucker up in the next year or so.
If this storage unit doesn't work for your space, here are some other options:
– A shadowbox would be a cute way to store your tsums. I actually went to Michael's and looked at this shadowbox, but it was very large and HEAVY so I nixed that idea. But a lot of people seem very happy with it (as seen in the reviews specifically mentioning tsums).
– I saw a friend on Facebook use these style shelves to display her tsums. You can find them on Amazon but I've also seen similar shelves at Target.
– These wall cubes would also make a cute display option, and you can hang as many as you want to support your collection.
– You could also display them in a cute corner hammock.
Do you have a clever way to display Tsum Tsums? Let me know!