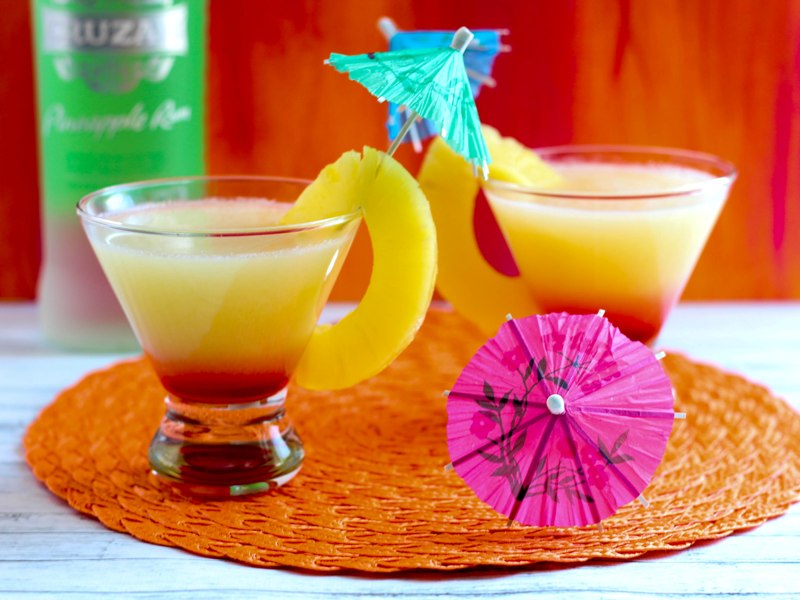 Hello! Please read me! This is a sponsored post. The company who sponsored it compensated me via a cash payment, gift, or something else of value to write this. I only recommend products or services I use personally and/or believe will be good fit for my readers. All opinions are my own. Thank you Cruzan® Rum for providing product this post!
Happy World Cocktail Day! Yes, May 13 is World Cocktail Day and yes, I'm celebrating. If you're a long-time reader here you know I love a good cocktail. Not only do I love a good cocktail but I love to experiment with fun ingredients. When Cruzan® Rum sent me a bottle of Pineapple Rum to try, I immediately knew what type of drink I was going to make. I had to make something sweet and tropical to pay tribute to my beloved Dole Whip. The tricky part was making it creamy, reminiscent of soft-serve yogurt but drinkable … kind of like if you were visiting Disneyland on a hot summer day and your Dole Whip melted instantly. And there was rum in it. Then it came to me – ICE CREAM! Of course! Putting ice cream into a cocktail is kind of genius, if I do say so myself. Putting just a tiny bit in with the Cruzan® Pineapple Rum and pineapple juice gave the drink the perfect amount of thickness to remind me of my everyone's favorite Disney treat. This is definitely my new favorite cocktail.
This Pineapple Whip Martini is perfect for sipping by the pool on long summer days or enjoying as an after dinner dessert drink. I hope you enjoy it!
Pineapple Whip Martini
Ingredients
Makes 1 serving
2 ounces Cruzan® Pineapple Rum
4 ounces pineapple juice
1 tablespoon vanilla ice cream
1/2 ounce grenadine syrup
Splash of Triple Sec
Splash of lime juice
Directions
In a cocktail shaker, combine the Cruzan® Pineapple Rum, pineapple juice, ice cream, Triple Sec, and lime juice. Shake well, until the ice cream is fully melted. Pour into a martini glass. Carefully pour the grenadine down the side of the glass so it sinks to the bottom. Garnish with some pineapple slices and a tiny paper umbrella!
Variations:
If you don't have vanilla ice cream on hand, try subbing in a little bit of vanilla coffee creamer, half & half, or even just regular milk (coconut milk would be delicious). You don't want to add too much, you just want to make the drink a little bit creamy. Also – you don't even really need the dairy if you don't want it! The drink is just as delicious without it!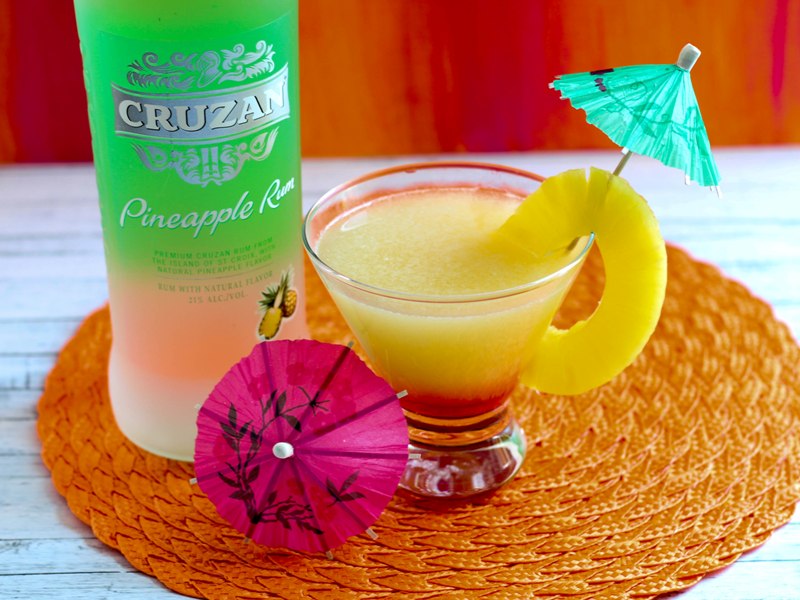 Let me know if you guys try this drink for yourself, and how you like it!
Look for Cruzan® Pineapple Rum and all their flavored rums at your local store.