Disney Bride Nicole is planning a Walt Disney World wedding at the Wedding Pavilion and American Adventure Rotunda Ballroom for December 2016.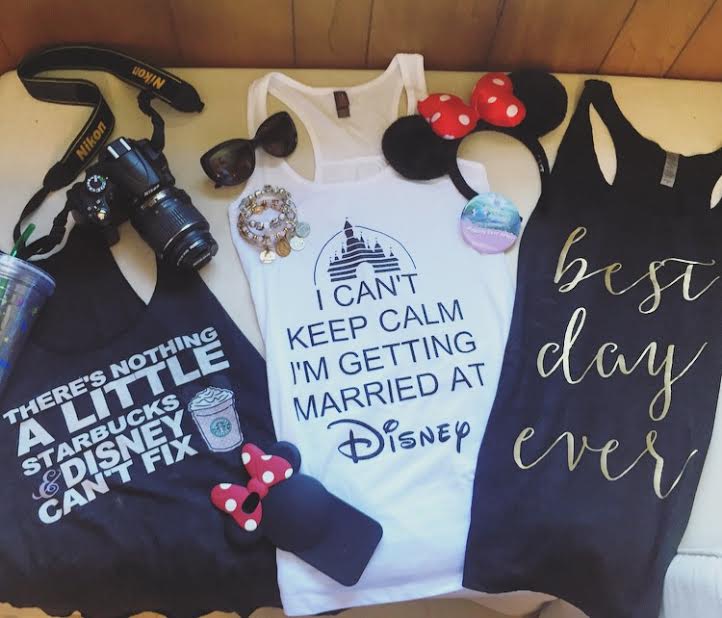 When we first decided on a destination Disney wedding we were extremely excited and terribly scared all at once! Would our family and friends be excited and supportive, or annoyed and inconvenienced about having to spend the money to travel? Also, what about our guests who don't quite understand our Disney obsession? Will they assume that our wedding will in some way be childish and therefore less enjoyable for them? How would I be able to have complete control when I am planning if every single vendor is hundreds of miles away? And perhaps the scariest question of all … how much would a Disney wedding cost?! These fears and concerns plagued us at first and almost held us back from making what has become the best decision ever for our wedding day!
Let me start off by saying that having a destination wedding was something I never thought I would do. Being the control freak that I am, I could never imagine planning a wedding from so far away and leaving the details of that day in the hands of vendors I never even heard of. However, the idea of getting married in Walt Disney World felt far less scary. Maybe because, for me, Walt Disney World doesn't feel like a far away destination that is unfamiliar and that I've only been to a couple of times. For me, Disney feels like a second home. It's a place that I long to be and that I actually get homesick for. Getting married there has always been one of those dreams in the back of my mind that I always thought could happen if I had the courage to pursue it. Anyone who knows me knows how much Disney means to me. I've been traveling there every year since I was 6 months old. It's a huge part of my life and who I am; so much so that my fiancé even had a little hidden Mickey engraved with 3 small round diamonds inside the band of my engagement ring.
Most of my family and friends thought it was a no brainer when we first told them of our decision, however it was something that we actually had to think long and hard about. There was a lot to consider in terms of taking the leap and deciding on a destination Disney wedding.
We were mostly worried about our closest family and friends. We didn't want our wedding to be a burden on anyone. We had to take into consideration that our guests would no doubt face traveling costs. We also were unsure about leaving our beloved dog behind in New Jersey while the wedding would take place in Florida. I had to face the fact that if we did this, I'd have to let go of some control. I 100% trusted all of the Disney vendors so that wasn't an issue, but I was afraid of losing creative control over the details that would go into the big day. I wanted to make sure that as a whole, this wedding represented who we were as a couple.
Finally my fiancé asked me a very important question. "Forget about everyone and everything else," he said. "If it was just you and me, where do you envision us getting married?" In my heart the answer was so clear. I fantasized of us one day being able to point to the Wedding Pavilion from the monorail with our future children and telling them, "Mommy and daddy got married there." That's what I really wanted. That was my dream. Suddenly nothing else mattered. The vendors, the wedding guests and all the unknowns seemed less important when I just thought about me and Michael and what WE wanted.
It's important to remember that it's impossible to please everyone when planning a wedding. I believe that it is most important for a couple to consider their own feelings first and foremost. At the end of the day it's YOUR WEDDING. And the memory you have of that day is entirely in YOUR hands. We both feel so at peace and excited with our decision now. Once we made the choice and took that leap, everything else fell into place, and most of our initial concerns were resolved. I came to find that our closest family and friends were actually thrilled about going to a Disney wedding. Both of our families, and many of our friends will be making long vacations out of it. In fact, all of our wedding guests will be able to take advantage of room and park hopper discounts to help with the costs.
We decided that we would be able to include our dog, Rhody, in other ways. We will be taking engagement pictures with him and will be incorporating him into some of the details on our wedding day. We also quickly realized that even if we were getting married in NJ, we wouldn't be able to have him attend a church ceremony or reception site anyway. Most NJ wedding venues aren't very dog friendly, and even if they were, I know my dog wouldn't enjoy the loud music or large crowds.
I soon learned that Disney could work with pretty much any budget. Whether you're looking to spend $10,000 dollars for an Escape collection wedding, $100,000 for one of their Couture weddings, or somewhere in between with their Wishes Wedding Collection, Disney can actually be more affordable than an average wedding at home; especially considering that our guest list of 200 people will be cut in half. Best of all, we don't have to let go of being in control of all the details of the wedding! The Disney event team makes the planning process easy by keeping you involved every step of the way. I can call, email, or Skype them anytime I want (and believe me I do). We just returned from our wedding planning session this week and I know we're in great hands! I was able to customize so much of the big day, that I actually think that we have more control over the tiny details that make this wedding ours, than we would having a wedding back home. The stress and pressure that most people feel when planning a wedding has really dissipated for us and now we're just anxiously waiting for the big day to arrive!
I would suggest to any couple out there considering a destination wedding to write a pros and cons list. Weigh out the things that are most important to you both. You may decide that it's very important for you to have everyone you know attend your wedding. Therefore you would realize that a destination wedding isn't right for you. For us personally, our Pros list far outweighed any Cons that we conceived. We're super excited about having a smaller, more intimate wedding. We feel that we will now be able to spend more quality time with our family and friends. Sometimes a huge wedding can leave you feeling dizzy rushing from table to table greeting sometimes between 200-300 guests! Having a smaller destination wedding can be less overwhelming for some couples and allow you to have more time to enjoy the day and take it all in. Not to mention the huge pro of creating a truly unique wedding experience that our guests wont soon forget. It will be a dream come true to have all the people we love most in the Happiest Place on Earth together as we exchange vows. I truly can't imagine our wedding being anywhere else now. I'm so happy we dared to dream and chose the wedding that our hearts desired.