Thank you to Foster Farms for sponsoring this post! All opinions are my own. Visit the Foster Farms website to learn about their All Natural Sliced Turkey.
I'm a huge fan of quick, easy, simple, no-fuss food prep, which is why I'm excited to be partnering with Foster Farms All Natural Sliced Turkey to share this recipe with you. Although I'm hesitant to even call it a recipe, it's so easy. These Turkey Pickle Roll Ups take about 30 seconds to make, and because they are high in protein and low in fat, they are one of my favorite snacks to eat after runwalking or right before yoga.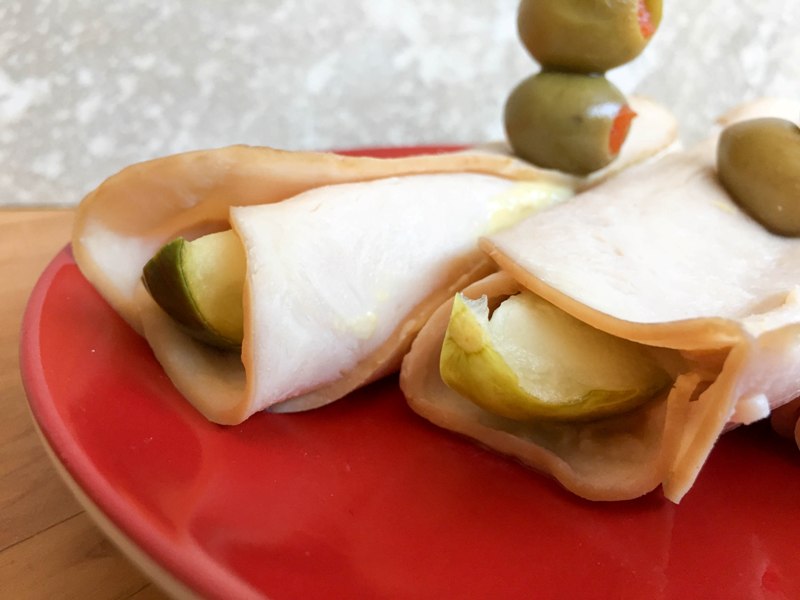 I first read about this "recipe" years ago in a magazine and the ingredients quickly became a refrigerator staple. And now, I'm so glad I discovered Foster Farms All Natural Sliced Turkey. Some lunchmeats have a ton of weird ingredients you can't even pronounce. But Foster Farms All Natural Sliced Turkey is 100% turkey breast with no chemicals, preservatives, artificial ingredients, colors, or nitrates. I'll even list the ingredients for you (this is the Honey Roasted & Smoked flavor): Turkey breast, turkey broth, honey, and less than 2% of sugar, salt, sea salt, rice flour, lemon juice concentrate, and celery juice. All ingredients you recognize, right? On top of that, the Foster Farms Slow Oven Roasted Turkey Breast contains 35% less sodium than the average sliced turkey breast. It's true you pay a little bit of a premium for better ingredients, but if you're familiar with the Budget Fairy Tale philosophy then you know it's all about spending your money wisely. Before I was diagnosed with my corn intolerance, I used to eat cruddy food and then spend tons of money on medicines to make me feel better … now I spend a little more on better food, spend way less money on medication, and feel TONS better! Buy REAL food, you guys! It's so worth it.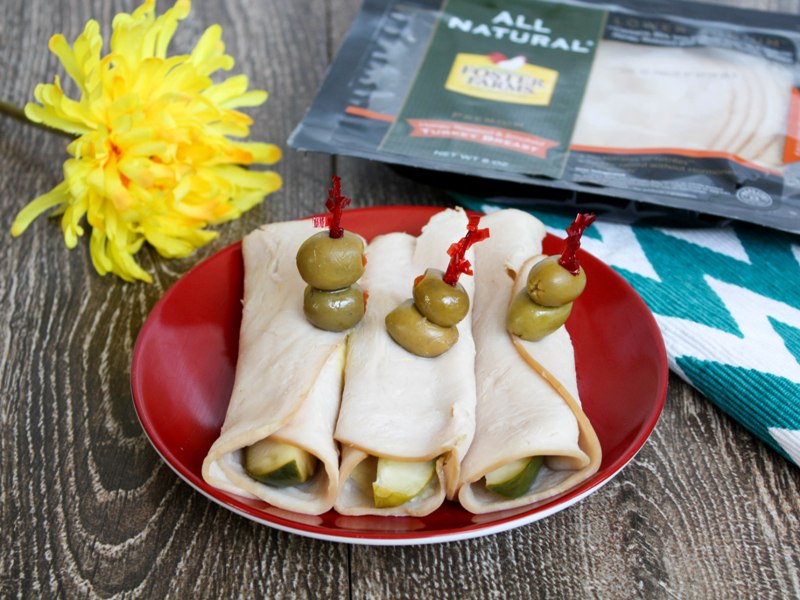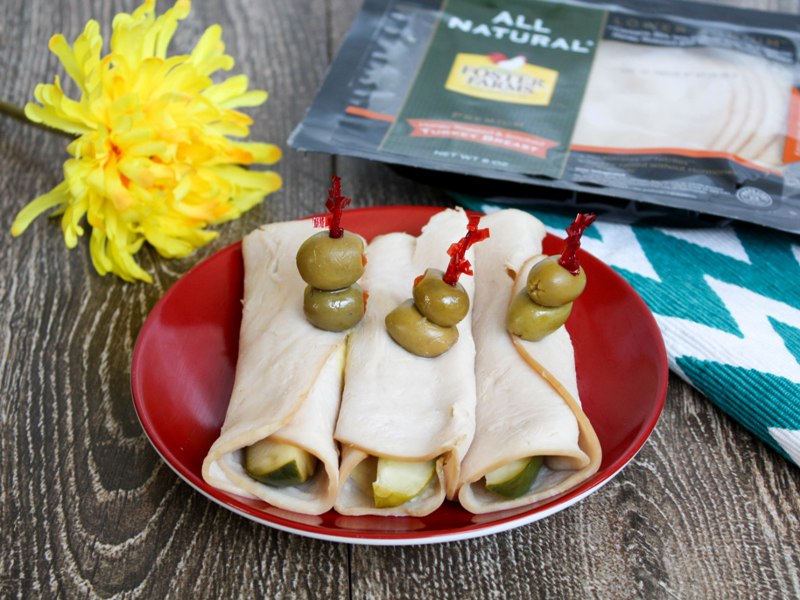 So, onto the "recipe." This Turkey Pickle Roll Up is one of my favorite quick snacks. There is hardly any prep but it packs a punch. The turkey provides lots of protein and the sweetness of the meat nicely compliments the saltiness of the pickle. The Dijon mustard adds just a little kick, but you don't really need it! If you're watching your calories, skip the Dijon. Speaking of calories, one roll up without mustard is under 50 calories. With half a teaspoon of mustard, you're looking at around 80 calories. Still not bad. (The photos show about two teaspoons of Dijon on each roll up … what can I say, I really like Dijon.)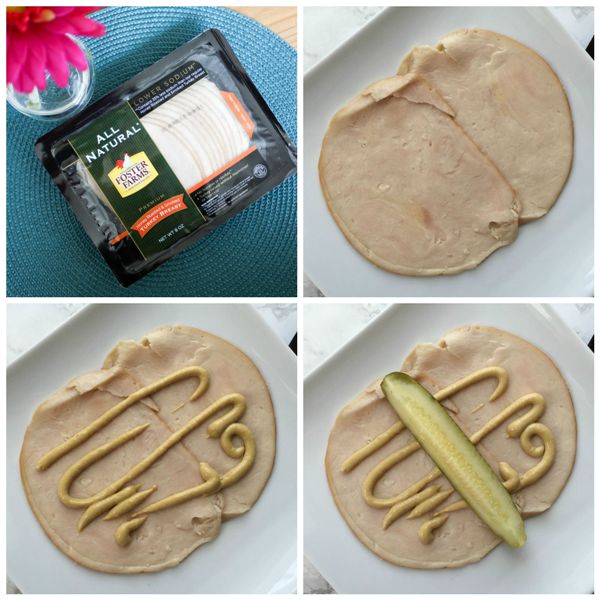 How to prepare your Turkey Pickle Roll Ups: All you do is lay out two slices of Foster Farms All Natural Sliced Turkey on your plate, slightly overlapped. Add a little Dijon mustard (optional) on top of the turkey. Place a pickle spear in the center. Then roll up the turkey around the pickle and hold in place with a toothpick. I like to put olives on my toothpicks to pretend I'm fancy.
That's it! So simple. So delicious. I hope you enjoy them as much as I do.
As a special treat for my readers, Foster Farms has a "Save a Dollar Now" coupon offer for you! Just click on this link to access your coupon.
Thank you again to Foster Farms for sponsoring this post. All opinions are my own.