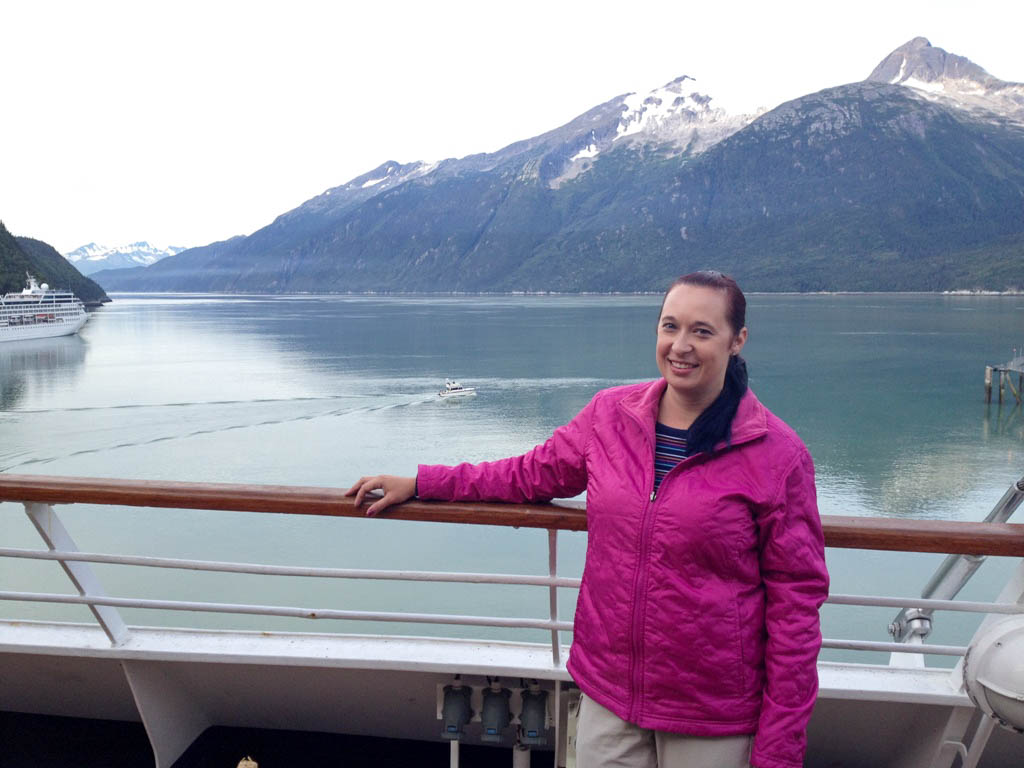 Our third port day in a row was another early morning wake up call. We docked in Skagway, Alaska at 7:00 AM and we were booked on an eight hour tour on the Yukon railroad! We quickly ate a large breakfast at the buffet and headed off the ship. It was an easy walk to the White Pass & Yukon Rout Depot train station, maybe 10 minutes or so. We arrived about an hour before our tour started because we wanted to make sure everything was sorted. It was so early and the town was so quiet; the only thing open was the train station! We wandered downtown Skagway for a while (it's fairly small) until it was time to meet up for our tour.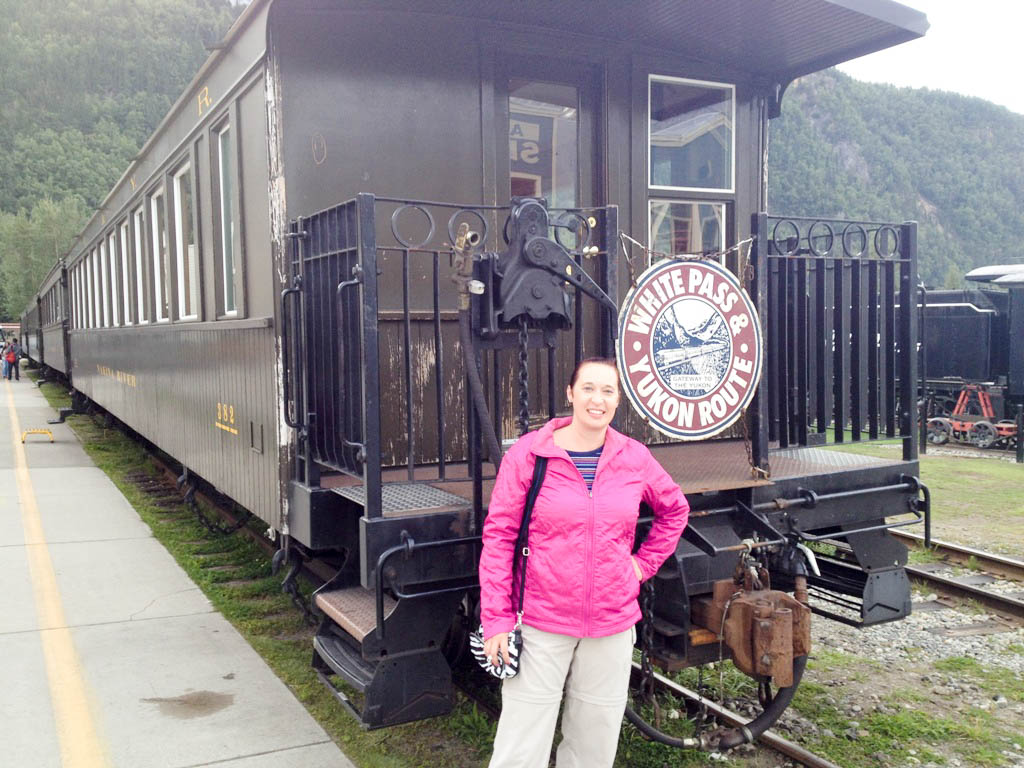 Our tour was with Chilkoot Charters, but we booked with Skagway Shore Tours. I want to take a second to explain this because it was a little confusing. Just in case anyone out there has found this blog because they are researching Skagway Shore Tours and are having trouble finding any information about them, which is what happened to me!
First of all, Mr BFT and I knew we wanted to do the White Pass railroad trip because that is the most popular excursion in Skagway, and everyone we spoke with said it is so beautiful. The railroad follows the path of the Gold Rush settlers in the 1800s. After researching on Trip Advisor and Cruise Critic, it seemed Chilkoot Charters was the most popular tour company; however we contacted them and they were booked for our date. (We booked this trip very late, about a month before traveling.) So in looking for other tour companies, I found Skagway Shore Tours. They had availability for the all-day bus & train tour we wanted, the train that goes the farthest distance. (This is called the Bennett Lake Scenic Journey.) However, I couldn't find any information about Skagway Shore Tours on Cruise Critic or Trip Advisor, which made me very nervous! It's an expensive excursion and I didn't want to get duped. Drew from Skagway Shore Tour was very polite in answering all my paranoid questions. He explained they are a centralized reservation center and arrange tours through various local tour companies, which are all vetted. It just so happened the first leg of our trip via bus would be with Chilkoot Charters, and the second leg via train would be directly with White Pass & Yukon Route railroad. This is exactly what we wanted and we happily booked. On the day of the excursion we had zero problems and our day with Chilkoot and WP&YR went very smoothly. Bottom line: We had a great experience with Skagway Shore Tours.
Moving along to the journey itself! As I stated earlier, the first leg of our Yukon excursion was via bus, through Chilkoot. Our bus driver and tour guide was Mike, who was wonderful. Aside from being very knowledgeable about the area (local to Skagway year round), he had a great sense of humor and offered to take photos for everyone. We really enjoyed our bus ride with Mike.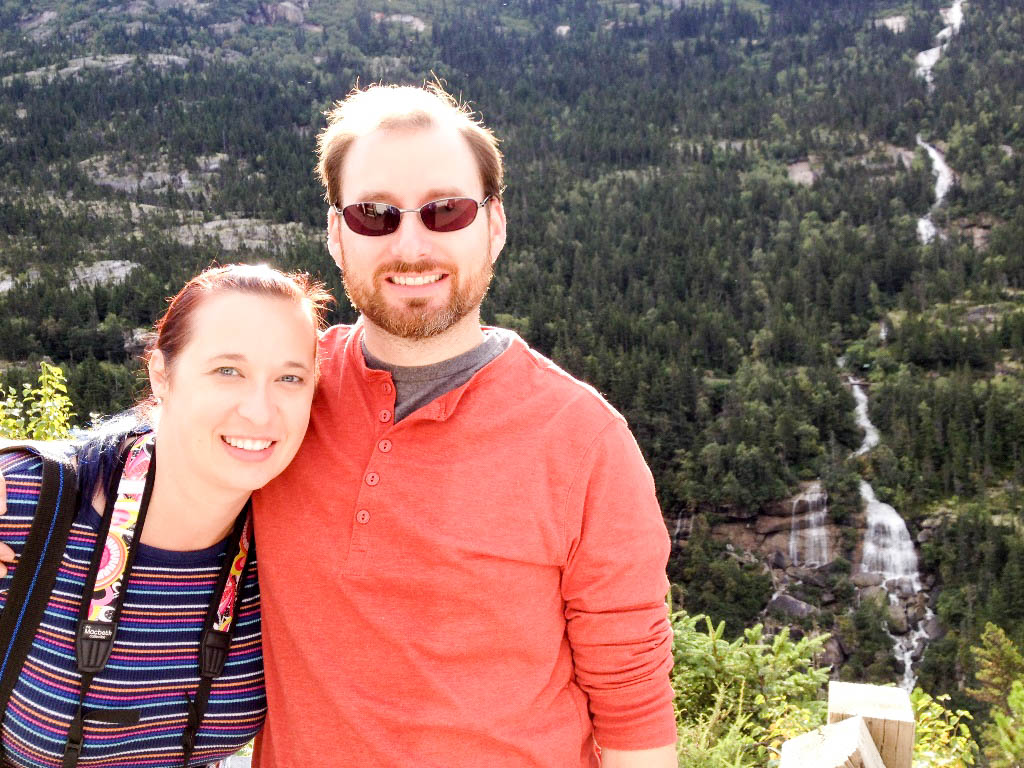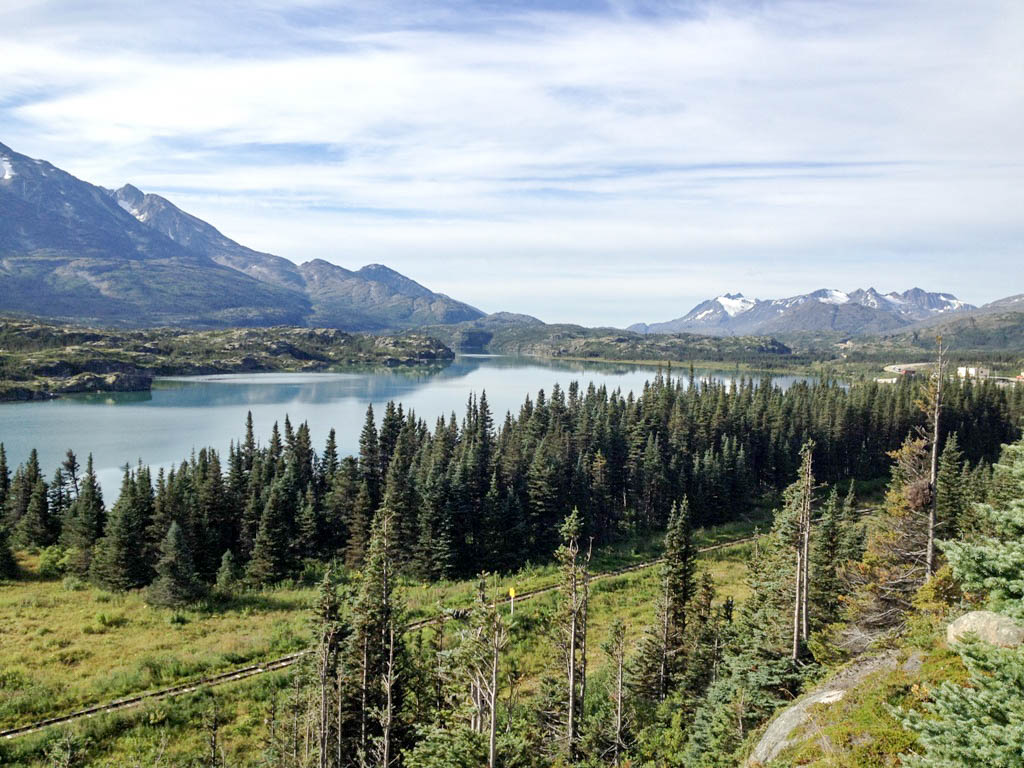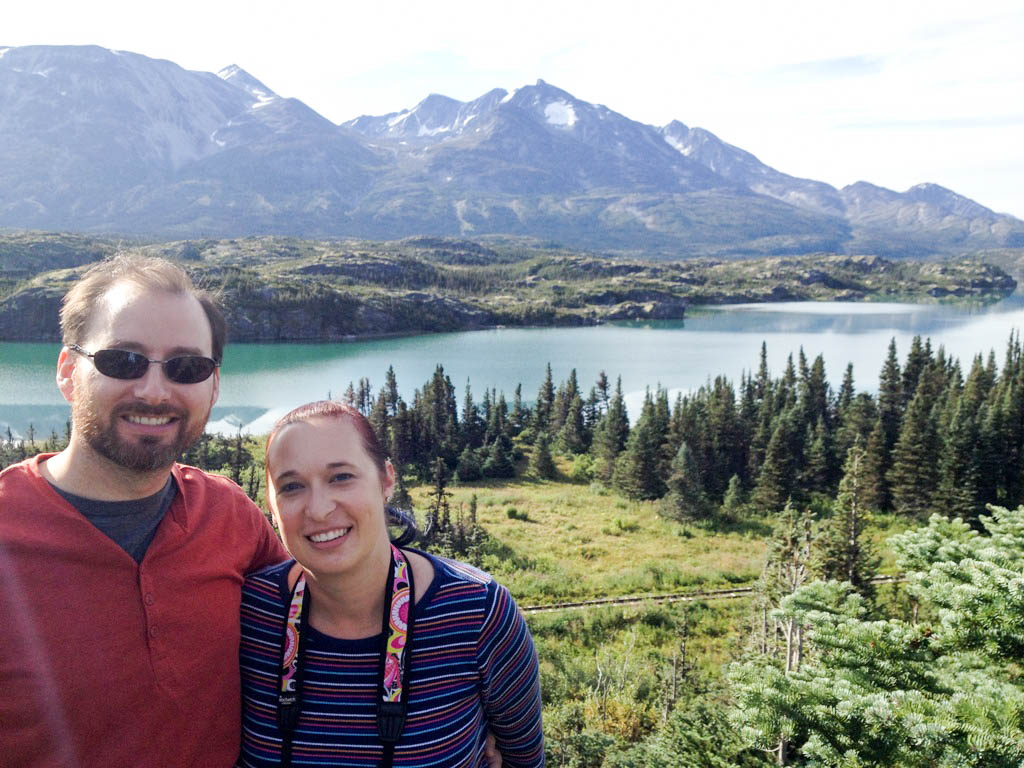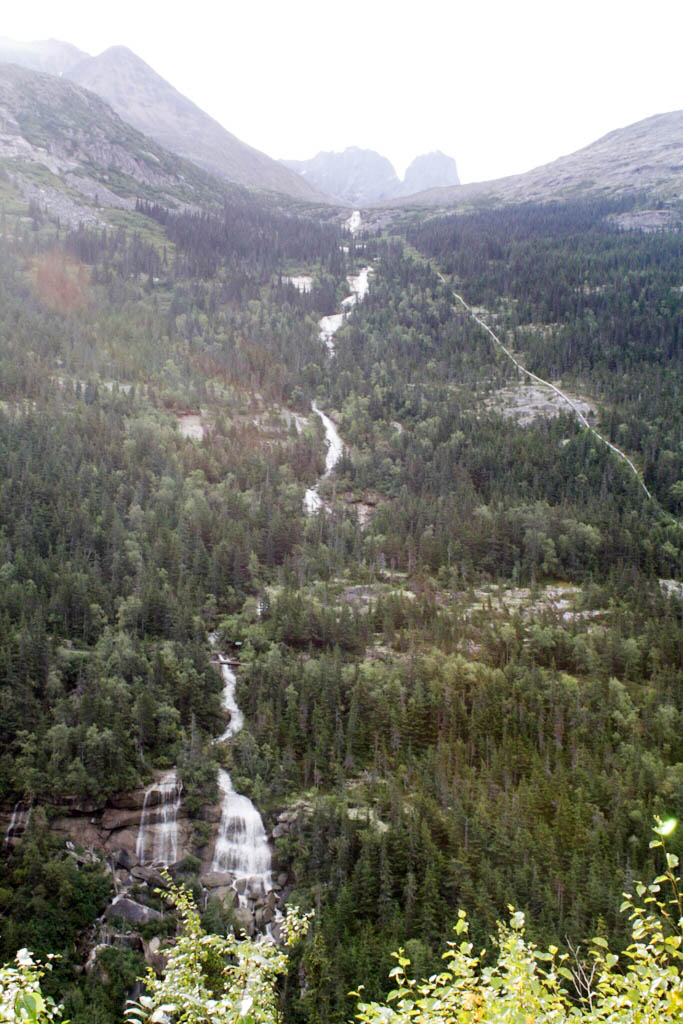 The bus ride lasted around three hours, making several stops at scenic overlooks, with each stop more beautiful than the last. I'm really happy we did the first leg of the trip by bus, so we could get out and admire the views. At one point, you cross into British Columbia, Canada, and then into Yukon Territory, so you need your passports. A border patrol authority climbs the bus and does a quick check of everyone's passports. The whole stop took less than five minutes.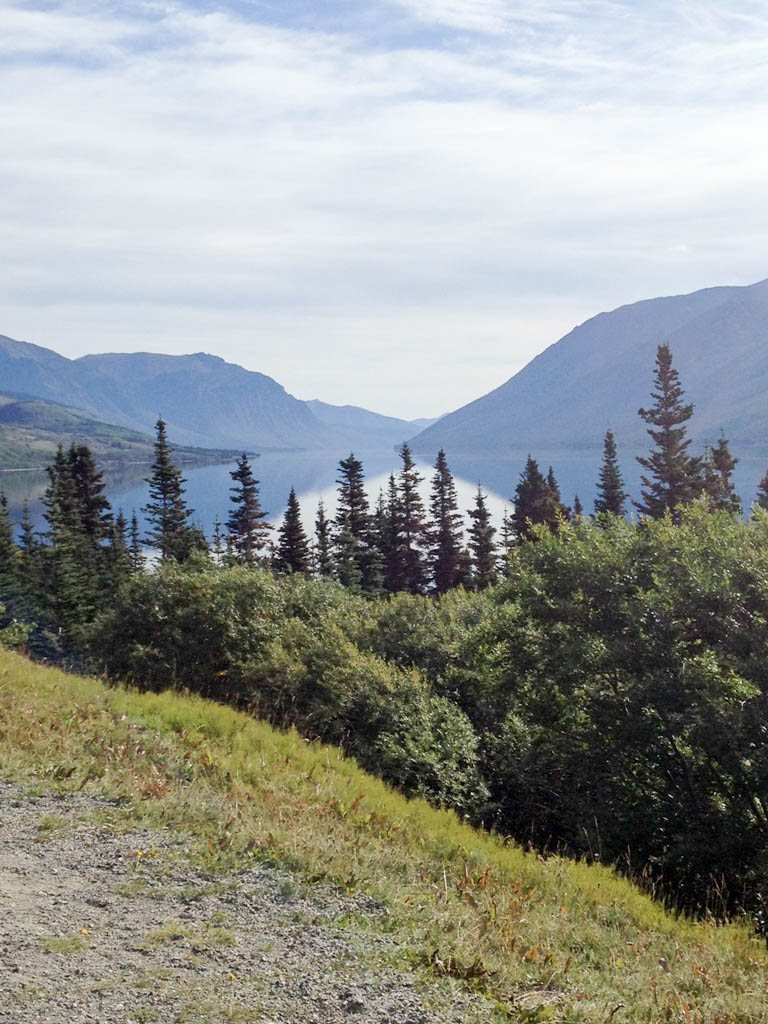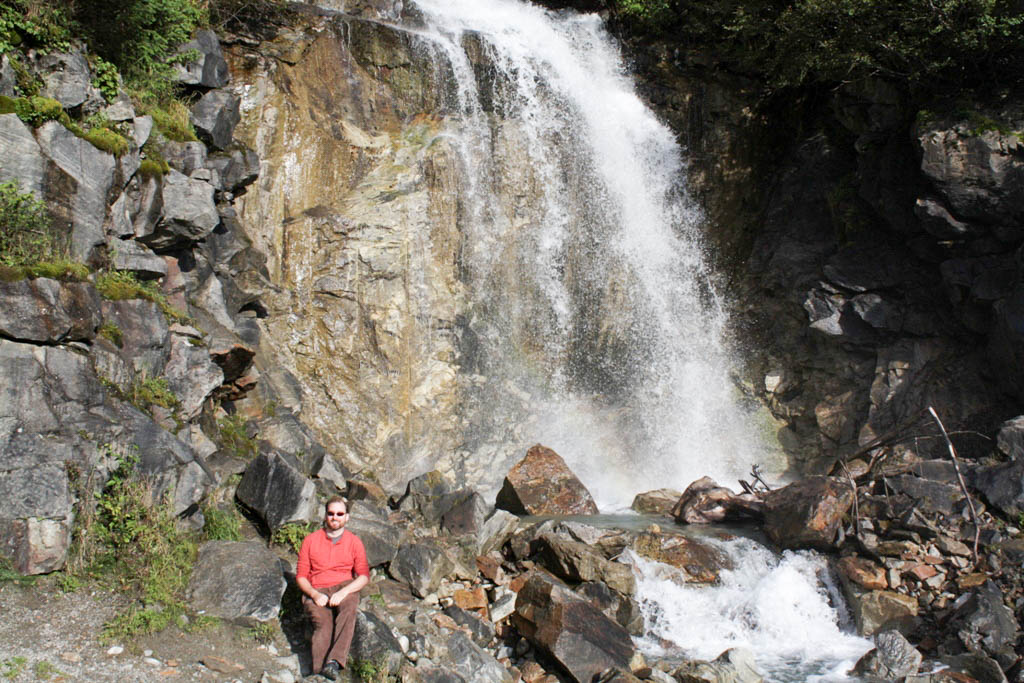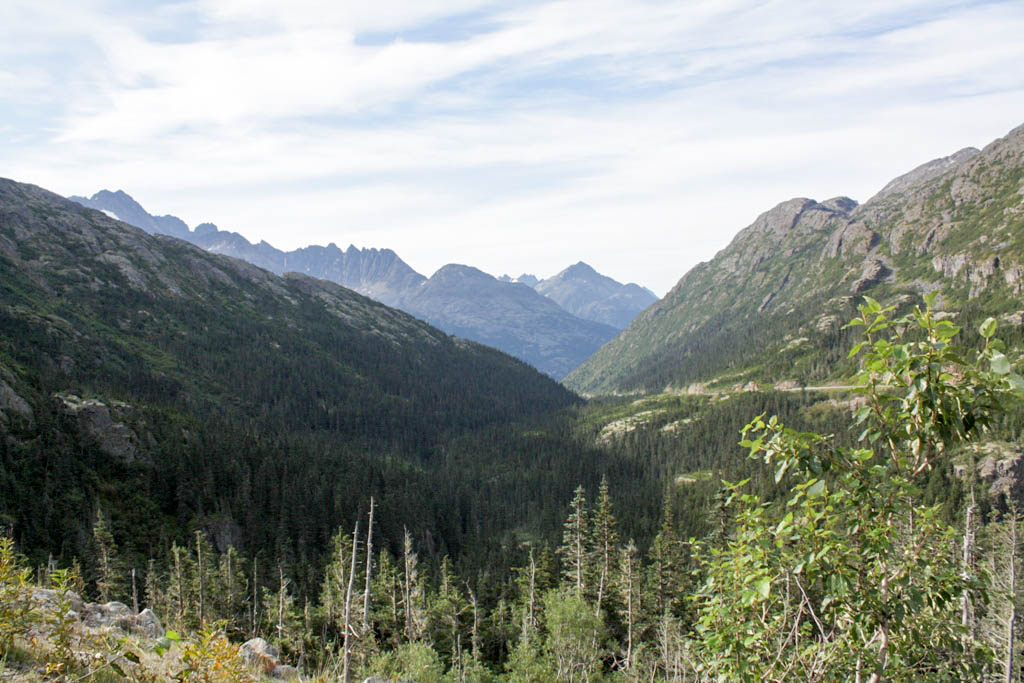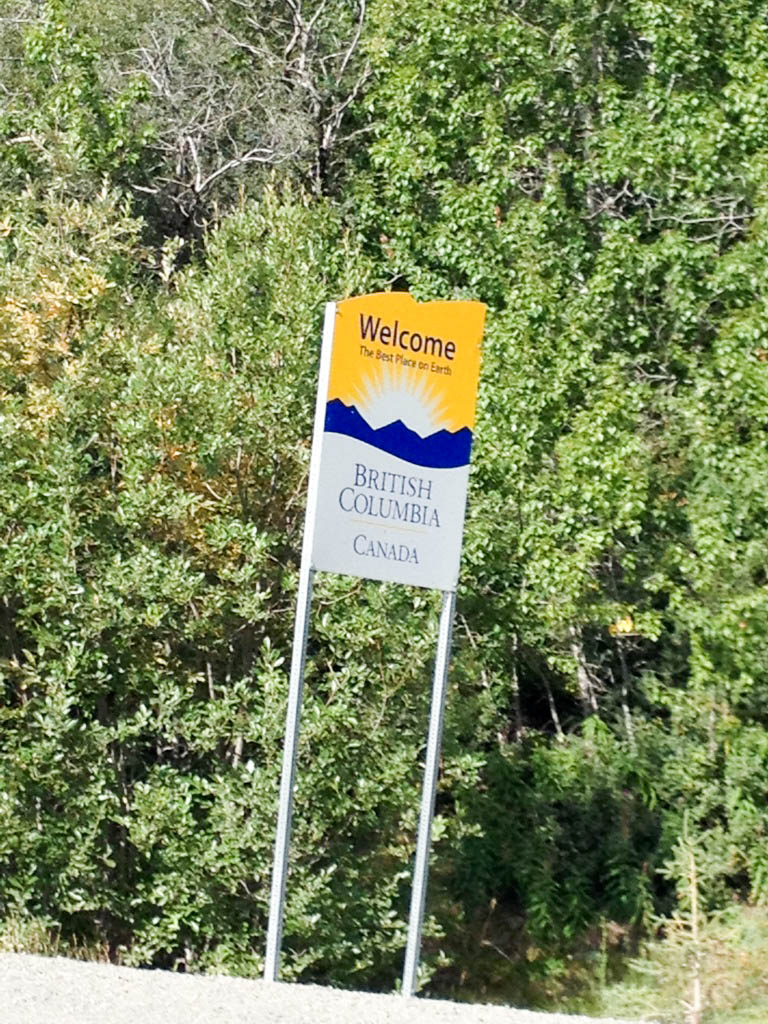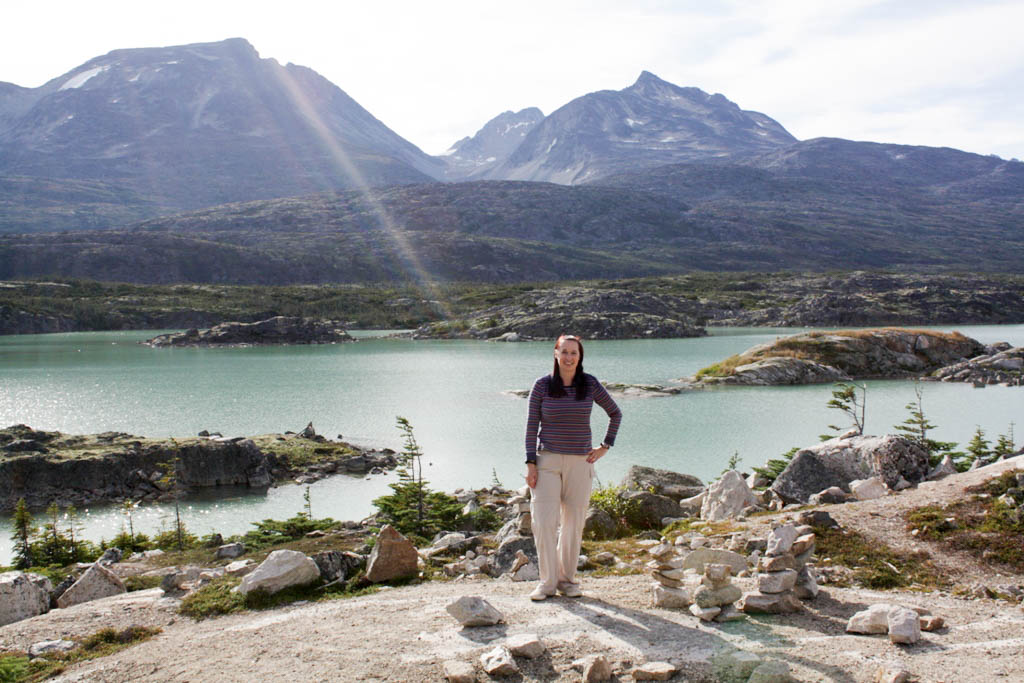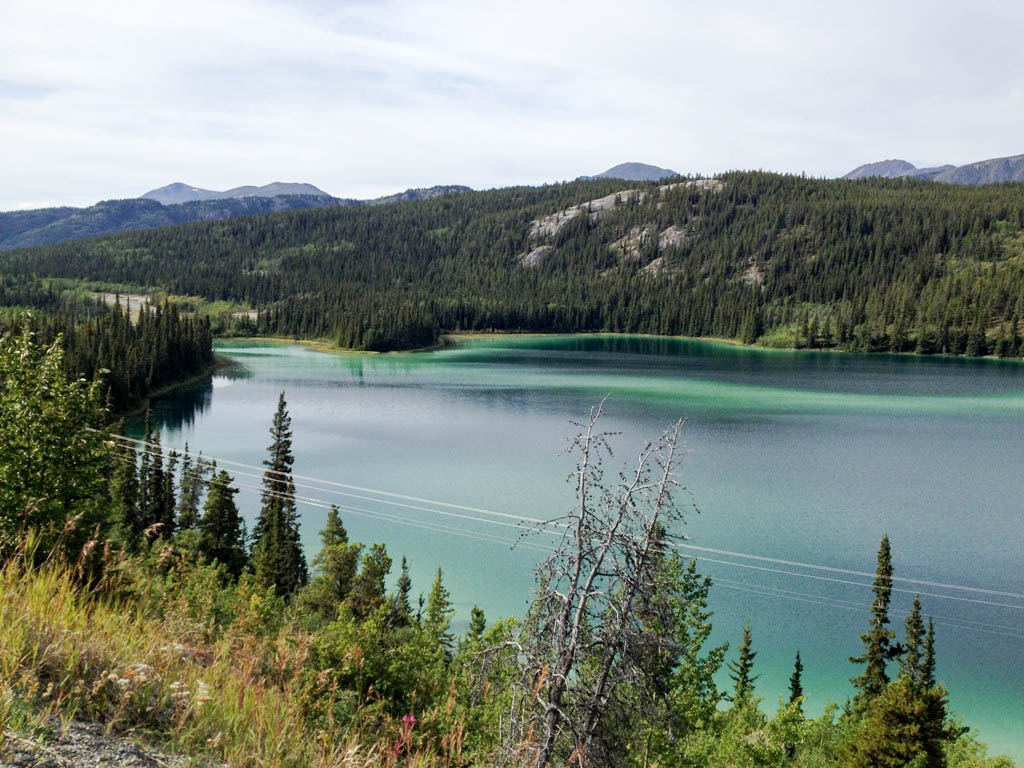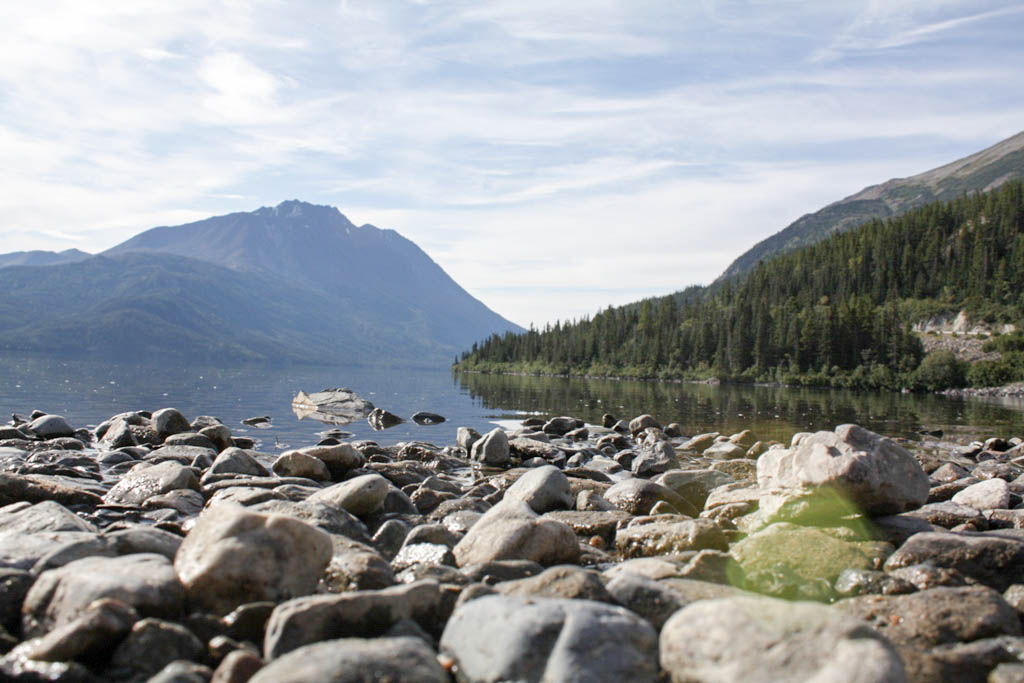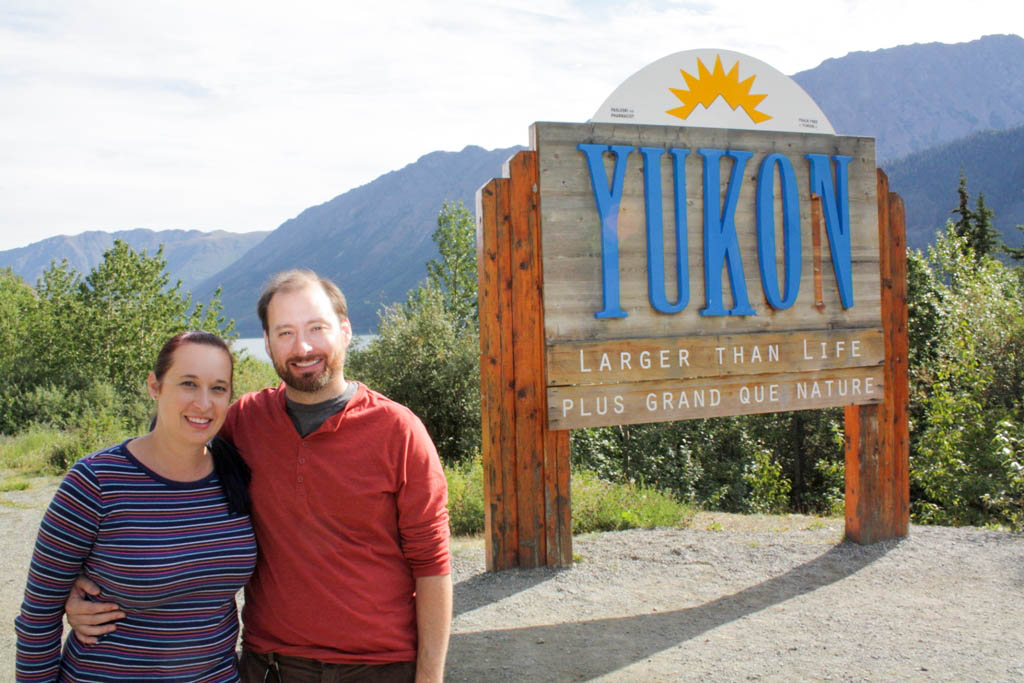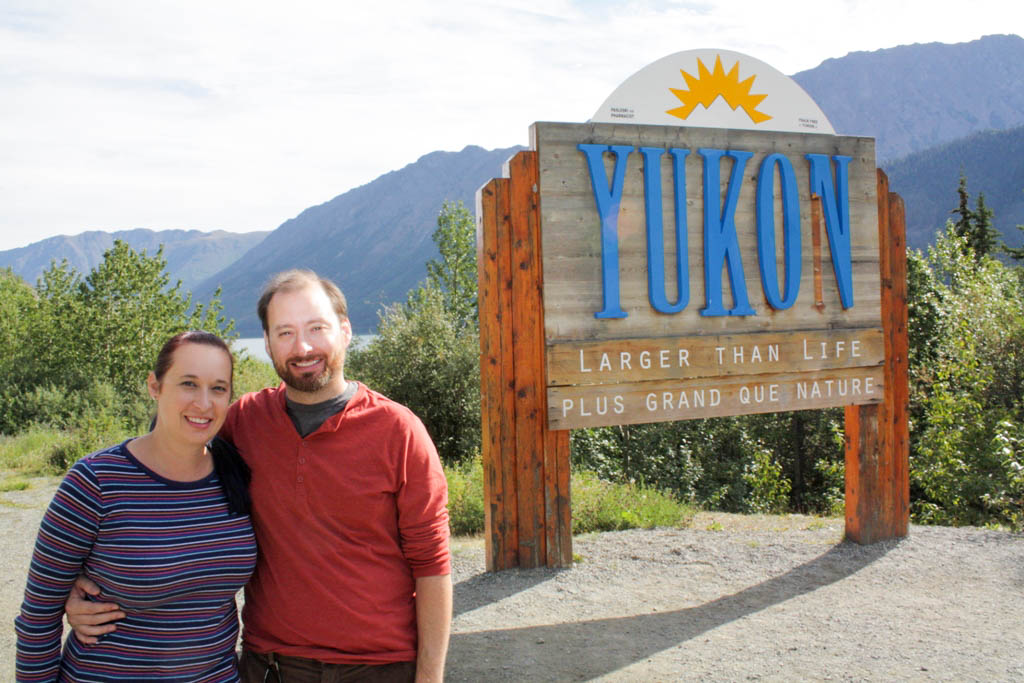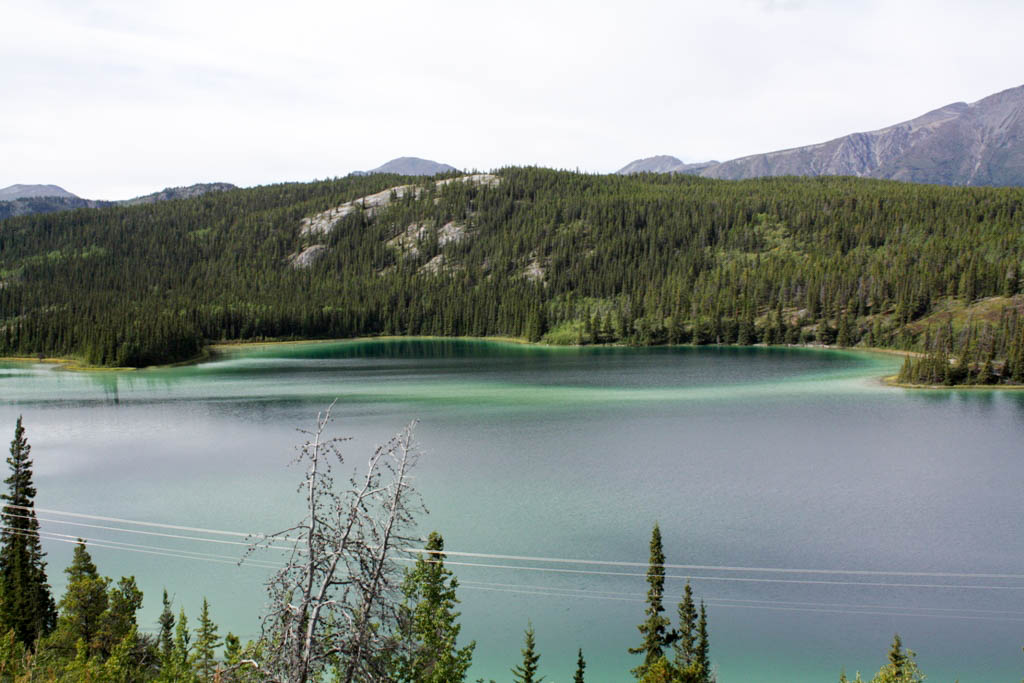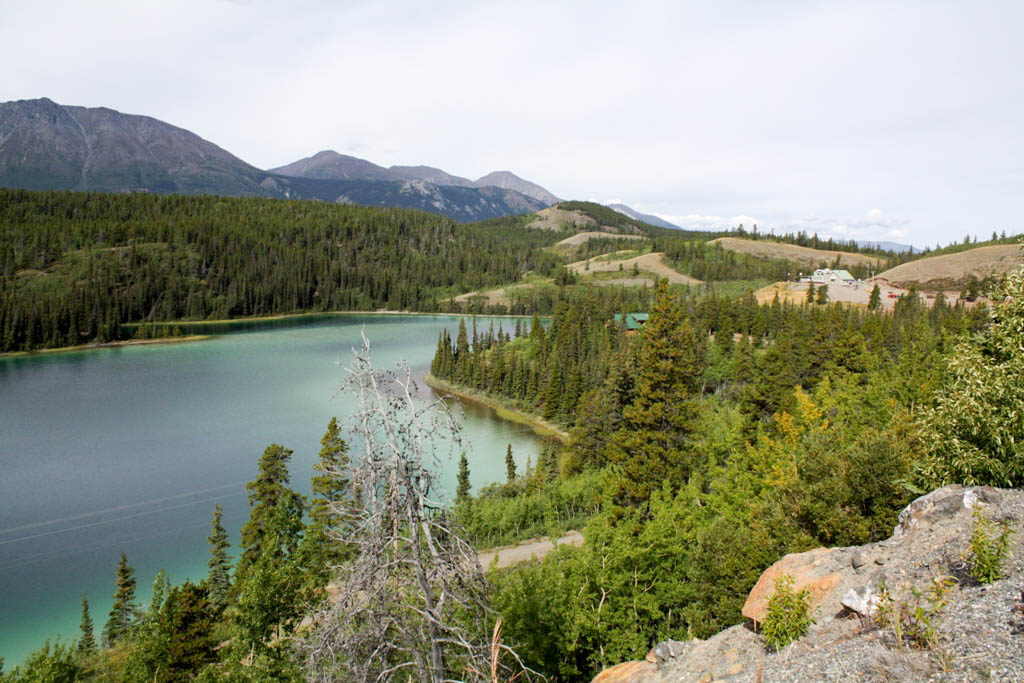 In case you're wondering where the excursion goes, exactly, here is a map from Frontier Excursions. The teal line shows the highway and the black line shows the railroad.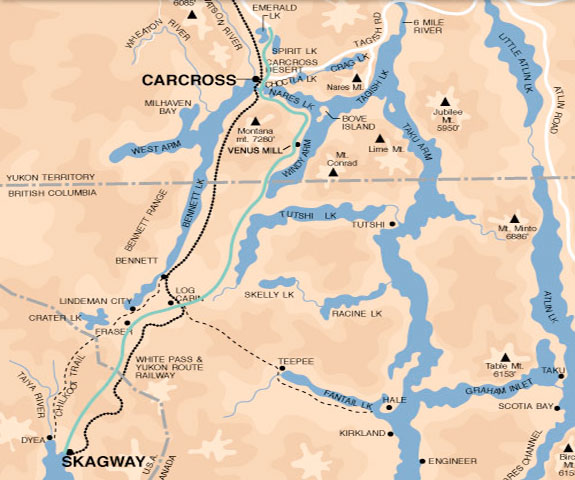 We ended the bus portion of our tour in Carcross, a very small town. We had a few minutes for a restroom break and souvenir shopping before boarding the train for the second leg of our journey.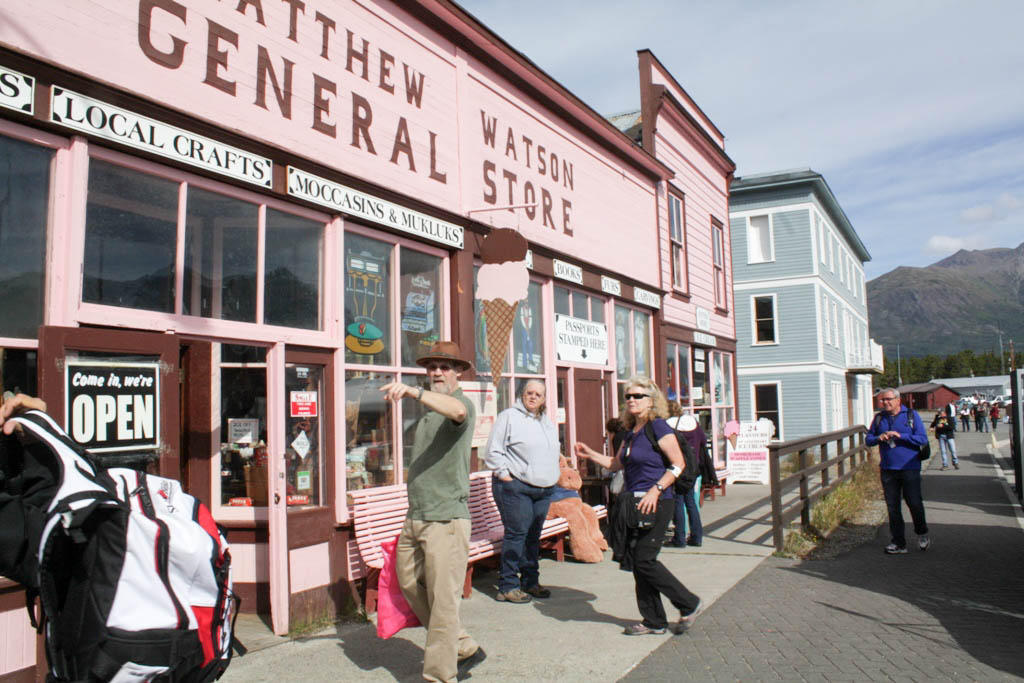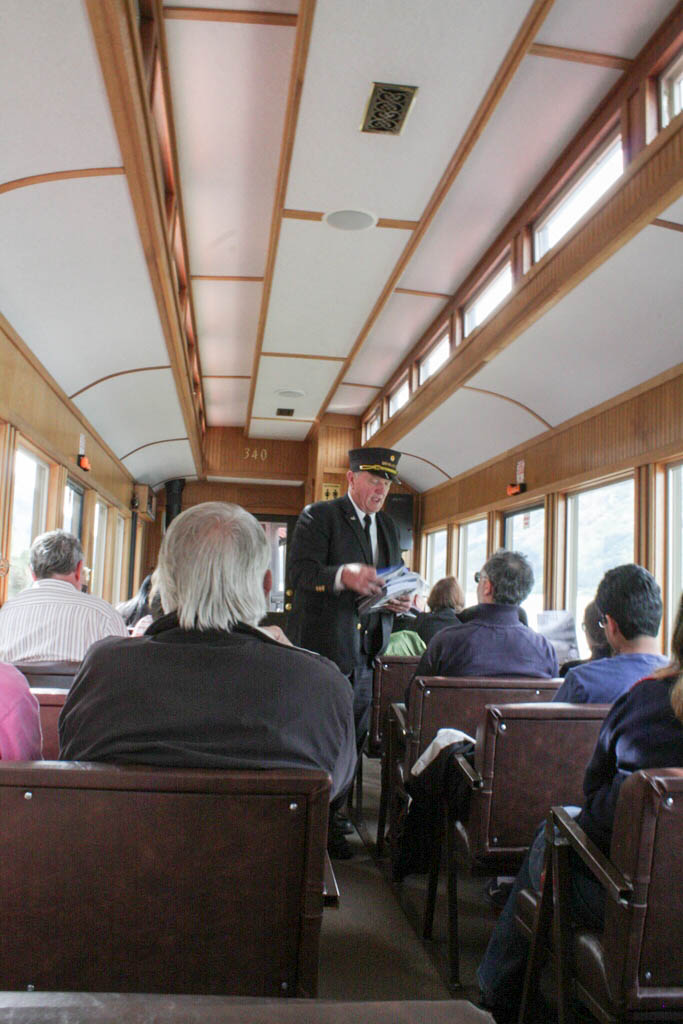 We stopped in Bennett, British Columbia where we ate at the Bennett Station House. Reviewers raved about the beef stew served for lunch and I was excited to try it … until I discovered it was FULL of corn! Not just a little bit; there was more corn than beef in the bowl. Ah well. After lunch we had about an hour to explore this isolated area, which is only accessible by the train or by hiking the Chilkoot Trail. Our WP&YR guide explained we would be picking up some hikers – perhaps, very smelly hikers – but the railroad has a train car reserved just for them.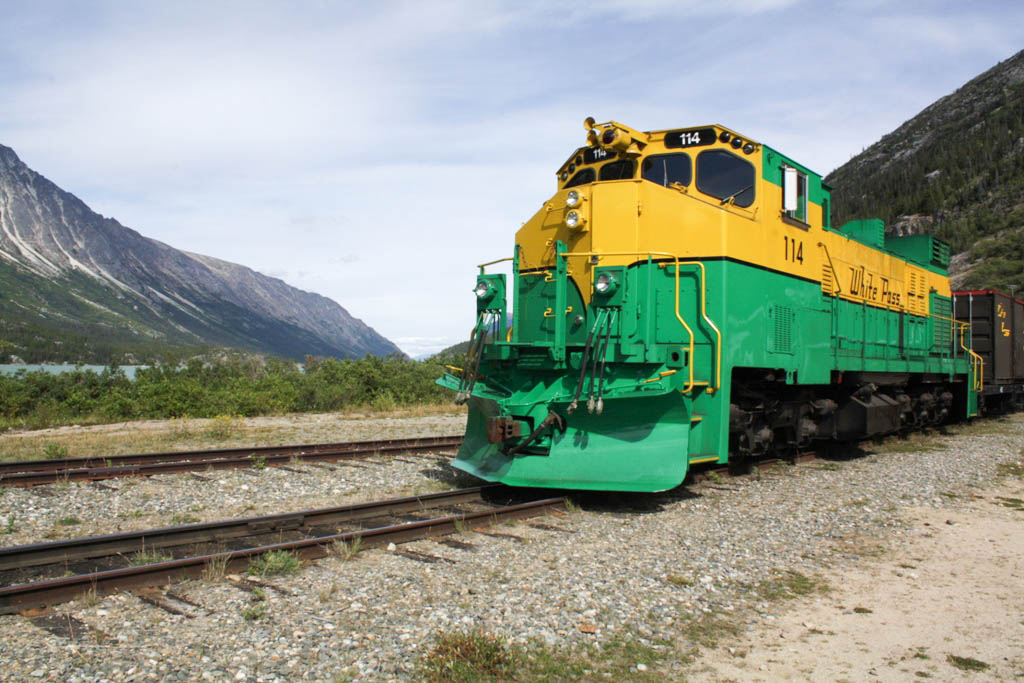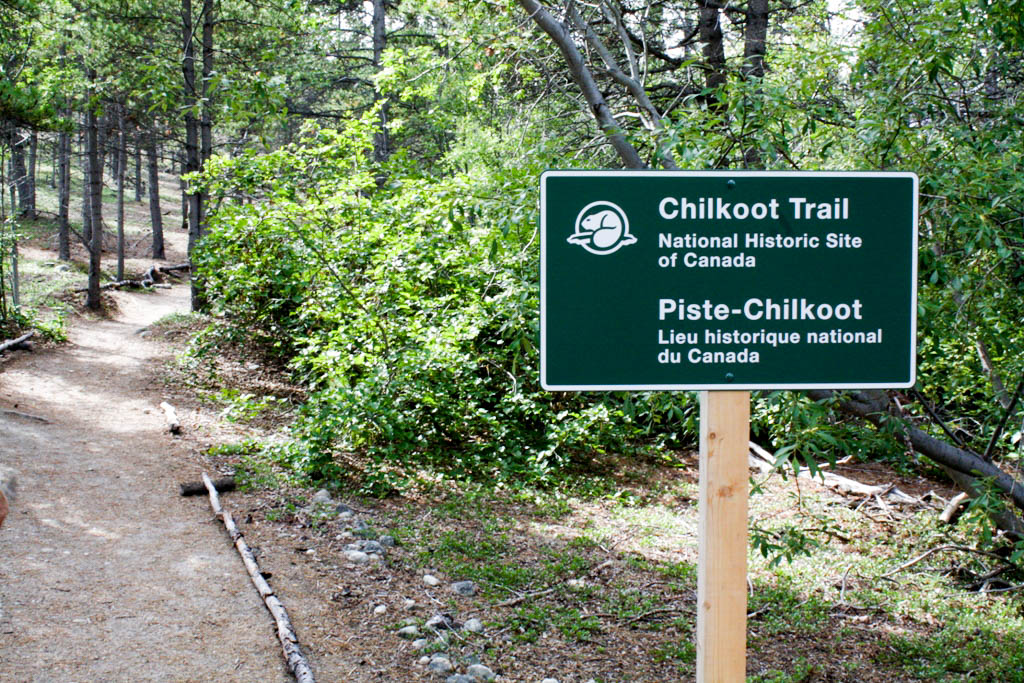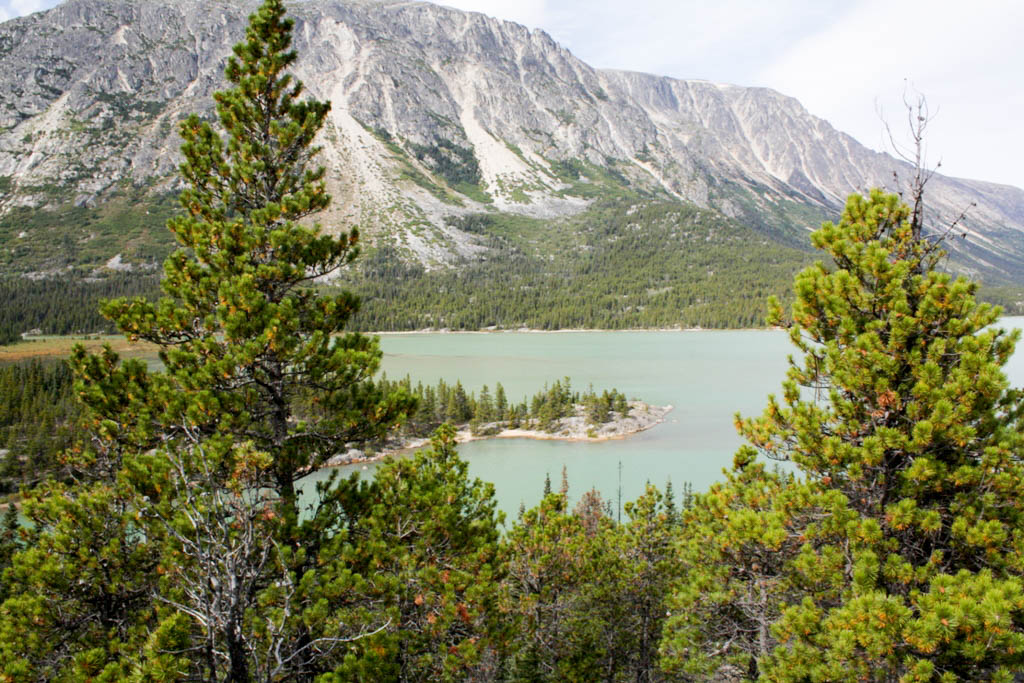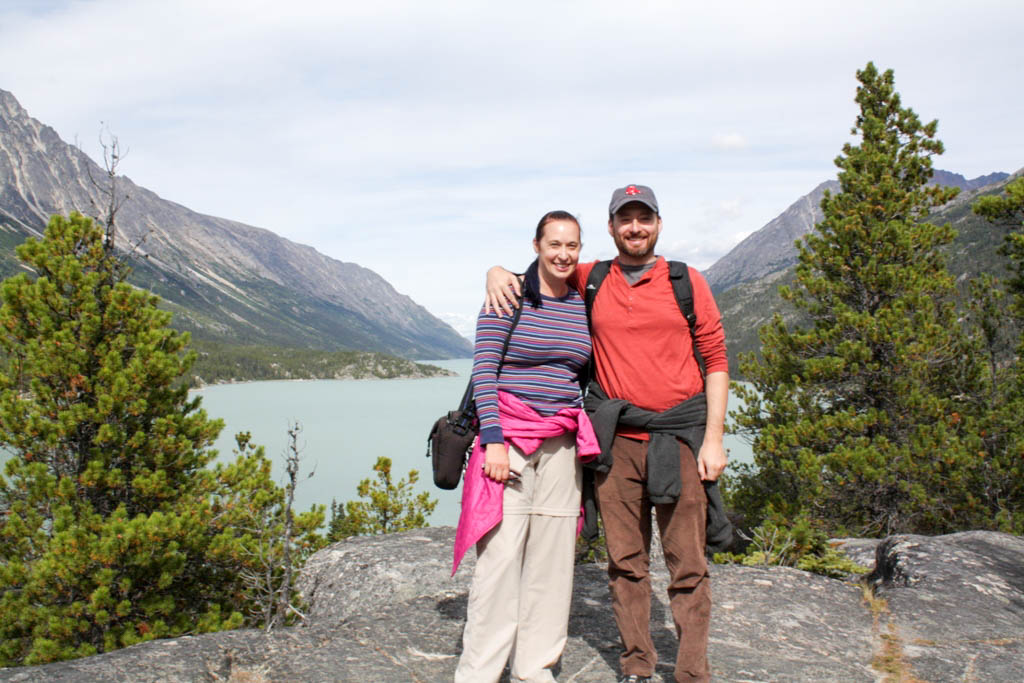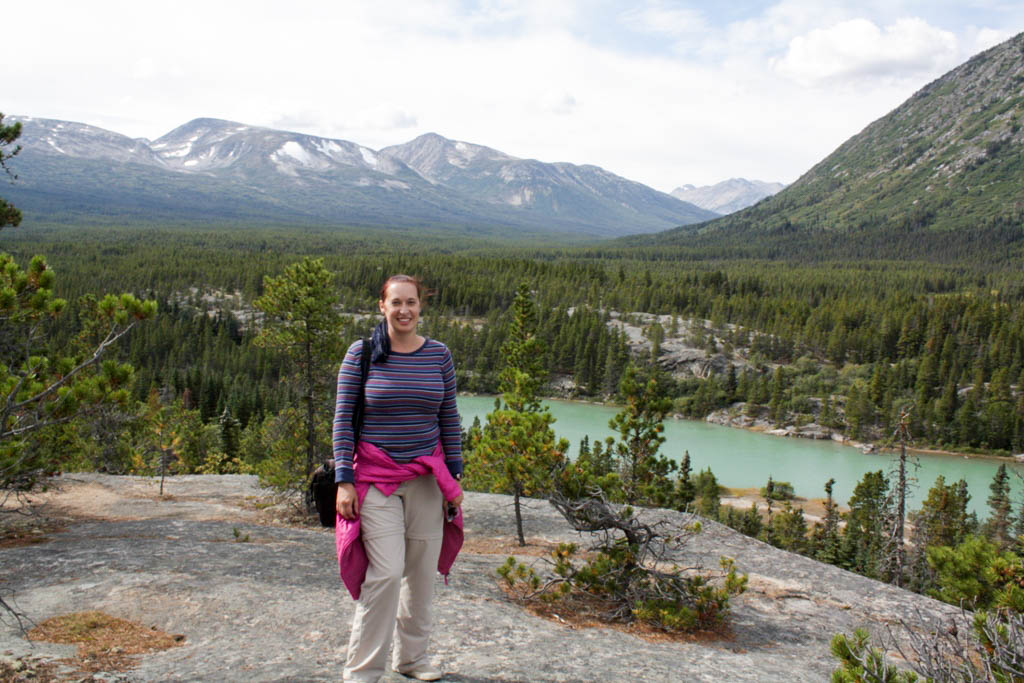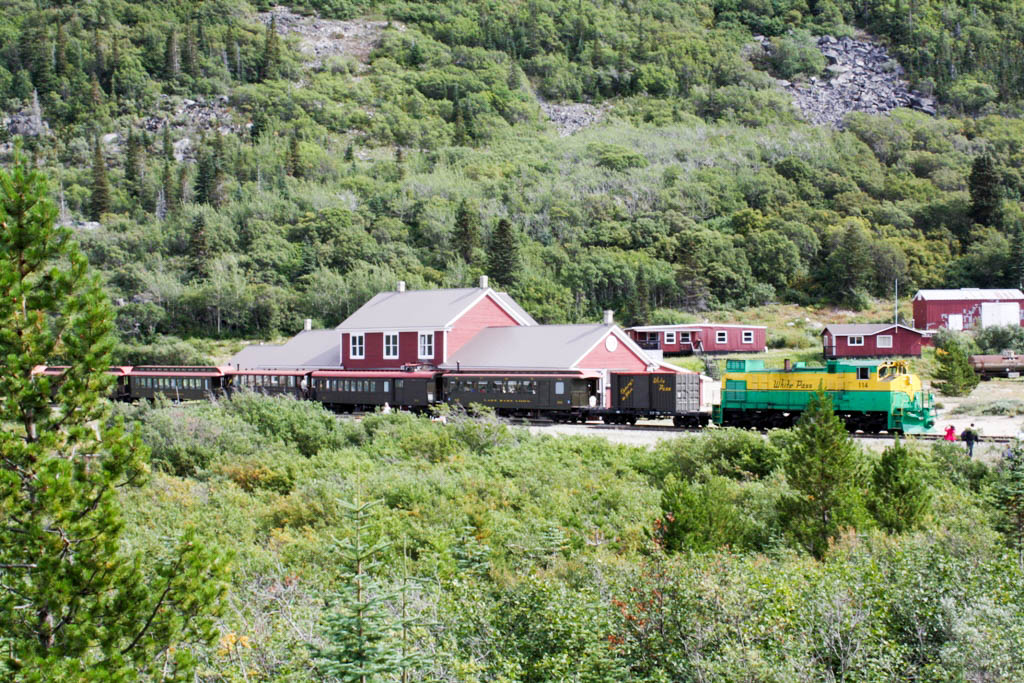 After lunch, we got back on the train for the final trip back to Skagway. I'll let the pictures speak for themselves. They don't call it a scenic railway for nothing.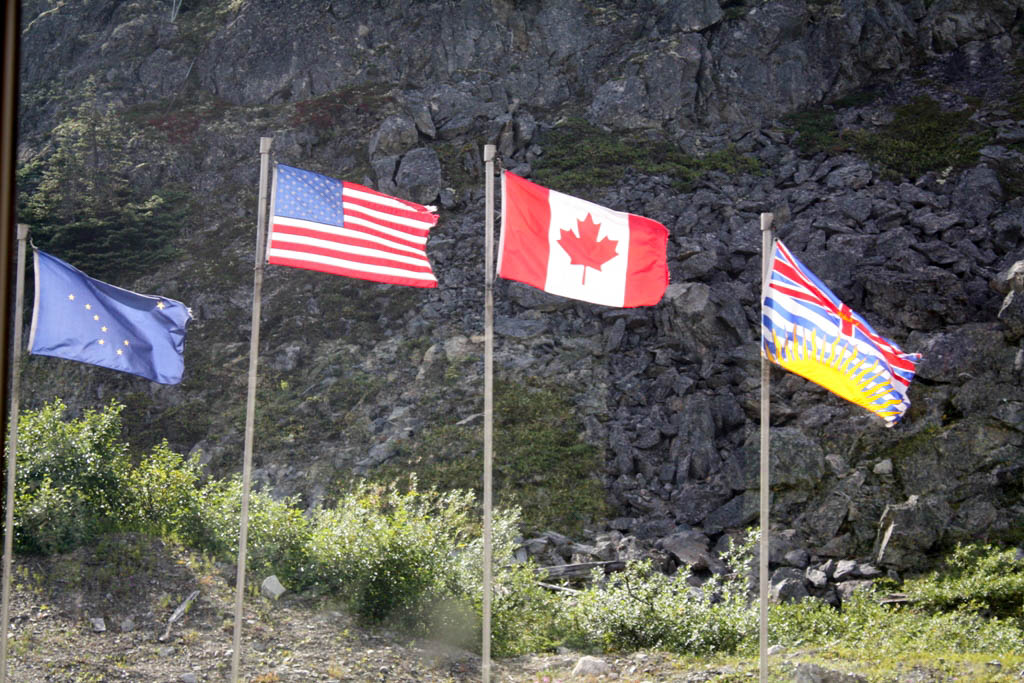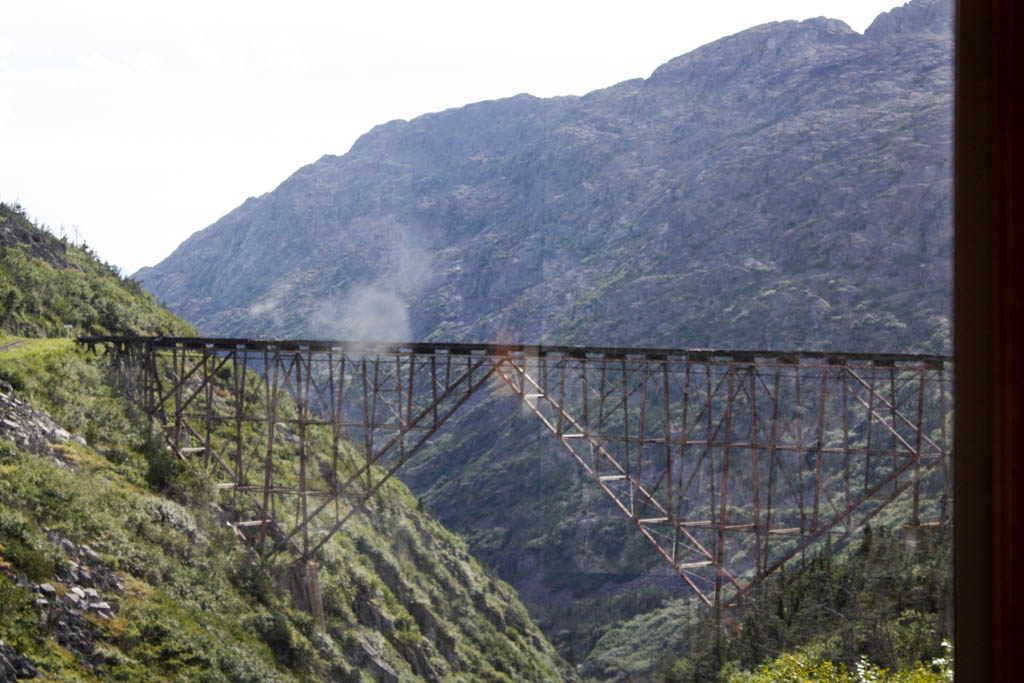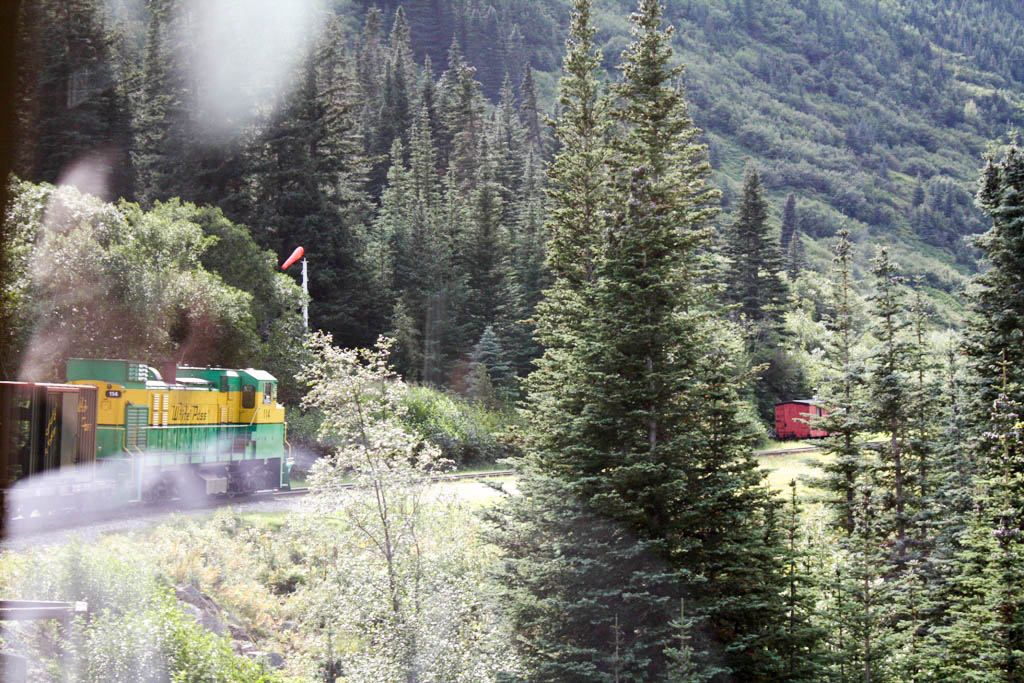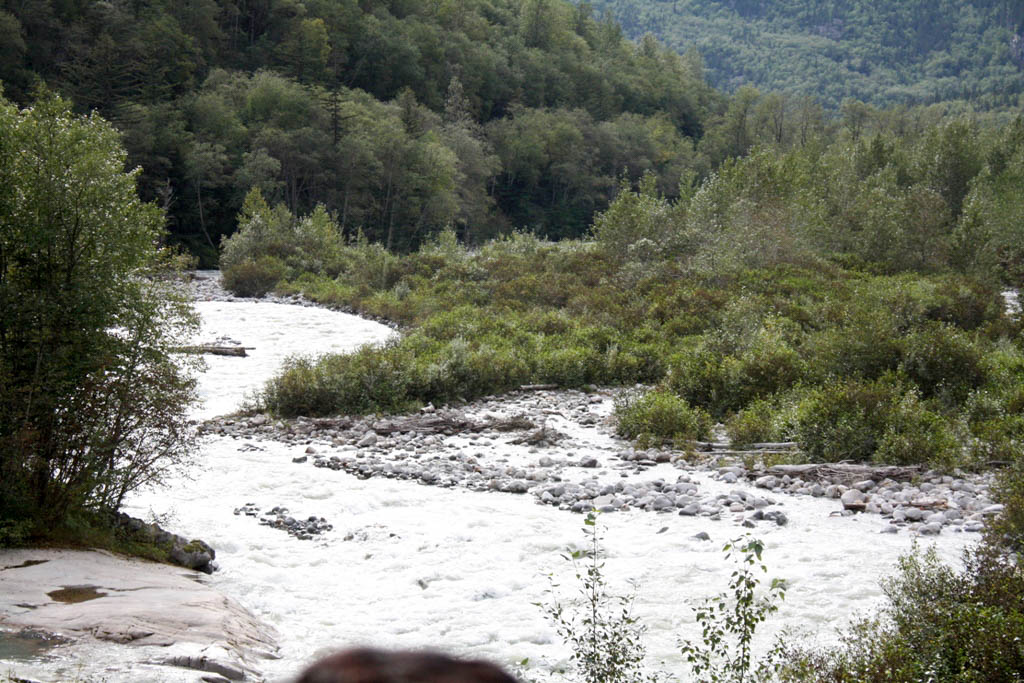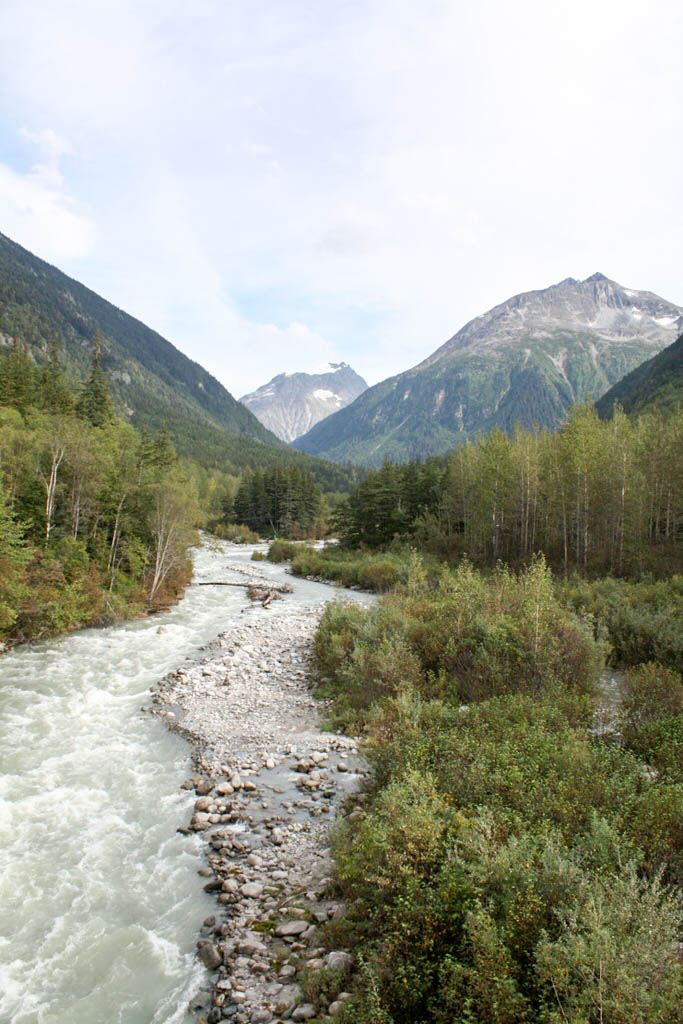 After spending a couple hours on a bumpy train, I was very happy when we arrived at the Skagway train depot. Plus, I was famished after my light lunch. Back when Mike from Chilkoot dropped us off at the train in Carcross, he said he would meet us back at the train station and bus us back to the port, if we wanted. I was interested in seeing the Gold Rush Cemetery, which was about a 2 mile walk from the station. Mike said there was some policy that prevented him from taking us directly there, but he could transport us part of the way, which was just fine for us. While in the bus, we asked him for dinner recommendations since he was a local. He recommended Skagway Brewing Company and also recommended a couple good beers for Mr. BFT. We made a note of it and tipped him again for the ride.
The Gold Rush Cemetery ended up being very small, and perhaps not worth the effort to get there (including the two mile walk back into town). And I'm saying this as a huge old timey cemetery aficionado! We really only needed about 15 minutes to walk around the whole thing and read a few tombstones. Also, the restrooms here are basically like porta potties and quite disgusting … so plan ahead.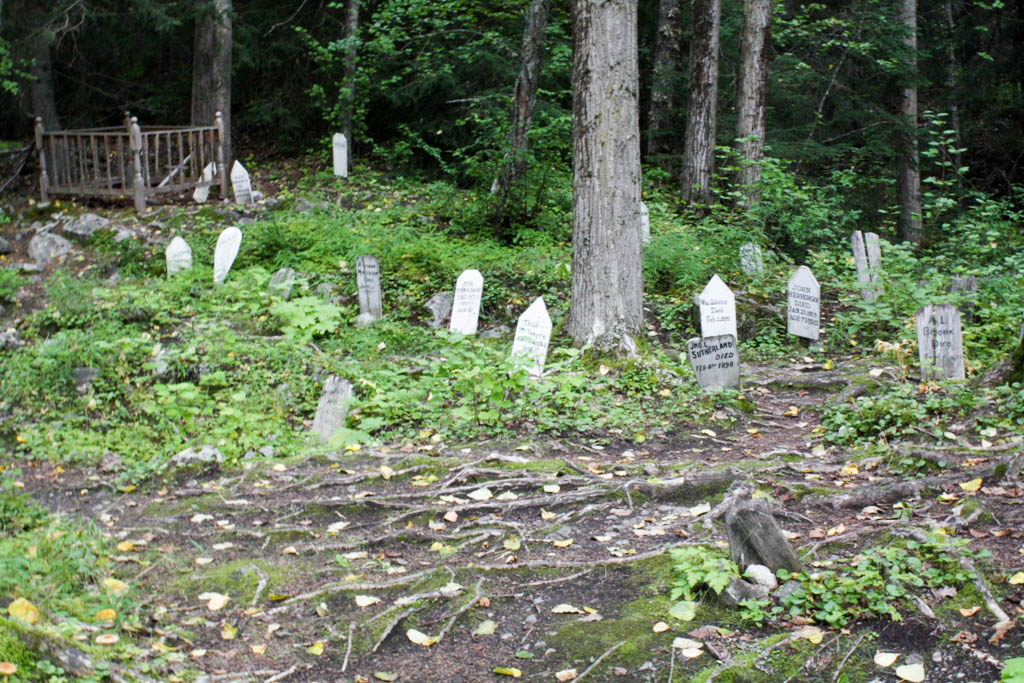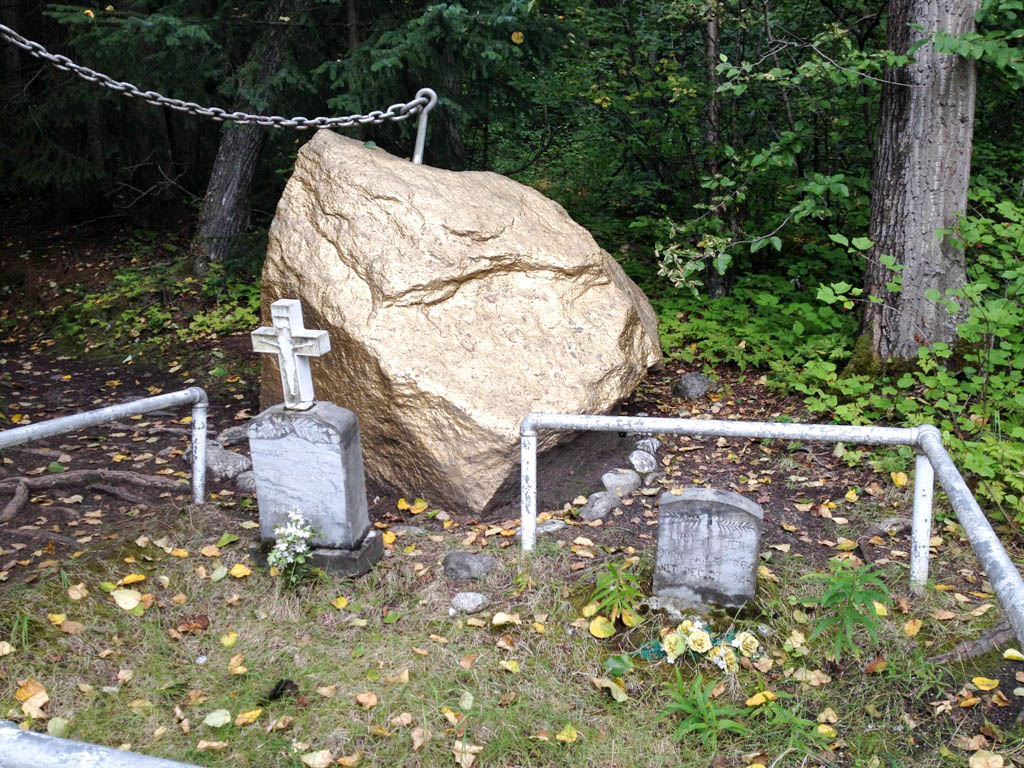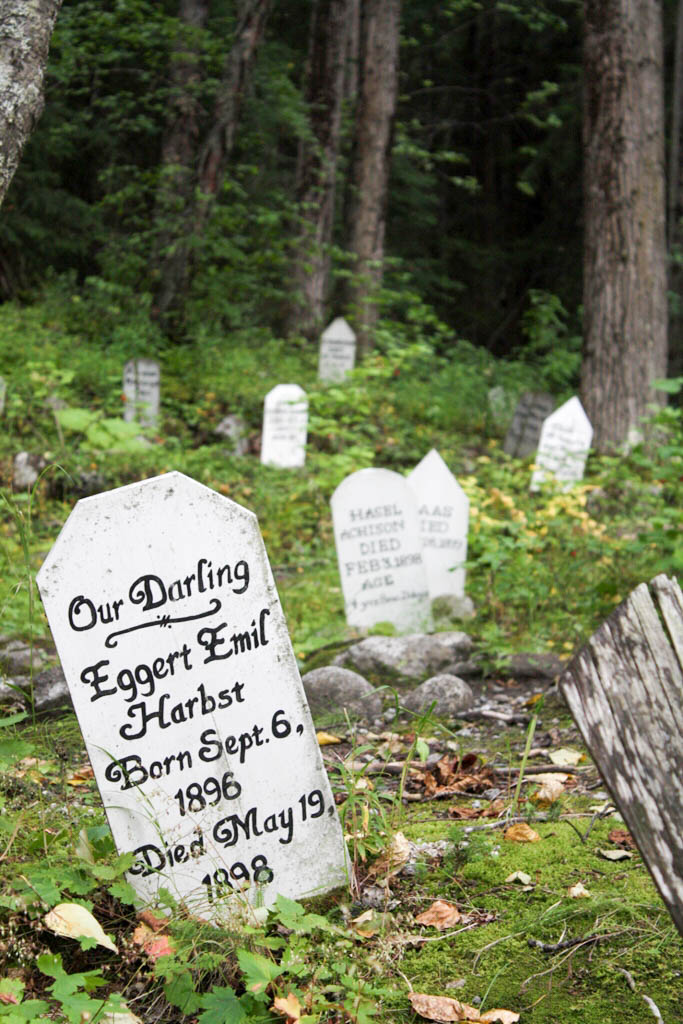 Following Mike's directions, we walked back to downtown Skagway and found Skagway Brewing Company. It was crowded but we were able to snag a table after only a five minute wait. Mr. BFT had the Spruce Tip beer as recommended by Mike, and I had a Moscow Mule since we were so close to Russia and all. For food I had the Dank Grilled Cheese and Mr. BFT had a Cheeseburger. We really enjoyed the restaurant.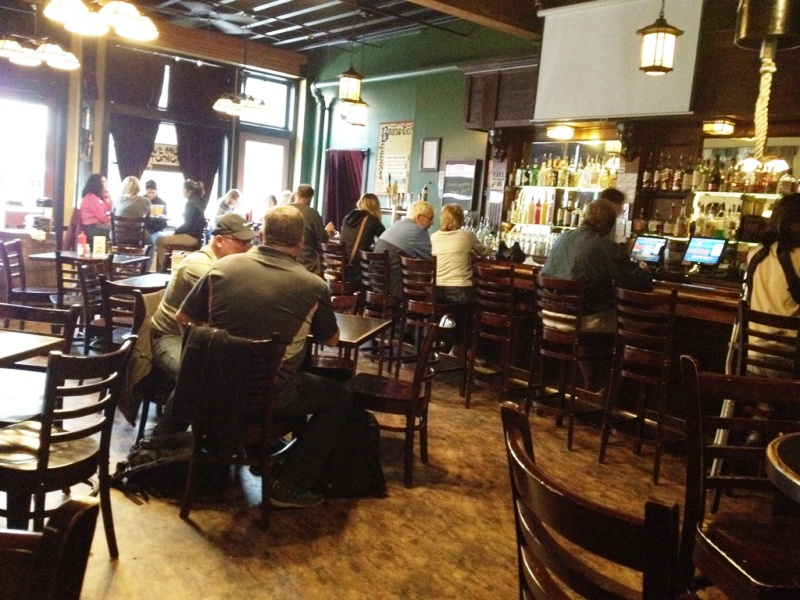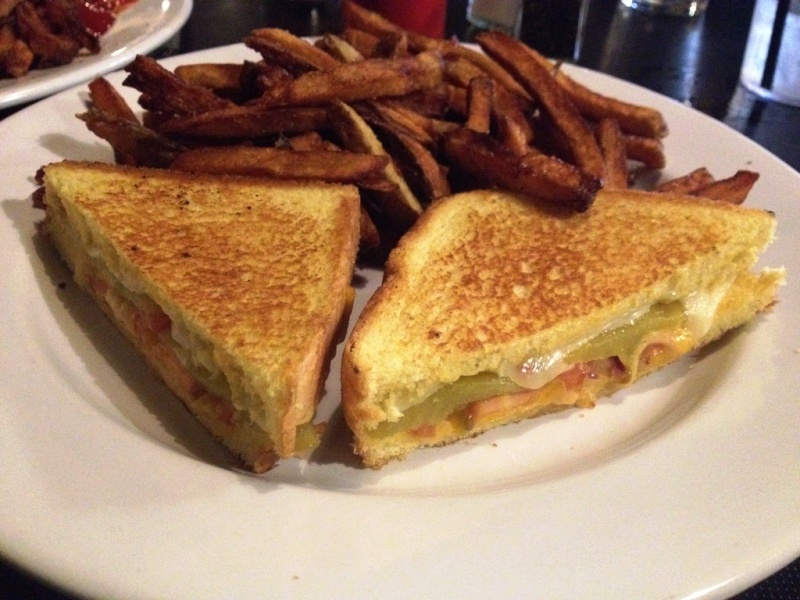 By now it was very late in the day and the town of Skagway was starting to shut down. At the last minute I decided to stop at Krazy Kone for some of their famous fudge which took a little longer than I anticipated. We ended up jogging back to the ship and I think perhaps we were the last two people to board a few minutes before the All Aboard time of 7:30 PM. By the time we got up to our cabin and looked out the balcony, they were already folding up the gangway!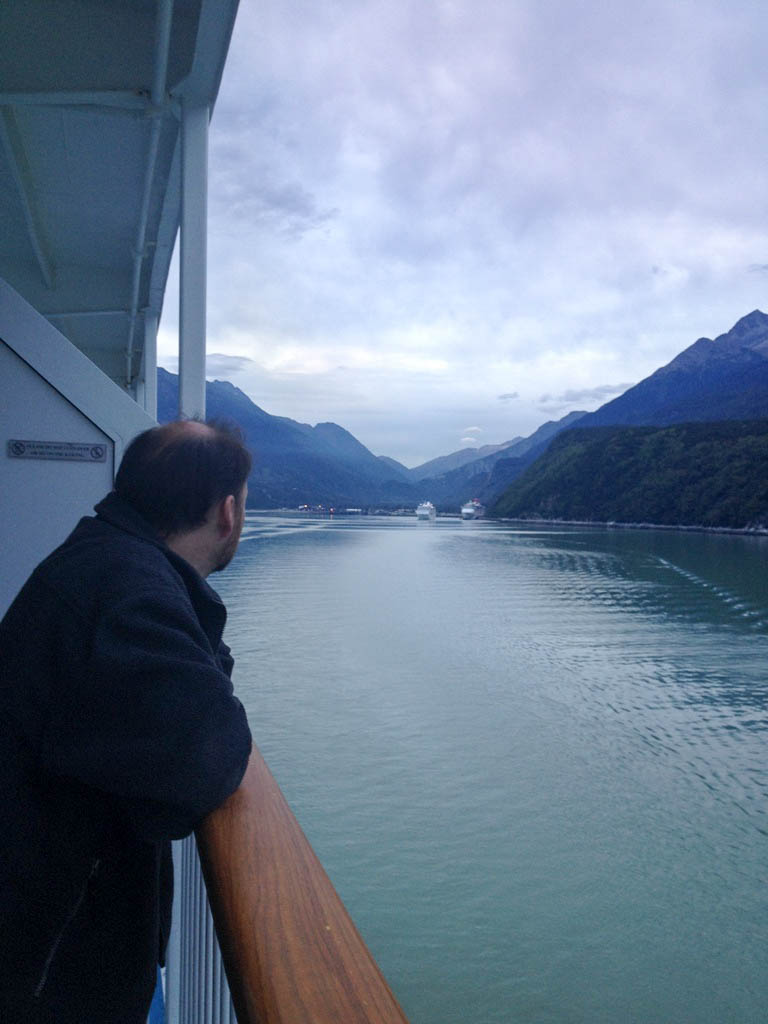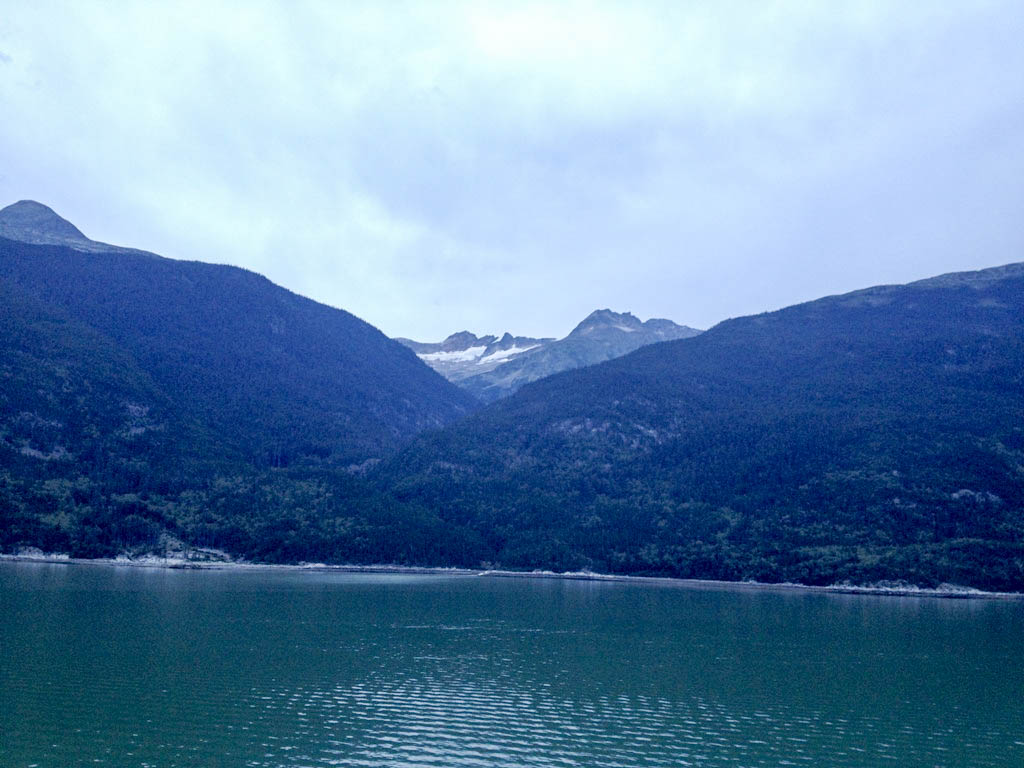 We like to sit outside on our balcony during sail away, but Skagway had a very nasty fishy smell happening. Once we got away from the dock it started to fade, and we sat out on the balcony and enjoyed our fudge and some wine for about an hour. At 8:30 I headed to the Observation Lounge for the Broadway Cabaret performance. The performers on the Sun were extremely talented and it was a pleasure to watch them sing. My only complaint was that at 30 minutes the show was too short. I met up with Mr. BFT at the Champagne Bar for another of Jonas' specialty drinks before we closed down karaoke. When we got back to the room, we had a little seal (?) towel animal waiting.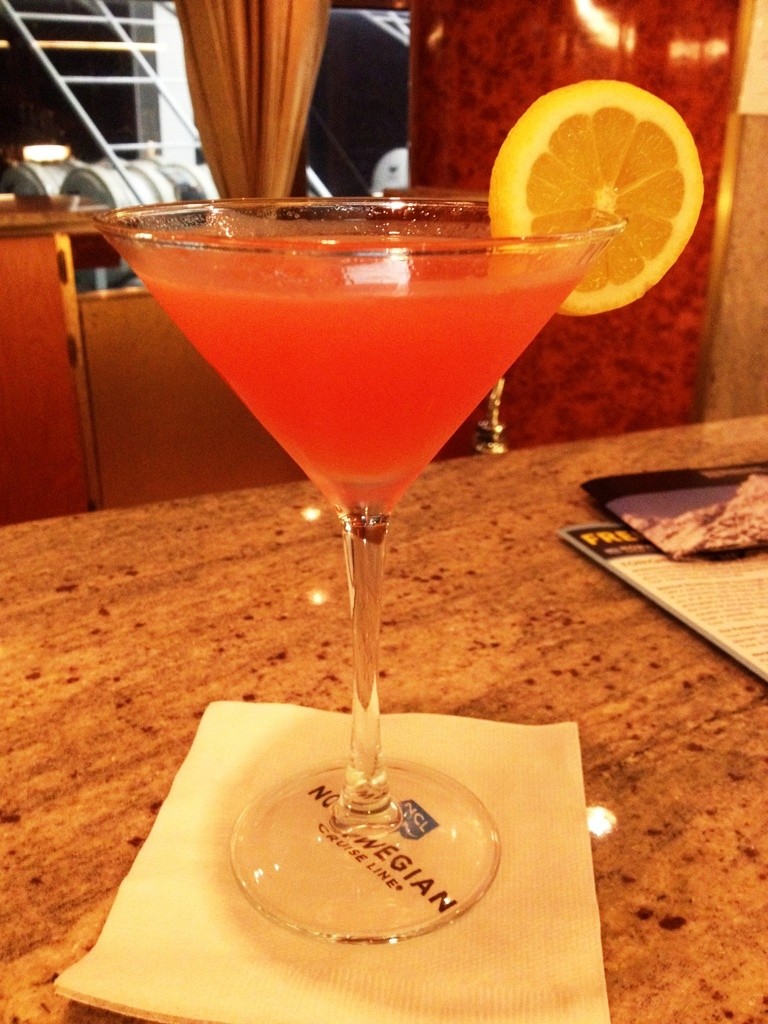 After three port days in a row, I was excited to stay on the ship the next day, although it wasn't your typical Sea Day! We were going to be cruising through Glacier Bay and I couldn't wait to see what it would be like.
Alaska Cruise Past Chapters:
All Aboard the Norwegian Sun
Day 1 – Exploring Vancouver
Alaska Cruise – Day 2 – Vancouver and Embarkation
Alaska Cruise – Day 3 – Sea Day
Alaska Cruise – Day 4 – Ketchikan
Alaska Cruise – Day 5 – Juneau