St. Patrick's Day is one of my favorite holidays. It's no secret that I love the booze. I don't go crazy but I think it's fun to have a themed drink when the occasion calls for it.
This article contains affiliate links, which means I may earn a commission if you make a purchase.
I'm so excited to be partnering with Cruzan Rum this year to bring you a couple St. Patrick's Day inspired cocktails! First up is this delicious and refreshing concoction which I have named the Tropical Shamrock cocktail.
If you're tired of winter and dreaming of somewhere warm and sunny, this is the perfect drink for you! The key ingredient in this drink is the Cruzan Passion Fruit Rum. Oh my goodness, it smells so amazing! It could honestly be good (and just a little dangerous) served by itself over ice. But mixed with pineapple juice it's a true tropical delight.
Tropical Shamrock Cocktail
2 ounces Cruzan Passion Fruit Rum
6 ounces pineapple juice
1 ounce Blue Curacao*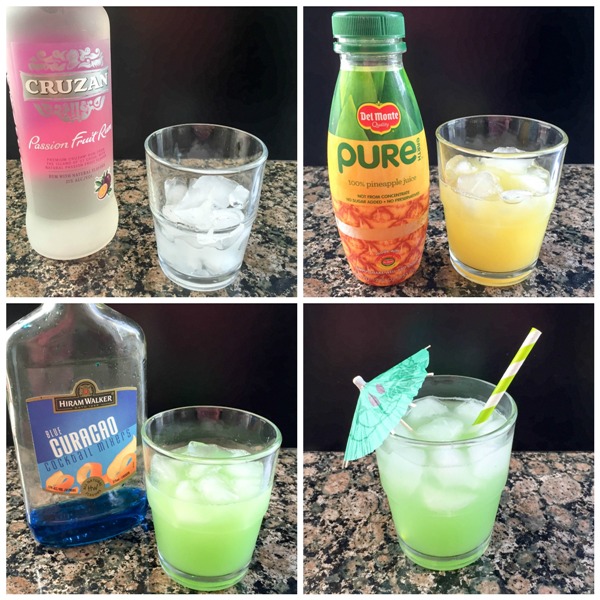 Over ice, pour the rum first, followed by the pineapple juice. Add the Blue Curacao and mix well. If the drink isn't green enough, add a little more Blue Curacao until you get the desired shade. It should be a cloudy light green! Conversely, if you add too much blue, add some more pineapple juice to balance it out. Garnish with a green drink umbrella and green paper straw!
*If you don't have Blue Curacao, you can add blue food coloring instead.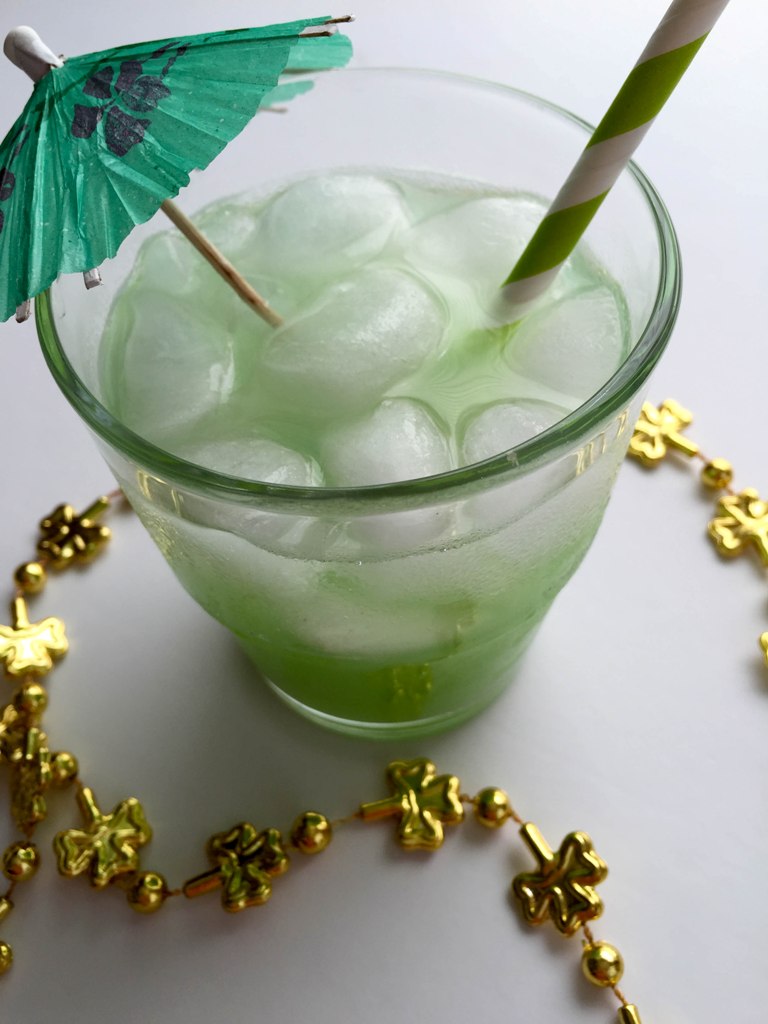 My second drink is the Pot of Gold Martini. I know technically it is incorrect to refer to a rum drink as a "martini" but I really like how the name sounds! This one has a bold taste and is quite strong. Goldschlager has a strong cinnamon taste and combined with the ginger beer, it delivers a punch. Even with the ginger beer as a base, it's more of a sipping drink. If you're a bit of a lightweight like me, you can either cut the recipe in half or serve it over ice (or both!). My favorite part are the little gold flakes from the Goldschlager, although they are difficult to see in the photos. Trust me, they are there!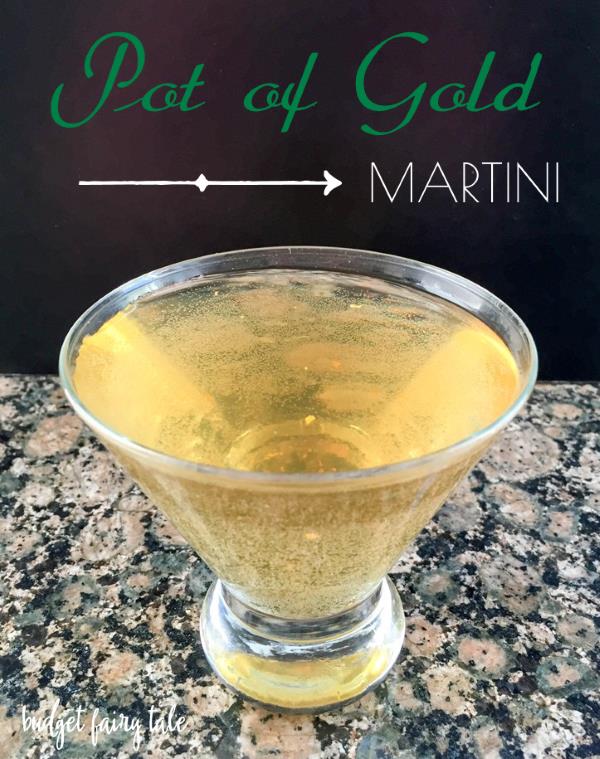 Pot of Gold Martini
6 ounces ginger beer
2 ounces Cruzan Estate Diamond Dark Rum
1.5 ounces (or 50ml "nip" bottle) Goldschlager
(Optional) Edible gold flakes for the glass rim or float on top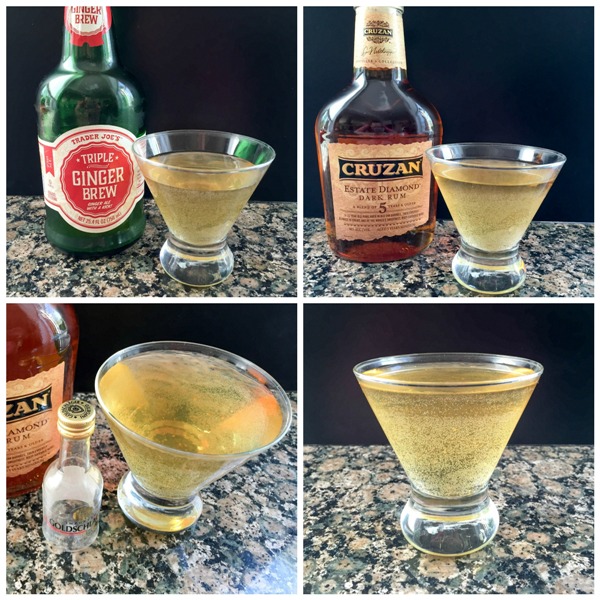 Pour the chilled ginger beer into a martini glass, then add the rum. Stir well. Pour the Goldschlager on top of the drink, slowly. Try to get some of the gold flakes in there (this is why I recommend using the "nip" because you're guaranteed a few gold flakes). Stir just a little bit and serve.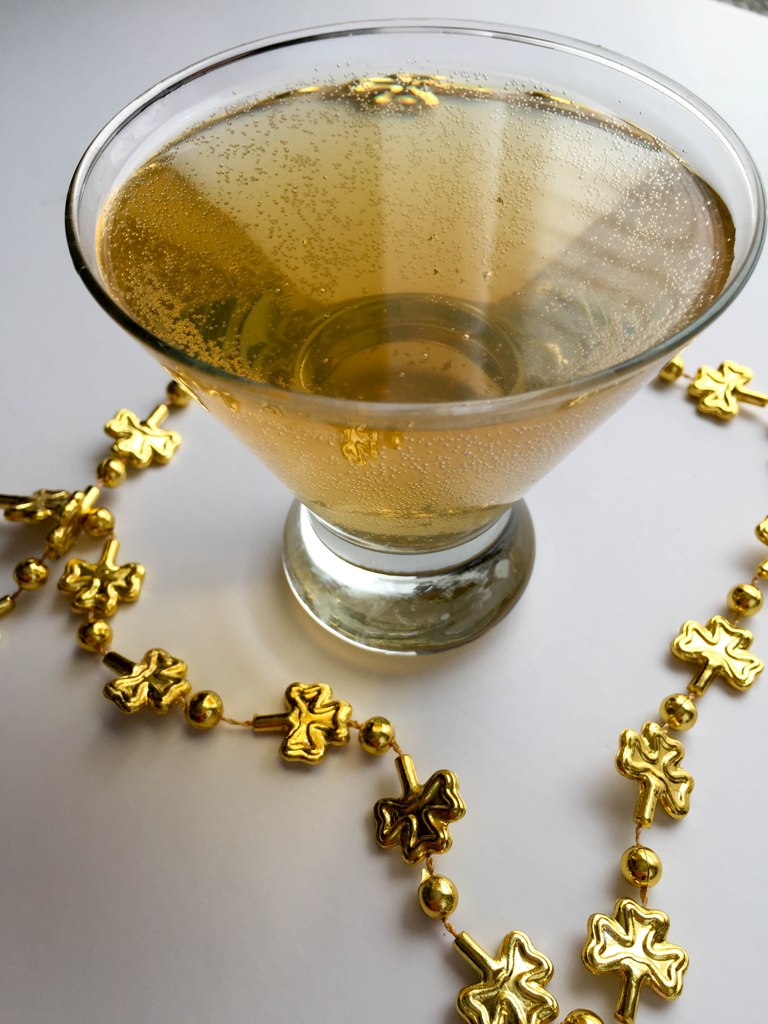 If you're going tropical or strong or sober, I hope you have a wonderful St. Patrick's Day! Thanks again to Cruzan rums for helping me with this post!
This article was originally published in March 2015 and has been updated.