This post contains affiliate links.
I've been making my own running sparkle skirts for a couple years now. It started when I wanted a pink skirt for my Lady Vadar running costume and couldn't find exactly what I wanted, so I set out to make my own. That first prototype was sloppy but was good enough. Since then I've made a skirt in silver, and blue, and black rainbow, and green. And now after a lot of experimenting I'm finally confident enough to share a tutorial for them. These skirts are not going to look exactly like the professional ones, and you'll need to wear running shorts or a skirt underneath, but they get the sparkly job done and for MUCH less money. And you don't need a sewing machine at all (although if you know how to use one, it may make some steps easier/faster). If you have about $10 and an afternoon to spare, you can certainly make your own running sparkle skirt overlay!
DIY Running Sparkle Skirt Tutorial
Here's what you need:
Supplies:
Two yards of sparkle fabric in your choice of color. (Two yards should work for up to size 14.)
1″ white elastic, enough to snuggly wrap around your waist plus a couple extra inches. (I'm a size 12 and I use 36 inches total.)
3/4″ Heat n' Bond
Iron
Sewing thread to match the fabric
Sewing needle
Scissors
Steps
Step 1: Cut the sparkle fabric in half, so you have two pieces of fabric one yard width each.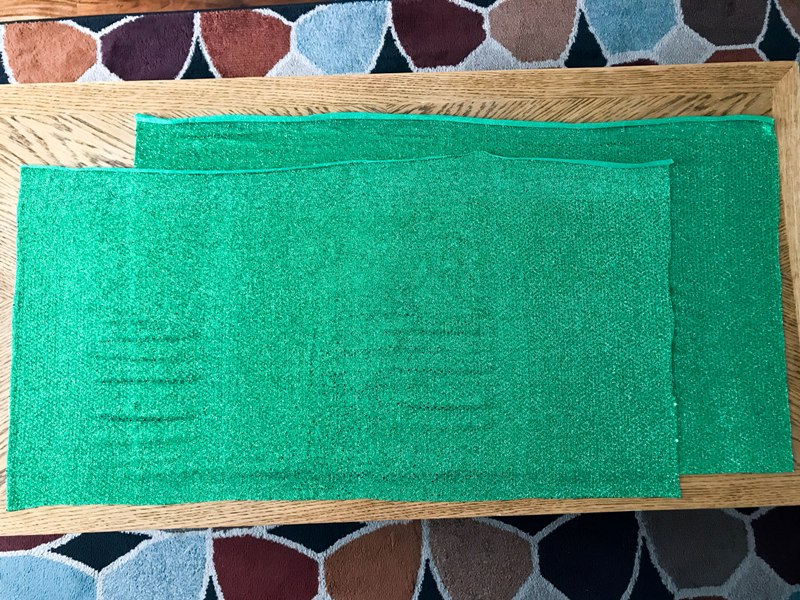 Step 2: Pre-heat the iron using the Polyester setting. Using the Heat N Bond, you are going to create a loop at the top of the skirt to run the elastic through. Measure out one yard of Heat N Bond and place it on the backside of the sparkle fabric near the top of the fabric. Fold the top of the fabric down over the Heat N Bond leaving at least one inch of space for the elastic to run through. Use the iron to press down on the fabric, activating the Heat N Bond. Allow to cool for five minutes or so, then check for any loose spots you might need to go over again. Repeat for the second yard of fabric.
Step 3: Measure the elastic to your waist where you want the skirt to sit, then add a couple inches and cut. The elastic should be snug but comfortable. You don't want the skirt to be too loose it falls down when running, but you also don't want it to be too tight and uncomfortable.
Step 4: Take one piece of the sparkle fabric and thread the elastic through the loop you created at the top. It's easiest if you secure one end of the elastic to a table (using painters tape or something really heavy) and then bunch the skirt down the elastic. It might also help if you put a safety pin on the other end of the elastic to help guide it through the loop. Once one piece of fabric is bunched up and the elastic is all the way through, repeat with the other piece of fabric. Make sure the fabric is bunched together as much as possible and you have a secure grip on the two ends of elastic.
Step 5: Now you want to sew the ends of the elastic together to form the skirt. This is why you added a couple inches extra to the elastic when you measured! Layer the ends on top of each other and start sewing them together. This part will ultimately be hidden by fabric so it doesn't have to be pretty. I use several stitches, going back and forth and up and down and over again, because I want it to be nice and secure. If you have a sewing machine you could do this part much faster, I would imagine. (Note – you could also sew velcro to the elastic and secure the skirt that way. I tried this one and didn't care for it since the fabric didn't want to stay over the velcro and kept wandering. But, it is an option.)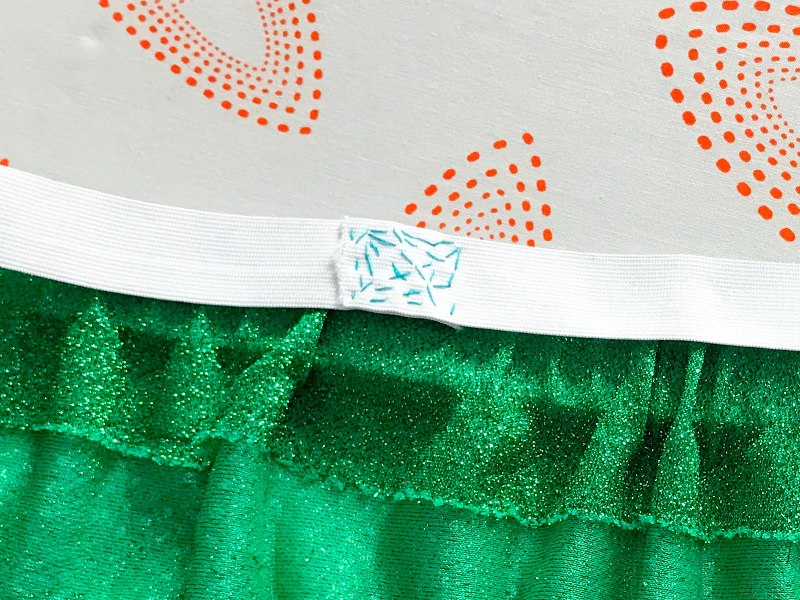 Step 6: Once the elastic is sewn together you can fan out the fabric so it covers all of the elastic, and you should now have something that resembles a skirt. Yay! At this point, I like to add a couple stitches of thread on the elastic part of the skirt where the two pieces of fabric meet, so the elastic doesn't show through. Repeat on the other side.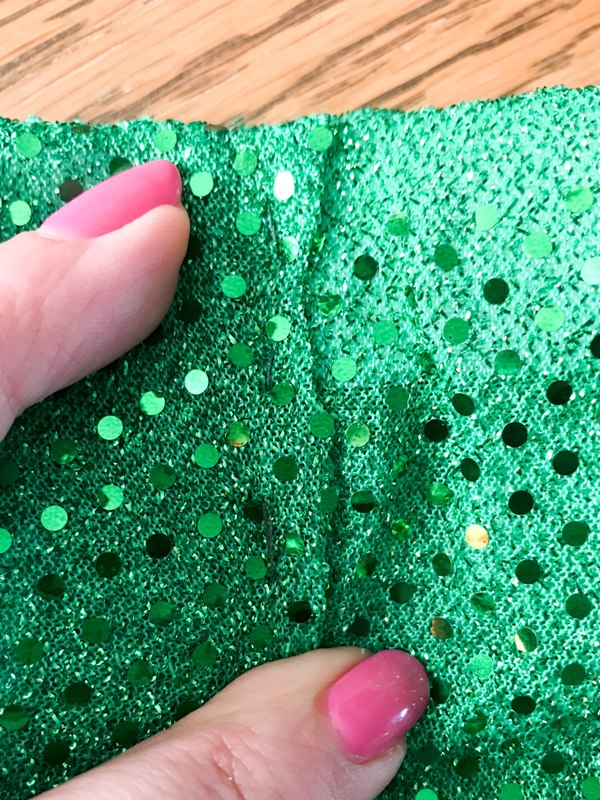 Step 7: For some extra security to keep the skirt in place, you can add two or three additional stitches along the elastic of the skirt. BUT you don't want to sew around the entire skirt or else the elastic can't do it's job!
Step 8: (Optional) Where the two pieces of fabric meet you can sew all the way down, if you want. I don't like to do this because I like to be able to access the pockets of my running skirt underneath the overlay.
At this point you can try the skirt on over your regular running skirt or shorts, measure how long you want it and mark with pins, then take it off and cut it! I'm more modest so I generally leave the length as-is.
That's it! Congrats, you are now the proud creator of your very own running sparkle skirt. Don't you look cute! If you make your own, be sure to share a picture with me! I love to see your creativity!