Here are four words I'd never thought I'd be able to say: I ran a marathon.
Well … running is a bit of an exaggeration. There was some running involved, but it was mostly walking.
Still. I completed a marathon.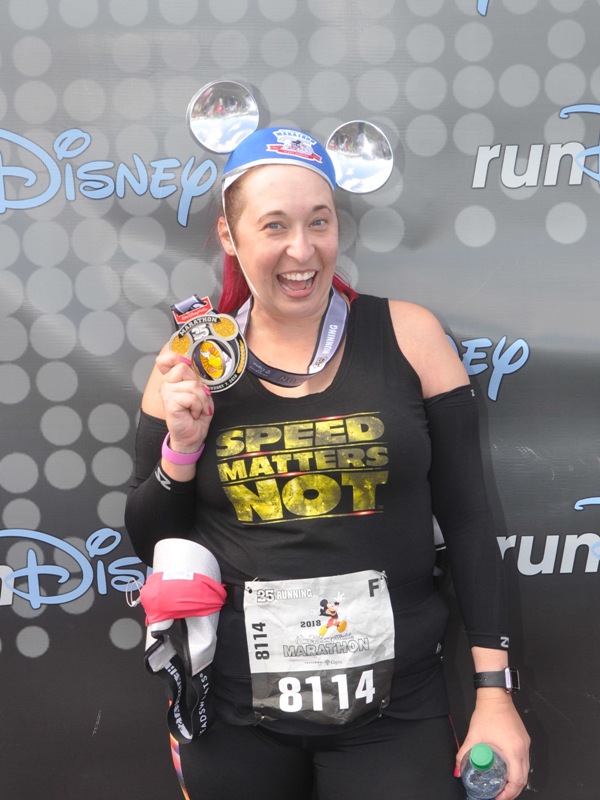 Last week I ran the Walt Disney World marathon. A couple years ago my body was in such bad shape I would've thought it crazy to attempt even a half marathon. But after lots of physical therapy and completing the two Star Wars challenge races in 2017, I thought perhaps this was my chance for a marathon. Truth be told I've had "run a marathon" on my bucket list for several years now, since before my first half marathon even, though I was never really sure if I could get to a point where I could actually do it.
I was very slow, and it wasn't pretty at all, but I crossed the finish line … I got my medal … and that's all that really matters.
After my last half marathon in April 2017, I started seriously considering the 2018 Walt Disney World marathon. I started following the Jeff Galloway training plan and did some cross training with weights and strengthening my core. But even up to just a month before the actual race I wasn't quite sure if I could do it. I had good training runs and bad training runs (really really bad). Ultimately I decided I had invested so much time and money into this race that I should just go and see what happens. Even if I failed to cross the finish line, I could at least say that I tried my best and I didn't give up before it even started.
I kept my training and my plans a secret because I was worried I would fail. In my mind, I didn't want to let you guys down. It was a tough secret to keep! Training for a marathon and visiting Walt Disney World are two very exciting things! But I'm happy I did, because it kept some of the pressure off, and it felt like something I was doing just for me.
I have so much to say about this experience, and looking back on it just a week later if feels kind of like an out of body experience. (Although, my feet and joints are still very sore so I know it was real!) I'll try to keep it brief and just go through some of the highlights.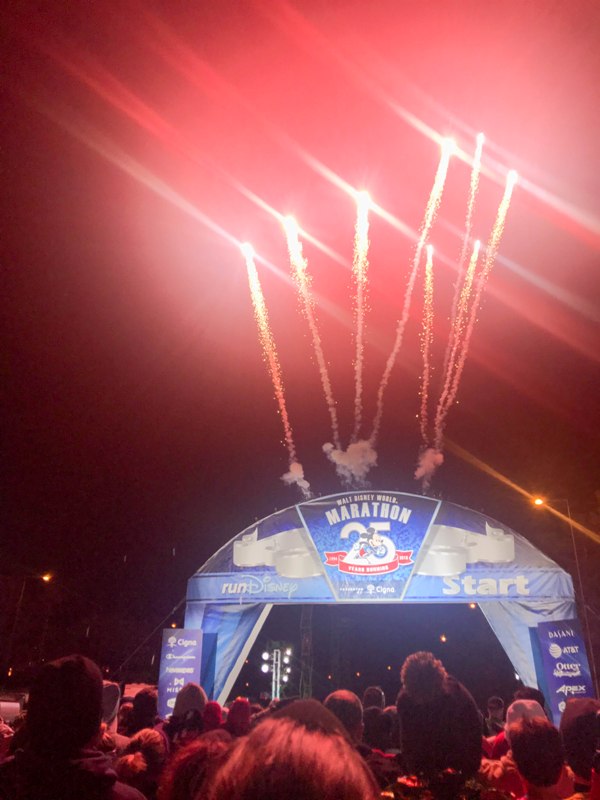 The weekend was very cold by Florida standards. When I left my hotel room at 3:00 AM it was in the 40s. I had brought a throw-away long sleeve shirt (you can drop clothes on the course and they will be picked up and donated) but I also had to bring a second long sleeve shirt with me. The night before I also purchased $6 knit gloves at my hotel gift shop and I'm happy I did. But still, it was very cold, made worse by 10 mph winds. It was a two hour wait in the corral before the race and by the time we started moving I was shivering and, quite frankly, over it before it even began.
Once we were moving it took me a long time to warm my legs up. I felt stiff and uncomfortable. Despite taping my toes and feet, I felt a blister starting to develop on one of my right toes. Before we even entered our first park – Magic Kingdom at mile 6 – I had already stopped once to readjust the tape.
While in MK, I stopped to use the restroom and do more adjustments to my toe. By this time, the sun was up and I was starting to feel a bit better, although I was already feeling the pressure of falling behind my standard pace.
Even though I did the Dark Side Half Marathon last year, this was my first race through Magic Kingdom so even though I already felt behind, I tried to go slow and soak in the moment. Naturally I went off course slightly to get a purple wall pic. #basic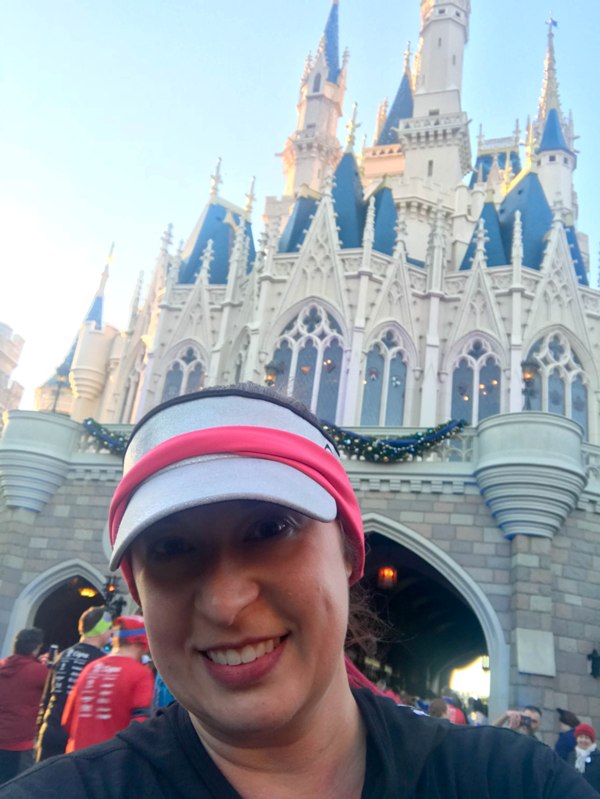 After leaving MK, we had a long stretch before we entered Animal Kingdom. In fact, we crossed the halfway mark inside Animal Kingdom. A lot of runners choose to go in the single rider line of Expedition Everest since it's a short wait and a short ride. While the novelty of this was appealing, I ran right past … I was worried the balloon ladies (end of the race pacers) would go by while I was on the ride! I had no clue how far ahead of them I was at the time, and still had a long race ahead of me. This picture from Animal Kingdom is probably the most real picture of me ever taken.
After another long boring stretch we entered the ESPN Wide World of Sports complex. I knew from looking at the map we had a 4-5 miles inside here. At around mile 18 I heard an announcement that the balloon ladies were 30 minutes behind us and I started to feel relaxed, and like I might possibly finish! I even stopped to take pictures with some of the characters that were out.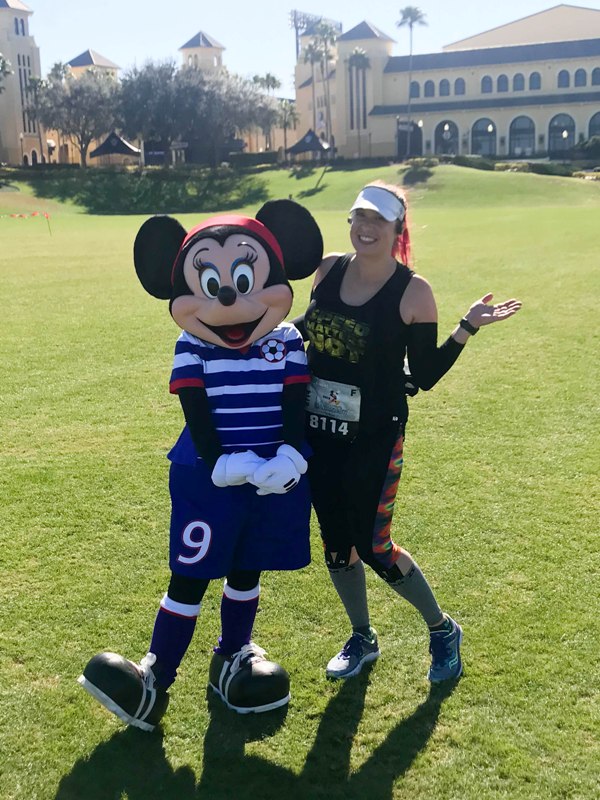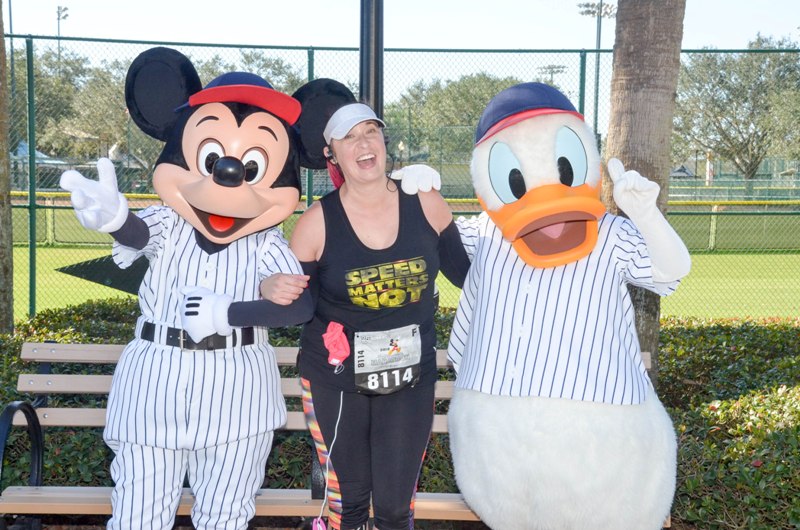 Leaving the sports complex, we were at mile 21 and I knew I still had over an hour to go and was feeling extremely tired. Not to mention everything hurt – my toes, my feet, my legs, my joints, my arms felt swollen and my back was sore all over. That last five miles was extremely challenging and, I'm not gonna lie, I thought about giving up. I walked by medical tents where every chair and cot were full, and while those racers were obviously experiencing something serious, I was also feeling jealous because they were laying down.
After what felt like an eternity but was really only a couple miles, we entered Hollywood Studios briefly, then went down the path towards Epcot. I knew the balloon ladies were getting closer and closer, but I had heard that once you get onto the path between Hollywood Studios and Epcot, past mile 24, you can't be swept. It was a relief to finally get to this pathway and I knew that, as long as I could keep moving forward, even if it was super super slow, I would finish. I looked back to see the balloon ladies in the distance. Even though I felt immense pain, I tried to move faster. I just wanted to finish before the pacers.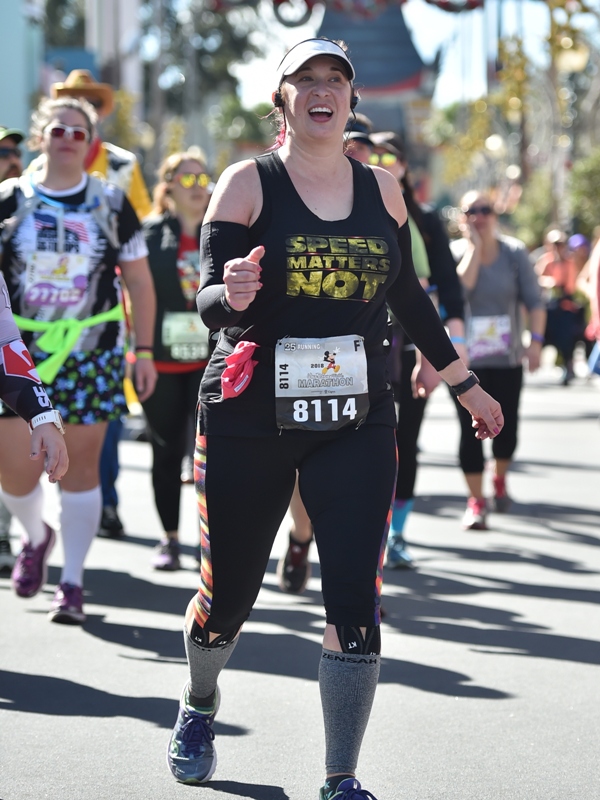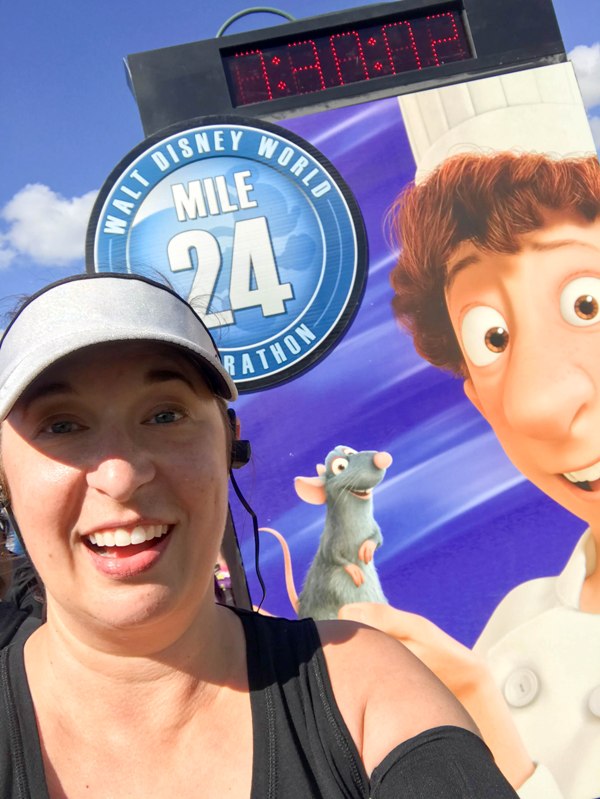 But, I didn't. They passed me on the last mile, halfway around World Showcase in Epcot. And at that point I was like … I don't care. Bye.
Going through Epcot was great. The crowds were cheering and yelling for us. Even though I was jealous that most of them had tasty adult beverages in their hands. Again, some runners stop and buy a beer or margarita to carry to the finish line. I didn't have that luxury since I was literally one of the last people running through. It also seems none of the PhotoPass photographers got a clear shot of me while in Epcot because I have no photos! And I didn't take any because I was too focused on finishing.
That last mile felt long, and between leaving Epcot and seeing the finish line was one of the most excruciating experiences of my life. WHY WON'T THIS RACE END. Finally we turned a corner and there it was. I hadn't jogged for a few miles but I did my best to jog over the finish line.
Waves of emotion washed over me as I crossed over that line. Lots of pain and exhaustion, but also exhilaration and relief. Months of training to get me to this point. Pushing my body to the brink. Yes, I cried. I cried a bit right after I finished and a little more after the medal was placed around my neck. I really earned that medal.
Post-race, I waited in line for my photo and then went straight to the bus. While I wanted desperately to just sit or lay down on the ground, I knew it would be a struggle to get back up. I forced my legs to my bus stop, and luckily the bus was already there so I went right on. The guy behind me on the bus was on the phone talking about tearing something in his knee. At that moment I felt exhausted but grateful.
Once I got back to my hotel room, I ran a cold bath and popped open a bottle of wine. I spend the rest of the day in bed, getting up occasionally to stretch my muscles and answer the door for room service.
All things considered, my recovery went very well. I slept for 10 hours and woke up the next morning feeling a little stiff but overall very good. Well enough to even meet friends for lunch at Epcot and take some photos of my medal at Magic Kingdom.
This was an experience I never could have done on my own, so I have some people to thank.
First and foremost, my husband Tim, who put up with so much during my eight months of training. I love you babes. Thanks for the flower delivery.
My friend Patty from My No-Guilt Life was my WDW marathon guru. She not only helped me get my bib but gave me all kinds of marathon-survival advice and even was there to cheer me on (she probably cheered for other people too, but this blog is about me, okay?) My friend Becky from Disney in Your Day also helped with advice and positive words leading up to the event. Thanks ladies!
I'm a brand ambassador for Raw Threads and they kept me looking stylish. They provided both the Unicorn Mode hoodie and the Speed Matters Not tank top. I got a lot of cheers from the crowd for that tank top, and it was very fitting considering I was one of the last to finish.
My friend Traci is a LuLaRoe stylist and she provided me with the perfect rainbow print Jade crop pants. These are my absolute favorite workout pants. Traci was also one of my biggest virtual cheerleaders. THANK YOU TRACI!
And I owe a major thank you to everyone who watched my Instagram Stories post-race and gave me kind words. I appreciate it so much! It made me feel so good.
Thanks for reading my recap of my one and only marathon (haha)! If you have any marathon questions, please leave me a comment and I'm happy to try my best to answer it.