Please read me! This article is sponsored by Del Monte Pure Earth Juice. Click here for a $1 off coupon to try Del Monte Pure Earth Juice! As always, all opinions are my own.
In my attempt to be healthier, I've started drinking juice for breakfast at least three times a week. It's difficult to find store bought juice that has all natural ingredients that doesn't cost an arm and a leg. So I was excited to learn about, and partner with, Del Monte Pure Earth Juice. Pure Earth Juice is 100% juice and no weird chemicals and ingredients, AND each bottle has a reasonable price point – I found mine at Fresh & Easy for $2.99. (Click here for a $1 off coupon!)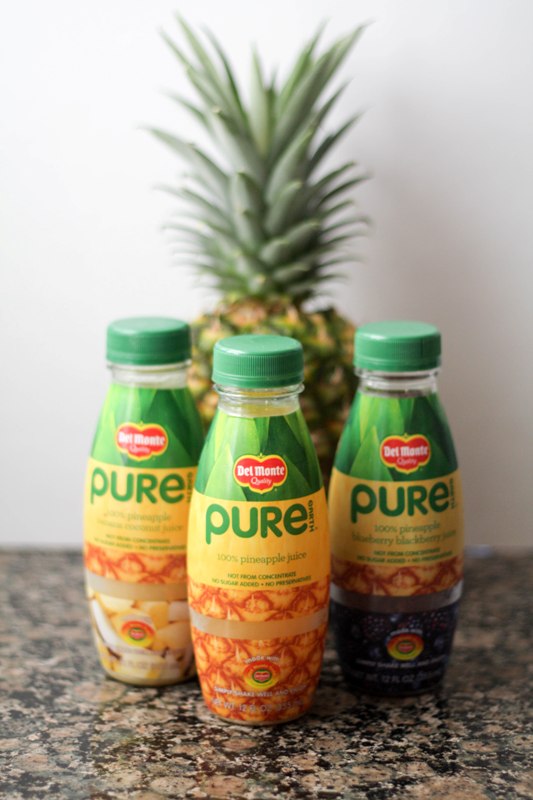 There are currently four Del Monte Pure Earth Juice combinations available:
100% pineapple juice
100% pineapple/banana/coconut juice
100% pineapple/lime juice
100% pineapple/blueberry/blackberry juice
I've sampled all flavors except for the pineapple/lime juice, which was sold out, for obvious reasons … it sounds amazing! The pineapple/blueberry reminds me of a healthy smoothie I used to get at the mall when I worked there, 15+ years ago … isn't it weird how certain smells or tastes transport you to past memories? There are so many ways you could enjoy these juices, including a morning smoothie, blending with spinach & kale to make a green juice, or just enjoying on their own. Speaking of sensory memories, sipping on pineapple juice always makes me think of the Tiki Room at Disneyland. It's like a little vacation to my happy place! So I had the idea to turn my Del Monte Pure Earth Juice into a pineapple sorbet! I added some thyme to give it a little unexpected kick, but if you don't have any thyme handy, you can totally skip that ingredient! All you need for pineapple sorbet is pineapple juice, sugar, and water! (And an ice cream maker, of course.) It's really so easy, and so refreshing on a hot day.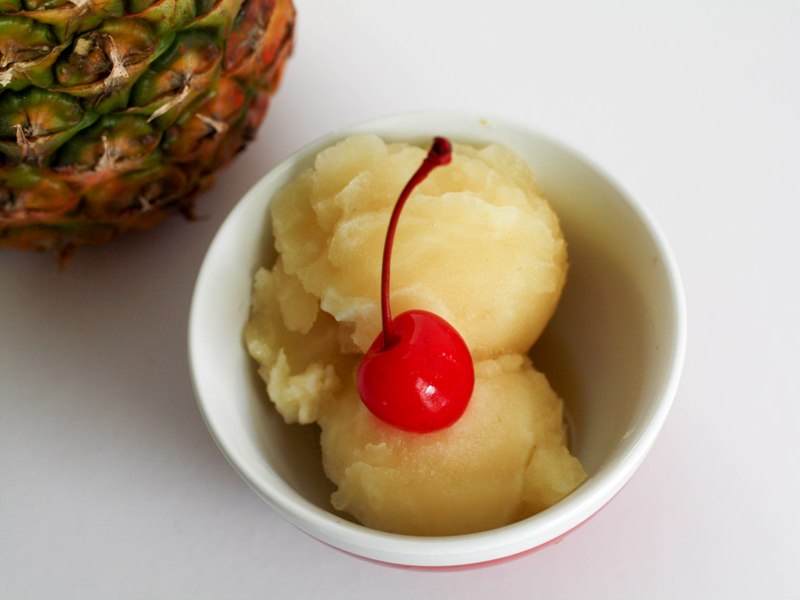 Pineapple Thyme Sorbet
Adapted from Fresh Herbs
Ingredients:
1 1/2 cup Del Monte Pure Earth Juice 100% Pineapple Juice (aka one 12 ounce bottle)
1 cup sugar
1/2 cup water
1/4 cup thyme leaves, preferably fresh or from the spice rack
Zest from one orange or lemon (optional)
Supplies:
Ice cream maker
Saucepan
Strainer
Wooden spoon
Cheese grater (for zest)
Large bowl (preferably Pyrex or something that can withstand hot temperatures)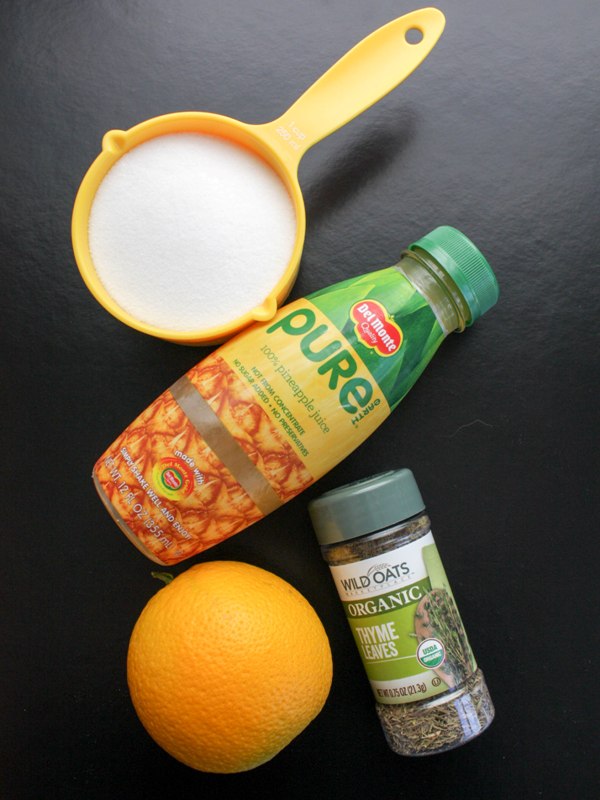 Steps:
BEFORE YOU START – Make sure you follow the prep instructions for your ice cream maker. For me, this involves freezing the inner container overnight.
1. The first step is to make the thyme simple syrup! In a sauce pan over medium heat, combine the water, sugar, thyme leaves, and citrus zest. Stir well and bring to boiling, stirring occasionally. Remove from heat and let sit for 5-10 minutes, while the mixture thickens.
2. Run the simple syrup through a strainer into a bowl, to separate the thyme leaves and zest chunks. You may have to do this twice! Add the pineapple juice and allow the mixture to cool to room temperature.
3. Cover and place the mixture in the fridge for a couple hours, or overnight, so it's nice and chill for the ice cream maker.
4. Place the mixture in the ice cream maker, according to your machine's instructions. I have the (affiliate) Cuisinart Ice Cream & Sorbet Maker and I let it churn for 20 minutes.
5. Transfer the sorbet from your ice cream maker to a bowl, cover, and place in the freezer for about 2 hours so it can firm up.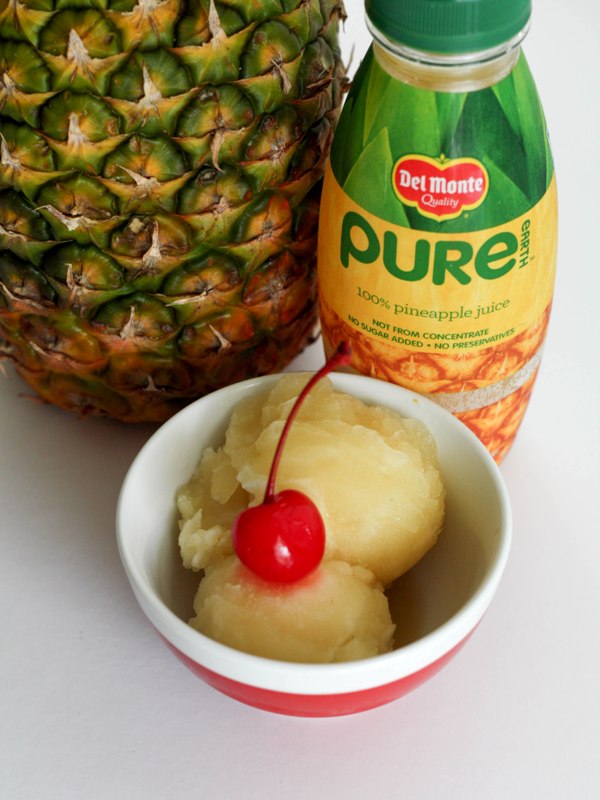 Enjoy your yummy sorbet! Is it summer yet?
Thanks again to Del Monte Pure Earth Juice for sponsoring this post. Don't forget to print out your $1 off coupon to try your own Del Monte Pure Earth Juice, and be sure to come back and let me know how you like it!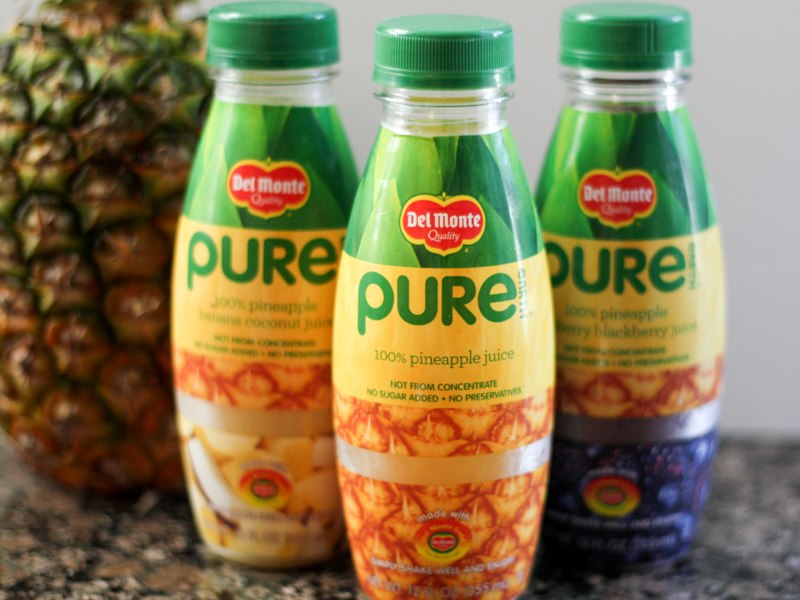 Comments
comments