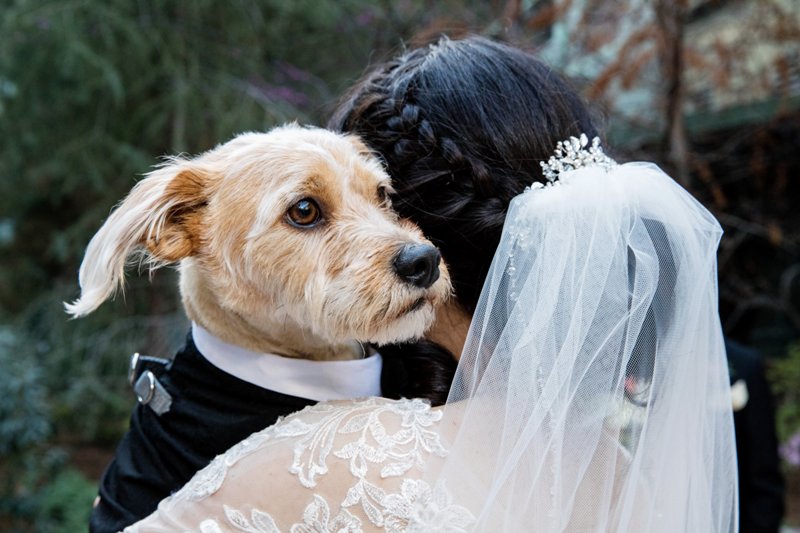 Today, Disney Bride Melanie is sharing how they were able to include their dog at their Disneyland wedding! I originally thought only service dogs could be included in wedding ceremonies, but Melanie shares how they were able to make it happen for their sweet pup. There are certainly a lot of hoops to jump through and the process is not easy, but if you are absolutely positive you want your doggie included on your special day, you may be able to make it happen! Thanks to Melanie for sharing this info with us.
How to Include Your Dog at Your Disneyland Wedding
When Raul and I did our planning session, we asked our planner if our pet dog (not a service animal although I adopted him to be a sort of "comfort animal") could be a part of our wedding day. They informed us that pets are allowed at outdoor ceremony locations while on a leash. We didn't think our preferred ceremony spot, Parkview Terrace, would count because it's on the roof which required walking around inside but it turns out it counted as an "outdoor" venue.
They do have a couple of conditions … if you bring your dog you're not allowed to also book the carriage or any of the horses. They don't want the horses getting spooked and hurting someone. Also, dogs can't be around while food is being served, so no dogs allowed at pre-reception or reception spots. Finally, if your dog has an "accident" while outdoors you just have to clean it up, but if there were any incident inside or if an outdoor accident wasn't cleaned up, the cleaning charge is $200. Luckily we didn't have any issues with this!
Once we found out it was possible, we knew we wanted to incorporate Einstein into our ceremony so we researched lots of options on Pinterest. We already had a ring bearer so we decided we wanted Einstein to be part of the ceremony procession. We had Raul's close friend Renee walk him down the aisle. I sewed him a tuxedo to match the bridal party and gave Renee the option of wearing whatever she wanted to, and she ended up renting a tuxedo from Men's Wearhouse that matched Einstein's!
The main reason we had an assigned bridal party member for Einstein – which our planner nicknamed "Einstein's Elegant Pal" – was so we could have someone assigned to picking up and dropping off our puppy at the Disneyland Kennel Club. The week before the wedding, we got the informational papers from the kennel that outlined their rules and procedures. That week, we got him up to date on vaccines and prepared all of his vaccine certifications which are required by the kennel. The morning of the wedding, Renee went with my father-in-law to the kennel to drop Einstein off. We tried to time it so he was going into the kennel exactly four hours before we needed him again because Disneyland Kennel Club requires that you check on your dog and take them to pee at least every four hours.
At 2:30pm, Renee walked from Disney's Grand Californian Hotel (where our ceremony was taking place) to the kennel, picked Einstein up for a "long walk" and brought him to the Brisa Courtyard for portraits. He was able to hang around the courtyard with us, and after the pre-ceremony portraits were done, Renee waited with him in Brisa Courtyard until about 4:30-4:45pm when Disney allowed her to walk upstairs to the Parkview Terrace. He walked right after the flower girl and ring bearer, got lots of "awwwws," and sat on Renee's lap in the front row for the duration of the ceremony. The second the ceremony was done, Renee brought him to the kennel, returning him from his "long walk," where he remained until the reception ended at 10:30pm and my father-in-law picked him up.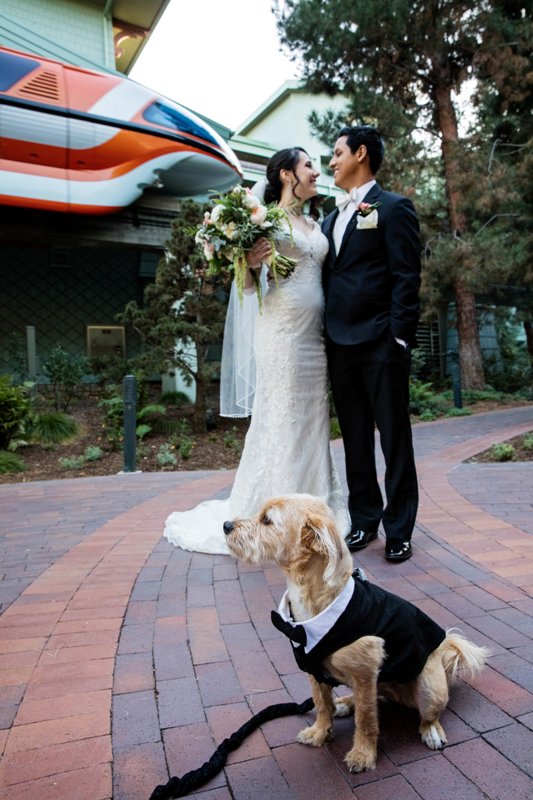 As Raul's family lives in Los Angeles, we were fortunate we did not have to deal with overnight hotel stays with Einstein. We researched several dog hotels in the area and our backup plan was to have him spend the several nights leading up to and right after the wedding at a dog hotel, checking him out of the hotel for the day of the wedding. Instead, Einstein spent the week with my in-laws in Los Angeles while we stayed at Disney's Grand Californian Hotel.
I would definitely recommend that only locals bring their dog (or at least couples who have family in the area). Traveling with a pet the week of a wedding would have been way more stress than I could have handled. We are lucky to have a small, quiet dog who is very well trained and polite, but even he would have been a handful if we had a long drive or flight to get to the resort, then had to check him into a dog hotel.
Thanks Melanie and Raul for sharing such great information! I hope to see more sweet pups at Disneyland wedding ceremonies!
Photos by White Rabbit Photo Boutique