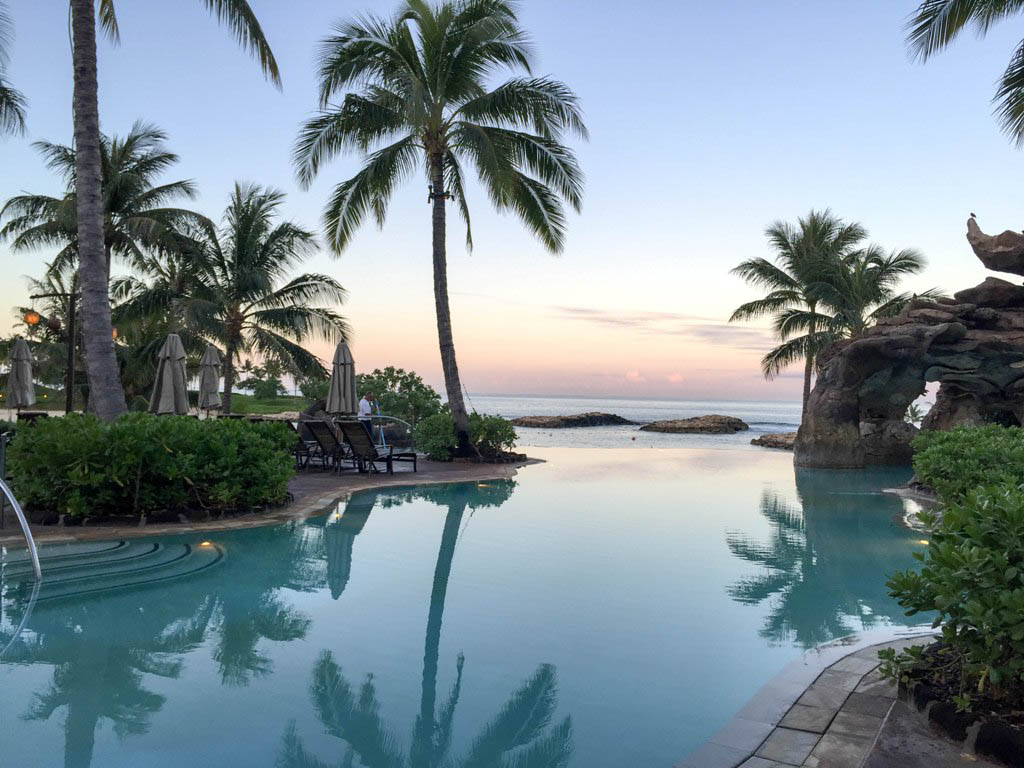 My first full day in Aulani started super early when I woke up at 4:00 AM. Despite my best effort I could not go back to sleep, so at around 5:30 AM I got up and decided I'd go walk around the resort and take some photos while everything was quiet. I'm so glad I did this because the resort is so beautiful when it's empty. It's beautiful all the time, but when there are people everywhere it's just a different feeling. I was even able to catch a little bit of the sunrise.
Prepare for Aulani picture overload.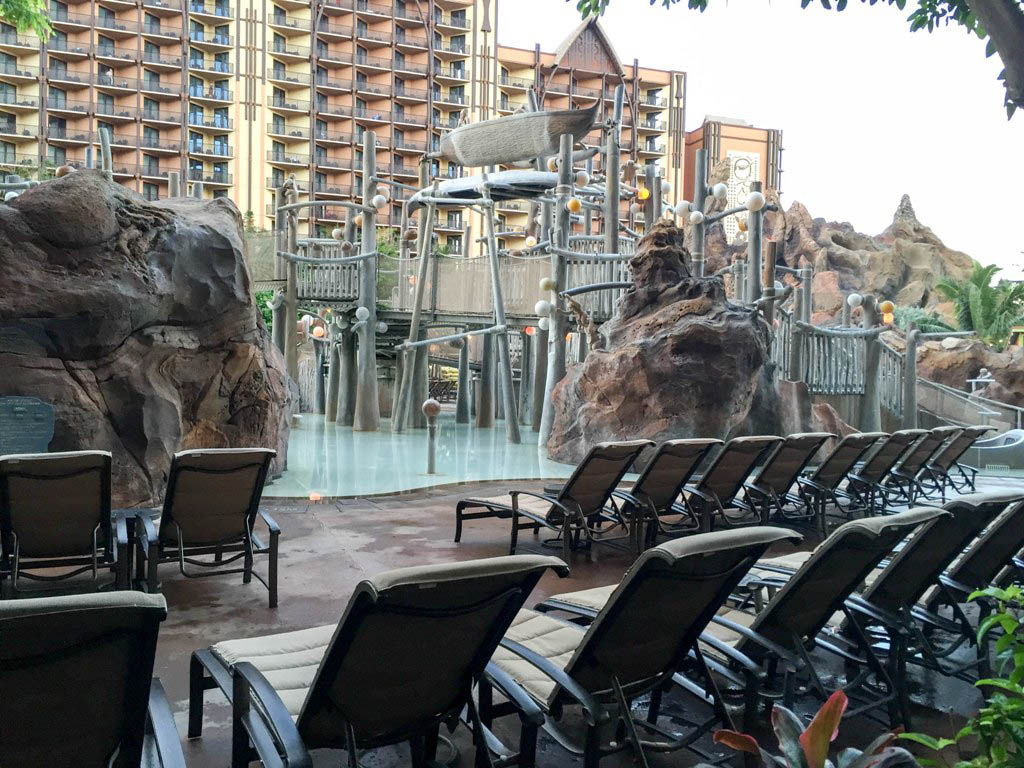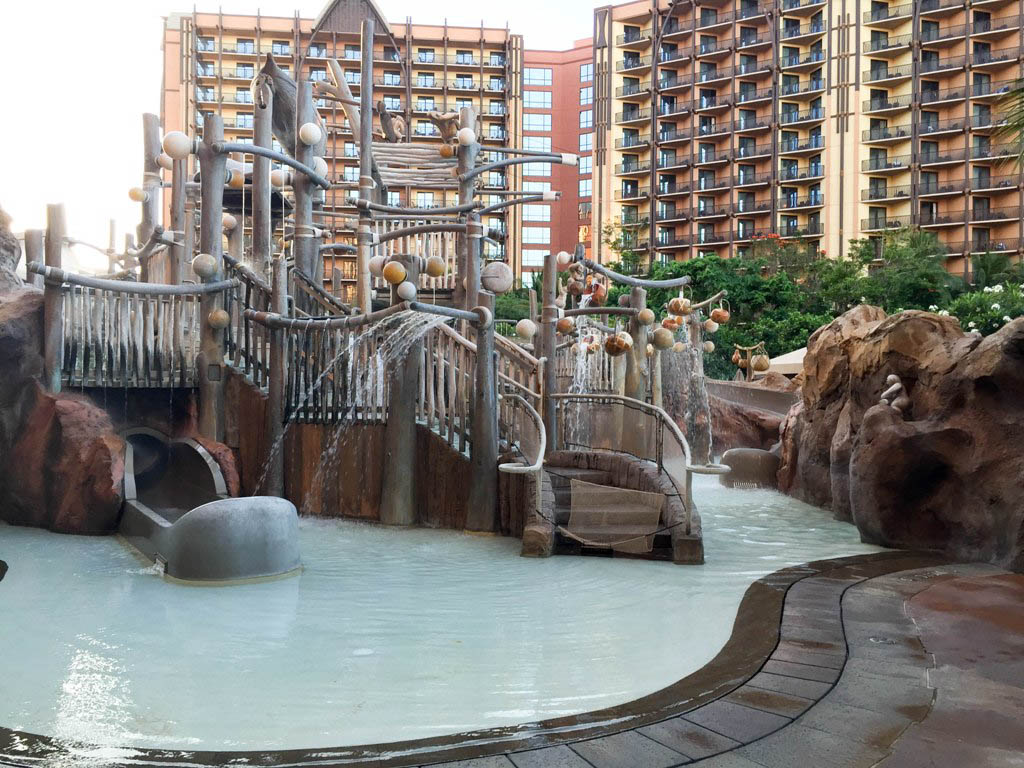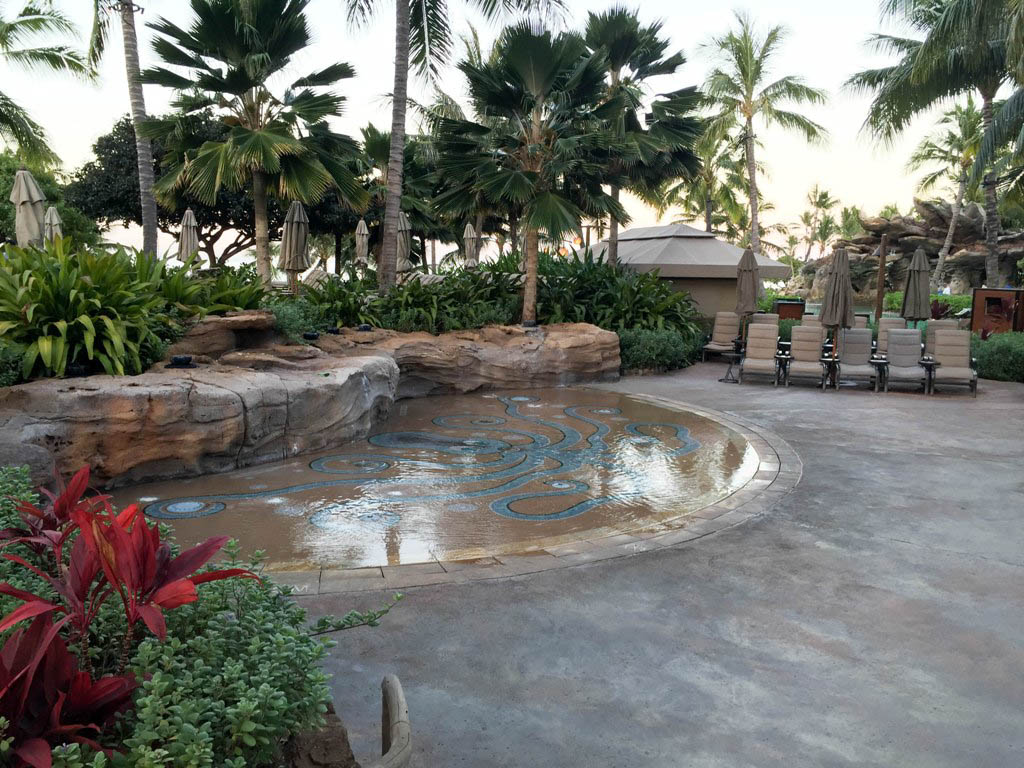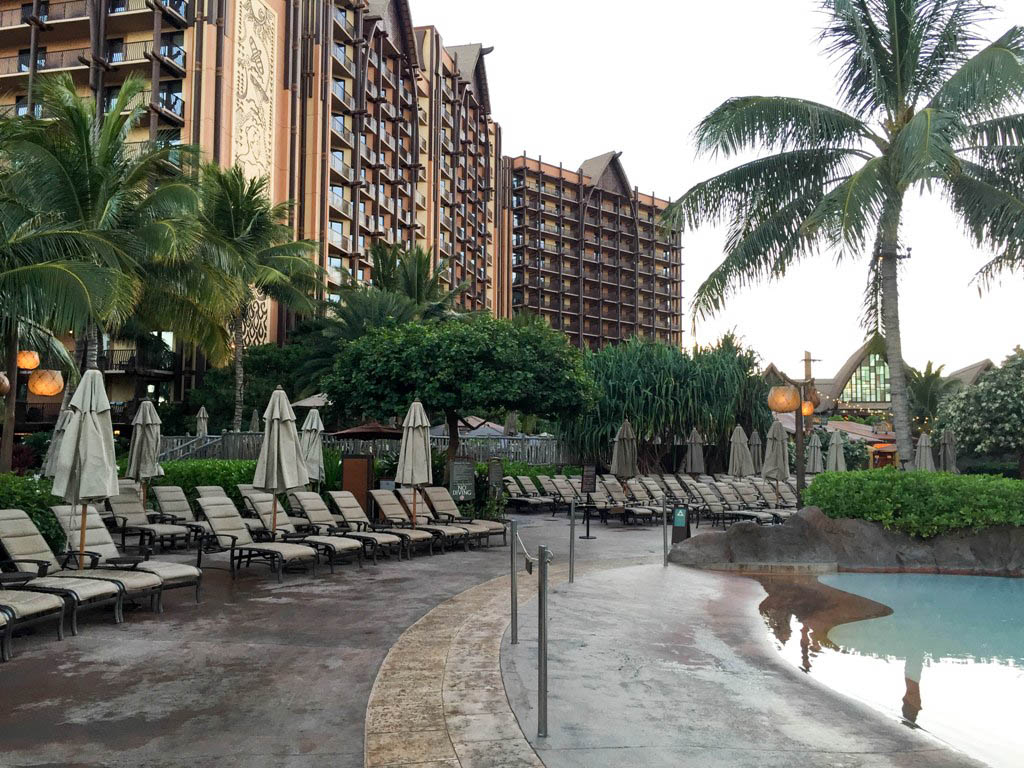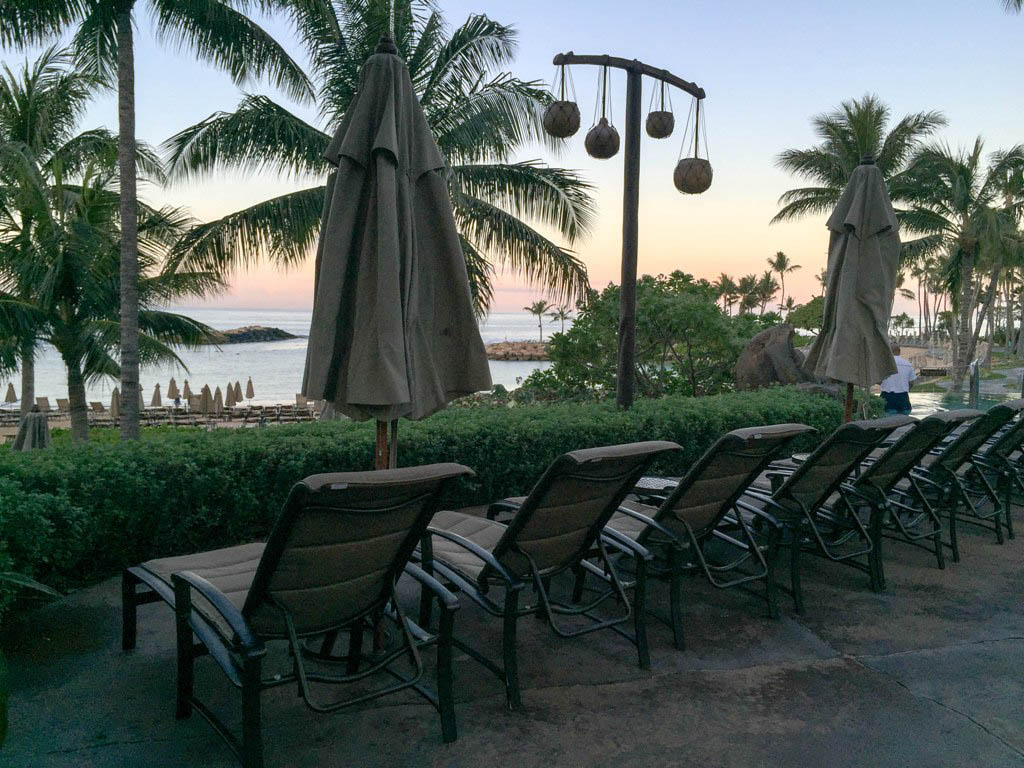 In this picture you can see some people doing yoga. This is an organized class through Aulani; I never signed up for the classes because I was never sure I would wake up early enough. They offered some kind of sunrise workout every day of the week, and throughout the morning.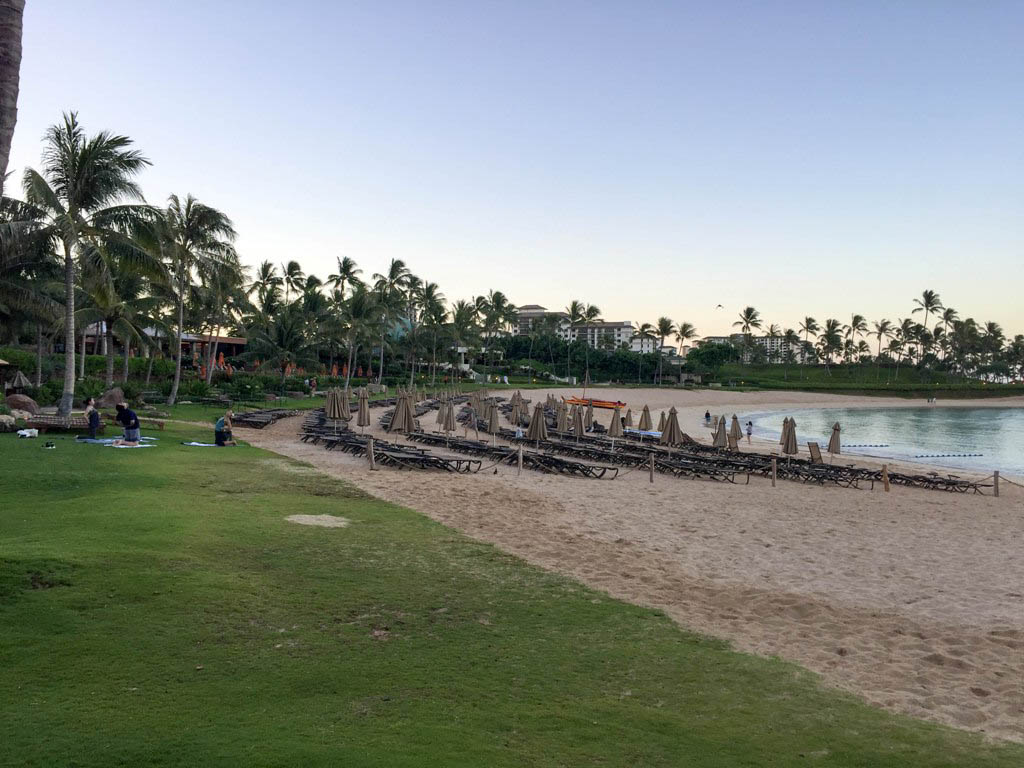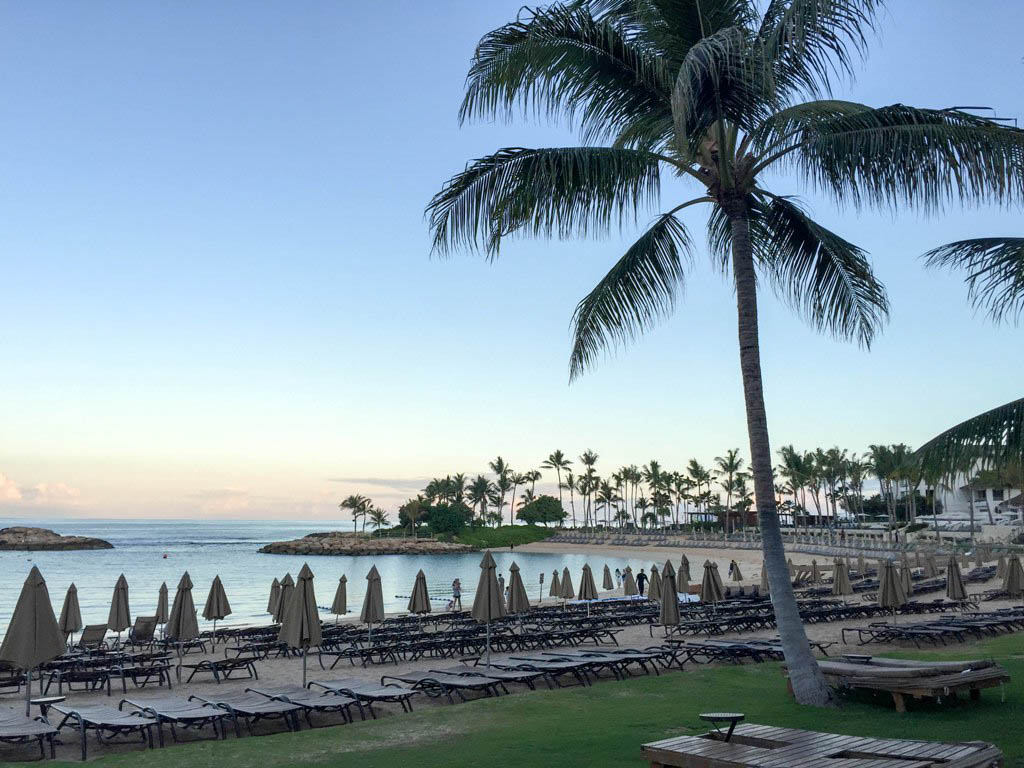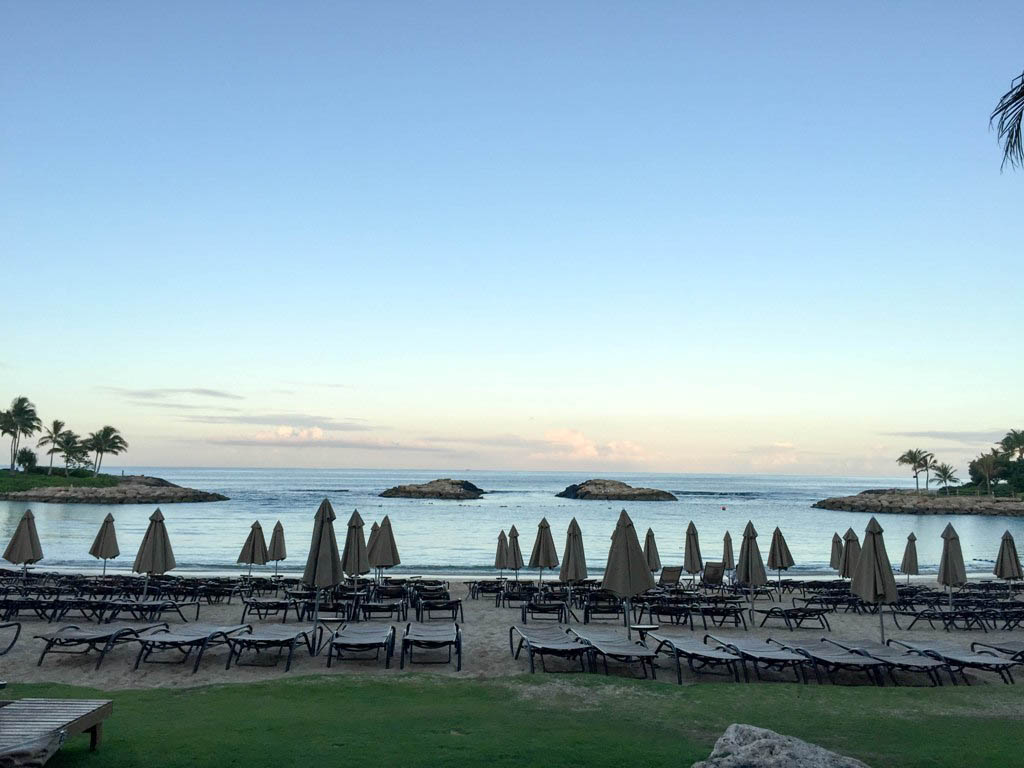 This is the adjacent wedding chapel, called "Place of Joy." It is NOT part of the Aulani resort and not affiliated with Disney's Fairy Tale Weddings. Several times a day, I saw couples coming from the chapel to the beach to take pictures.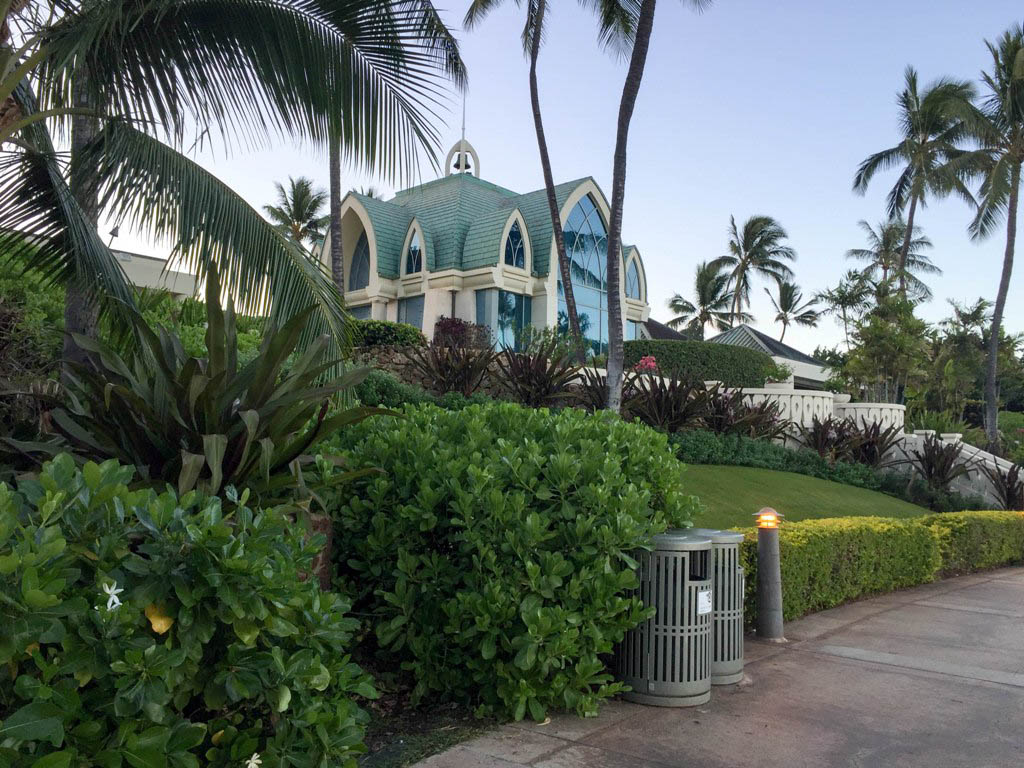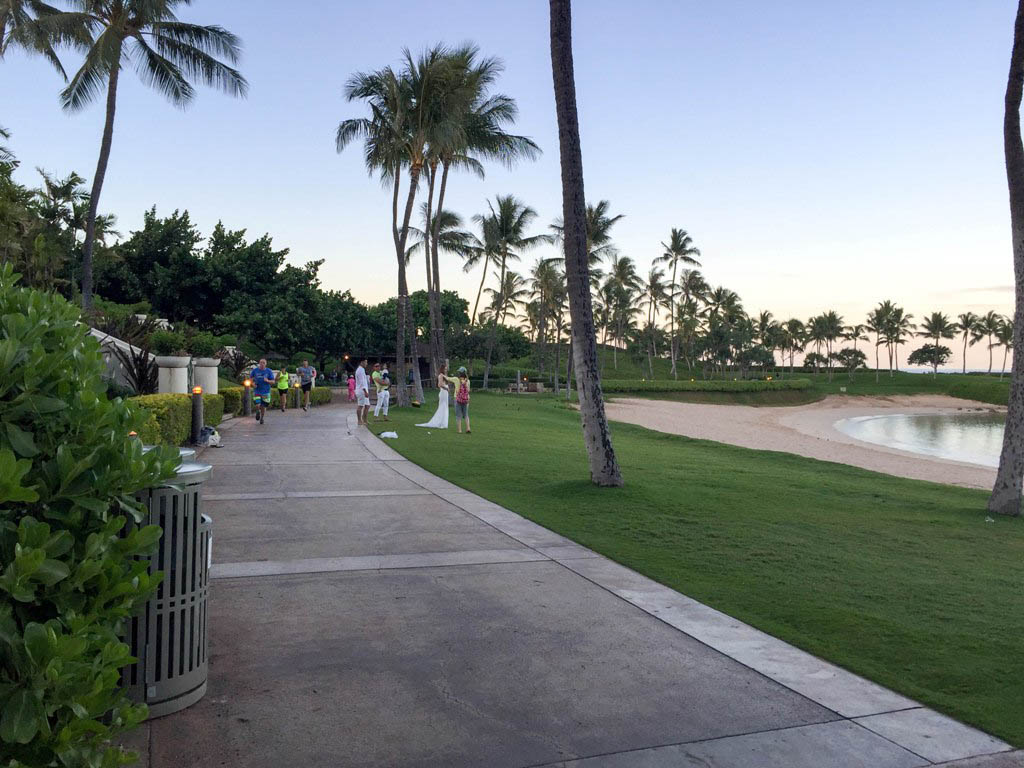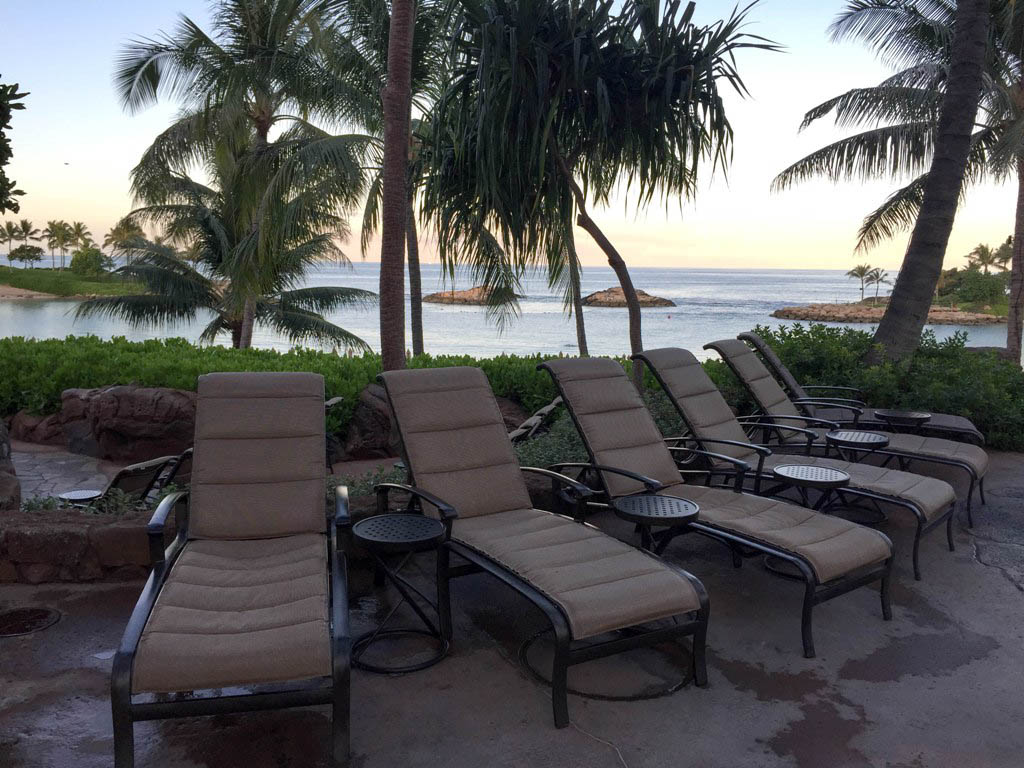 This is the patio for the 'Olelo Room.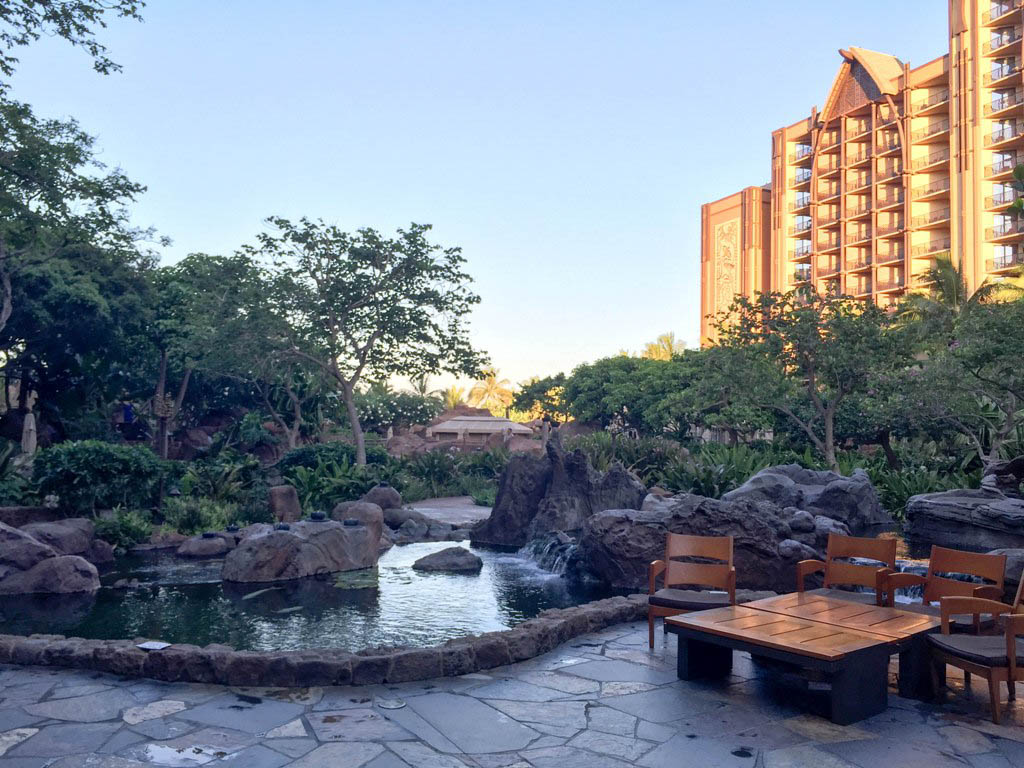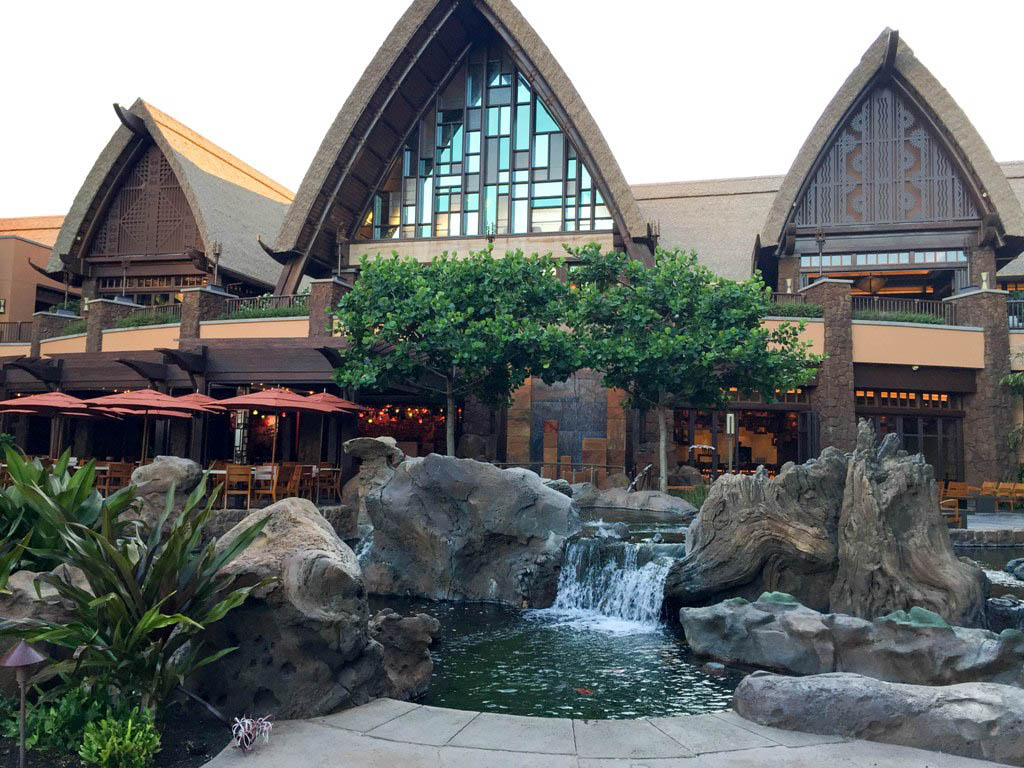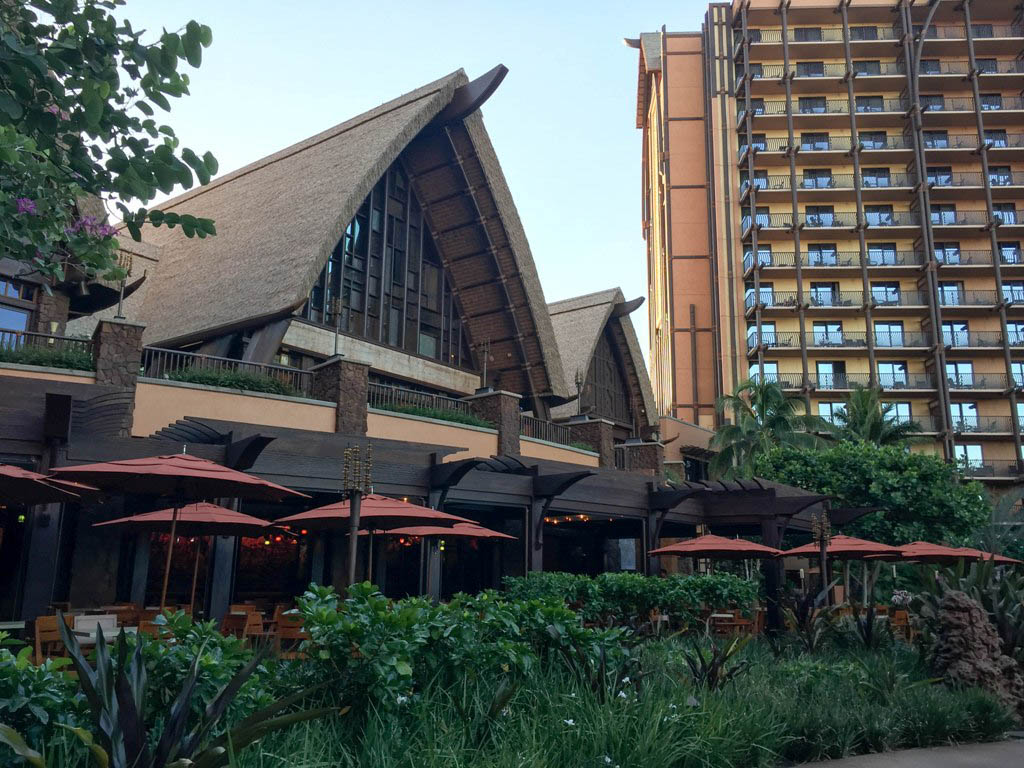 This is the adult pool area.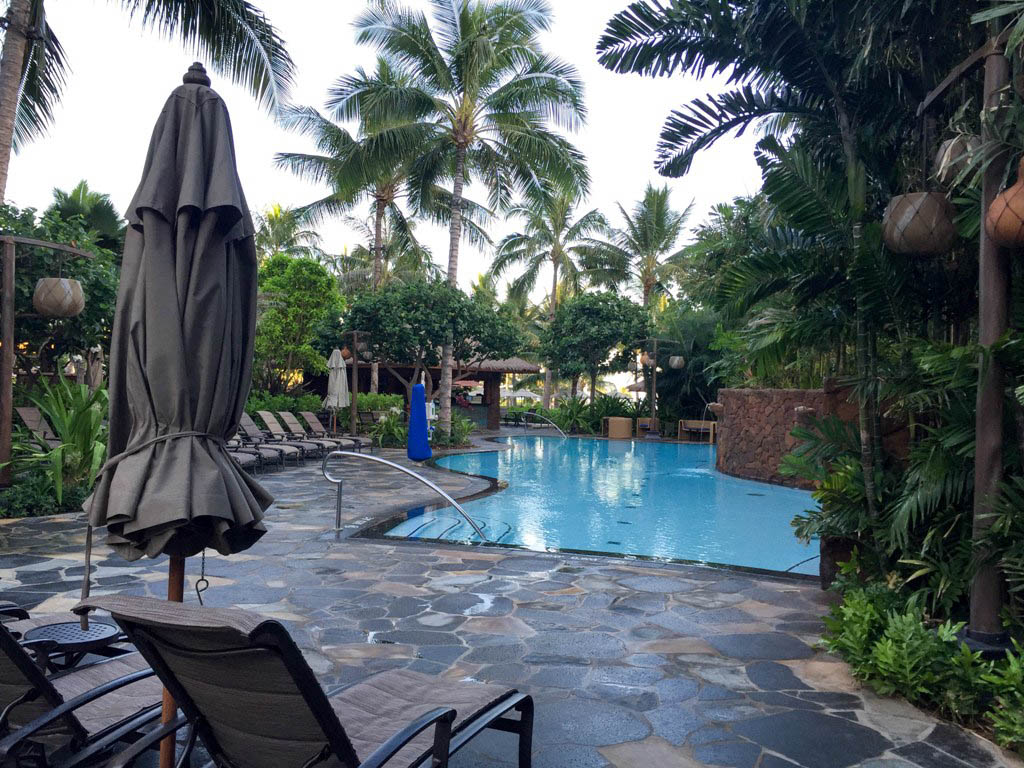 In the morning this little bar sells coffee and pastries, and after noon it turns into a bar for the adult pool area. It is located directly across from Ulu Cafe.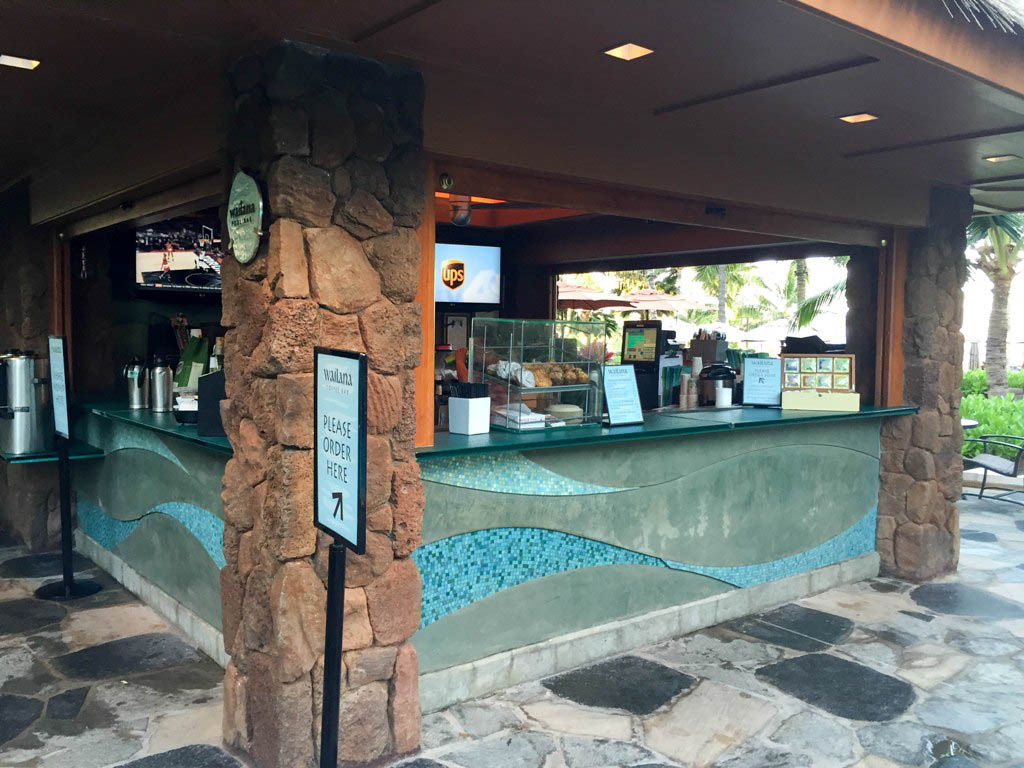 Looking from the bar towards the ocean, so you can see how far the adult pool is from the beach. There are no ocean views from the adult pool.
Seating for the bar area and overflow for Ulu Cafe.
This seating area is right next to the Rainbow Reef lagoon.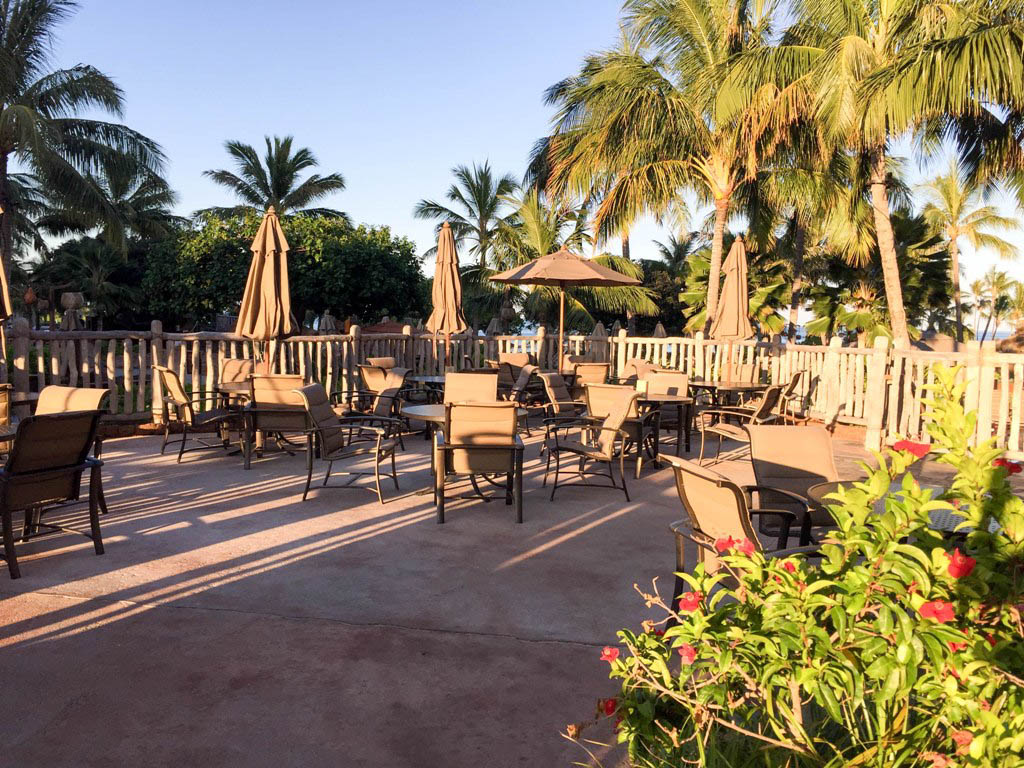 Rainbow Reef lagoon, so peaceful before it opens for the day.
The next few pictures show the lazy river that winds through the valley of the resort.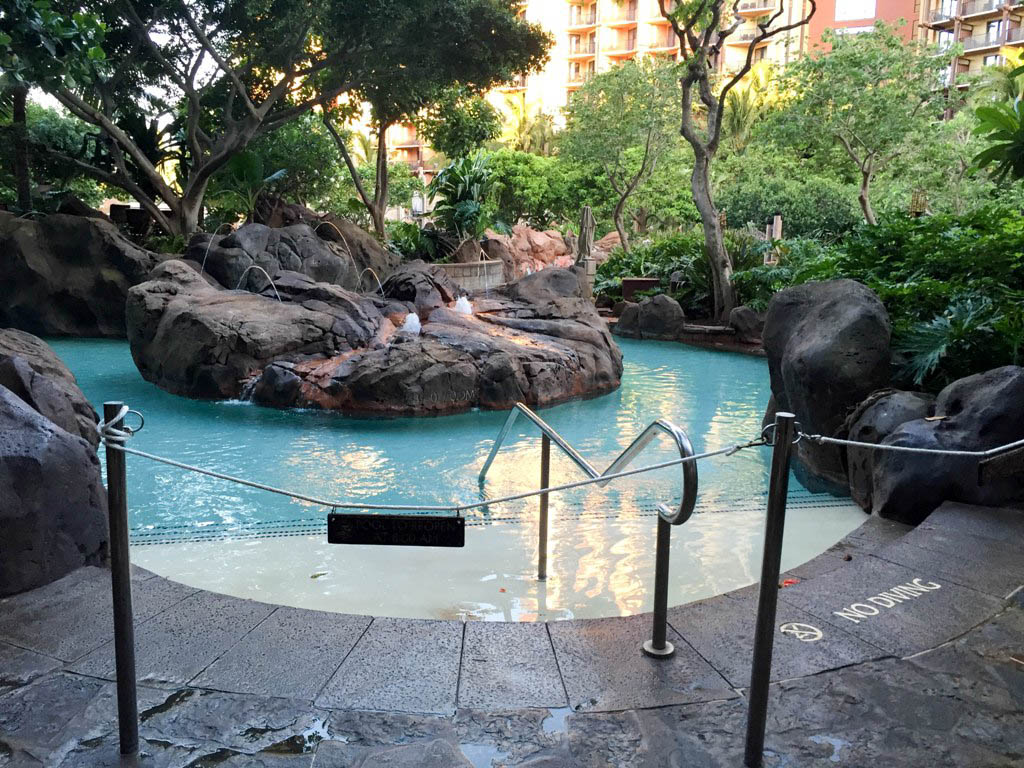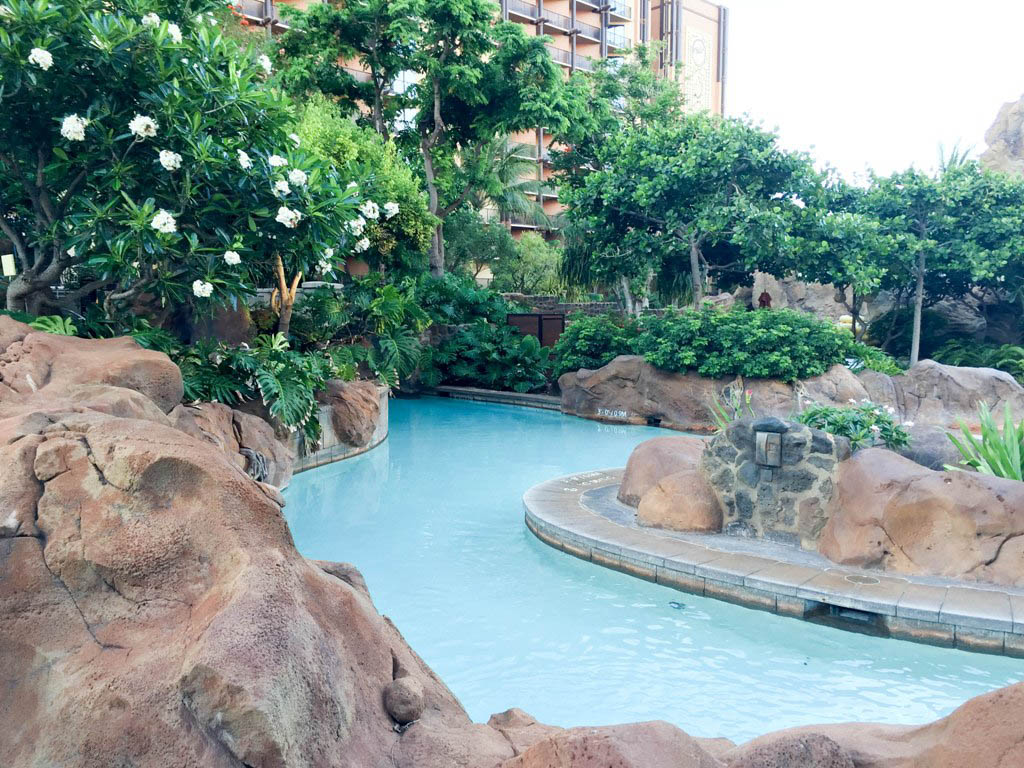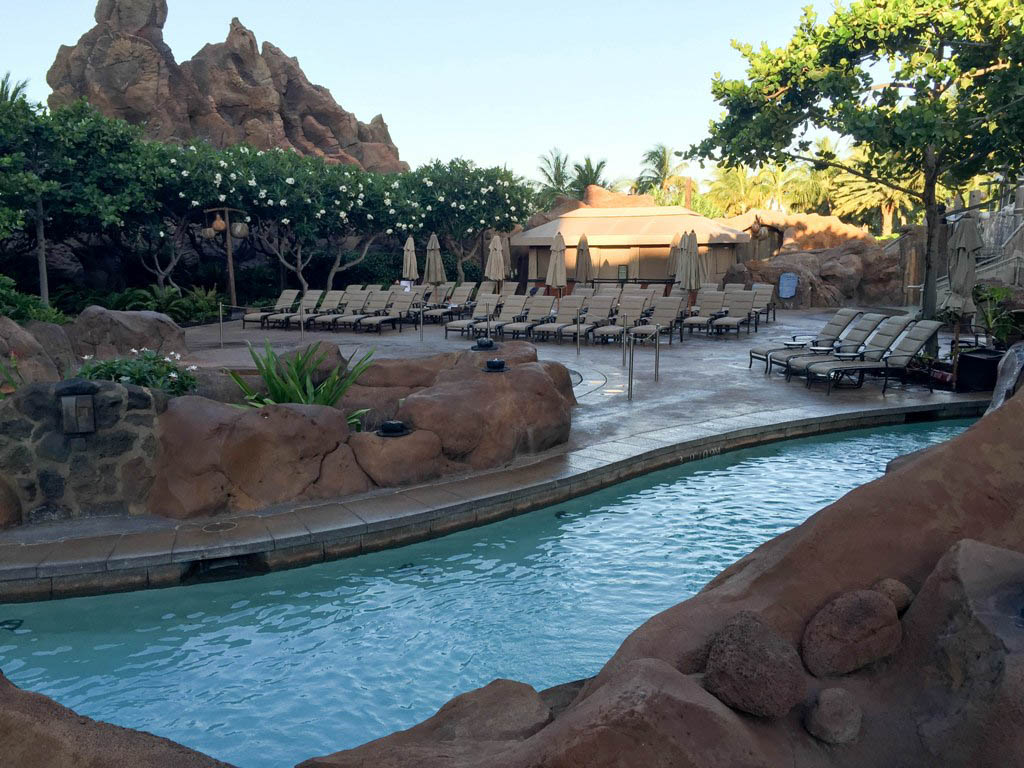 One of the spas.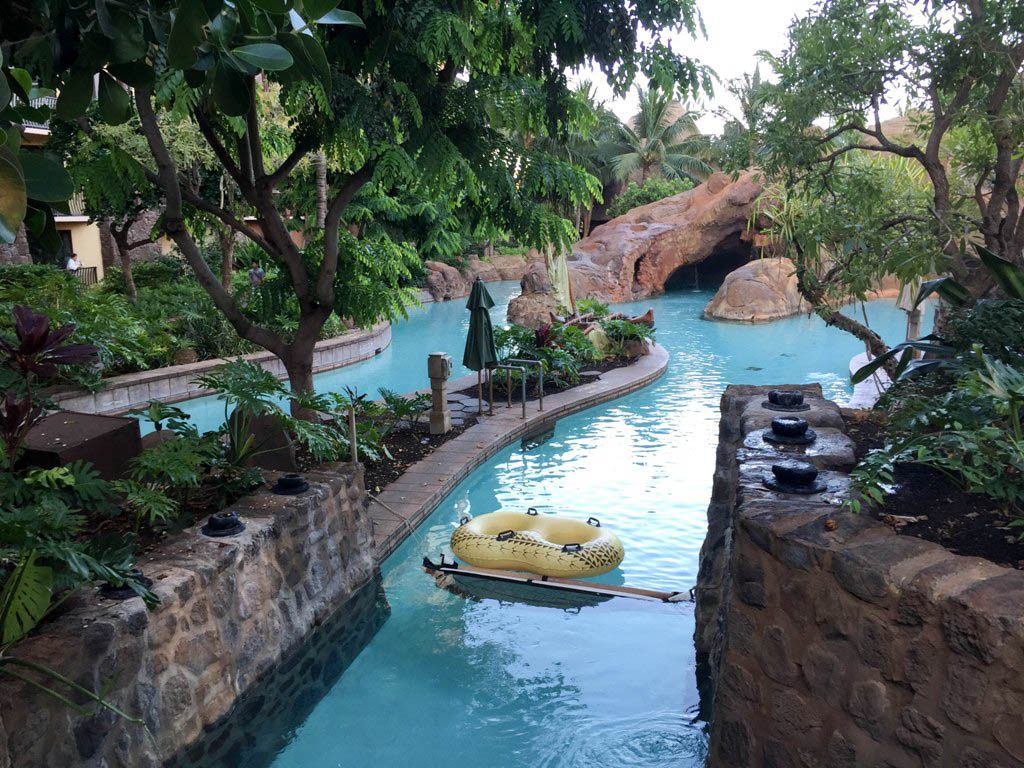 Moving on to the lobby area.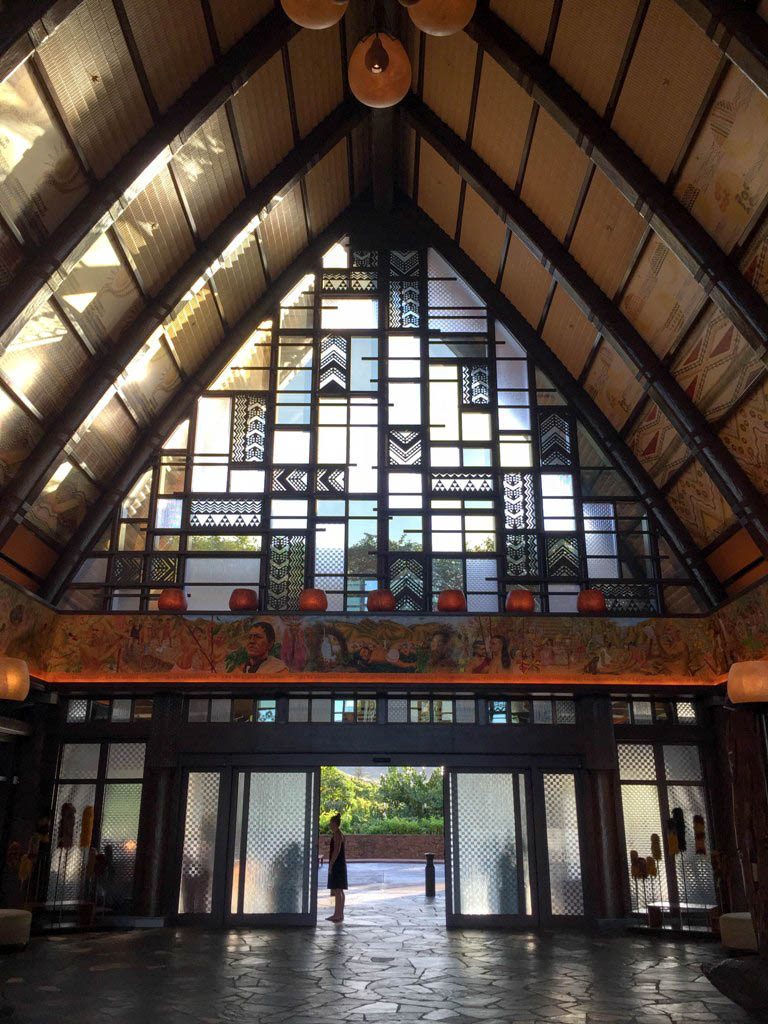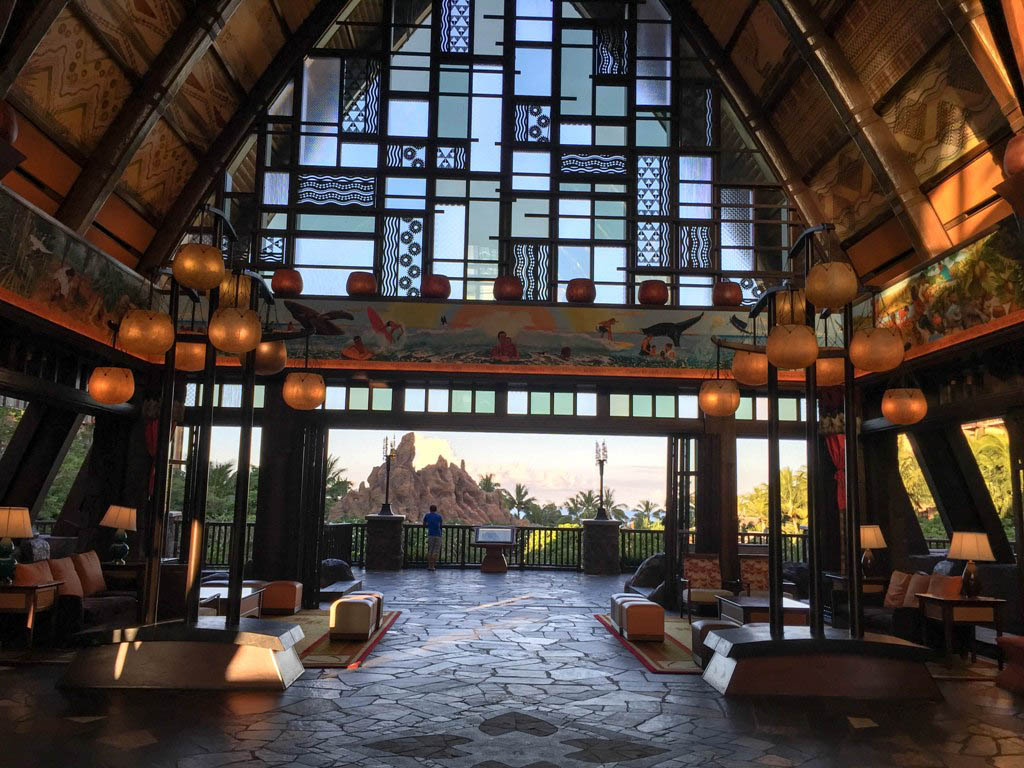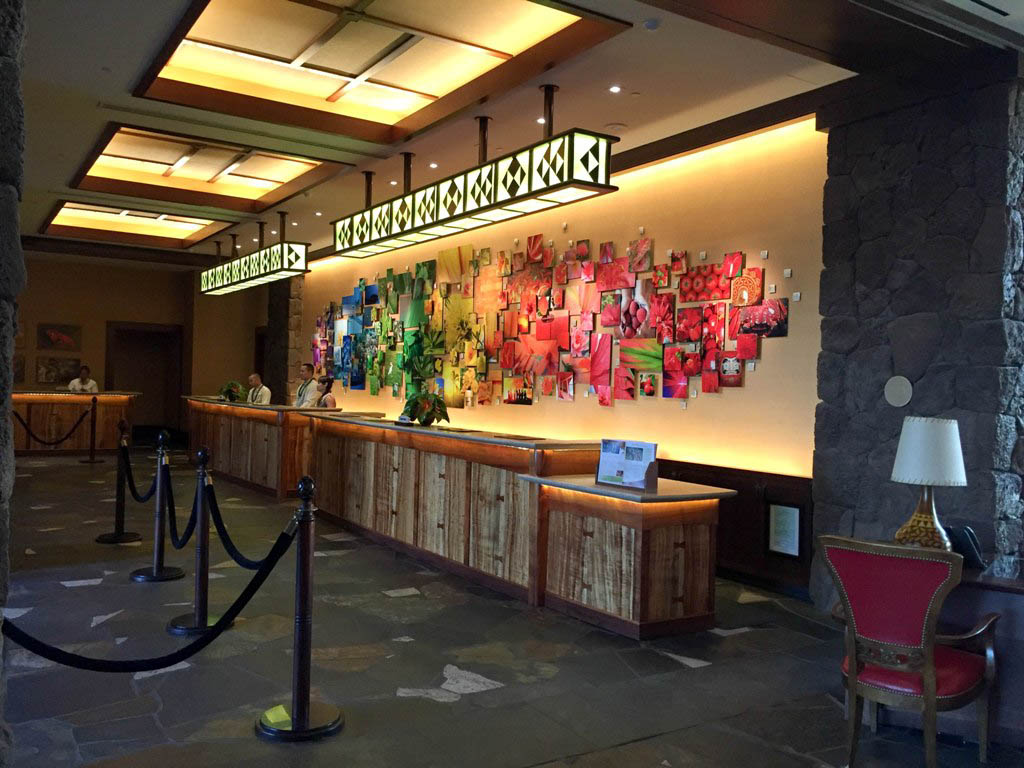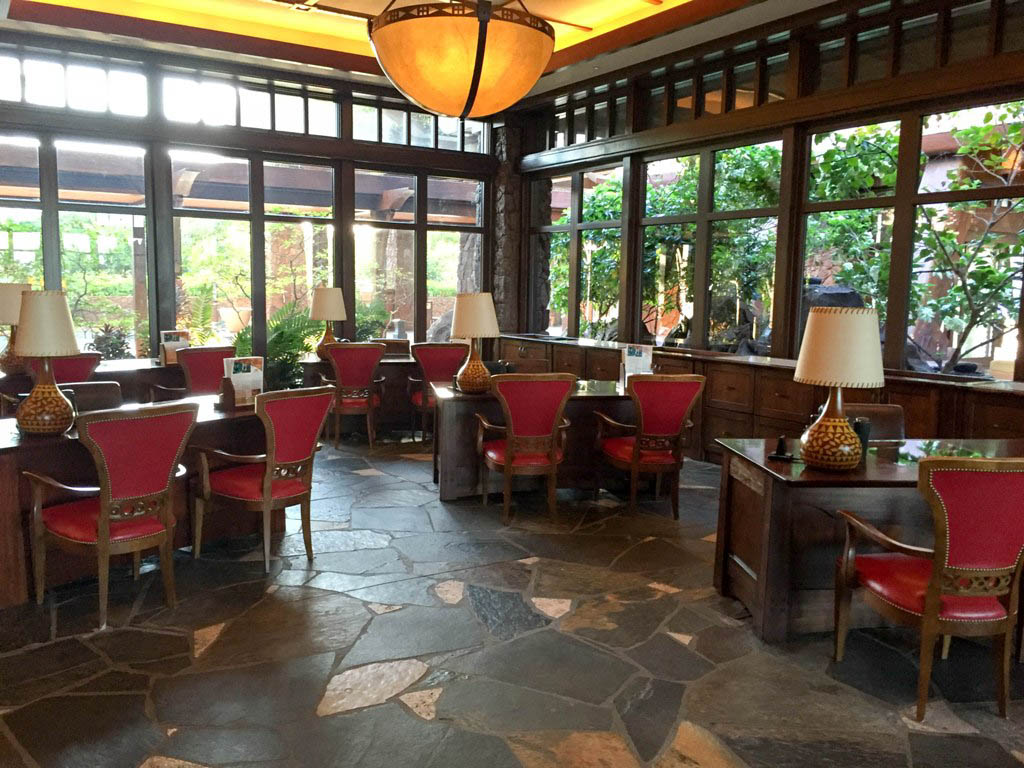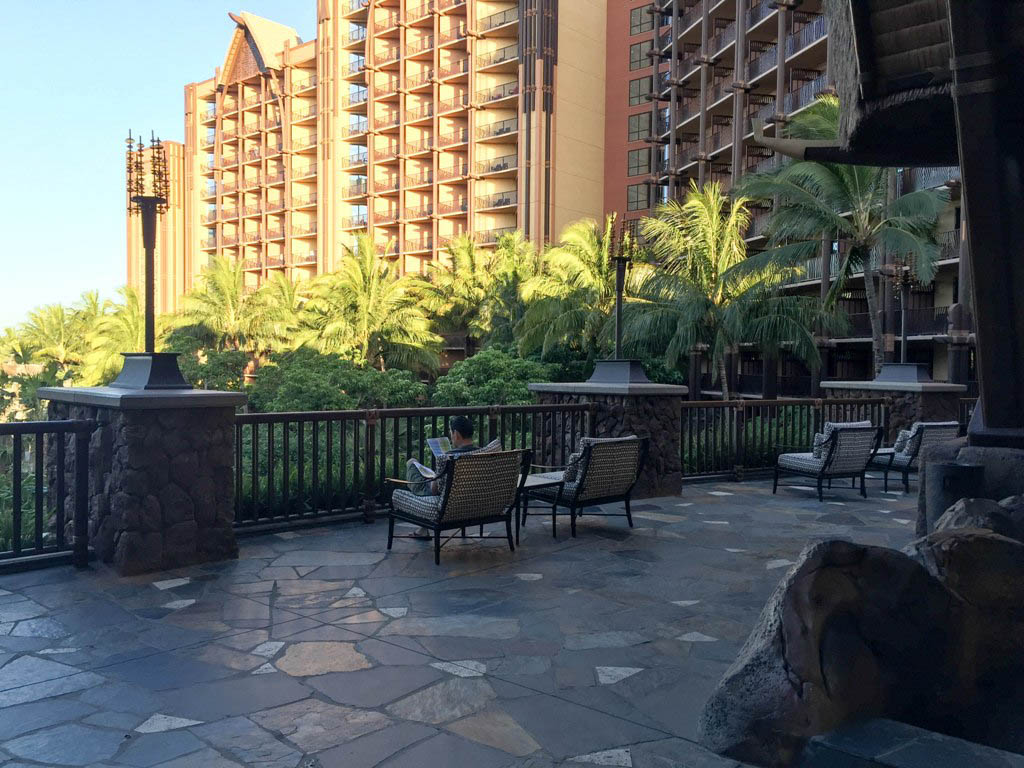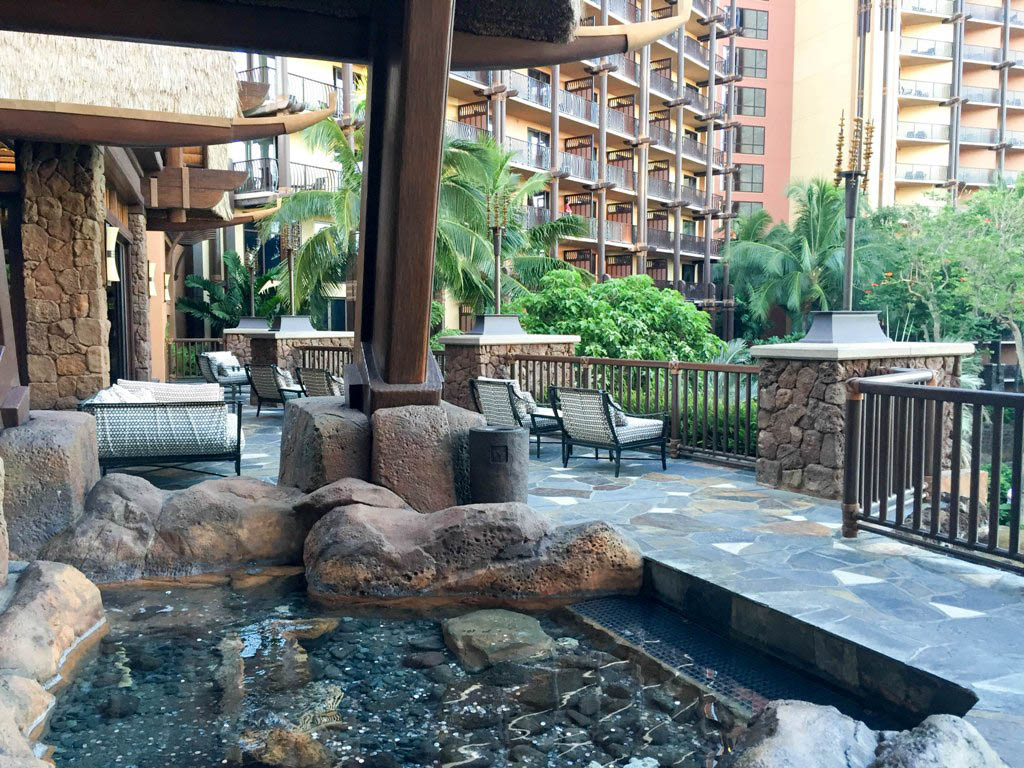 I walked around the resort for about an hour before heading back up to the room. At this point Tim was awake so we got ready to go out and grab some breakfast. I wanted to check out the Laniwai Spa tour at 8:00 AM before we grabbed lounge chairs for the day. We got a quick breakfast at Ulu Café and then headed over to the spa. We had already discussed doing some kind of spa treatment, but after seeing the Laniwai Spa grounds we got really excited about it. At the end of the tour we signed up for a couples' treatment later in the week.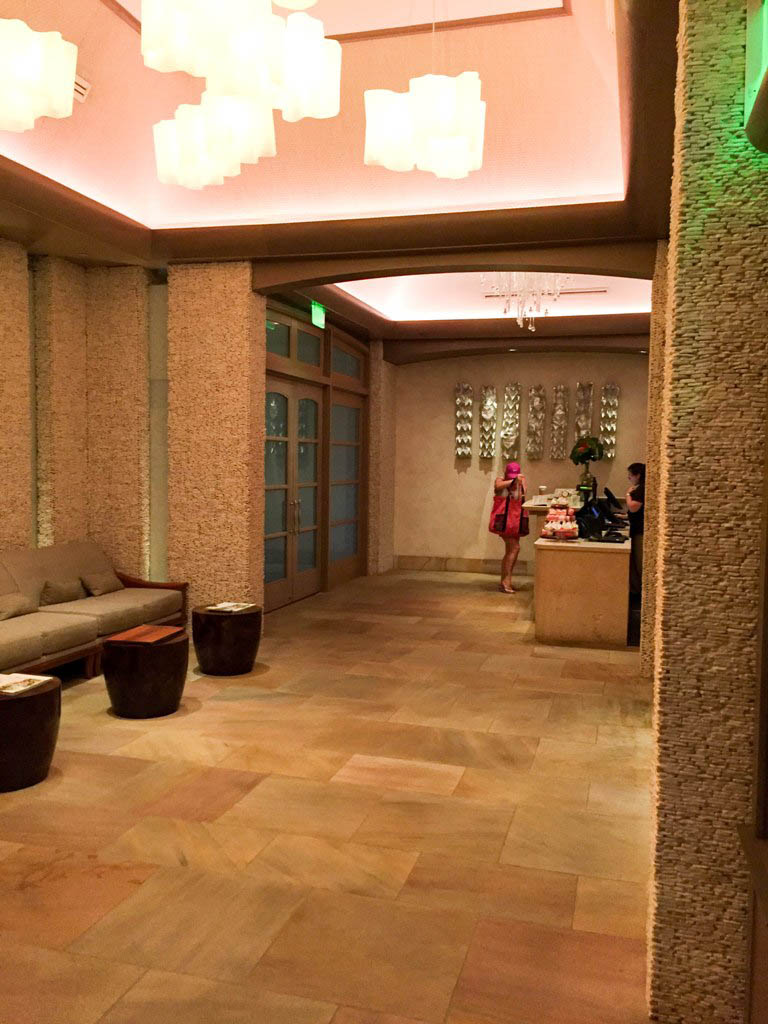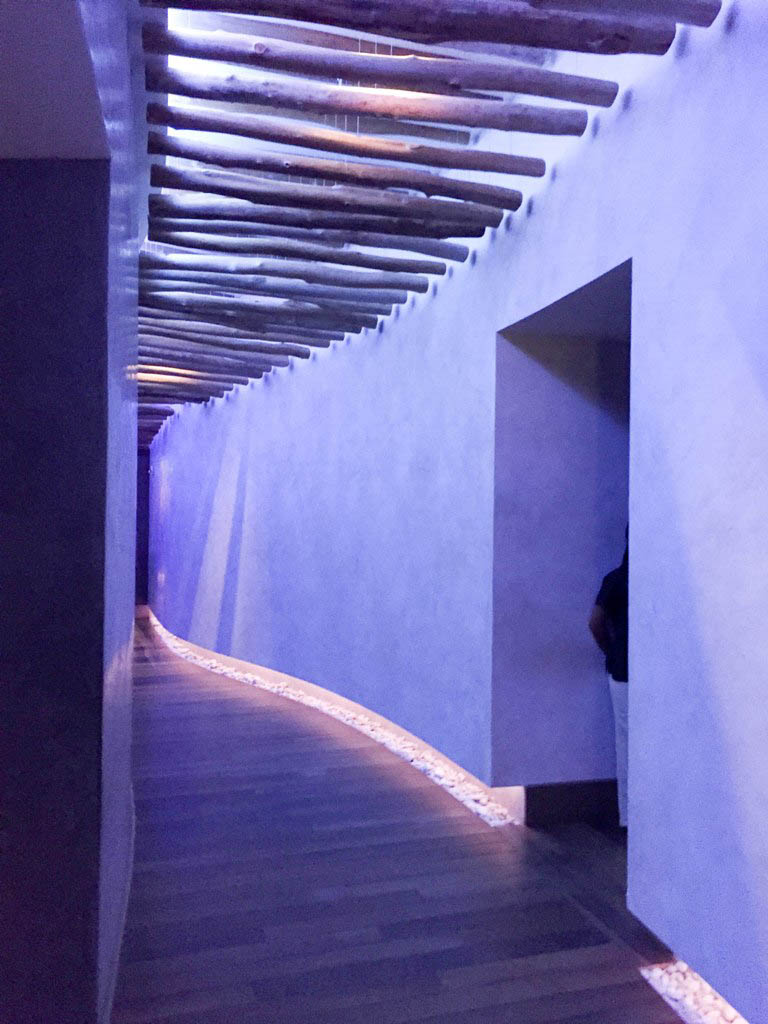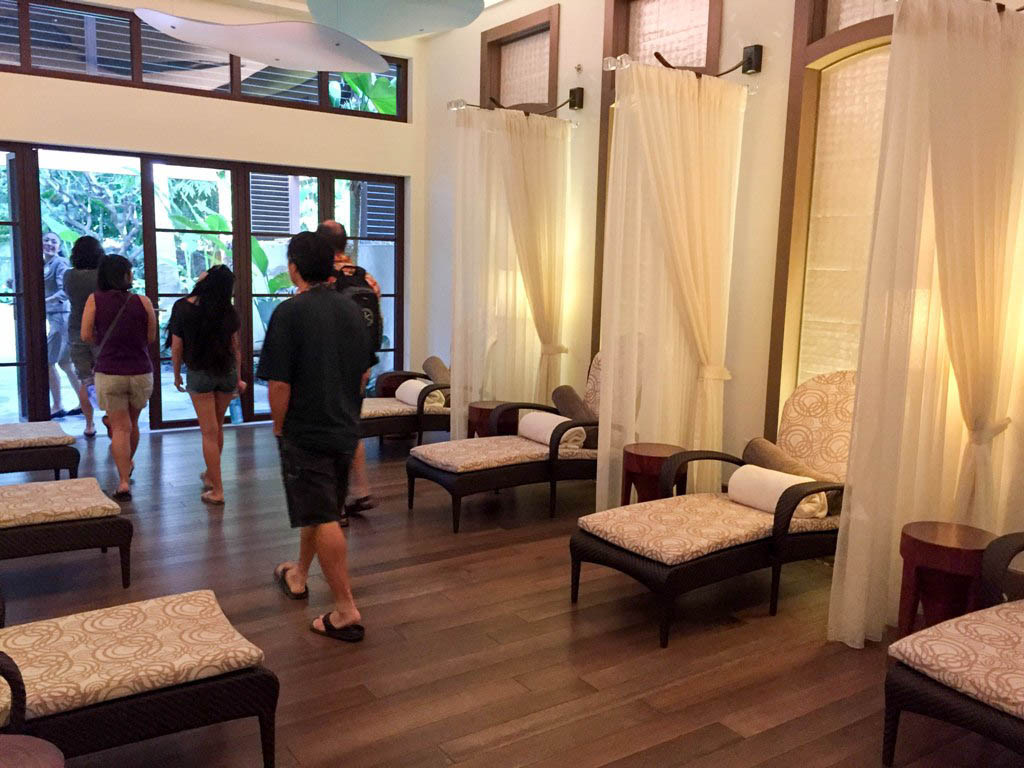 It was now around 8:30 AM and it was time to scope out some lounge chairs for the day. I wanted to lay by the beach so that was the first place we went. We managed to get the last two chairs in the front row with an umbrella above them. This turned out to be key because it was super humid and raining off and on all morning. The beach was very quiet for about an hour and then a lot of families started rolling in and the spot got very crowded and loud. Still, we both had our headphones in and had a really enjoyable time on the beach. At around noon we decided we had our fill of shrieking children and decided to pack up our stuff and seek out a new spot. But first we stopped at Ama Ama for a nice sit down lunch with a view of the beach. I had the chicken salad sandwich and Tim had the Ruben. Like our lunch the day before, the food was just okay. Good, but we weren't blown away by it.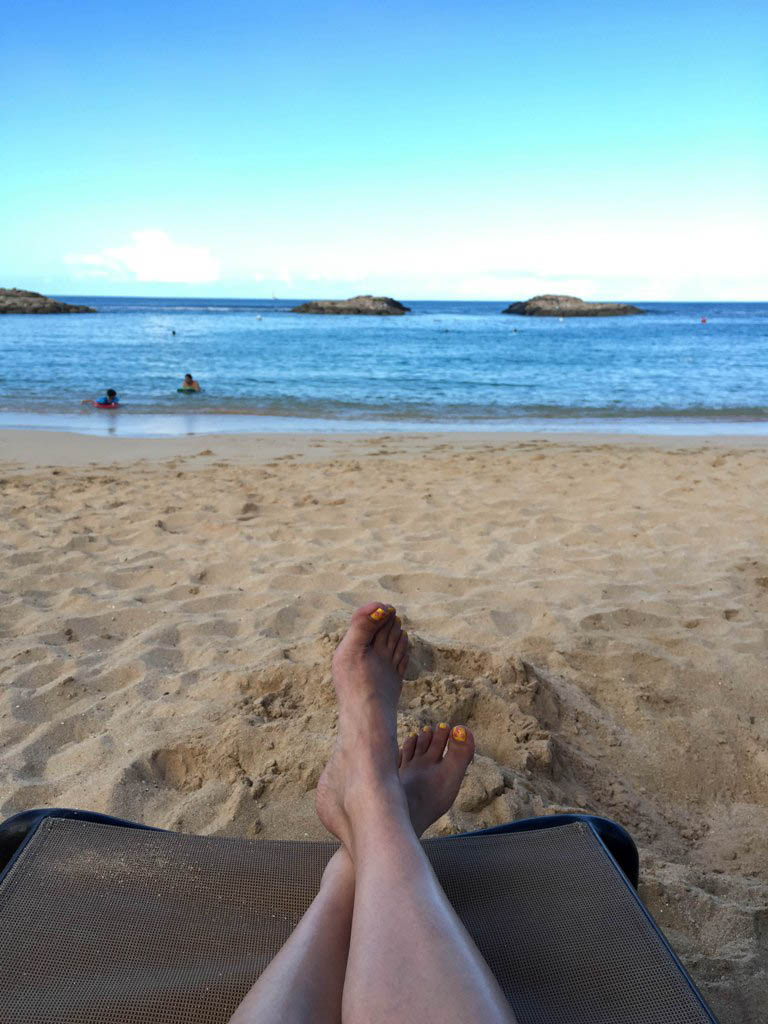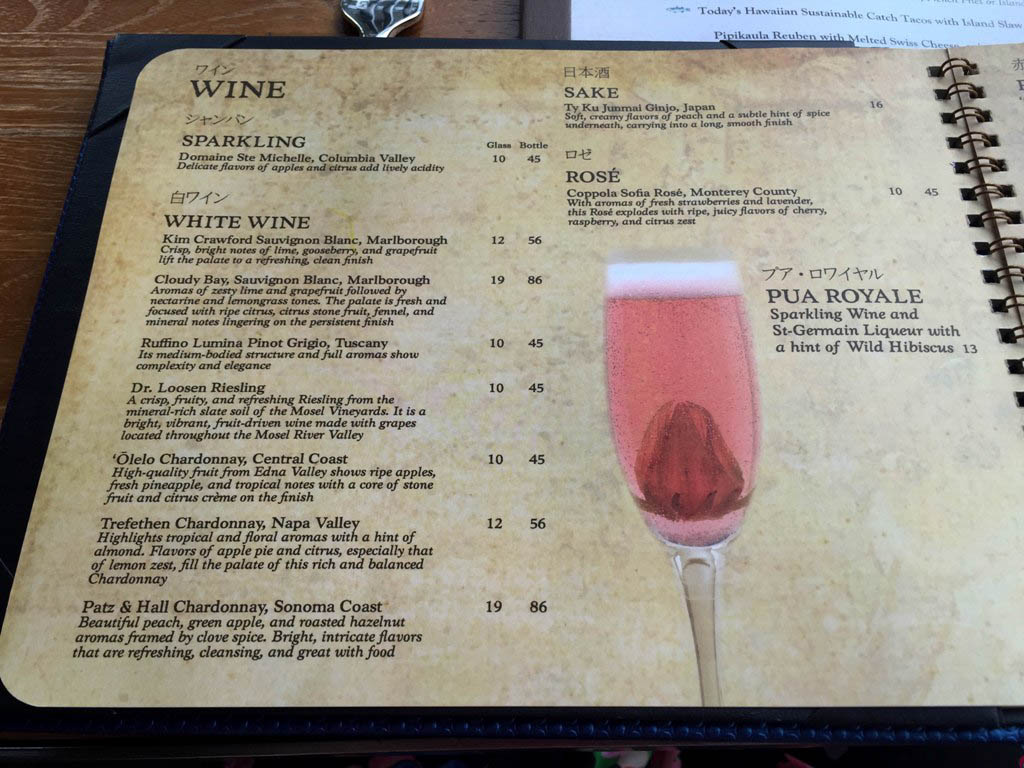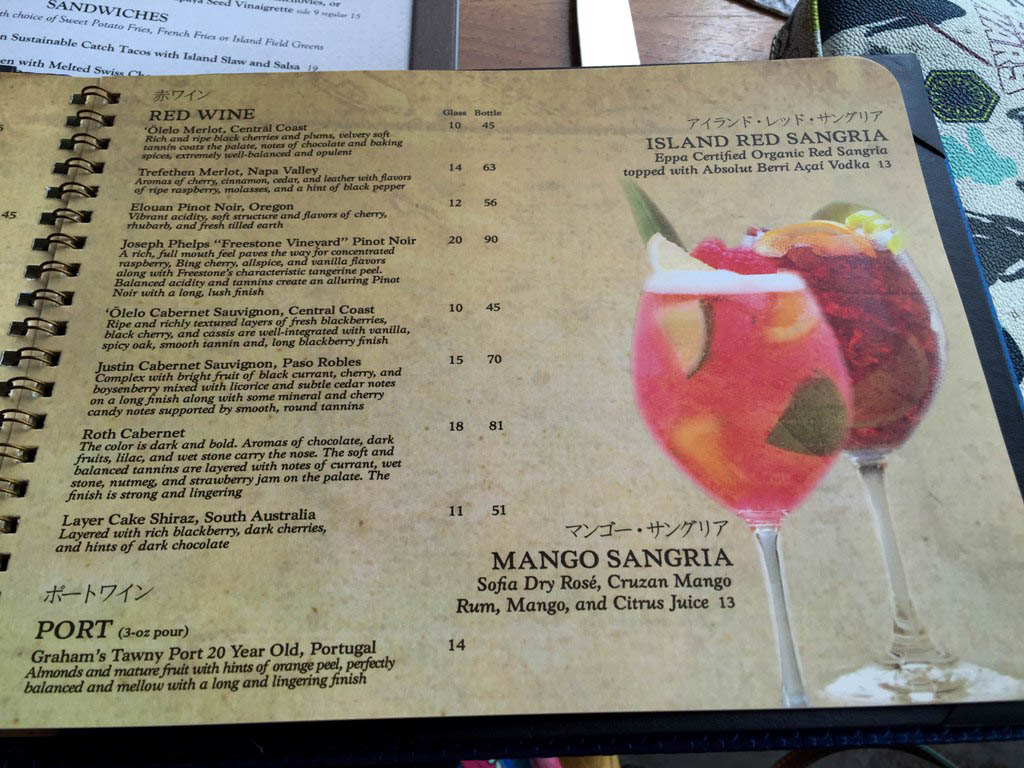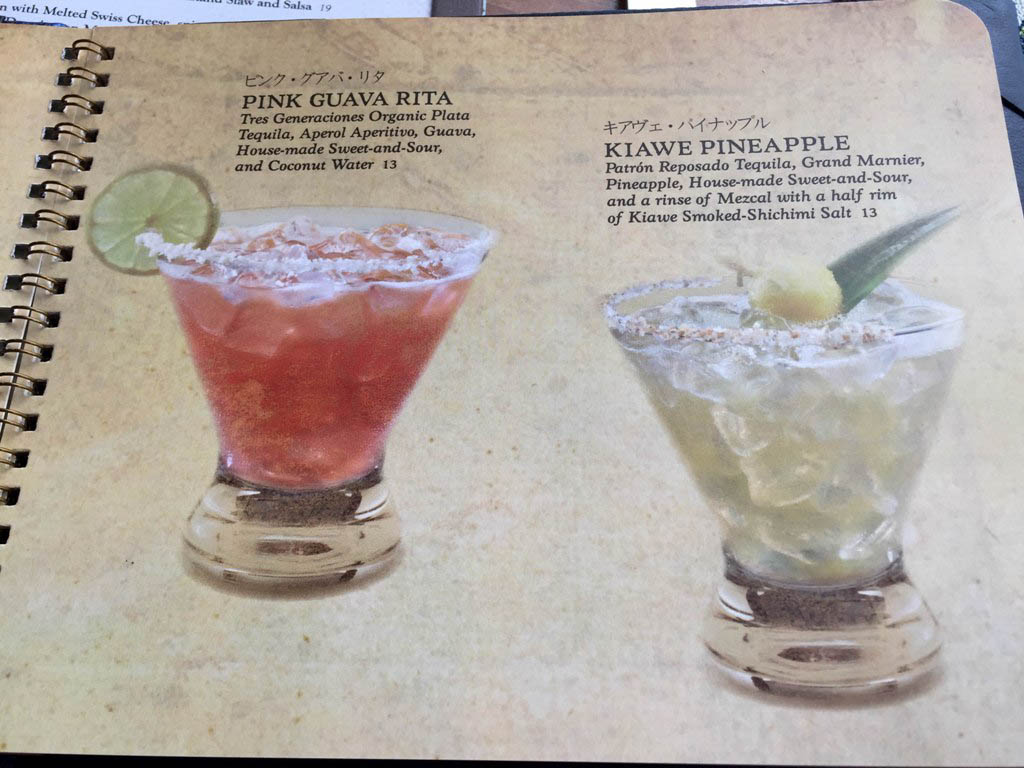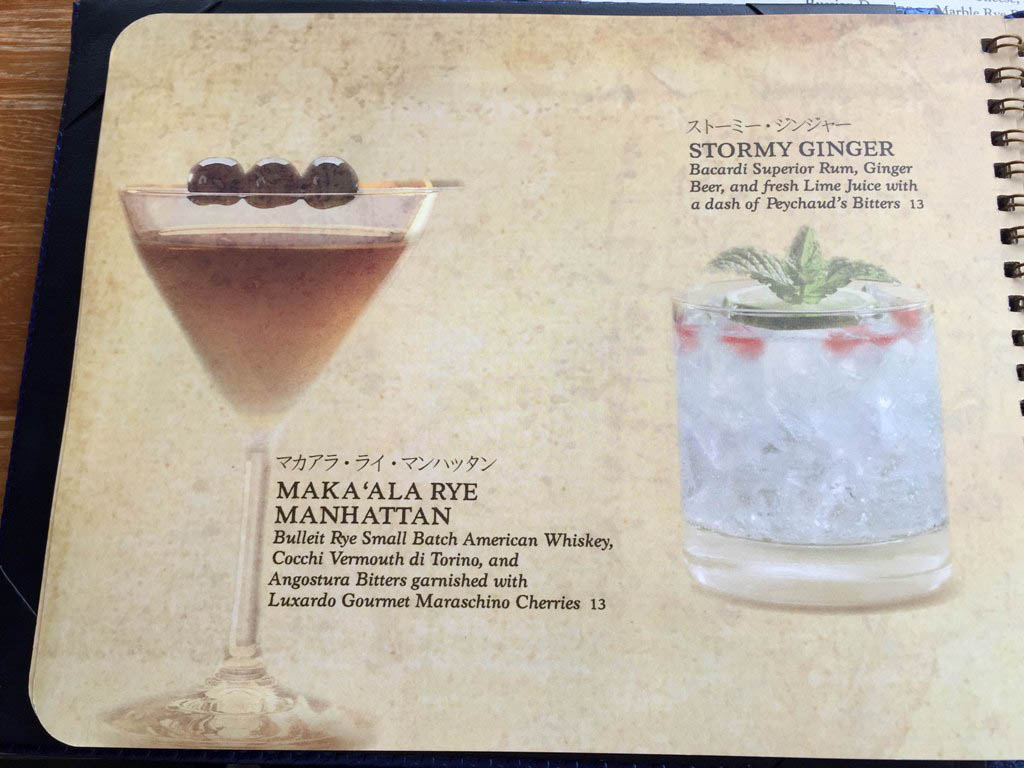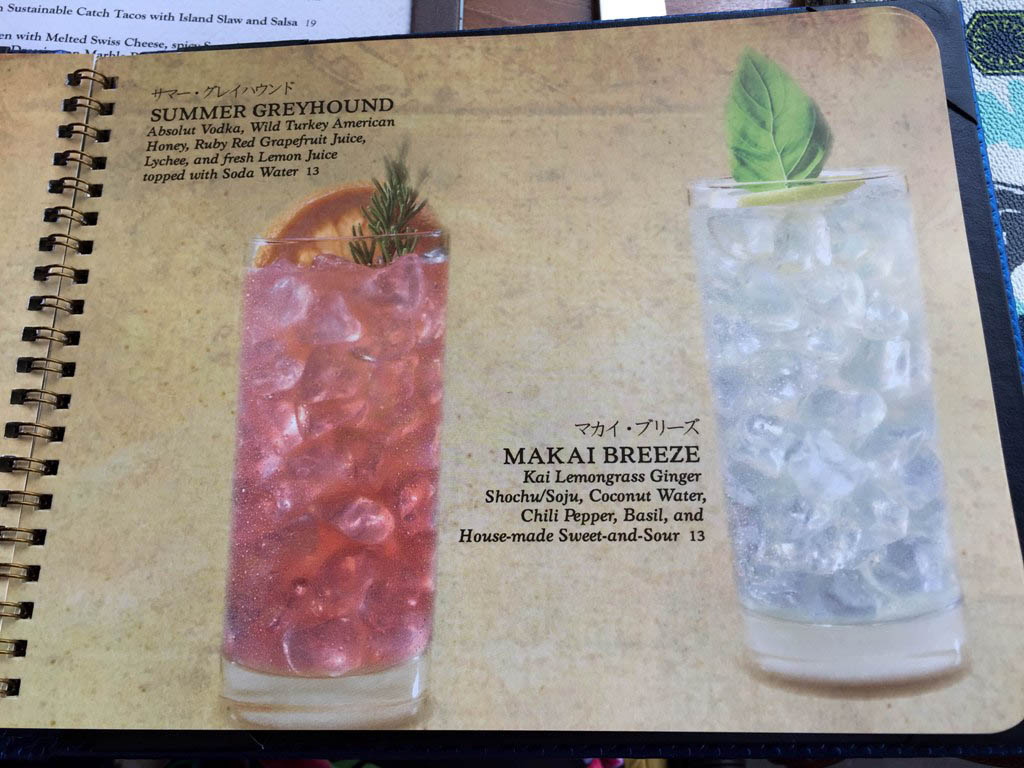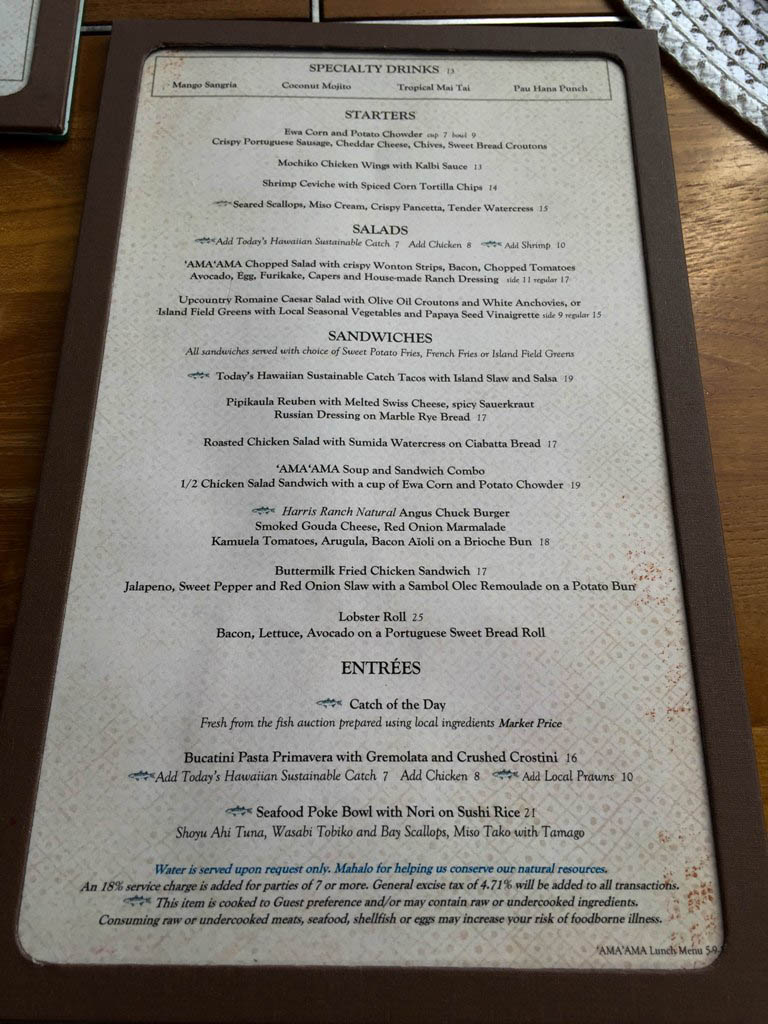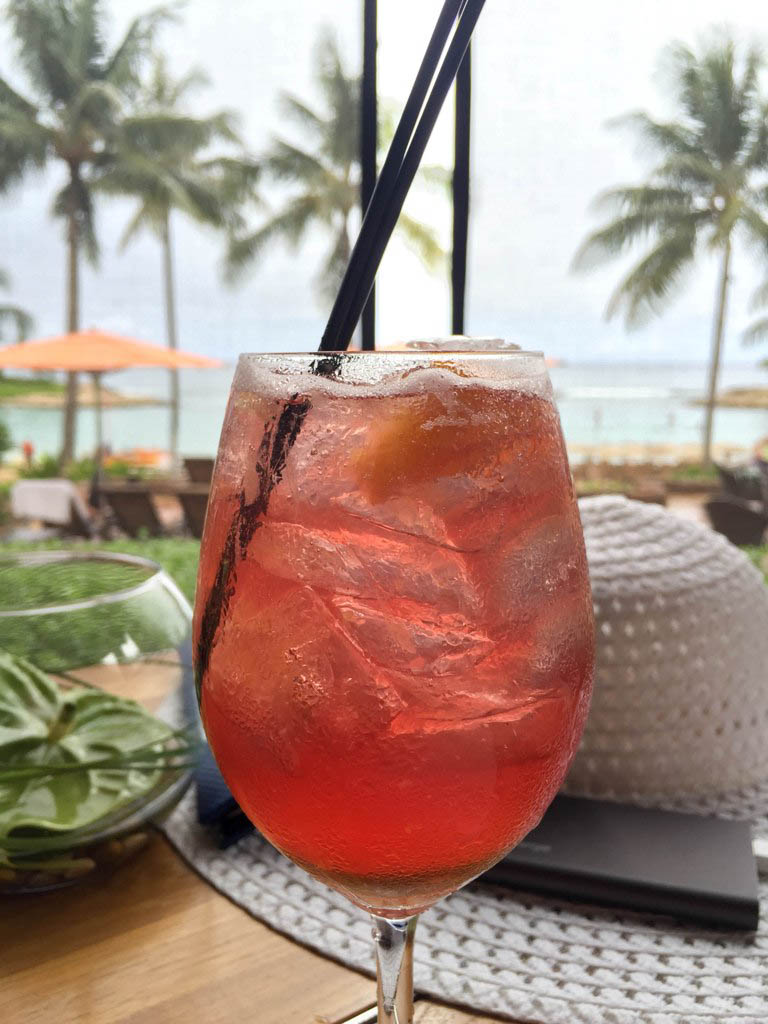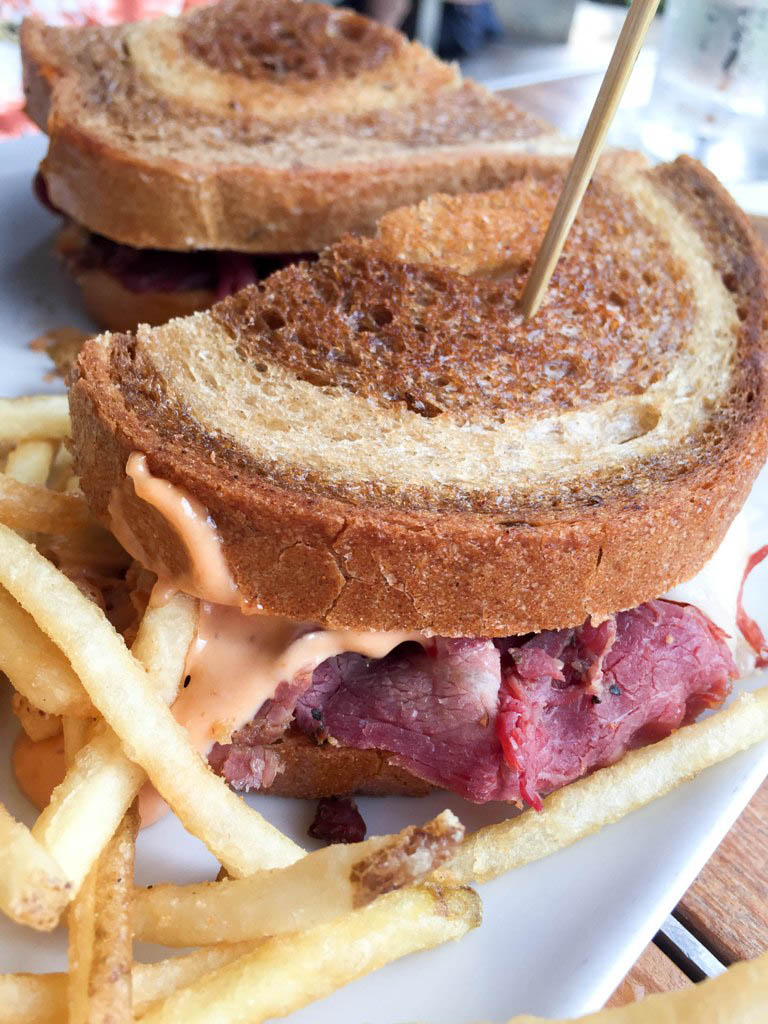 After lunch we walked around the pools looking for a new spot. We thought we give the adult pool a try and it turned out to be a great decision. We again got the last two chairs available under an umbrella. Another good decision because about an hour after we sat down and it started pouring rain. However, we learned rain storms don't last very long in Hawaii and after about five minutes the rain completely stopped. I decided to walk around the Resort on my own for a little bit and I ran into Chip and Dale and Stitch. I also took some pictures in the underwater viewing area at Rainbow Reef, Aulani's man-made snorkeling lagoon, before making my way to the gift shop and purchasing an Aulani Dooney & Bourke bag. On my way back to the pool area I stopped at the bar (there's one adjacent to the adult pool which is very handy) and asked if they could make a boozy Dole Whip. The bartender couldn't make one but recommended I buy the Dole Whip separately from Ulu Cafe across the way, and then a shot of rum. I ordered a shot of dark rum in a tall plastic cup, then got my Dole whip, then ungracefully transferred the yogurt into the rum cup. It wasn't pretty but it was delicious. I highly recommend it.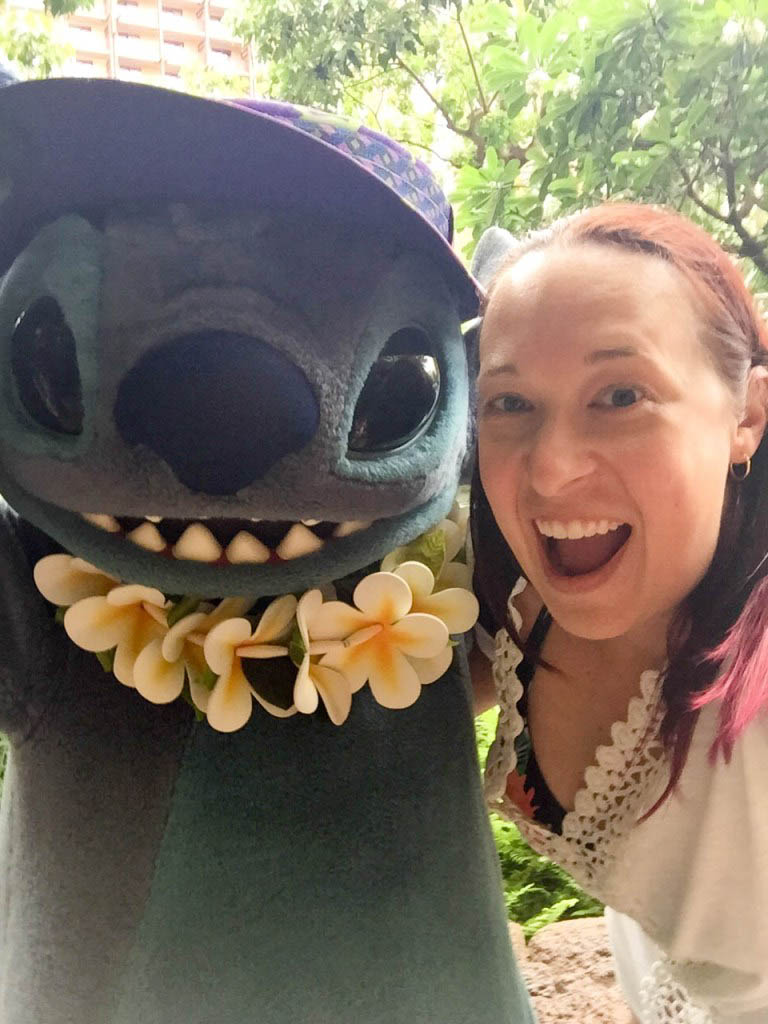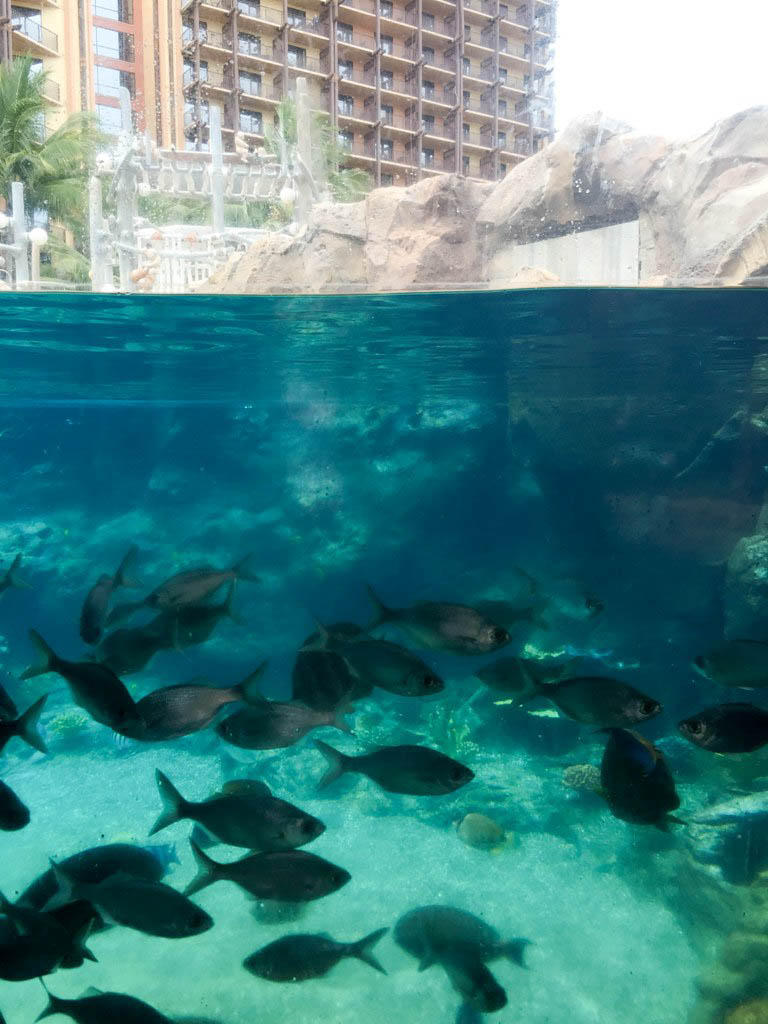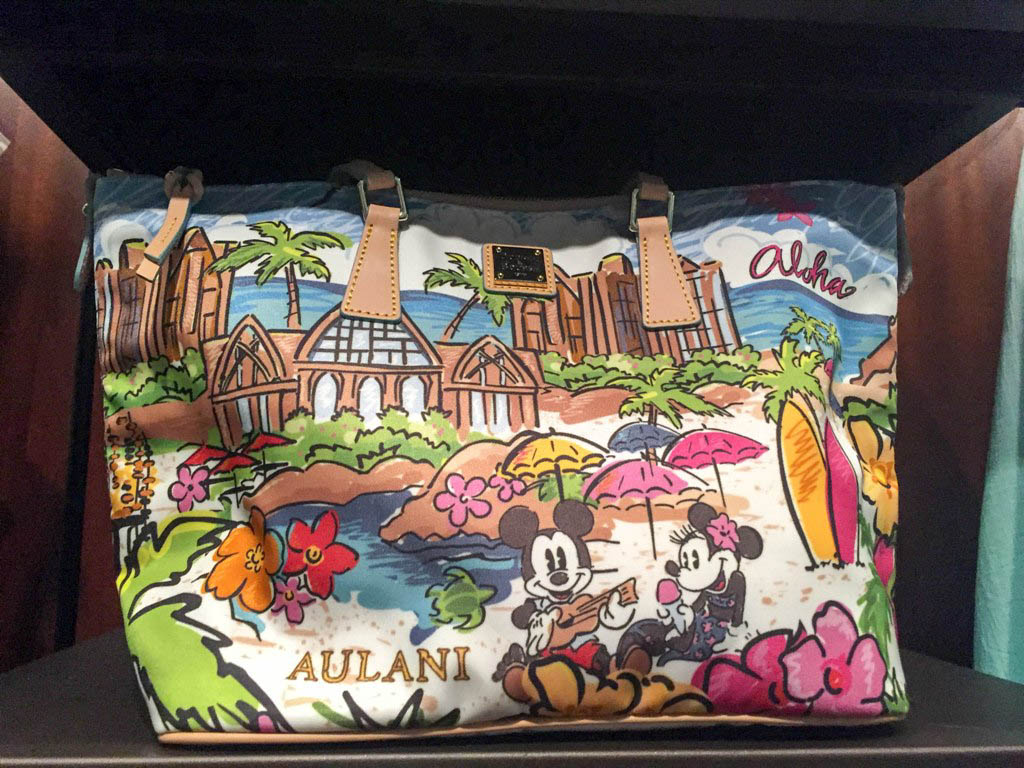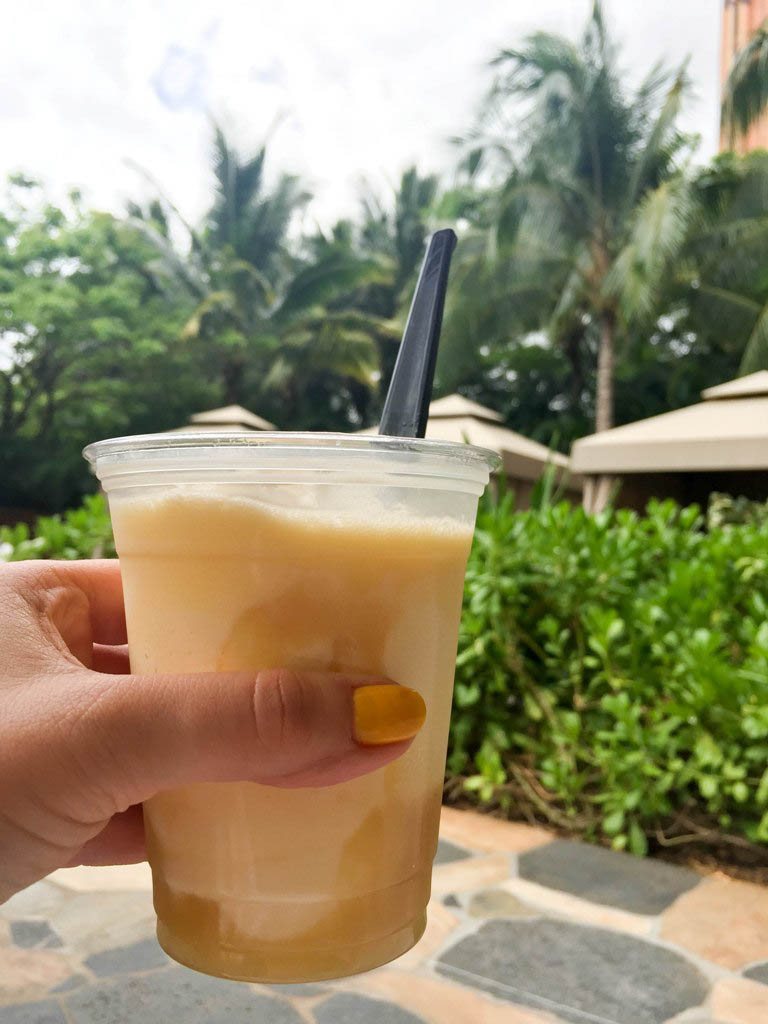 At around 5 o'clock we decided to pack up our things and head up to the room to change for dinner. We wanted to go to the 'Olelo Room for drinks and appetizers. They weren't set up on the patio because of the rain, but they said we could order and take it out to the patio ourselves, so we did. After our first round of drinks we went inside and sat at the bar to eat. We got the meat and cheese plate and the cheesy garlic bread; both were very good. I also tried the 'Olelo Chardonnay (on special for Happy Hour) and it was better than I was expecting.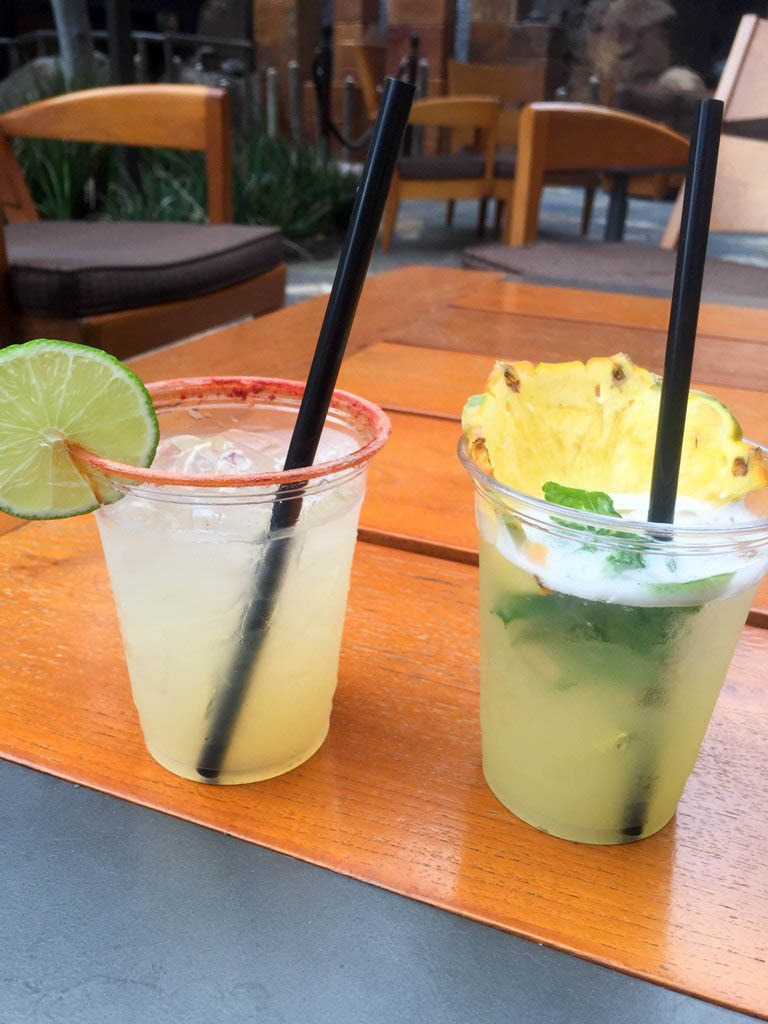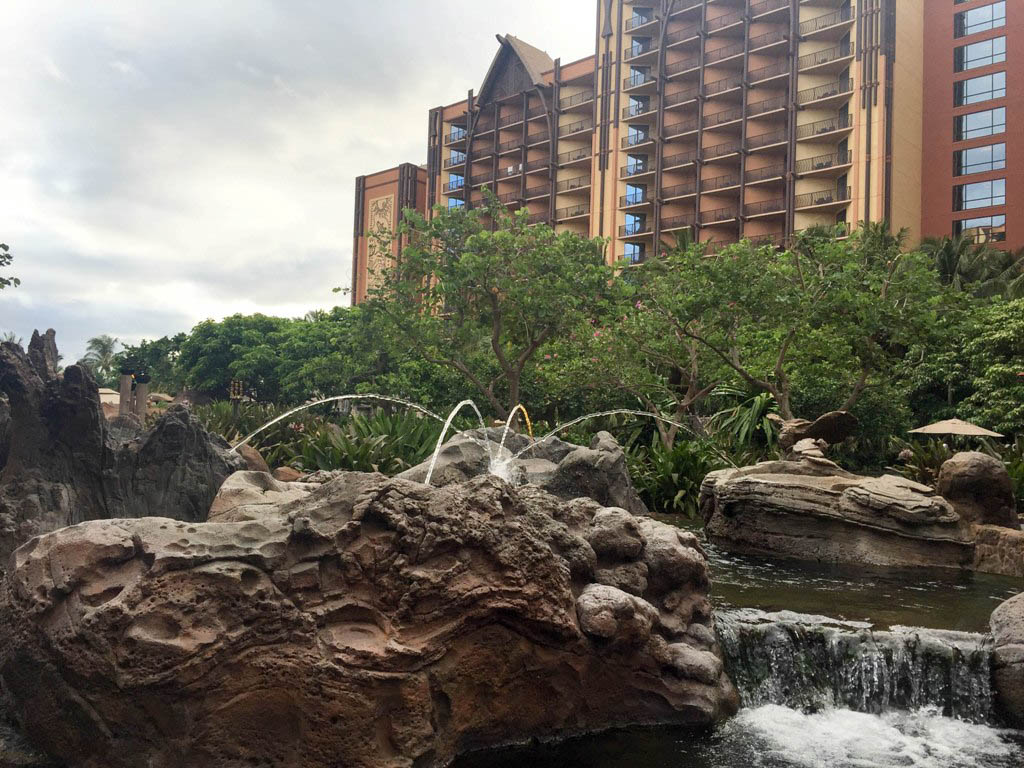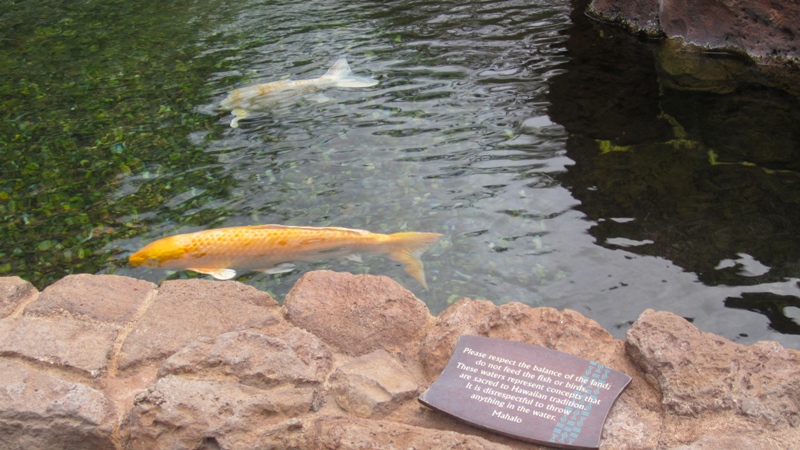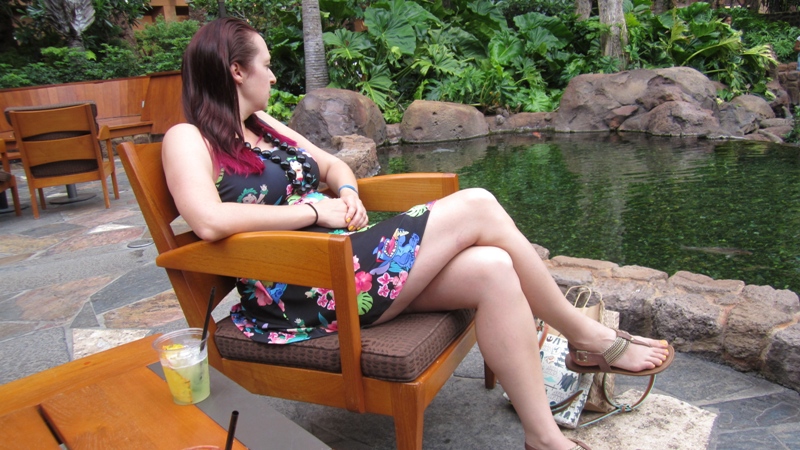 After dinner we went back to the room and hung out on our balcony for a bit. We were both so tired but knew we couldn't go to bed at 8:00 PM, so we went out for a walk on the path that connects all the resorts around the lagoons. The walk did nothing to re-energize us and if anything made us even more tired, and we were both in bed by 9:00 PM!
Coming up on our third day at Aulani – Snorkling in Rainbow Reef and wedding stalking!
Hawaii Trip Report – Day 1 – Aulani Arrival Day and Room Tour!