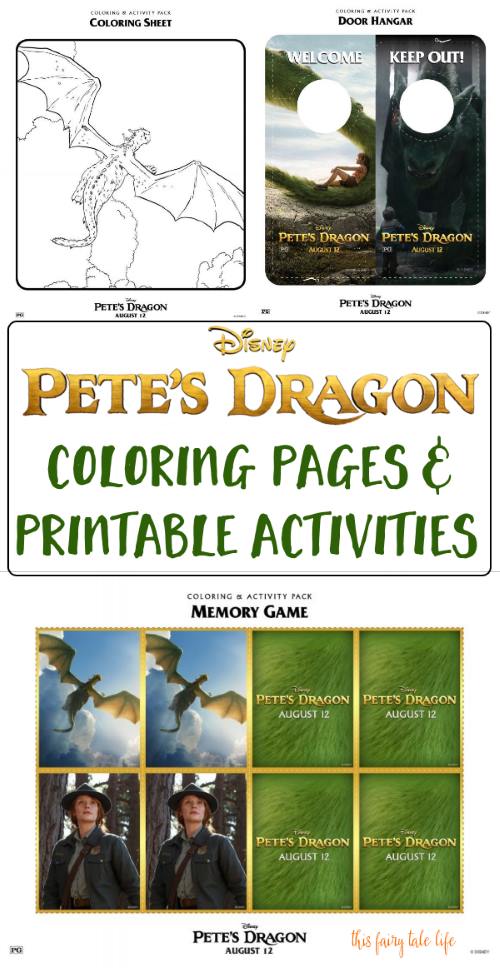 Welcome to Pete's Dragon Week on This Fairy Tale Life! I have a few Pete's Dragon posts for you this week, including the return of my Poster Palette series and a wedding inspiration board. It's going to be SUPER pretty, if I do say so myself.
The reason I'm doing a Pete's Dragon week is because I have big news … I'm going to the red carpet premiere of Pete's Dragon tonight! One of my blogger friends invited me to join her at the premiere and I'm so excited. I have gone to television red carpet events with my husband but this will be my first big-time Disney movie premiere experience! More on that later in the week!
Kicking off our themed week are these fun Pete's Dragon coloring pages and printable activities. I hope they get you excited for Pete's Dragon, coming to theaters on Friday August 12, 2016!
PETE'S DRAGON Coloring Pages and Activities
To save these printable PDFs to your computer, click on the links below and the PDF will open in a new tab or window. Right click on the PDF and select "Save" or "Print."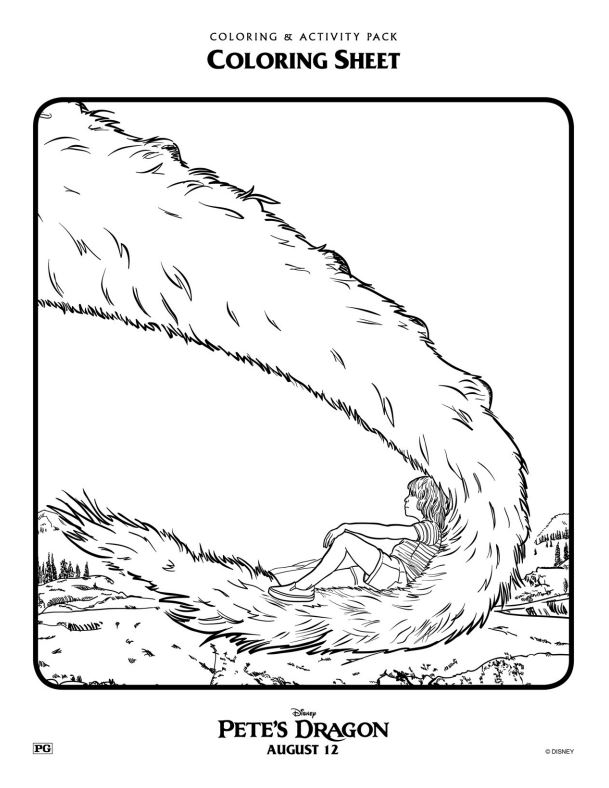 Pete's Dragon Coloring Pages
Pete's Dragon Bookmarks
Pete's Dragon Door Hanger
Pete's Dragon Maze
Pete's Dragon Memory Game
Pete's Dragon Puzzle
Pete's Dragon Spot the Difference
Watch a cute behind-the-scenes clip of Bryce Dallas Howard talking about "working" with Elliot on the set of Pete's Dragon:

For years, old wood carver Mr. Meacham (Robert Redford) has delighted local children with his tales of the fierce dragon that resides deep in the woods of the Pacific Northwest. To his daughter, Grace (Bryce Dallas Howard), who works as a forest ranger, these stories are little more than tall tales…until she meets Pete (Oakes Fegley). Pete is a mysterious 10-year-old with no family and no home who claims to live in the woods with a giant, green dragon named Elliot. And from Pete's descriptions, Elliot seems remarkably similar to the dragon from Mr. Meacham's stories. With the help of Natalie (Oona Laurence), an 11-year-old girl whose father Jack (Wes Bentley) owns the local lumber mill, Grace sets out to determine where Pete came from, where he belongs, and the truth about this dragon. Disney's "Pete's Dragon" opens in U.S. theaters on August 12, 2016.