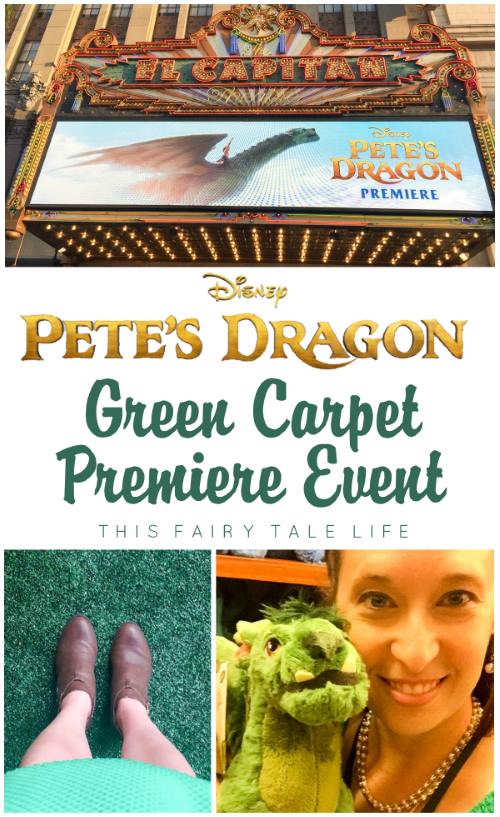 Somebody pinch me!
On Monday night I had the experience of a lifetime – I attended the Pete's Dragon red carpet premiere event at the El Capitan Theater in Hollywood. Well, actually, my first Disney red carpet was a GREEN carpet!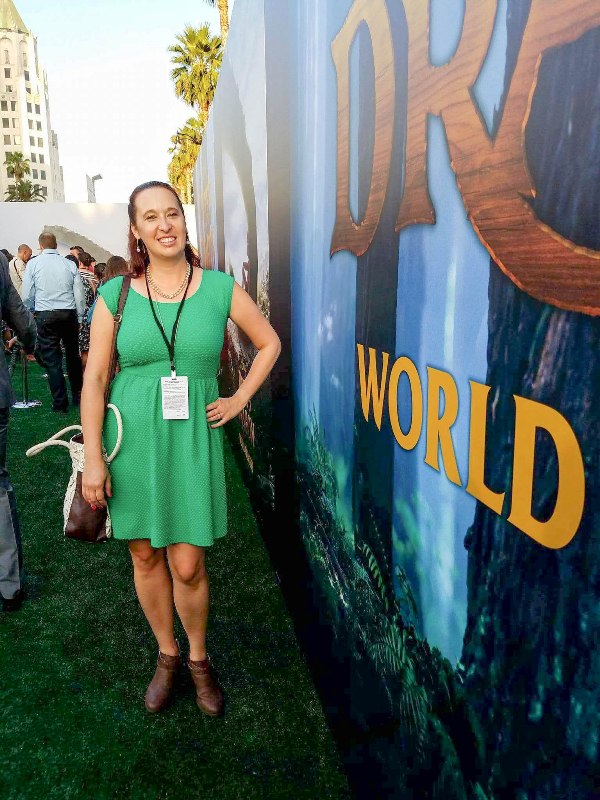 I want to thank my friend Carly from Lipgloss & Crayons for inviting me to be her guest at the premiere. She told me, "I know you love Disney and I also know you'll take better pictures of me than my husband would." See? This is why it's important to have blogger friends! Here we are with another of our blogger friends, Jana from Merlot Mommy. I'm so proud and lucky to have these ladies as friends and colleagues!
For my big night out I decided to do a very subtle Elliot DisneyBound … okay, it's just a green dress. I actually bought this green dress a couple years ago for a Peter Pan DisneyBound, and I've certainly gotten a lot of wear out of it! Up next – Pascal from Tangled, maybe? I paired the dress with some brown ankle booties and a tassel necklace from Kendra Scott. I certainly fit right in on the green carpet!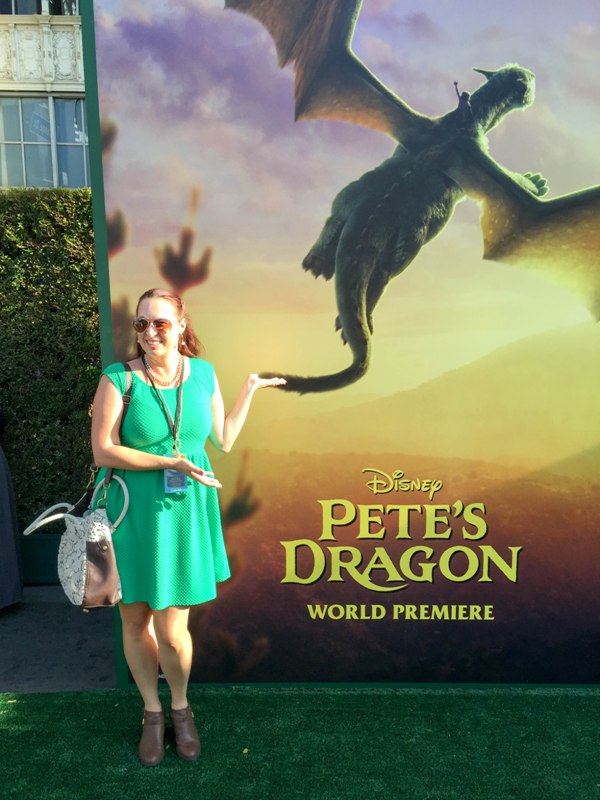 Our evening started with a pre-party at the neighboring Roosevelt Hotel. It was a little strange, because just a few months ago I was in the same room for the season premiere of American Dad, the animated show my husband works on right now. It's a great space and I can understand why the studios love it!
Inside the pre-party we were treated to food, drinks, desserts, photo ops, and fun activities. I saw people getting temporary dragon tattoos and drawing onto some kind of magical rainbow paper! There were things to do for people of all ages; I even danced a bit to the tunes the DJ was spinning (you know I can't resist a dance party)!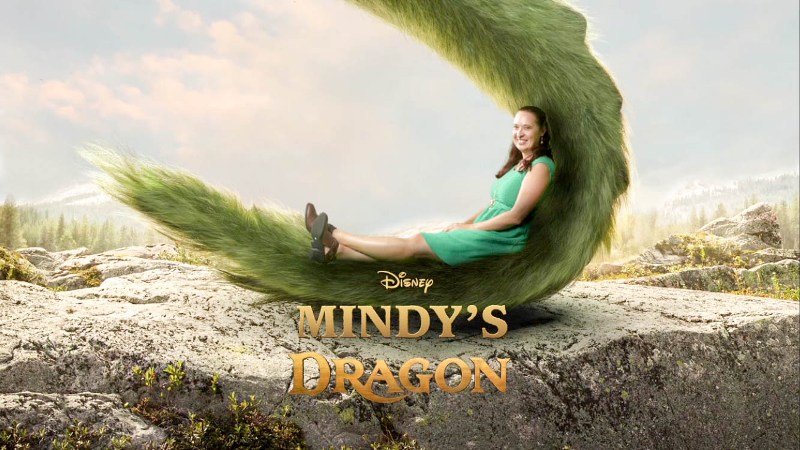 The highlight of the party was the liquid nitrogen rice krispie treats which gave us "dragon breath," as demonstrated by the lovely Carly.
Dragon breath?!? #PetesDragon pic.twitter.com/qz8TzNtzFU

— Carly Anderson (@lipglosscrayons) August 9, 2016
Soon enough we were being ushered out of the Roosevelt Hotel and onto the green carpet. During the hour we were inside, the outside space had come alive with guests and press – it was crowded! We stopped for a couple photo ops but we were encouraged to keep things moving and within just a couple minutes we were outside the entrance of the El Capitan theater! There was a HUGE Elliot photo op, unlike anything I've ever seen!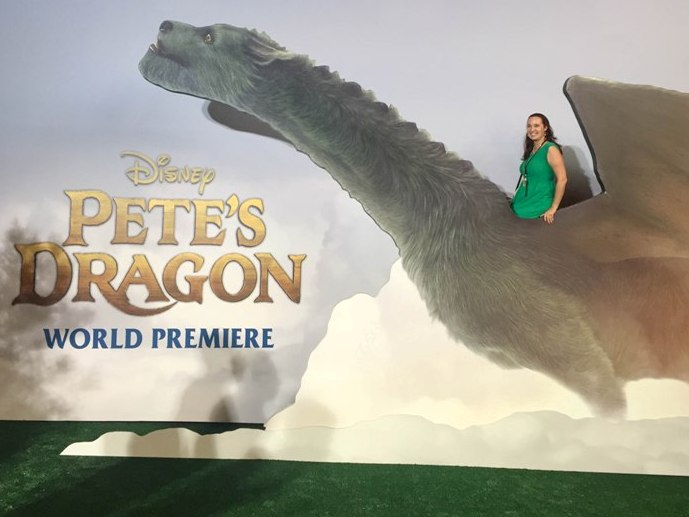 I also spotted a few celebrities! I was hoping to catch a glimpse of the beautiful Bryce Dallas Howard, one of the stars of Pete's Dragon, but I never spotted her. I did see Auli'i Cravalho (the voice of "Moana"), Josh Gad, Mario Lopez, Joey Fatone, Brooke Burke, Patton Oswalt, and Ken Marino (one of my favorite comedic actors from The State and pretty much every TV show you've ever seen). We also saw Oakes Fegley, who does a spectacular job playing Pete in the movie, take his turn on the Elliot photo op. Not bad for one night!
Of course we also screened the movie, but I can't talk about it yet! My review will be up later this week.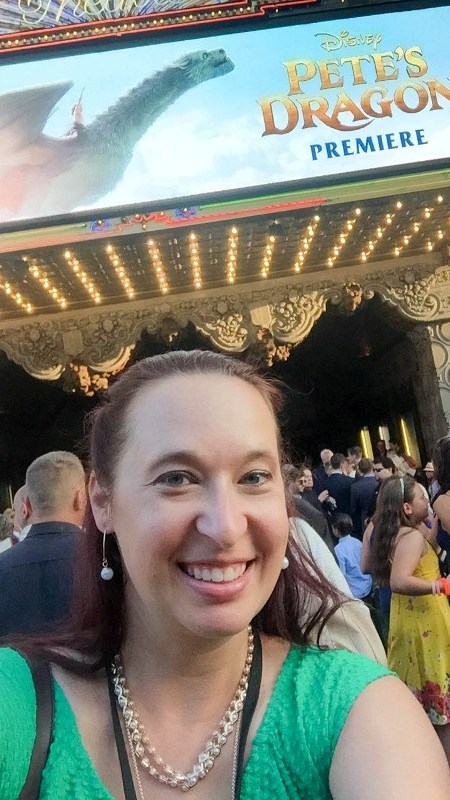 It was such a fun night and a total dream come true to attend the premiere of a Disney movie! Thank you so much to Carly for inviting me as her guest and thank you Disney for a great party!