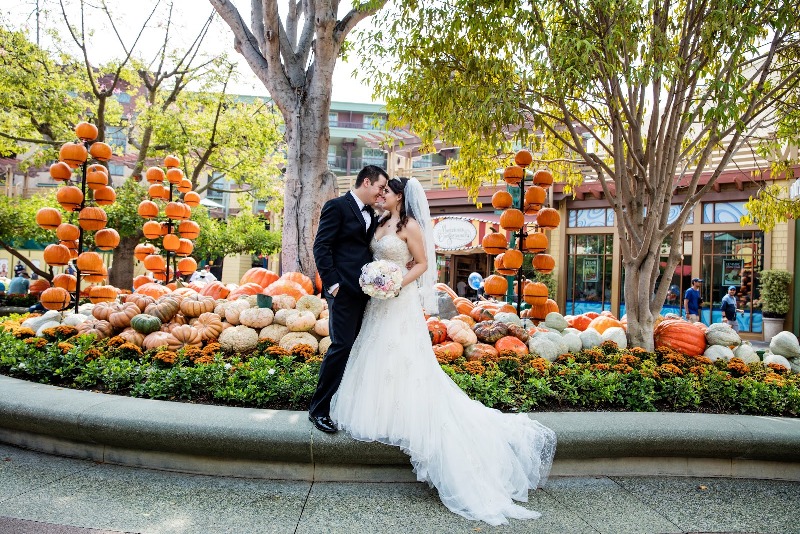 I have another beautiful real Disneyland wedding to share with you today! Michelle and Brian had a late summer wedding at my favorite venues (although I may be biased) – the Rose Court Garden and the Trillium ballroom. They added a lot of fun extras to their wedding, including inviting Mickey and Minnie to the reception, and taking photos inside Disneyland. Also, getting married in late September has it's perks, because you get some extra Halloween decor! The new pumpkin decor in Downtown Disney made a stunning backdrop for Michelle and Brian. And pay close attention to her bouquets … they were handmade by the bride! Not only was their wedding day romantic and beautiful, but Michelle has some great advice for any couple thinking about doing a lot of DIY for their wedding.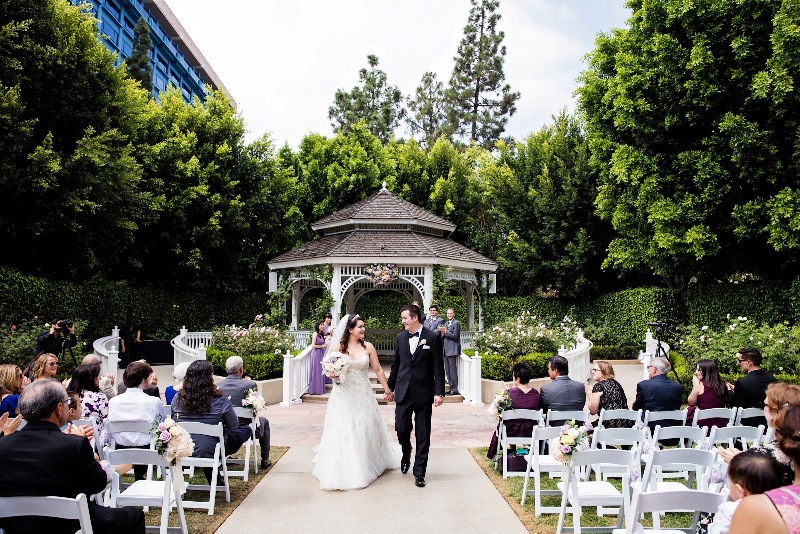 Photography: White Rabbit Photo Boutique
Disney Bride: Michelle Lu, 25, Bay Area, CA
Disney Groom: Brian Lu, 25, Bay Area, CA
Wedding date: September 18, 2017
Ceremony venue: Rose Court Garden, The Disneyland Hotel, Anaheim, CA
Reception venue: Trillium Room, Disney's Grand Californian Hotel, Anaheim, CA
Guest count: 48
Why did you choose a Disney wedding?
We chose Disney because of the incredible service and ease of planning. I have always been a Disney girl and it was amazing to share my love of Disney with Brian during our relationship. His first visit to the parks was in May of 2015 with my family. He then proposed in front of Sleeping Beauty Castle later that year. Having a Disney wedding was always our first choice.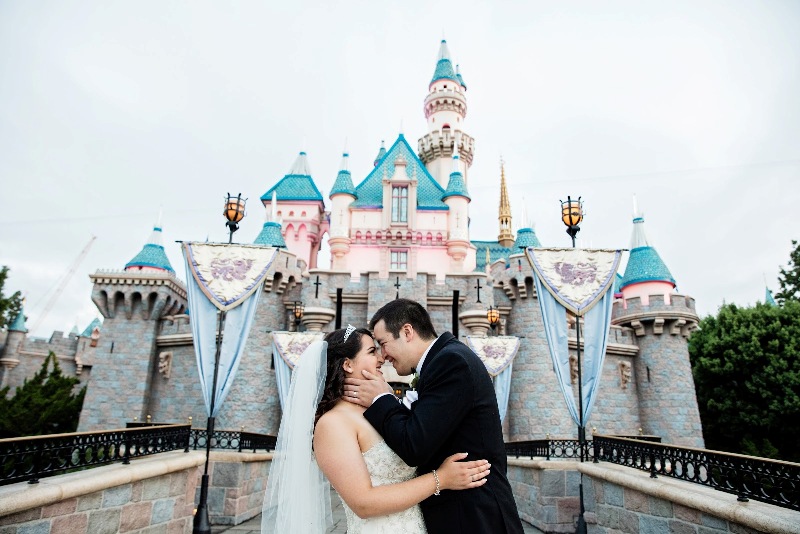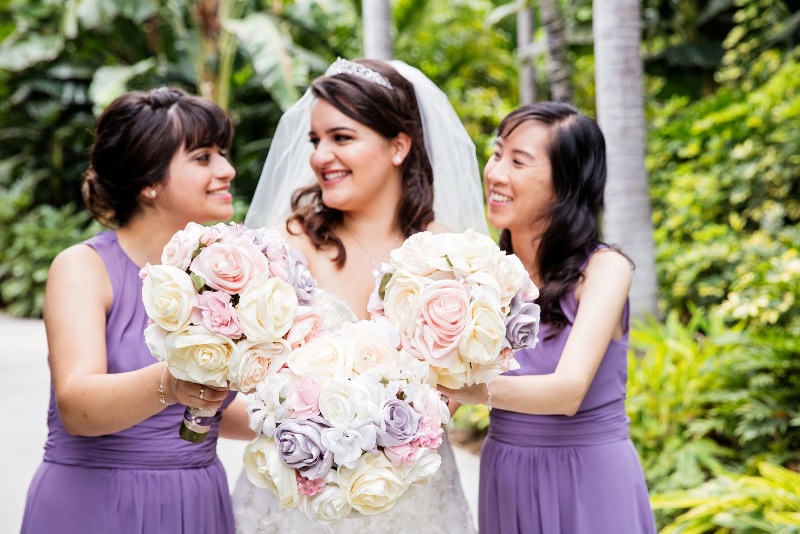 How did your family/friends react to your Disney wedding?
They were really excited! No one was really surprised because I had always been obsessed with Disney.
What was your theme?
Our theme was a mix of us and "and they lived happily ever after." We incorporated as many small details into the decor as possible. Our Fastpass escort cards had a barcode that was our dating anniversary, the date he proposed and the date we got married. The tables were all themed to attractions we went on during the Disneyland trip that we got engaged. We also incorporated Mickey and Minnie where possible because that is our Disney couple – in fact, you can see us in the parks with matching Mickey and Minnie shirts typically! Most of the wedding stationary, programs, favors and even our wedding cake had " … and they lived happily ever after" on it.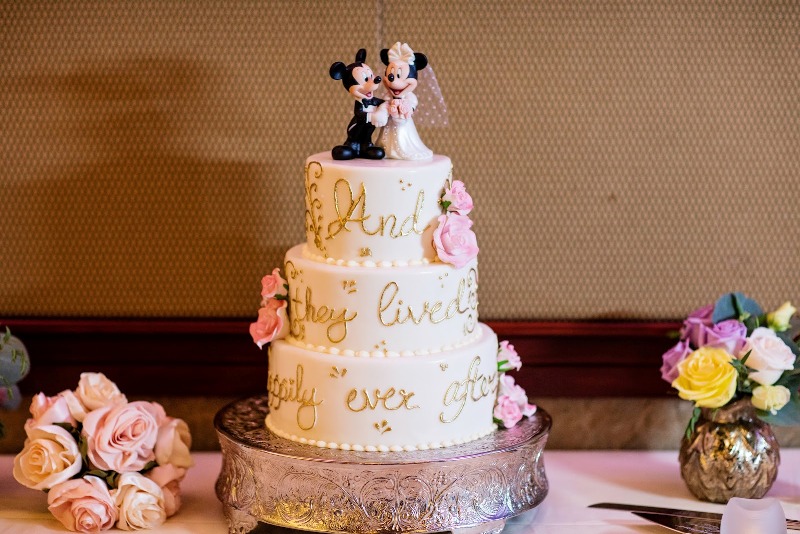 What was your biggest challenge in planning your Disney wedding?
The biggest challenge was balancing DIY elements and having Disney do some of the décor elements for us. I was a total DIY bride. I handmade all of the personal floral – 4 bouquets, 6 boutonnieres, 2 corsages and 2 floral pieces to put on my mom's grave during the wedding week. This involved cutting and hand melting over 900 petals that were sewn together by hand. I wanted to do the centerpieces but my husband said to just have Disney do them in order to save time and some sanity!
Disney will not set up DIY elements, so while it may be more cost effective to do some things yourself; I didn't want to burden any of our guests too much with elaborate DIY elements on the tables. I also kept our welcome table clean with just a carriage card box and the guest book. My goal was to make it as easy as possible on everything.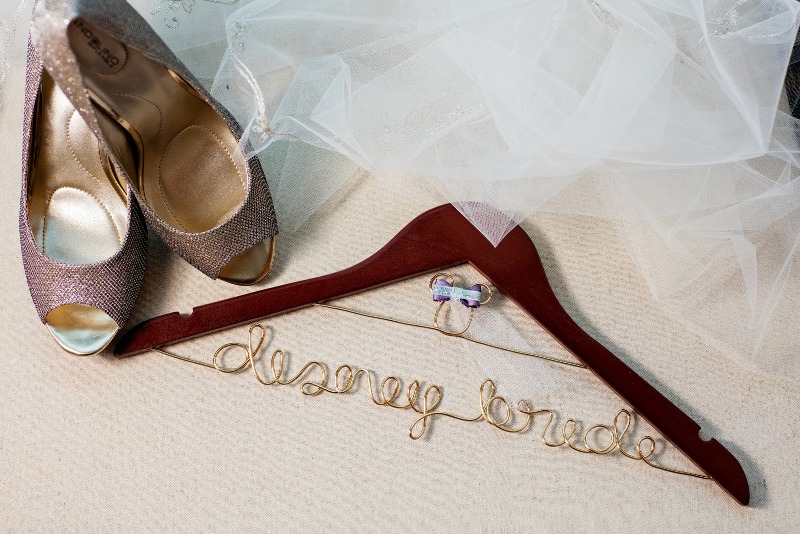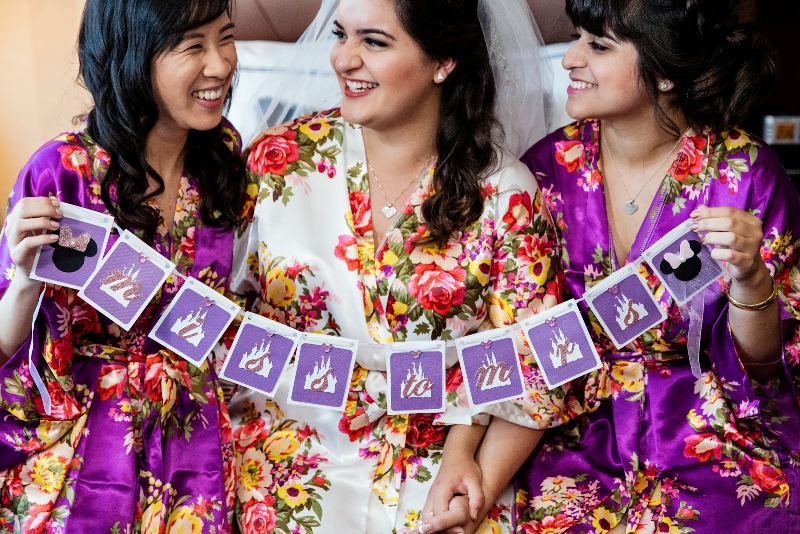 Tell us about your ceremony. Did you include any Disney touches?
Our ceremony was held at 11:30 am at the Rose Court Garden and was officiated by preferred Disney vendor Pastor Norman Alexander. He was very easy to work with customizing our ceremony. We essentially took two of his templates and reworked it into something that reflected our beliefs and preferences. The Disney touches included the Walt Disney quote "To all who come to this happy place, welcome" and "you may now begin your happily ever after with a kiss" for the introduction of our first kiss as a married couple. The ceremony was beautiful. We also included a remembrance of my mom who passed during our engagement.
Describe your reception. Was it completely traditional or did you do anything unique?
Our reception was held at the Trillium Room. We had some traditional elements – first dance, father-daughter dance, mother-son dance, cake cutting and speeches from the wedding party. I did not want to do a bouquet or garter toss (I spent way too much time on those bouquets to actually want to throw one!) So I gave my bouquet to my grandparents (Noni and Papa) as a way to honor their 68 years of marriage. They were definitely touched by this and have the bouquet on their mantle. We also did not do family portraits post ceremony. I had these done with our Mickey and Minnie meet and greet. The DJ worked with the photographer to call out individual families to take pictures with us and Mickey and Minnie.
What did you splurge on? Where did you save money?
We definitely splurged on the castle photo shoot two days after the wedding and having Mickey and Minnie come to the reception. We saved money on décor by keeping things simple. I also saved quite a bit by doing my own personal floral and by making a lot of my details (ie hangers, custom button favors, signs, etc.)
What was your favorite moment of the day?
I have two favorite moments – the first look and seeing our reception before our guests. Both were so magical. Our first look was emotional and I felt so relieved in those final moments before the ceremony to have Brian by my side. Seeing the reception for the first time was beautiful and the DJ played "Beauty and the Beast" for us to dance to. All in all, it truly was the best day ever.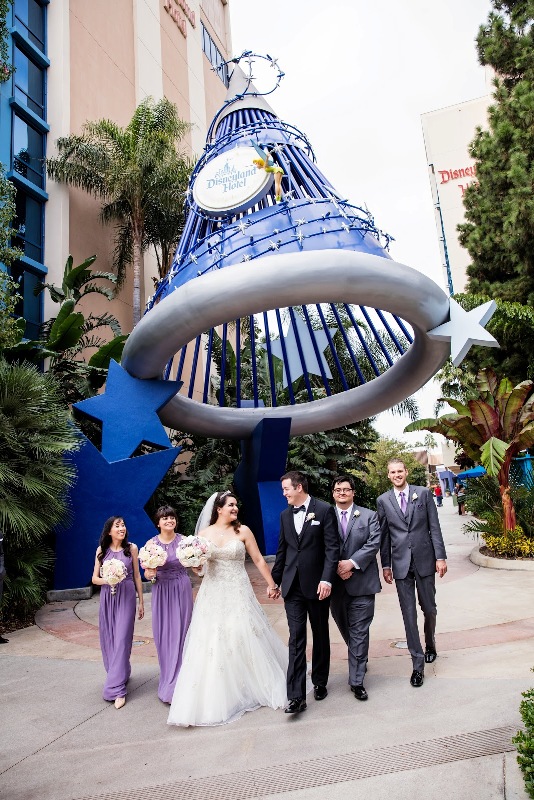 What would you change if you had to do it all over again?
Honestly, I don't think there would be anything I would change. There were some slight hiccups on the day of but they were so minor that I don't really mind them.
What advice would you give to couples that have just started planning their Disney wedding?
My biggest advice is read your BEO (Banquet Event Order) several times, print it out, and take a red pen to it to make sure that everything that you want is in writing. Also, trust the process and don't be afraid to communicate with your planner. Instead of stressing out, email them and ask that question that is on your mind. I also suggest balancing DIY elements with the amount of time that you have. DIY can be great but give yourself plenty of time and do not try to take on so much that you inundate yourself.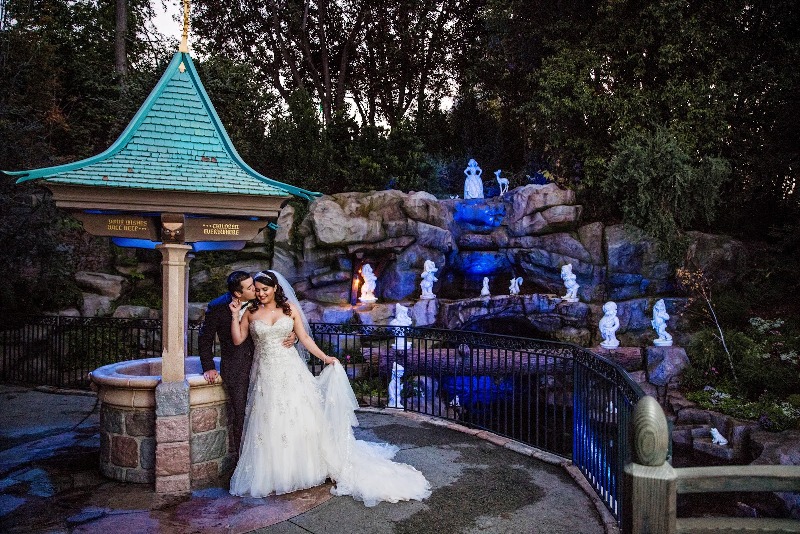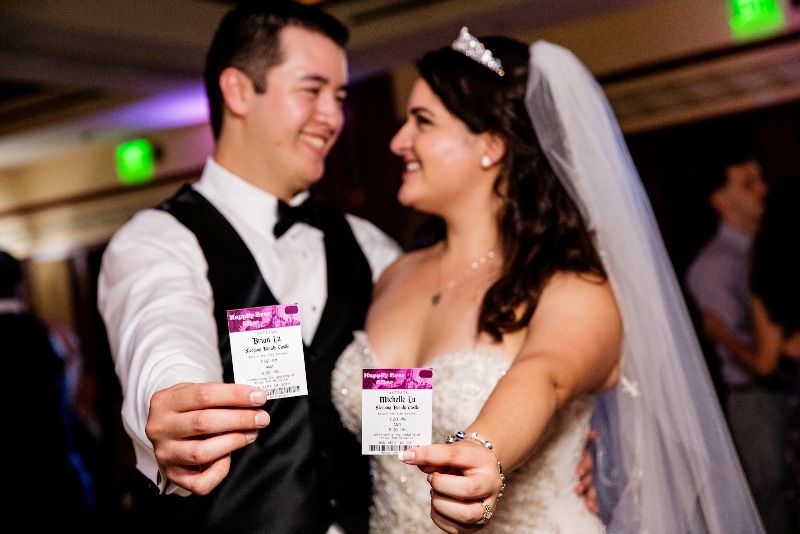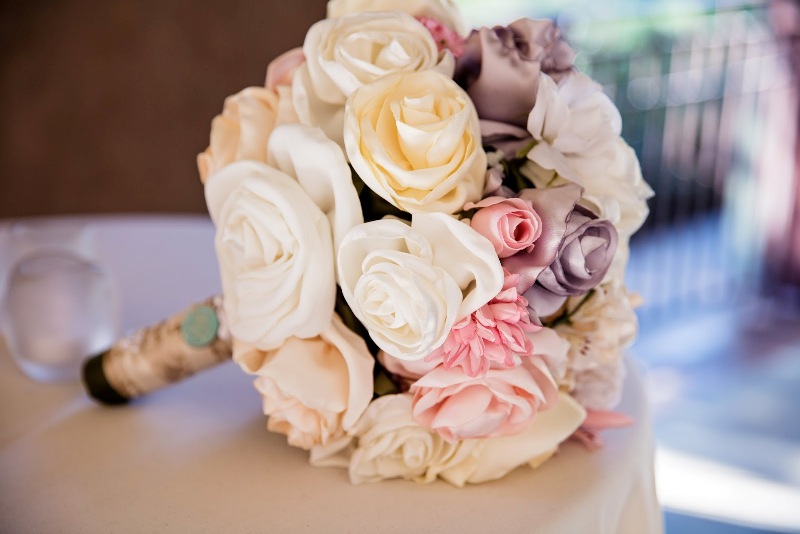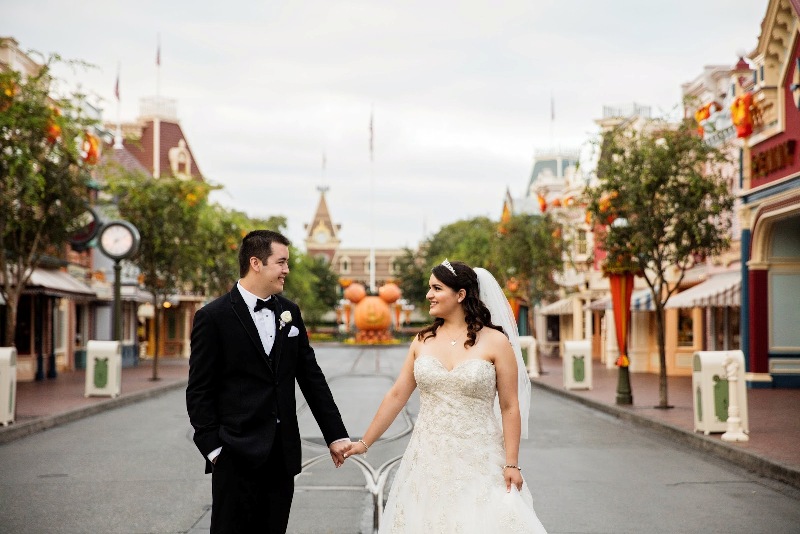 Vendor List
Photography: White Rabbit Photo Boutique
Venue: The Disneyland Resort, Anaheim, CA
Wedding coordinator: Michiel Logan, Disney's Fairy Tale Weddings
Food/Drink: Disney's Fairy Tale Weddings
Décor & Floral: Disney's Fairy Tale Weddings
Personal Floral: Handmade by the Bride
Bride's Attire – Sophia Tolli – Kim Y11630
Groom's Attire – Men's Warehouse
Favors: Personalized "I'm Celebrating" Buttons
Videography: Crescent Bay Films
Officiant: Rev. Carolyn
DJ: Bouquet Sound
Wedding Hair: Fairytale Hair and Makeup
Wedding Makeup: Bride
Castle Shoot Hair and Make Up: Bride
Stationery: Wedding Paper Divas