A couple weeks ago I had the pleasure of attending the press junket for Disney/Marvel's newest movie, Black Panther. It's always fun to hear from the creators and cast of Disney movies and this was no exception. There was a certain palpable energy in the room for Black Panther; it's an important movie that is long overdue, and it was a true honor to hear the cast speak about their experience making the film. Today I'm happy to share some excerpts from these interviews with you all!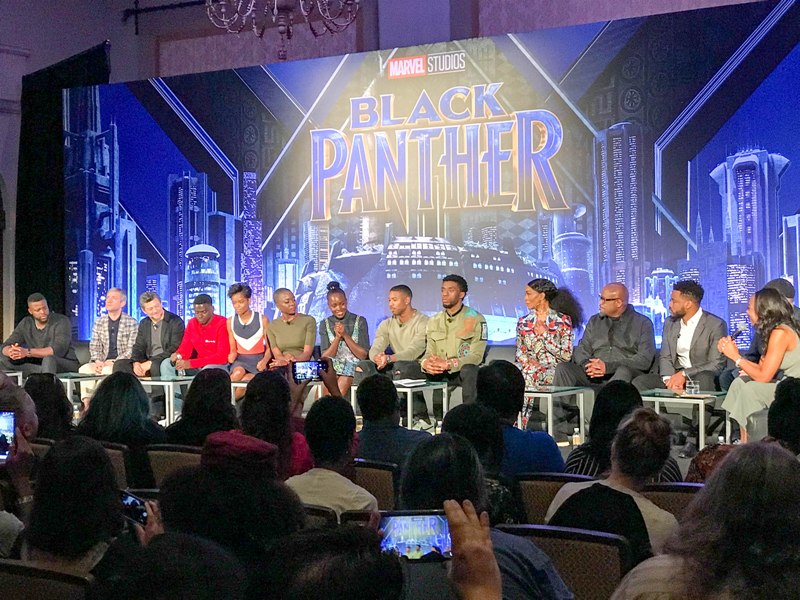 At the press junket we heard from:
· Chadwick Boseman ("T'Challa / Black Panther")
· Lupita Nyong'o ("Nakia")
· Michael B. Jordan ("Erik Killmonger")
· Danai Gurira ("Okoye")
· Angela Bassett ("Ramonda")
· Forest Whitaker ("Zuri")
· Andy Serkis ("Ulysses Klaue")
· Martin Freeman ("Everett K Ross")
· Daniel Kaluuya ("W'Kabi")
· Winston Duke ("M'Baku")
· Letitia Wright ("Shuri")
· Director Ryan Coogler
· Producer Kevin Feige
About the movie:
Marvel Studios' BLACK PANTHER follows T'Challa who, after the death of his father, the King of Wakanda, returns home to the isolated, technologically advanced African nation to succeed to the throne and take his rightful place as king. But when a powerful old enemy reappears, T'Challa's mettle as king—and Black Panther—is tested when he is drawn into a formidable conflict that puts the fate of Wakanda and the entire world at risk. Faced with treachery and danger, the young king must rally his allies and release the full power of Black Panther to defeat his foes and secure the safety of his people and their way of life.
Interviews with the Creators and Cast of BLACK PANTHER
ON THE MAKING OF BLACK PANTHER
KEVIN FEIGE: Ryan wrote this for the most part, you know, a year and a half ago, two years ago so things have happened in the world which makes the film seem more relevant. There are other things in the film that have been relevant for centuries, but the truth of the matter is Stan Lee and Jack Kirby and the whole Marvel bullpen created Wakanda and created T'Challa and created Black Panther and made him a smarter, more accomplished character than any of the other white characters in the mid 1960s. So they had the guts to do that in the mid 1960s. The least we can do is live up to that and allow this story to be told the way it needed to be told and not shy away from things that the Marvel founders didn't shy away from in the height of the civil rights era.
RYAN COOGLER: I grew up loving comic books. I love not just comic books, but I love pop culture. I love toys, actions figures, you know, video games, all of that stuff. When I got older and … realized that I wanted to make movies, right, that's how I fell in love with internationalism, and, you know, cinema that left you with something to chew on, with something to think about. But I never fell out of love with those types of films, and those types of stories. And I think the best versions of those stories, you know, do both things.
ANDY SERKIS: It was very funny 'cause you reminded me of a story of Ryan saying to us before we were about to do our scene. Ryan came up to us and said, you know, I've never actually directed two white actors before. [LAUGHTER] And probably not, probably ever, it was hilarious, it was kind of hilarious, but at the same time it was just like … that's tragic, you know. It was kind of insane and kind of like weird, but it really was, I mean it was an incredible experience working with Ryan. He is one of the most brilliant, you know, wonderful, warm, humble, incredibly clever, articulate visionary directors and just to be part of this was just, well for me, I mean I don't know what you thought of it.
MARTIN FREEMAN: I hated it. [LAUGHTER] Of course, yes, I agree. I was joking.
ANDY SERKIS: No, it was just an incredible experience, you know, and to be part of it was and I just think this film is so important and to be able to be part of something that is so groundbreaking and yes should have been made many years ago, you know, but now is the time and now is a brilliant time because things are changing rapidly in every single aspect of filmmaking and so it should and the needle should swing right the other way because we need to really change things.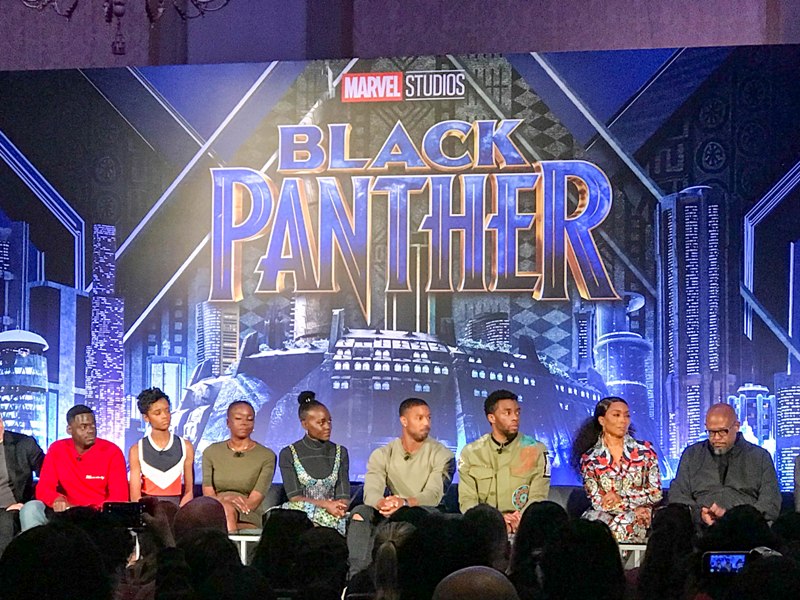 ON THE FICTIONAL AFRICAN COUNTRY OF WAKANDA
DANAI GURIRA: I think what was really fascinating and like almost very emotional for me being that I'm Zimbabwean and being that, you know, that's something that you always kind of want, you see the power and the potential of where you're from, but you see how skewed it's viewed by the world and how misrepresented it is and how distorted it is or received by the world so often. So to see, this is kind of the answer to all my – it's kind of a salve to those wounds to see this world brought to life this way and to see all the potential and power of all of the different African culturalisms and aspects of our being that was celebrated and it's so different. It's a birth of things that we've been seeing forever around the continent that we see when we're there. We see beauty, we see power, we see potential, we see ability, we see resources, but they are never exhibited and then to put it on sort of a Marvel epic scale of exhibition it's like, it really salves wounds in a really deep way.
MICHAEL B JORDAN: The (concept) photos and the graphic art and what not … you know it was, nothing could have prepared us for what we saw, you know. We got a little glimpse of it, but to actually see it on screen fully rendered and, you know, the completed project it was incredible and mind blowing and was really cool to look at.
ON THE STRONG FEMALE CHARACTERS OF BLACK PANTHER
ANGELA BASSETT: (I'm) so pleased that this story, you know, written by Ryan, and Joe Robert Cole, and Marvel, that it supported that. In African culture, you know, they feel as if there is no king without a queen. And I think in this story, it highlights the queen, the warrior, you know, the general – the young sister, you know. So I was so proud to have my daughter and my son there last night (at the premiere), because in their faces, and in their spirit – and they were feeling themselves. And they stood taller after last night.
DANAI GURIRA: Yeah, when Ryan sat me down and talked to me about his vision, and the story, and the characters, and the women, I was just floored, you know, because you don't actually get to hear that often. You know, you don't actually get sat down and hear that type of a vision. And then it embodied with us being on the continent, women from the continent, but very developed, very complex. It was amazing. I mean, it was just like, this is going to – like, this is something else – like, I just want to watch it. I get to be in it? There's so many great things I could say about how Ryan developed these women characters, and allowed us to collaborate – that I'm just – I feel really blessed about, and excited.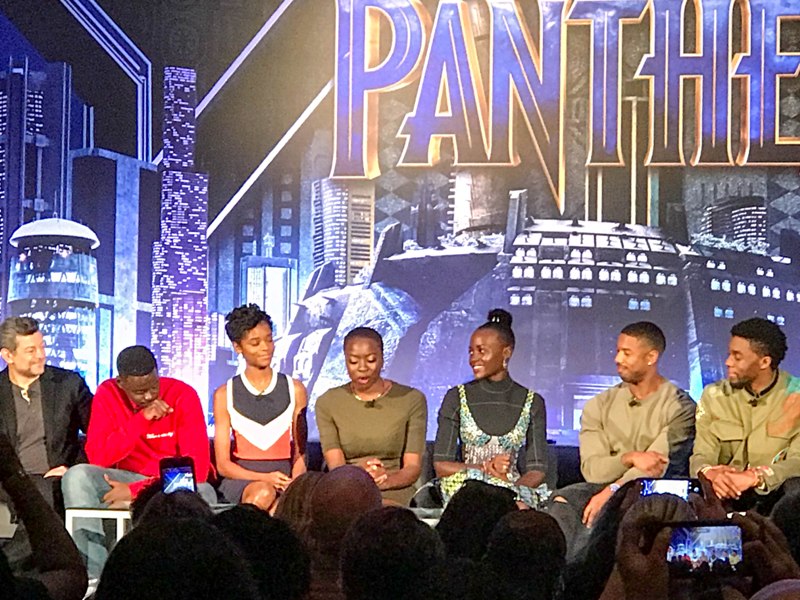 LETITIA WRIGHT: I think – what I love about it, as well, with how it was written is that the men are always behind the women, as well. So no one's undermined – like, the men are like, you know, 'You shouldn't be in technology, and you shouldn't be in math.' They're like, 'No, go ahead.' Like, so T'Challa is like, 'Go ahead, Sis. This is your department. This is your domain. Like – kill it.' And then 'I'm gonna work with you to finalize it,' 'cause he's dope. But then it's like, okay, like – 'Just do your thing. Stay in your lane.' And then – you know, but he's just – that's the mentality of the king, and that's brilliant. So everybody's got their own lane.
LUPITA NYONG'O: Well I would say what I love about the way this film represents women is that each and every one of us is an individual, unique, and we all have our own sense of power and our own agency and we hold our own space without being pitted against each other. And I think that's a very, very powerful message to send to children, both male and female, this idea. I think often times in movies we fall into that trap where women, there's very few of us and then we are against each other. There's a competitive spirit and stuff like that and this film freezes all that. And we see women going about their business and supporting each other, even arguing with each other, you know; having different points of view, but still not being against each other and I think that's extremely important and in so doing the fact that in this film there's so many of us, we really get a sense of the fabric of Wakanda as a nation and we see women along side men and we see how much more effective a society can be if they allow women to explore their full potential, yeah.
RYAN COOGLER: Just to add to that, speaking of some folks that were involved with the film who aren't here to speak for themselves, this film has involvement from brilliant women all over from start to finish, you know, as I said, kinds of runs the studio, what he does with his right and left hand and his right hand is Louie Esposito, with his left hand is Victoria Alonzo who is amazing and she was there from day one and our crew was just, you know, hired women who were the best person for the job. They weren't hired because they were women, they were hired because they were the best for the job and that was our cinematographer Rachel Morrison, our costume designer Ruth Carter, production designer Hannah Beachler and our assistant director who was responsible for getting her team going, Lisa Satriano, and post production the film was edited by Michael Shawver and Debbie Berman who is from South Africa, and finished by Victoria Alonzo … I was incredibly blessed to have these people, to have their perspective and had their fingerprints all over it. When you saw all those frames, when you saw all that stuff, you know, that presence, over half of the society, over half the population; you know what I'm saying, it was there constantly and in full effect.
ON CHADWICK USING AN ACCENT FOR BLACK PANTHER
CHADWICK BOSEMAN: You know I think as actors – this is separate from the movie, but there is, when you're trained you're trained very often from a European perspective. What is considered great or classical is very often British and it's certain writers, and I happen to come from a background that does not believe that, you know. I went to Oxford to study, but I went to Howard and we were taught to respect our writers and our classics just as much and believe that it takes the same skill level and same technique and sometimes techniques that are a little bit different to pull that off. And so I think you have to be, you have to tell the stories and be true to yourself as an artist. And in this, there's no reason, you know, for it because there was a time period where people were asking me questions about whether or not an audience could sit through a movie with a lead character who spoke with that accent, you know. And it was not Kevin by the way, so just making sure you know that. People outside Marvel as well and so I became adamant about the fact that that is not true. That the intonations and melodies inside an African accent are just as classical as a British one or a European one and that all of the emotions and aspects of a character can be shown and expressions can be shown through that accent and we have to take this opportunity to show that, and he just wouldn't, if he had never been conquered, if his ancestors had never been conquered, and he's never been conquered and Wakanda is what it is, he doesn't have to go to Oxford to study. He doesn't have to go to Cambridge or Yale or any place to study. He actually got his education at home and he would not then assimilate a language that is the colonizer's language in order to speak to his people. So he had to speak with an African accent.
Marvel Studios' BLACK PANTHER opens in theaters everywhere this Friday February 16th!