Are you familiar with Gay Days? Gay Days is an unofficial Disneyland event held every year in October which celebrates all things, well, gay. I actually remember the FIRST Gay Day in Anaheim back in 1998 (Gay Days has been celebrated at Walt Disney World since 1991). I have been a major gay rights supporter since high school, had many friends in the community, and I was excited to participate with "my people" at my favorite place. My then-boyfriend and I, plus a group of our friends, all wore red shirts (recommended Gay Days attire) to show our support. I wasn't quite sure what to expect, and was happily surprised when I saw there was A LOT of guests wearing red! To most of the guests visiting the park it was just a regular day, but I remember that day being very special.
For the next 16 years, I tried to make it out to Gay Days every year, but I admit I couldn't always do it. Last year, we were moving into our new house (!!!) the same weekend as Gay Days, so I missed it. This year I was determined to visit, even though I came down with a cold and I probably shouldn't have gone anywhere … still, I'm glad I did because it was so fun!
Our first stop for the day was the Gay Days welcome center and expo, set up at Disney's Grand Californian Hotel. This is the first time I've visited the Gay Days expo (not sure how many years they have been doing it). There were some fun merchants and vendors on hand (always nice to learn who supports the gay community), and I was especially pleased to see my friends from Disney's Fairy Tale Weddings representing with a table and a gorgeous floral arrangement with rainbow roses!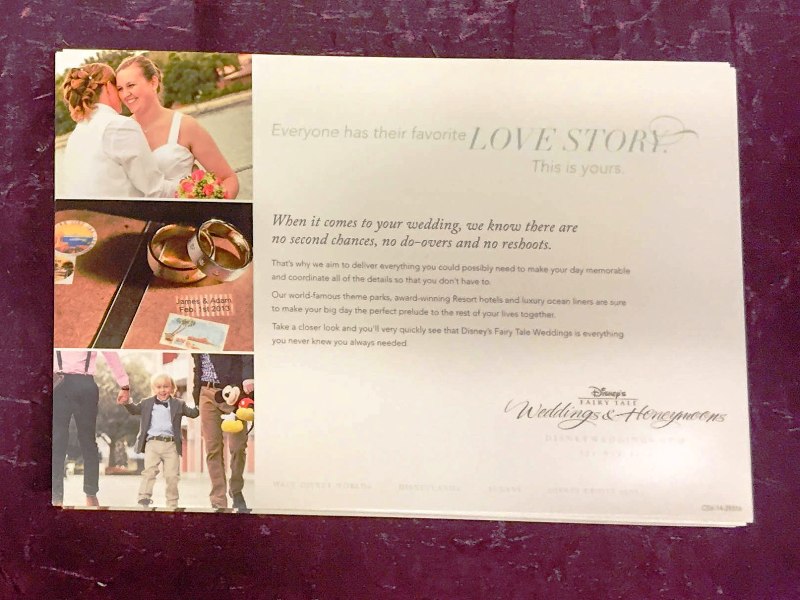 Right next to the DFTW booth was a table displaying all the special Gay Days goodies being sold at Disneyland. Gay Days is not an officially sanctioned Disneyland event, but it's great to see Disneyland "coincidentally" selling some rainbow pride items that weekend. The water sipper was actually really cute and I was tempted to buy it, but I already own a million similar water bottles. I did, however, get myself a piece of that rainbow cake once I got into Disneyland. I mean, how can you resist rainbow cake?!? It's impossible.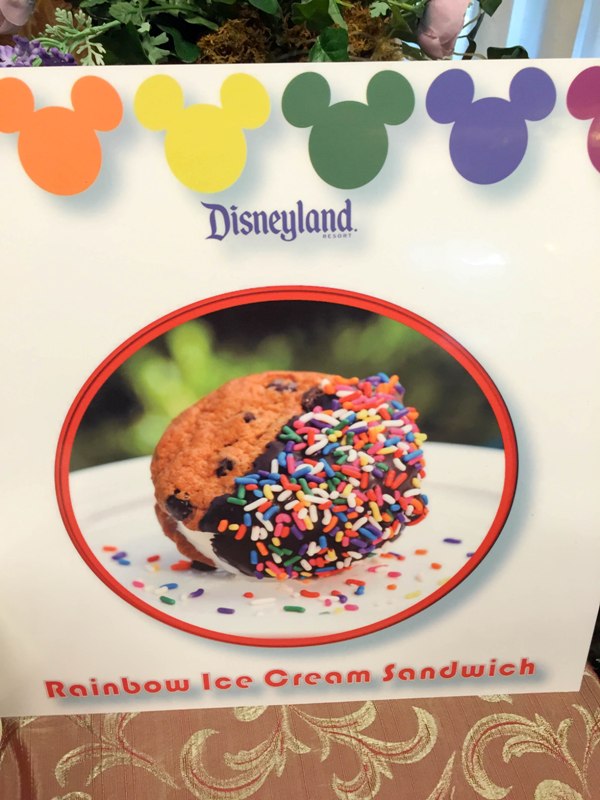 Fake cake … what a cruel joke.
Leaving the expo, my friend and I decided to eat lunch at Hungry Bear restaurant … it only seemed appropriate, since we were hanging out with our bear friends that day.
What bear friends did you think I meant???
After lunch we decided to visit Mickey in his movie barn. We knew he would be wearing red, too! I wanted to show him the rainbow ears I made especially for Gay Days.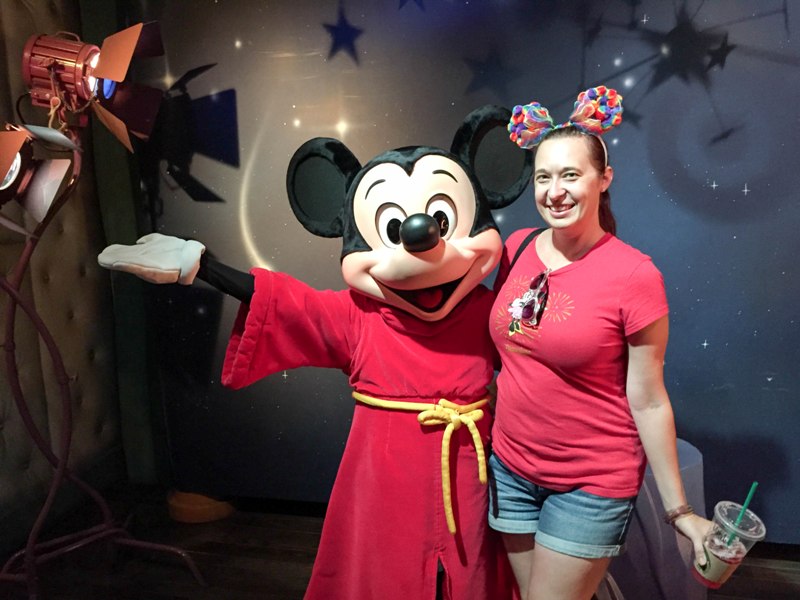 After picking up a slice of rainbow cake to to, we headed back to Disney's Grand Californian for a sangria, cake, and cookie break.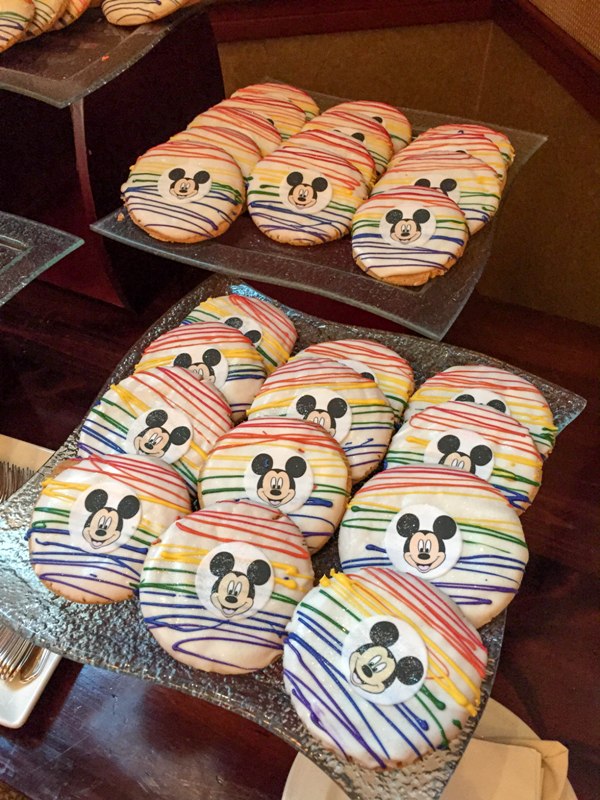 We also saw a wedding ceremony taking place at the Brisa Courtyard! Yeah, I was one of those creepers taking pictures through the bushes!
While the ceremony was starting, unfortunately there was a trio of people standing next to me who had a lot of "commentary" on the details of the wedding. Everyone was critiqued, including the poor flower girls! Jeez people, Disney already has one Grumpy, so your services are not needed, thanks bye.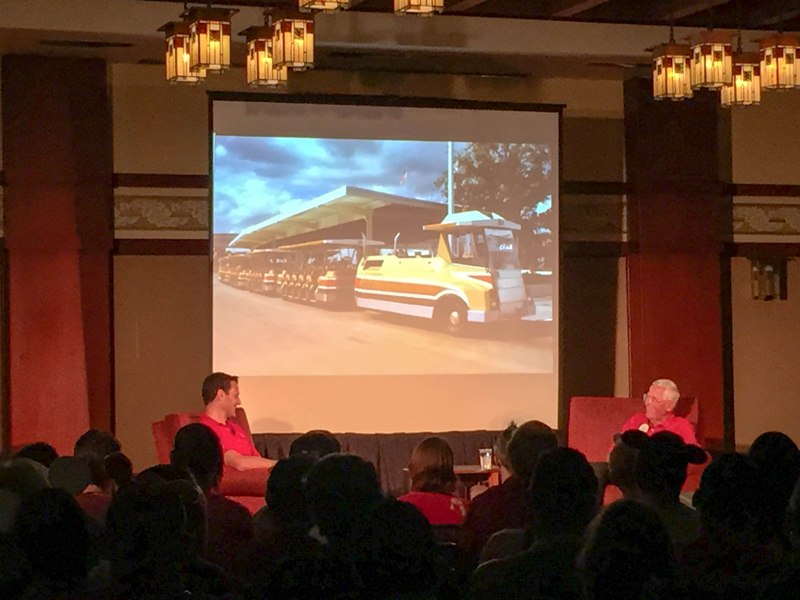 Our last event of the day was a conversation with Bob Gurr. Bob Gurr is a retired Imagineer who worked with Walt, and actually worked on a lot of attractions at Disneyland. The saying goes something like, if it's at Disneyland and it has wheels, it was probably designed by Bob Gurr! I knew I liked Bob right away when someone asked Bob how he stays so active and fit at age 82, and Bob replied "mountain biking, eating right, and starting each evening with a big martini." Bob talked about being gay and working for the Disney company … he basically said, nobody really cared! He said Walt cared about two things – creativity and getting your work done. Otherwise, "no one cared who did what to whom or where." Someone asked Bob if he could name a favorite attraction he had designed. Bob said his favorite was the Main Street Fire Engine, which made my friend excited because she made her entrance at her Disneyland Hotel wedding on the fire engine! After the talk, we had a chance to say hello to Bob and showed him a picture of his fire engine at my friend's wedding – he said he had just recently learned couples were requesting his fire engine for weddings and he got a kick out of that. He said he thought brides only wanted the carriage! We told him lots of brides prefer the fire engine over the carriage. We thanked him for all his contributions to Disneyland, and he was very gracious and friendly. A class act guy! I can't imagine what it must be like for someone like him, to witness the gay rights movement and see the progress that has been made since he joined the Walt Disney Company in the 1950s, a time when no one really talked about that sort of thing, to now, in 2014, where being gay is not only accepted but celebrated. I am awed by the massive progress that has been made during my short lifetime, so I can't even imagine what it must feel like for someone like him.
All in all, it was a great Gay Days! I hope you enjoyed my recap. Mark your calendars for the next Gay Days – it's always the first weekend in October!